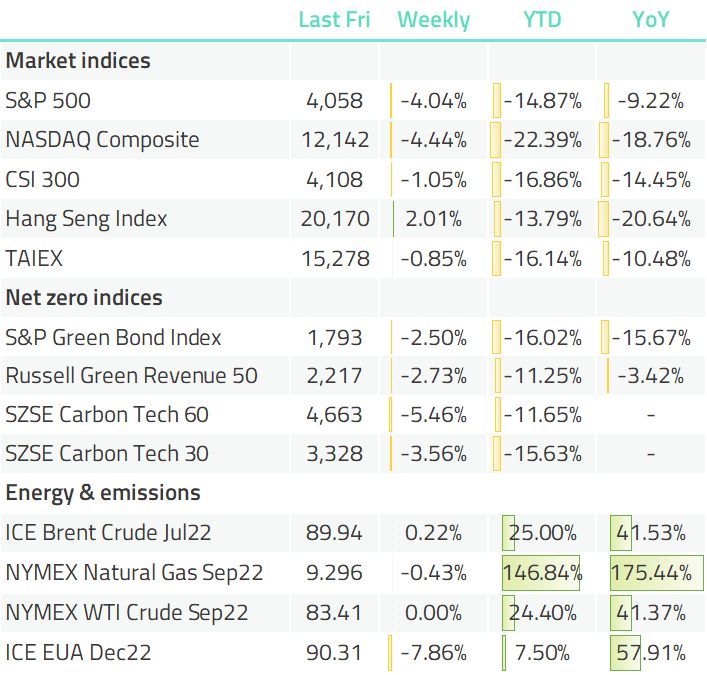 CATL posts strong growth with key supplier IPO, Xpeng sees larger loss - Contemporary Amperex Technology Co. Limited, or CATL (300750.CN) saw its H1 revenue more than double from last year, as reported by Securities Daily: in the interim financial report released last week, the Chinese battery behemoth recorded RMB 113bn (USD 16.4bn) in total revenue, up 156.3% YoY。 Seventy percent of total revenue, or RMB 79bn (USD 11.5bn) generated from its vehicle-use battery business.
Despite strong revenue growth, net profit margin narrowed to 7.2% in 1H22, down from 10.2% of 1H21.
CATL's chief scientist Kai WU told the public yesterday at the 2022 World New Energy Vehicle Congress in Beijing that the battery maker is developing a condensed-state battery and expects to unveil the product next year. This new type of battery will have a higher level of safety and longer life span.
What's more? Last Friday, Camelot Electronic Technology (301282.CN), one of CATL's key suppliers, launched an initial public offering (IPO) on the ChiNext market under the Shenzhen Stock Exchange. According to PE Daily, the Qingyuan, Guangdong-based company is CATL's largest supplier of printed circuit boards (PCB), a key material in making EV batteries. Shares of the company jumped 30% to RMB 39.8 (USD 5.8) per share on the first day of trading, from the initial price of RMB 30.38 (USD 4.42) per share.
Surprisingly, in the last update to the Hang Seng Indexes, CATL was one of the six firms that got kicked out of the "Hang Seng (China A) Corporate Sustainability Index", which claimed the decision was due to their market value, turnover and/or ESG scores not meeting requirements.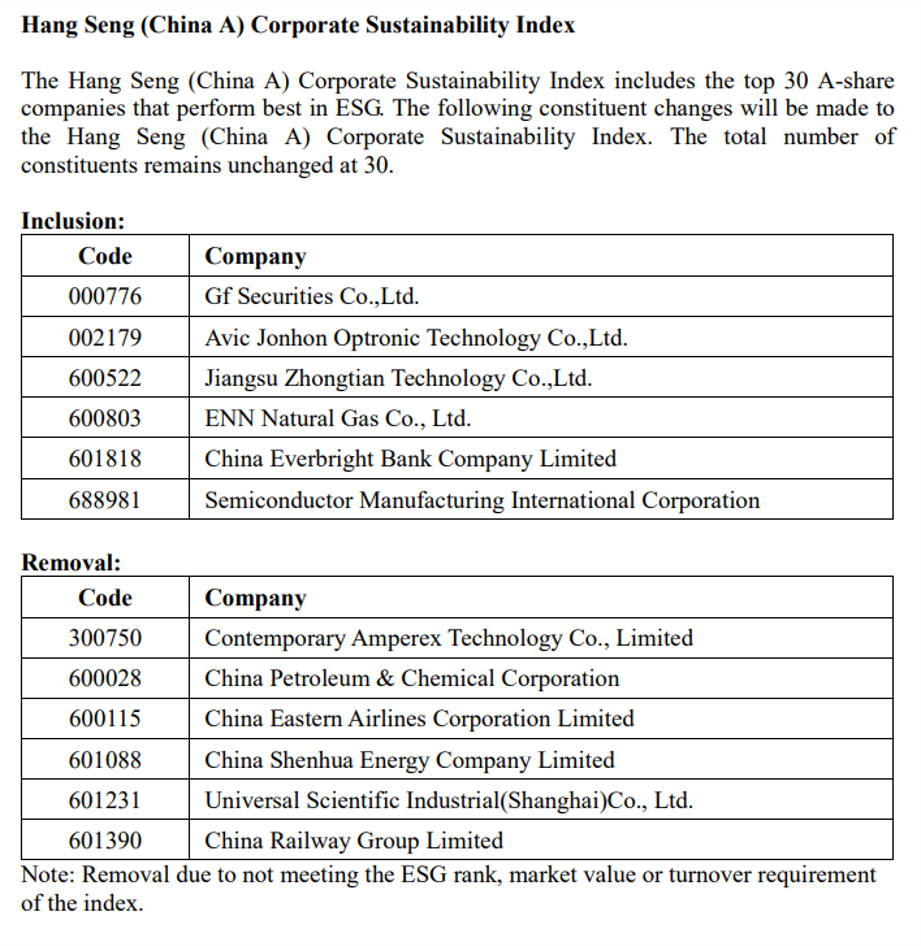 On this EV value chain, one of China's most-watched start-up carmaker Xpeng (9868.HK) concluded the first half of 2022 with RMB 2.7bn (USD 400m) in loss, 126.1% larger than the same period of last year, although revenue grew by 97.7% to RMB 7.4bn (USD 1.1bn), Jiemian reported. Earlier this month, LI Auto (2015.HK) also announced its Q2 performance, recording RMB 8.7bn (USD 1.26bn) in total revenue and a net loss of RMB 641m (USD 92.6m), pivoting from a net profit in Q1.
China and the US reach audit deal - China's financial market watchdog, China Securities Regulatory Commission (CSRC) and the Ministry of Finance have reached an audit supervision cooperation agreement with the US Public Company Accounting Oversight Board (PCAOB).
According to WSJ, the agreement allows PCAOB inspectors to travel to Hong Kong or Mainland China for inspections.
The PCAOB said China granted the regulators "complete access to the audit work papers, audit personnel, and other information we need to inspect and investigate any firm we choose, with no loopholes and no exceptions."
The Chinese side, calling the agreement an important step "in addressing the shared concern of auditing cooperation," emphasised that the U.S. regulators would only conduct inspections with the assistance of the Chinese. The U.S. regulators will also have to communicate with the Chinese counterparts about their plans before the investigations, the statement from China said.
US Anti-ESG bandwagon on-boards four new funds and Florida state pension - Two weeks after the launch its first anti-ESG exchange-traded fund, Strive US Energy ETF (which has attracted USD 250m in managed assets), Strive continued its game by filing four new funds with the US regulator last Tuesday, Bloomberg reported. In its filings, Strive claimed that it will "generally vote against board members and proposals that advance social or political agendas unrelated to providing excellent products and services to customers". Strive is not 100% confident with its anti-ESG business, as Responsible Investor found in the fund documentation of its Strive US Energy ETF that the asset manager had alerted transition risk: "Companies in the fossil fuel and traditional energy sectors may be vulnerable to potential obsolescence due to technological advances and global competition."
Florida becomes the latest US state to ditch ESG. According to ESG TODAY, the state has decided to prohibit its pension fund managers to incorporate ESG considerations in the investment process, but only base its investment decisions on "pecuniary factors," or those expected to have a material impact on investment risk and return.
We have mentioned the move of Texas to sanction financial institutions they deem to boycott fossil fuels (see Green Capital Weekly Jul 25) . Last Wednesday, the state's Comptroller published a list of ten financial institutions with such behaviour to their understanding. They will be subject to divestment from Texas' public investment funds. The list consists of BlackRock and nine European institutions, including Credit Suisse and UBS. According to Responsible Investor, spokespersons for BlackRock and Credit Suisse have expressed opposition to their inclusion in the list and said they are deeply engaged in the energy sector.
World's first hydrogen-powered train launched in Germany, California unveils timeline to end sales of ICE cars - According to Business Standard, the World's first hydrogen-powered train fleet went into operation last week. The trains, manufactured by French multinational Alstom, are powered by electricity generated from hydrogen fuel cells, and only emit steam and condensed water while operating.
Reuters reported California Air Resources Board voted last Thursday to approve a set of new rules to push EV adoption in the state, including to end sales of ICE cars by 2035, following the initial ICE vehicle phase out plan announced by California Governor Gavin Newsom in 2020. All new vehicles sold in California are expected to be either purely electric or plug-in hybrid electric under the new rules, but they still need the approval from the Biden administration to be effective.
China moves to regulate solar PV industry and green bond market - According to Xinhua News Agency, three Chinese government offices in charge of industrial development, market competition, and energy have jointed published a notice that they will work to tackle the activities in the solar PV industry that affect the proper functioning of the market, including price gouging, monopoly, and the manufacturing and sales of fake and underqualified products.
Reuters reported last week that Shanghai Stock Exchange has asked green bond issuers to use 100% of their proceeds in alignment with the green taxonomy, instead of 70% previously, following the publication of China Green Bond Principles by the Green Bond Standard Committee (see Green Capital Weekly Aug 1). China's CSRC has guided the Shanghai and Shenzhen bourses to follow the new principles.
Japanese carmakers may be most affected by climate change - A new analysis by environmental organisation Greenpeace, based on data from Moody's shows that Toyota, Honda and Nissan face the highest levels of physical risk from climate change, all of which are headquartered in Japan. By reviewing the locations of carmakers' manufacturing facilities, the analysis notes that 93% of Toyota's manufacturing facilities are at high risk of at least one kind of climate hazard. Toyota is given a "operations risk" score of 85 on the Moody's platform, followed by Honda of 77 and Nissan of 75. Other carmakers with a high operations risk score include the US General Motors and South Korean Hyundai.
Time for Southeast Asia: Thai to require green finance disclosure from banks - According to the Bangkok Post, financial institutions in Thailand will be required by the central bank——Bank of Thailand, to disclose their strategies and targets with respect to environmental loans. The central bank's senior official, Roong Mallikamas said the move is intended to leverage the financial sector to support a green economy.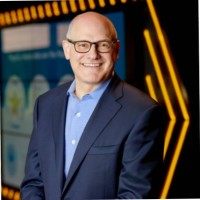 McDonald's appoints new Chief Impact Officer - Last Wednesday, fast food giant McDonald's announced that Jon Banner will be its new Executive Vice President and Global Chief Impact Officer. He will join McDonald's Global Senior Leadership Team and report to CEO Chris Kempczinski. Jon Banner joins McDonald's from PepsiCo where his most recent role was EVP, Global Communications and President, PepsiCo Foundation. He also worked for Disney ABC and ABC News across various roles before PepsiCo.
References
[1] 证券日报 - 宁德时代上半年营收超千亿元 研发费用同比翻倍
[2] 宁德时代 - 宁德时代新能源科技股份有限公司 2022 年半年度报告全文
[3] 财联社 - 宁德时代计划2023年推出凝聚态电池
[4] 投资界 - 宁德时代「干儿子」今天IPO了
[5] 恒生指数 - 恒生指數有限公司宣佈指數檢討結果
[6] 界面新闻 - 小鹏汽车二季度业绩承压,下半场凭借G9能扳回一城吗?
[7] LI Auto - Li Auto Inc. Announces Unaudited Second Quarter 2022 Financial Results
[8] WSJ - U.S. and China Reach Agreement on Chinese Company Audits
[9] Bloomberg - Anti-ESG Firm Strive Plans Four New ETFs After First Fund Draws $250 Million
[10] Responsible Investor - Strive AM warns of transition risk in documentation for anti-ESG energy ETF | Responsible Investor
[11] ESG TODAY - Florida Bans ESG Investing in $228 Billion State Pension Funds
[12] Responsible Investor - BlackRock and Credit Suisse to appeal inclusion on Texas divestment list | Responsible Investor
[13] Business Standard - Trains that emit steam: Hydrogen-powered locos start chugging in Germany
[14] Reuters - California to end sales of gasoline-only cars by 2035
[15] 新华社 - 三部门出手整治光伏行业乱象
[16] Reuters - EXCLUSIVE China tightens green bond rules to align them with global norms
[17] Greenpeace - Over 90% of Toyota Manufacturing Facilities at High Risk due to Climate Change
[18] Bangkok Post - Green lending under BoT scrutiny
[19] McDonald's, PR Newswire - McDonald's Appoints Jon Banner as Executive Vice President and Global Chief Impact Officer