How are Shenzhen-listed companies performing on ESG? The recently published statistics from Shenzhen Stock Exchange (SZSE), White Paper on Environmental Disclosure of Listed Companies in Shenzhen Stock Exchange (hereinafter referred to as "White Paper") shared the progress of environmental disclosure of its more than 2,500 listed companies in both breadth and depth. Shenzhen stock exchange also has ambition to develop into China's green financing hub and has scored on the roll-out of different green fixed income products as well.
Scoring well in environmental disclosures
The national dual-carbon goal to reach carbon peak in 2030 and carbon neutrality in 2060 is increasingly driving capital market policies and more scrutiny in corporate environmental disclosures. We find good environmental disclosure coverage of SZSE-listed companies, with 84% of the companies adopting Corporate Social Disclosures in their 2021 annual reports. Over one out of five companies published a separate CSR or ESG report.
Exhibit: Environmental disclosure of SZSE-listed firms over the last year

Source: SZSE, MioTech Research
Note: The above statistics are based on the 2021 year-end data (out of 2,578 SZSE listed companies in total). If calculated based on 2022 year-end data (out of 2,743 SZSE listed companies in total), the rates will be 84%, 58%, and 20%, respectively.
On the ESG rating side, which is based on its wholly owned subsidiary CNI, 94% of the companies scored B or above and 12%of the companies scored A and above.
Exhibit: Over 80% of SZSE-listed firms achieved ESG rating ranging from BBB to B
Source: SZSE, MioTech Research
Note: The White Paper adopts CNI ESG Rating, which is developed by SZSE's wholly-owned subsidiary. Rating data is as of September 2022. The White Paper did not publish the numbers and proportions of companies in the CCC-C range. As such, MioTech estimated the numbers and proportions based on available data.
Exhibit: Upward trend demonstrated on environmental factors scores of SZSE 100 index constituent firms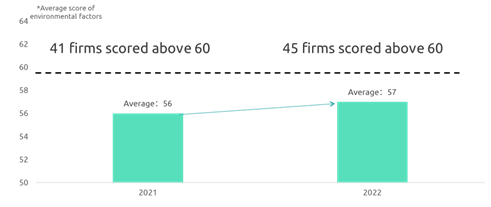 Source: SZSE, MioTech Research
Note: The score is based on CNI rating. Data for 2022 is taken from end of Sept 2022
On the improving disclosures in pollutant discharge, carbon emissions and climate change management, we note that the number of companies having measures to reduce GHG emissions more than tripled from 5% to 18.4%. The number of companies making a commitment to energy and GHG reduction also more than doubled from 4.2% to 9.8%.
Exhibit: An increasing number of environmental topics are covered by SZSE listed firms. Disclosure rates on the environmental topics also show upward trend.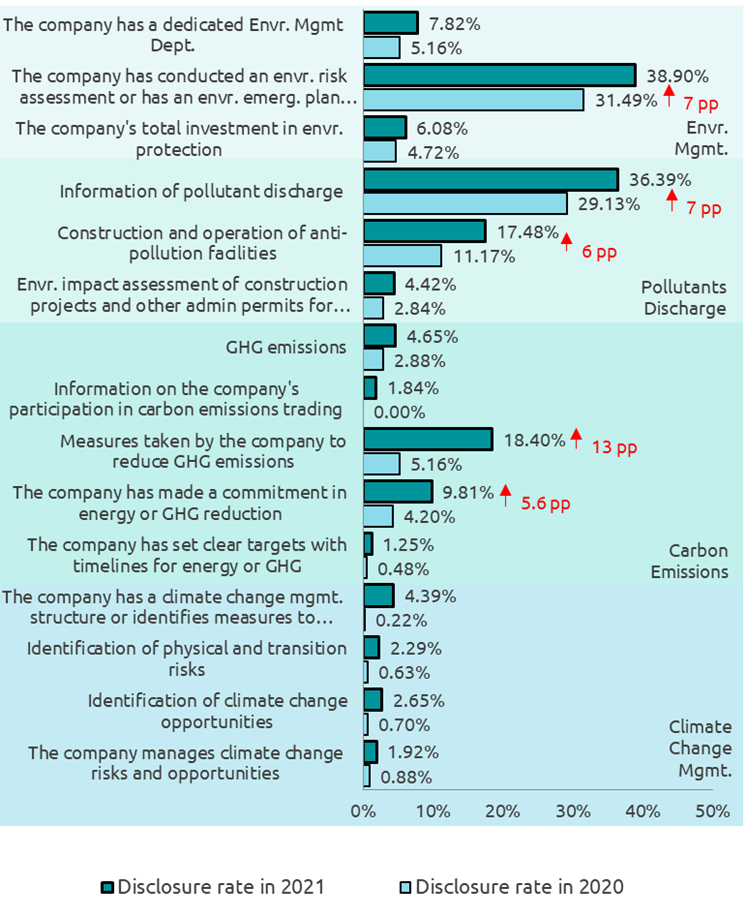 Source: MioTech Research
Shenzhen Becoming China's Green Financing Hub
Shenzhen exchange also plans to take a central role in providing the trading platform for China's green assets and investment tools. With its eyes set on becoming the green financing hub in China, the exchange hopes to facilitate investments in low-carbon sustainable development.
RMB 6 trillion in green companies
Around 300 companies in the "green sector"are currently listed on the Shenzhen Stock Exchange. The total market value of these enterprises has reached nearly RMB 6 trillion (by the end of 2022), covering renewable energy, electric vehicle, energy efficiency and environmental sectors, including companies leading the global energy transition, namely CATL (300750.SZ), BYD (002594.SZ), etc.
Exhibit: Green industry enterprises accounts for 20% of total SZSE market capitalization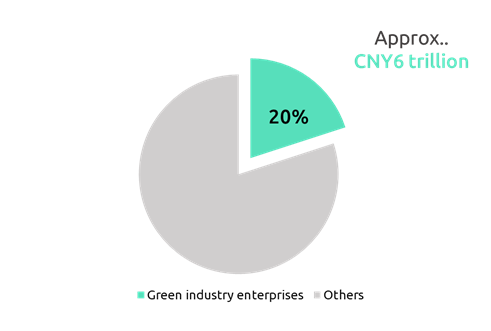 Source: iFinD, MioTech Research (market cap data as of Dec 31, 2021)
Exhibit: Green enterprises in SZSE with highest market cap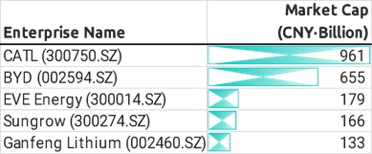 Source: iFinD, MioTech Research (market cap data as of Dec 31, 2021)
Increasing issuance of ESG and carbon-themed indices
The introduction of more influential and investable indices and asset allocation tools could help support the Shenzhen exchange in becoming the Green Financing Hub. At the end of 2022, SZSE and its subsidiaries had launched 45 sustainability-themed indices covering ESG investment and green low-carbon, and several exchange-traded fund products such as Carbon Neutral ETF, New Energy Battery ETF and ESG ETF.
Exhibit: Timeline on the issuance of sustainability-themed indices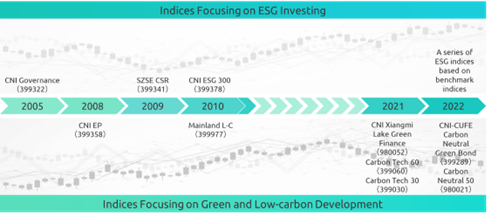 Source: SZSE, MioTech Research
Piloting green fixed income and derivative trading instruments
Green investments into the fixed income and derivatives market are also an additional on the Shenzhen Exchange, including carbon neutral bonds, sustainability-linked bonds, and blue bonds. More than CNY100bn flowed into 87 company green bonds and 27 green ABS. Shenzhen also launched the first clean energy infrastructure REIT in July 2022.
Exhibit: Green and low carbon instruments launched by SZSE in the fixed income and derivatives market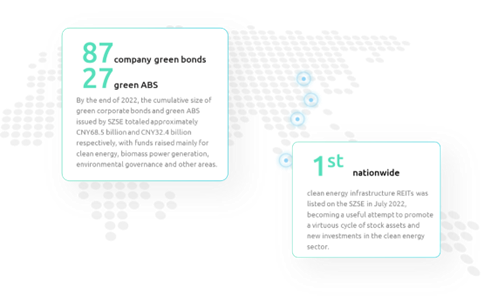 Source: SZSE, MioTech Research
Shenzhen as Green Hub? We see some promising green lights ahead
Shenzhen has always been on the forefront of technology and innovation since China began its reform forty years ago. With its concentration of technology-centric companies and the help of the financing hub across the water in Hong Kong, we believe the Shenzhen stock exchange is well on its way to realize its ambition to become China's Green Financing Hub. These new environmental disclosure figures are scoring well on the progress report.
MioTech's ESG data solutions
As Asia's leading sustainability technology provider, MioTech leverages artificial intelligence to provide ESG, climate change, carbon neutrality, and social responsibility solutions. With coverage of over 4 million companies globally, MioTech enables financial institutions, corporations, governments, and individuals to achieve their net zero and CSR objectives.
MioTech AMI offers in-depth data and analytics for investment strategy, credit evaluation, risk management, and quantitative analysis.
Exhibit: The climate dataset page of a Shenzhen-listed company on MioTech AMI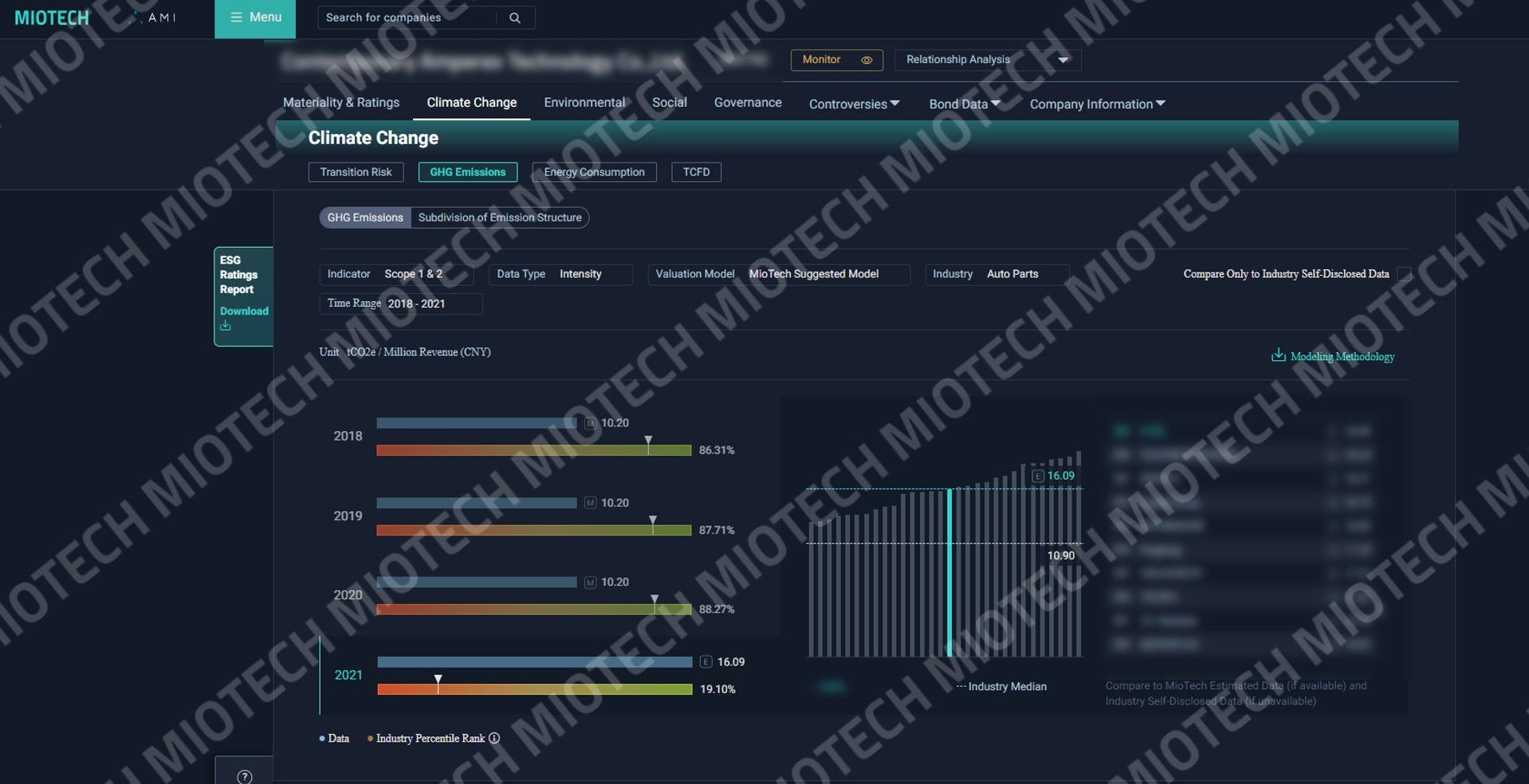 Learn more: https://www.miotech.com/en-US/product/esg/fi