A
dvanced
M
arket
I
ntelligence
ESG Investment Solutions
Welcome to
the Future of Finance.
ESG Data & Ratings
Explore our
multi-dimensional
data universe
Over 1,000+ ESG and Carbon Data Points
Materiality adjusted for different industries and regions
International frameworks mapping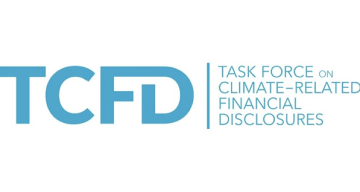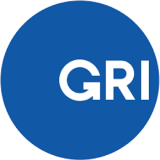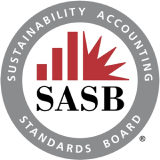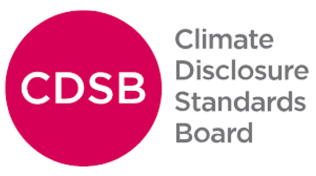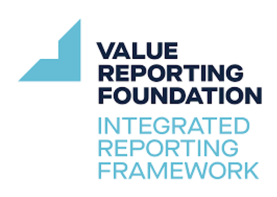 03
Controversies Screening
Comprehensive ESG controversies data supporting all kinds of screening strategies
Subsidiaries and Investments
Conduct-based Controversies Screening
Alternative Data
Excessive Discharge of Pollutants
Retification of Pollution Discharge
Comprehensive Water Use Risk
Employment Discrimination
News Topic
Non-Compliance with Emission Limits
Destroy Natural Resources
Non-compliance with Labour Management
Discrimination and Harassment
Non-compliance with Wage Regulations
Hazardous Materials Incidents
Business-based Controversies Screening
Defense & Military
Energy
Coal and Coal-fired Power Generation
Resource
Entertainment
Health
04
Green Revenues
& SDG Revenues
Contribute to Sustainable Finance
Sub-sectors
Compatible with 5 recognized green classification standards and 17 UN Sustainable Development Goals (SDGs)
05
Corporate Governance Analysis
In-depth Corporate Governance Data
Board & Management
Decision-making Efficiency
Remuneration & Incentive
Decisions on Remuneration
Key Operation Practices
Related-party Transactions
Audit & Supervision
Regulatory Enforcement & Justice
Shareholder Rights
Shareholder Communication
Corporate Governance Risk Assessment
Corporate Governance Risk Assessment
Underlying Tunnelling Risks
Related-party transactions
Incentive Inefficiency Risks
Comprehensive coverage
& APAC expertise
6,000,000+
public and private companies globally
Full coverage of
Mainland-listed
HK-listed
TW-listed
US-listed ADRs
First-to-market
Southeast Asia Dataset
including full SGX and IDX coverage
Northeast Asia Data
including Nikkei 225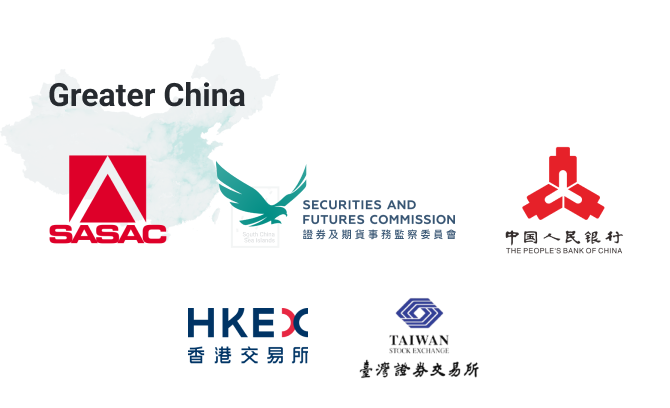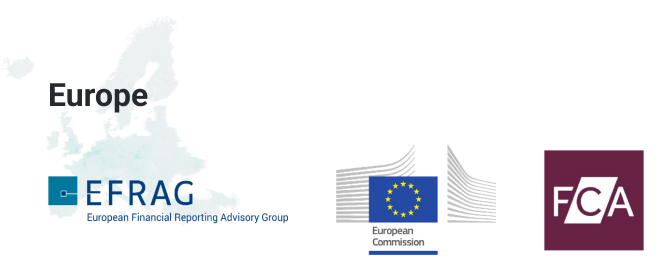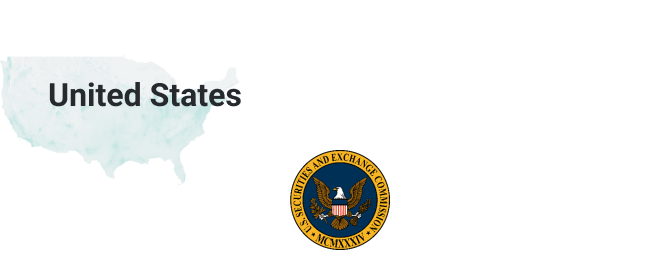 Public Data
Comprehensive ESG Data Solution
One stop for ESG indicators, controversies, corporate governance, business screening and green revenues, etc.
Aggregate disclosed data, alternative data, news and social media data, etc.
Estimated Data
Scope 1, Scope 2, Scope 1+2, Scope 3, Scope 1+2+3
Private Data
Connectivity to ESGhub (direct engagement of Corporates)
Ratings & Analytics
Transition Risk, Physical Risk, etc.
Climate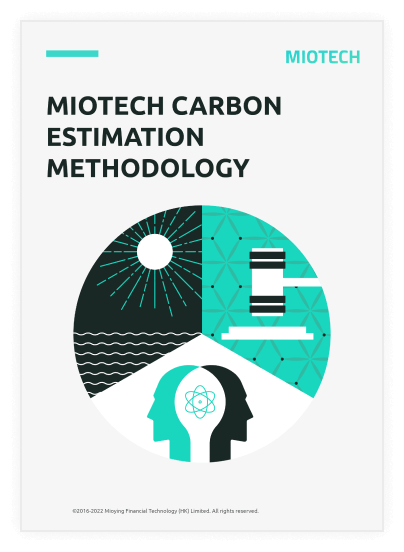 Establish a variety of estimation models including but not limited to energy model, production model, economic activity-based model, covering
Mainland China-listed, Hong Kong-listed, Taiwan-listed stocks, US-listed ADRs
9500+Listed Companies
5000+Bond Issuers
Carbon Estimation Data since 2017.
Carbon Estimation Datasets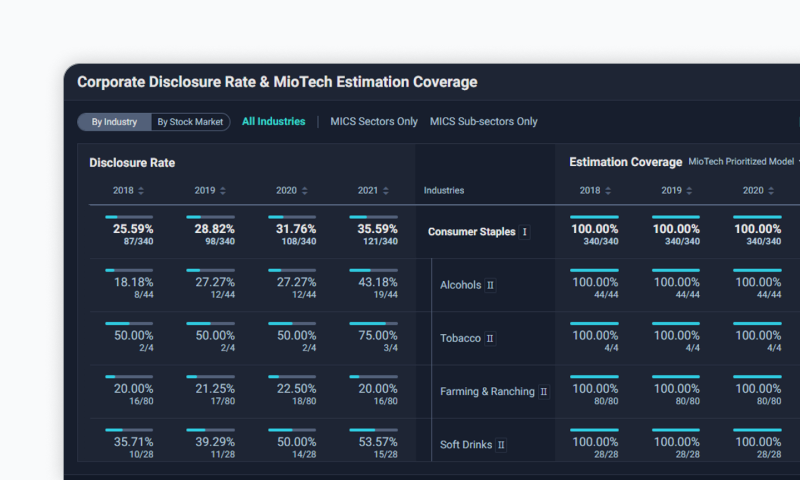 Portfolio Carbon Estimation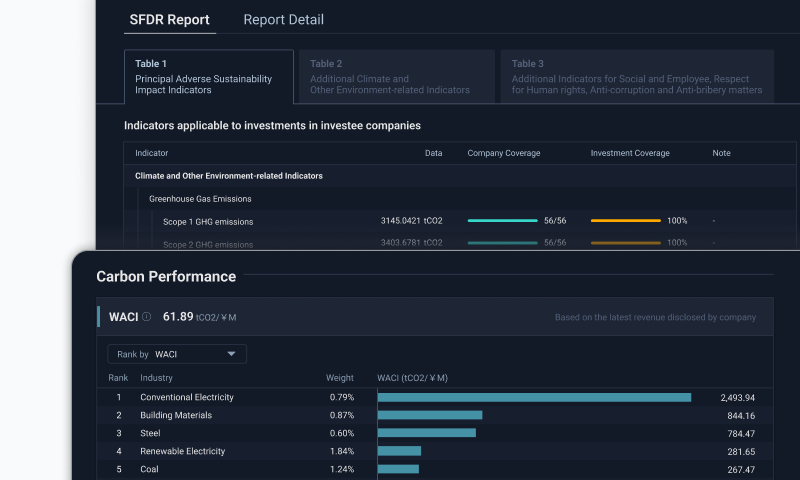 Climate Risk Assessment Tool
Transition Risk
Scenarios
IEA、NGFS、SSP 16 scenarios
Time Range
2022-2060
Evaluation Indicators
Climate Value-at-risk
Financial indicator adjusted by Carbon Cost
Implied Temperature Rise
Physical Risk
Scenarios
Baseline、RCP4.5、RCP 8.5
Time Range
2030、2050、2080
Evaluation Indicators
Single Physical Risk Score
Overall Physical RIsk Score
Climate Value-at-risk
Climate Risk Assessment Dataset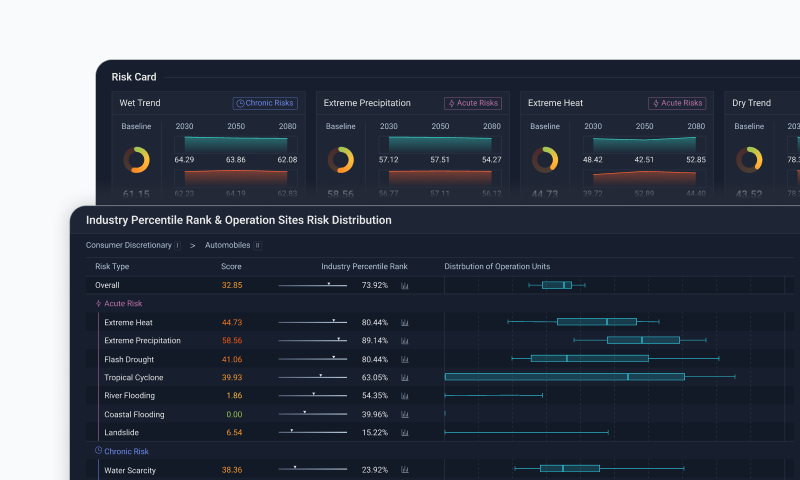 Implied Temperature Rise Assessment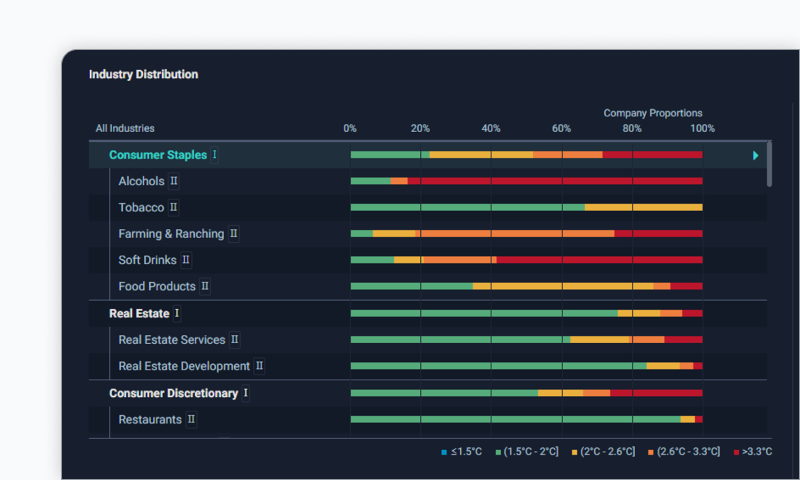 Tools & Platforms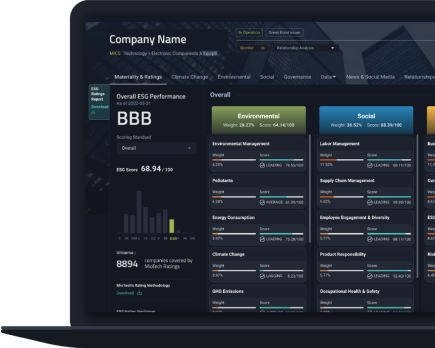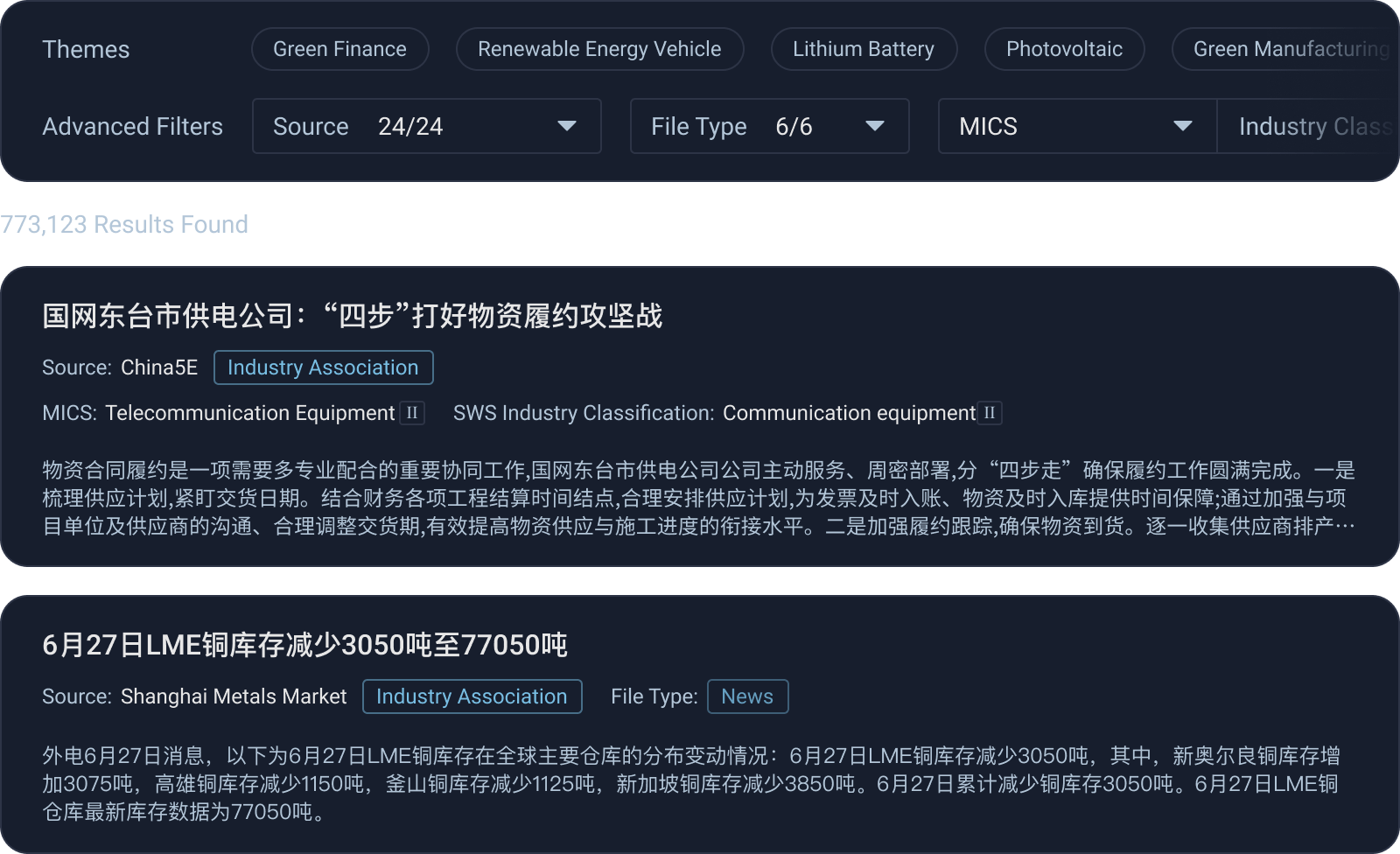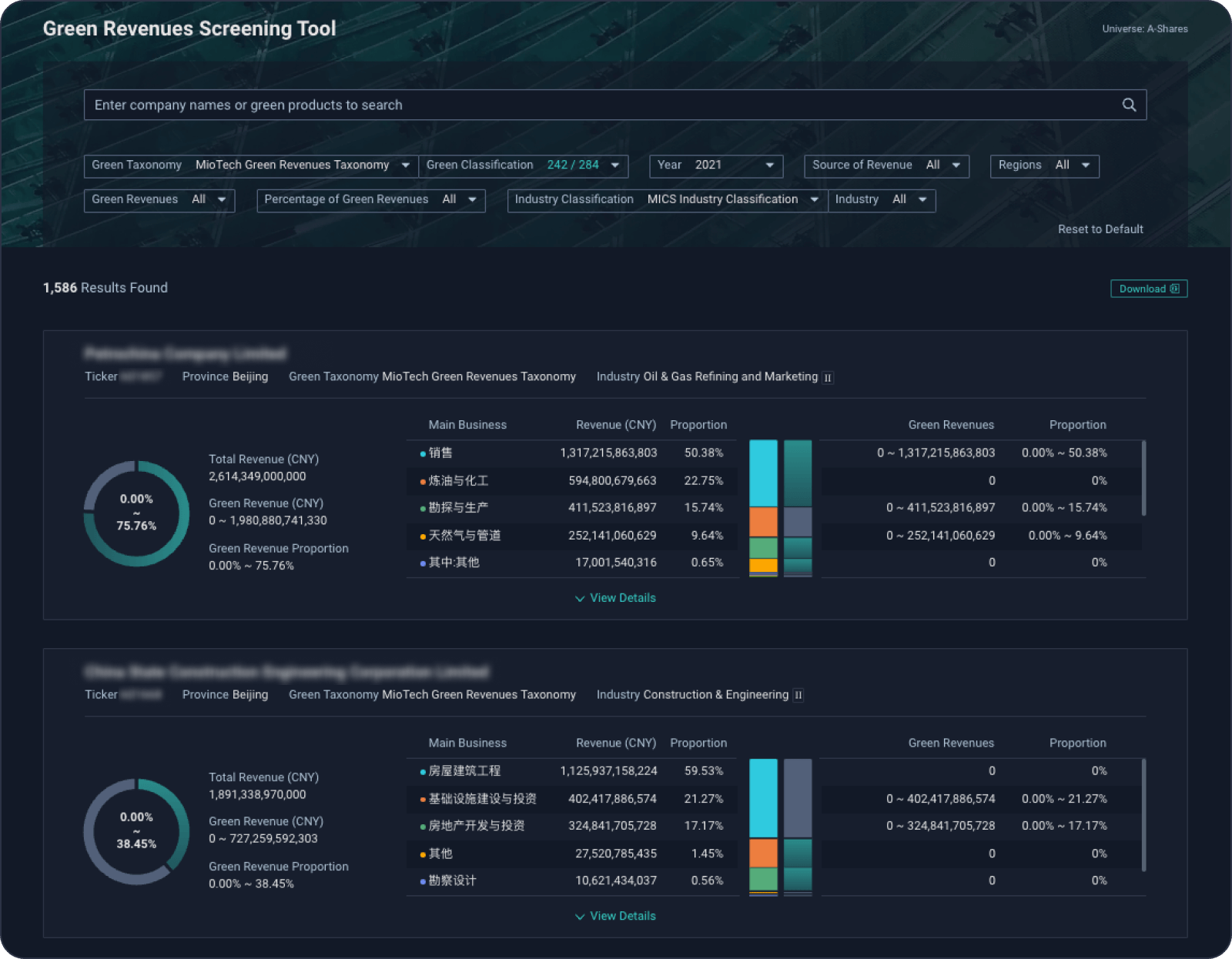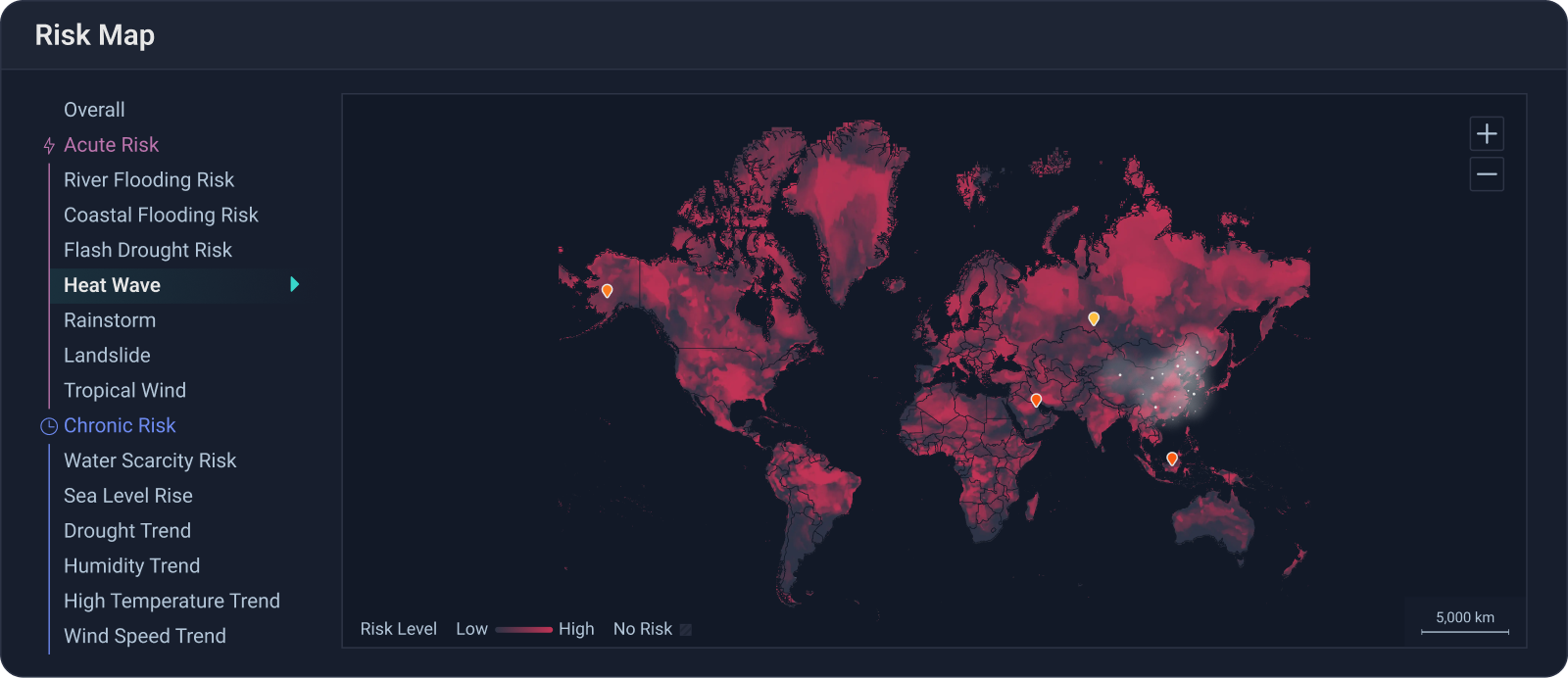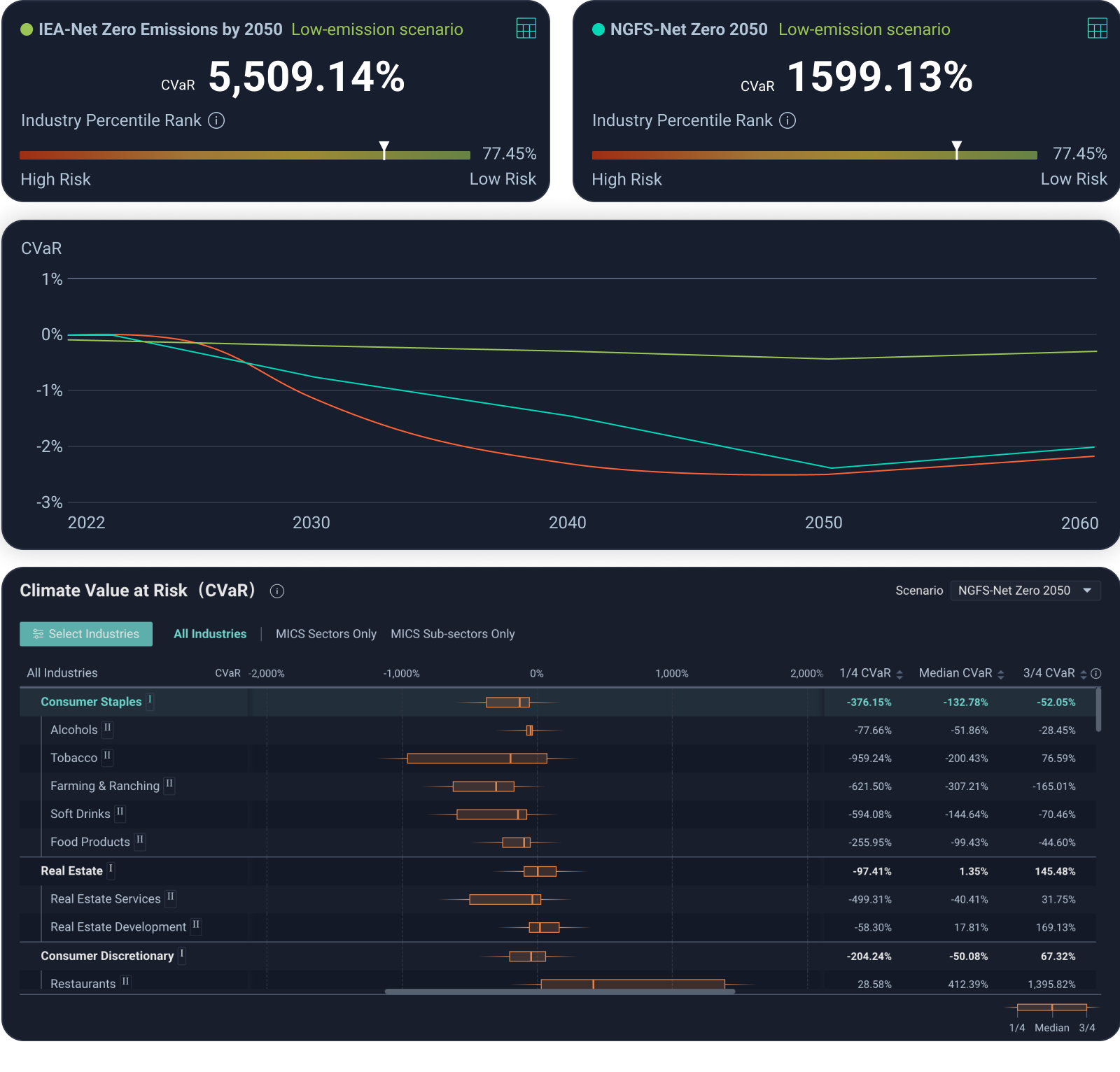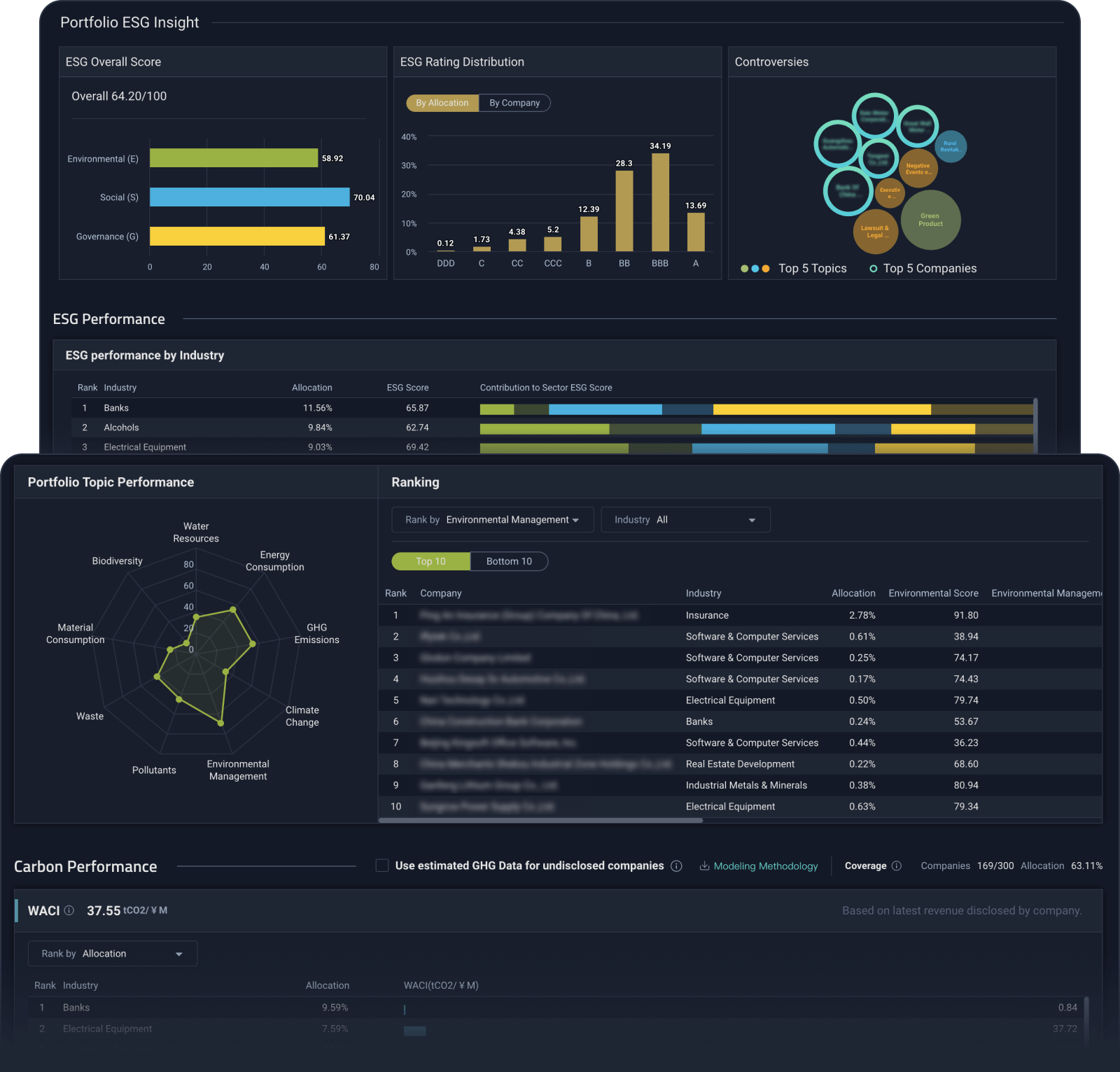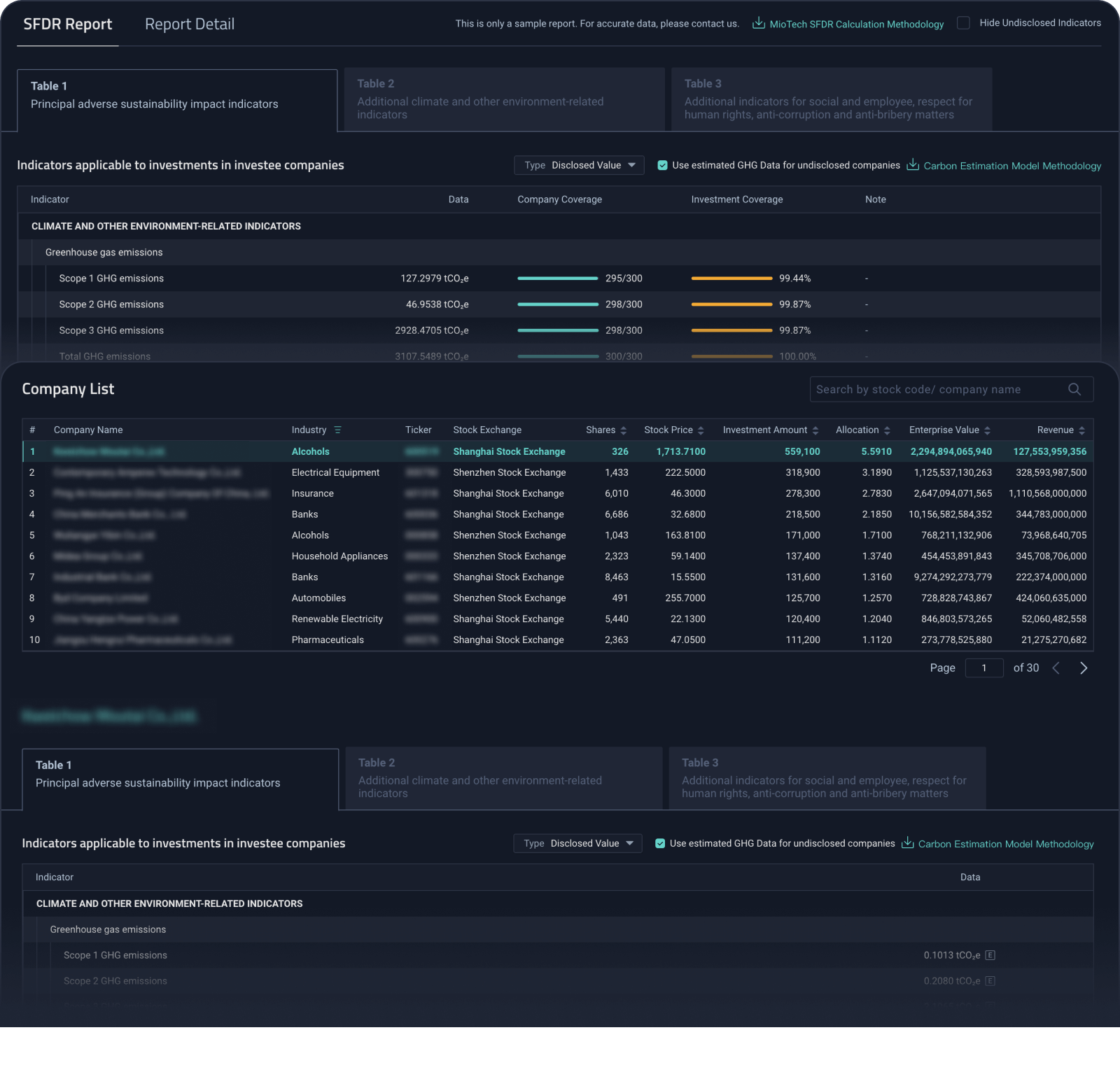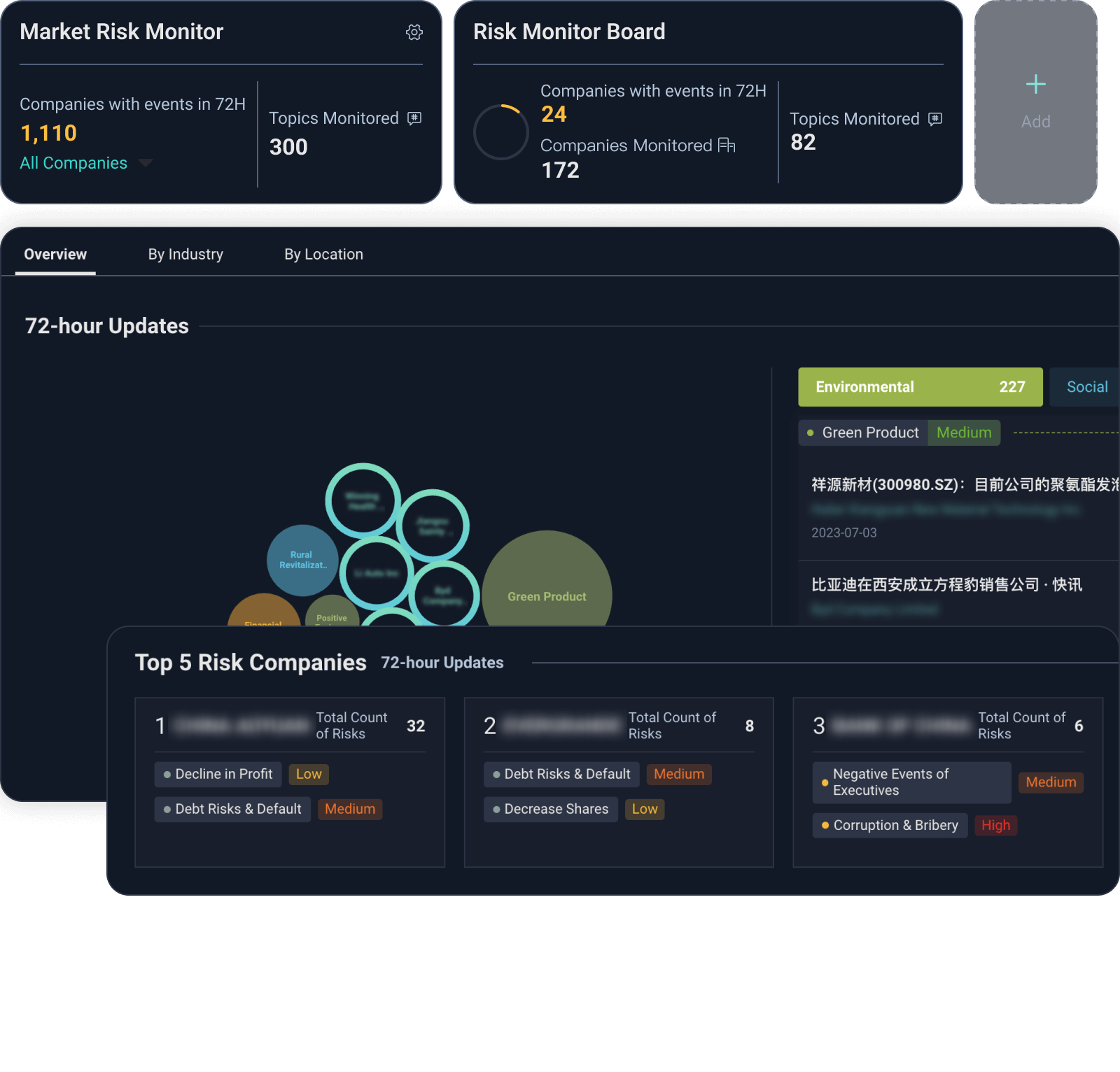 Challenges
Confusion and complexity for variety ESG reporting standard
Solutions
Build the ESG database of the invested companies.
Structure, standardize, and visualize data.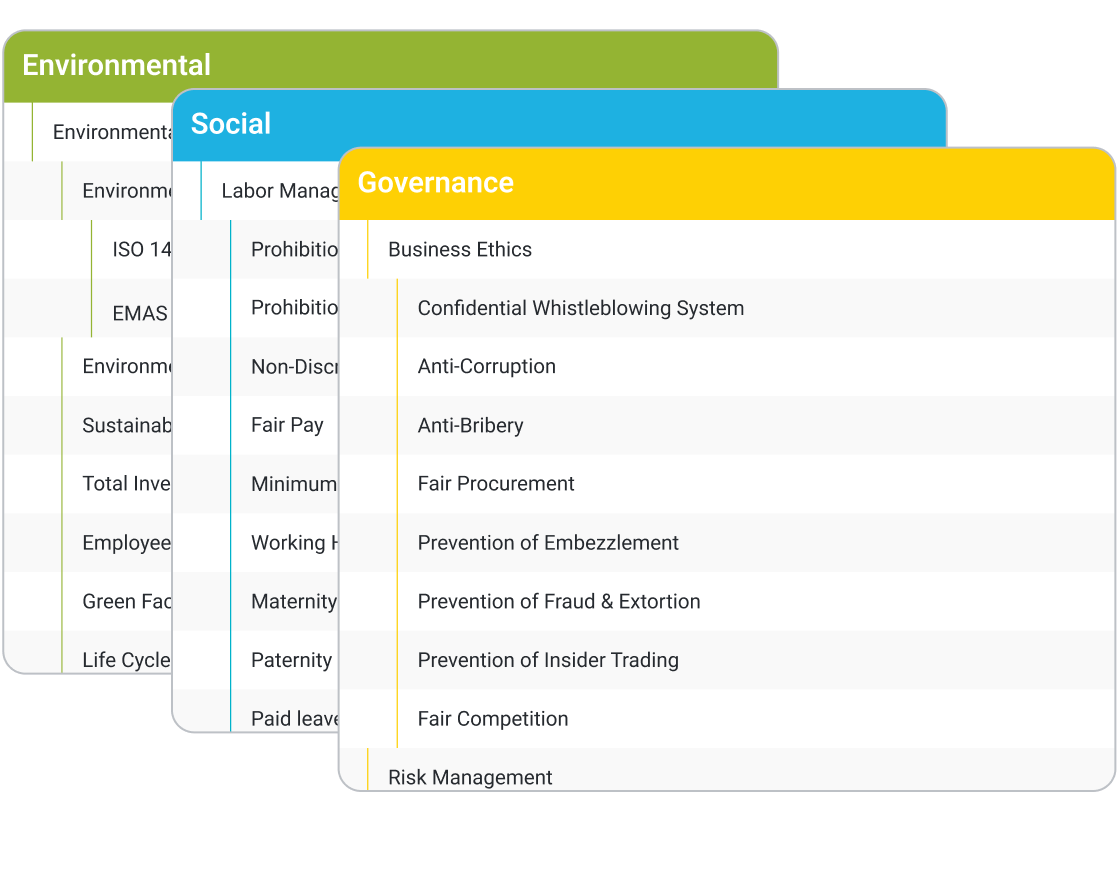 Challenges
Limited data quality and availability, difficult to measure and manage ESG risks and opportunities.
Solutions
Promote the digital transformation of ESG evaluation and automatically generate indicator scores and reports.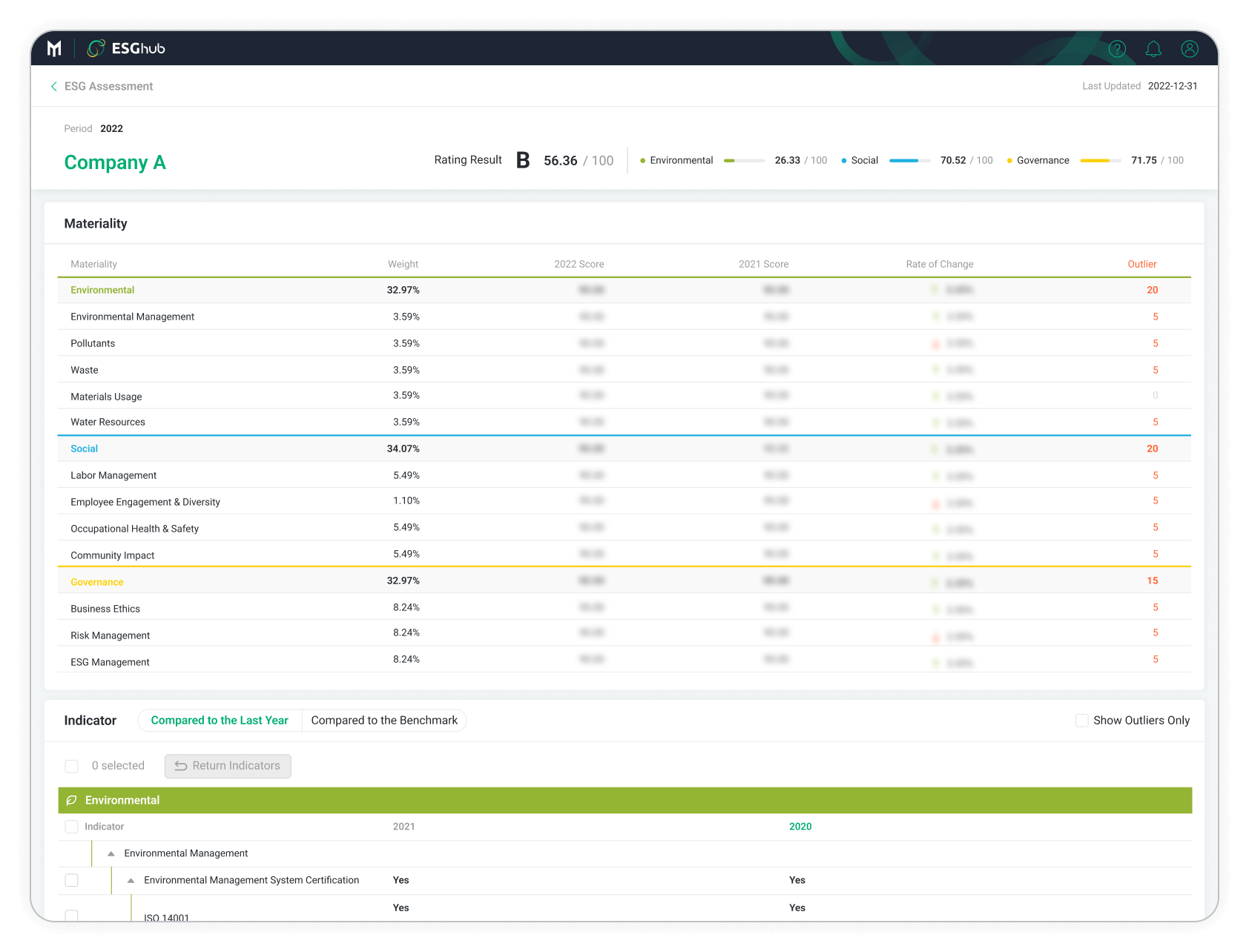 Challenges
Struggle to align ESG with their overall investment objectives
Solutions
Pre-investment due diligence, post-investment tracking, exit comparison, forming a closed loop of ESG investment management.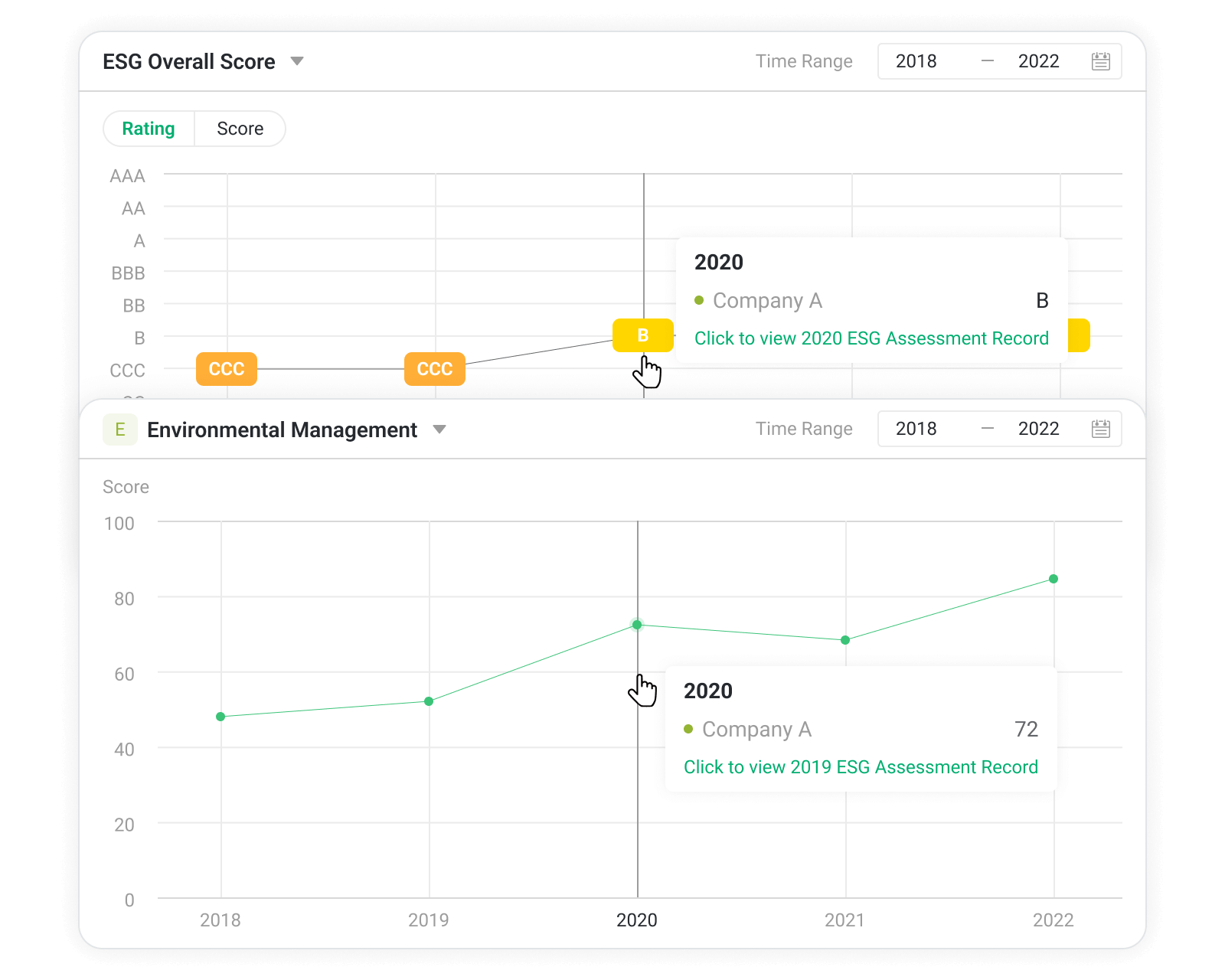 Bespoke Solutions
Comprehensive Data Support
for SFDR Compliance
Professional ESG Advisory Services
Support SFDR Product Design
Article 6
General Product
Not actively considers sustainability in investments
Article 8
Light Green Product
Promotes environmental and/or social characteristics
Article 9
Dark Green Product
Has sustainable investment as its objective
ESG Strategy Advisory
Provide support for formulating ESG investment goals, developing ESG data models, and setting up ESG strategies, etc.
Portfolio Construction
Build a portfolio with ESG characteristics, applying best-in-class or negative screening approach, or construct a sustainable investment portfolio through our comprehensive green and/or social taxonomy.
Follow-up & Evaluation
Provide data support and capacity building support to help track the ESG performance of the portfolio, ensure consistency between the performance and the target, benchmark with broad-market indexes.
Disclosure Support
Provide support to comply with official disclosure requirements, help prepare website disclosure, pre-contract disclosure and periodic disclosure, and provide data and methodology support.
Background investigation & pre-investment risk screening
Customized data collection tools & compliance documents library
Material findings identified & multi-perspective risk assessment
Sustainable financial integration & response (due diligence at portfolio/fund level)
03
ESG Consulting & System Integration Solutions
ESG Data and Expert Advisory Support
ESG System Integration and Development Solutions
ESG Data Support
ESG Indicators and Ratings
ESG Capacity Building
ESG Expert Training
Internal ESG Rating
Customized Development
ESG Research
Ongoing ESG Research Support
Asset managers
ESG portfolio alignment & benchmarking
SFDR regulatory reporting
Hedge funds
Data back testing for ESG quant strategies
Banks
Data feeds for various products (client dashboards, etc.)
Fixed income fund screening
Sustainability-linked loans
Equity research, consultants, academia, etc.
Sectoral data for sell-side research reports
Topical institutional research
Credit rating agencies/
insurance