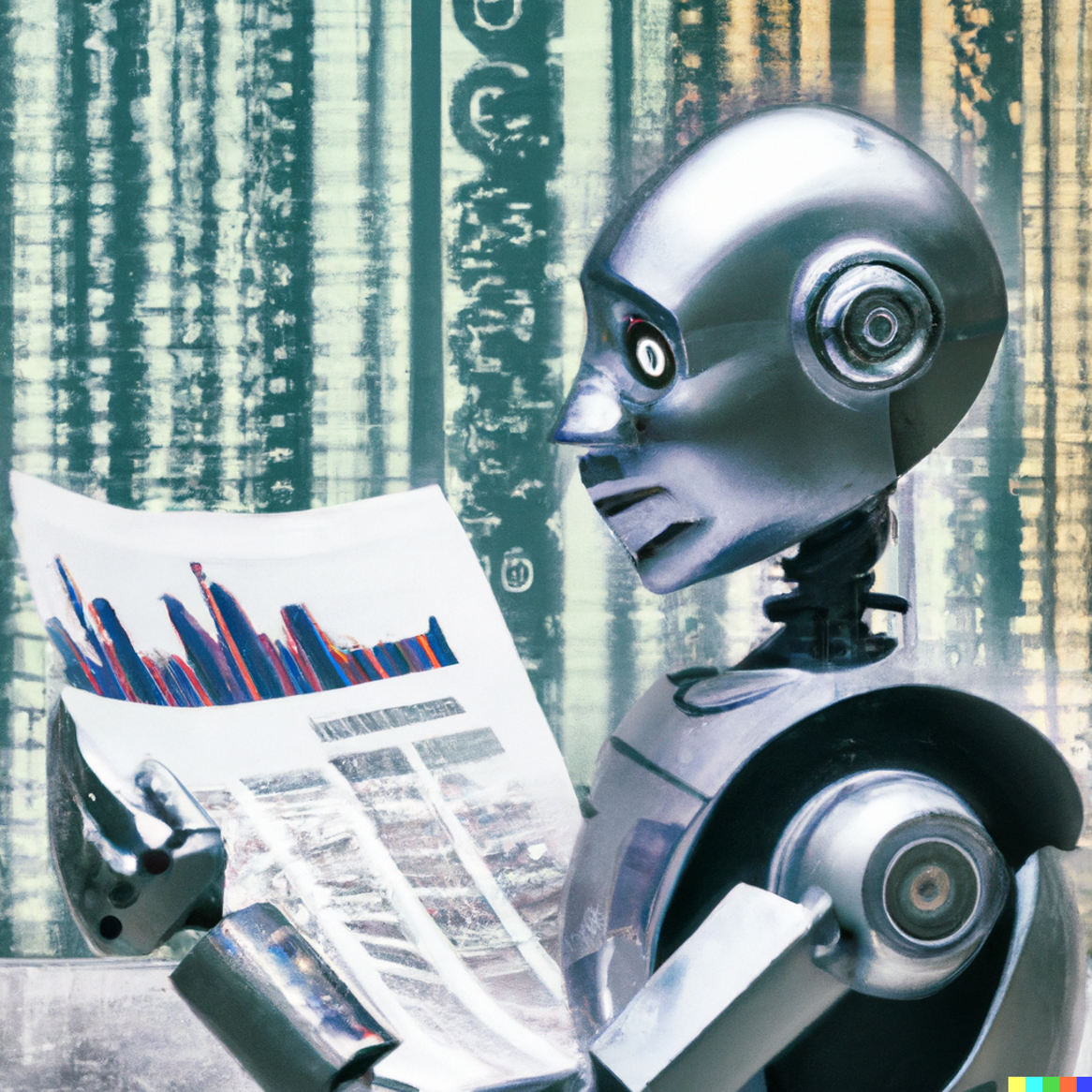 Source: OpenAI's Dall-e 2. Robot reading financial realism in surrealism style
Dall-e is also an application by OpenAI, the same parent as ChatGPT. It uses a neural network to generate new images based on a textual description, a form of generative modeling similar to ChatGPT.
Generative AI's incredible speed of sinking into our everyday lives came in like a tsunami. At a record-breaking, tech-pandemic'ish growth rate, OpenAI's ChatGPT registered users reached 1 million within 5 days and 100 million within 2 months to become the fastest adopted consumer internet app.
This is even more impressive considering that OpenAI's ChatGPT, while reaching 162 countries, does not allow users from mainland China, Hong Kong, Iran, Russia and parts of Africa to sign up. Mainland China and Hong Kong make up a fifth of the world's population. This didn't stop the ChatGPT frenzy from reaching Chinese shores, as its wonder has topped almost every conversation, WeChat post and search results.
When the dust settles from the novelty of the conversations the mass population now has with their AI ChatGPT, the implication for the corporate world could be even bigger. Financial reporting that measures the pulse of the market could be directly hit by the AI tsunami, impacting players from the companies, regulators and the "human talent" in the ecosystem.
Easier to report - Reporting patterns driven to change
Companies' financial reporting was not always so entrenched in the capital markets. In the US, the first annual report from US steel was released in 1902 but it was not mandatory for companies to file annual reports until after the 1929 stock market crash and the following establishment of the Securities and Exchange commission in 1933.
The greater China mandatory annual disclosure requirement came even more recently with Hong Kong first requiring companies to issue annual reports in 1984 while China's CSRC (China Securities Regulatory Commission) began requiring companies to file annual reports a decade after in 1984.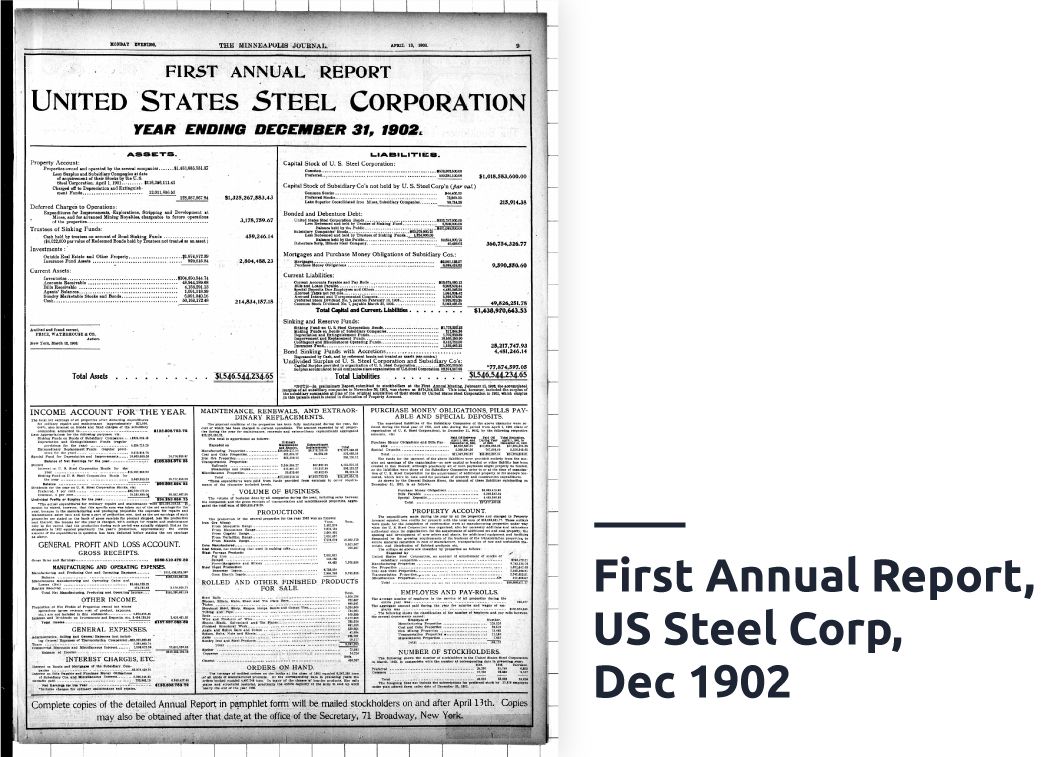 Exhibit 1. First annual report


Generative AI has the potential to automate many aspects of data processing and make it exponentially easier for companies to communicate and disclose more frequently. Companies in the US currently prepare their form 10-Qs providing unaudited financial results and management discussions on a quarterly basis while Hong Kong and mainland China-listed firms stop at requiring semi-annual interim reports. Companies are often allowed 45 days after the end of each quarter or year to issue their reports. It is not hard to see companies reduce the turn-around time required to publish their results and at greater frequencies.
The move toward more sustainability disclosures, be it SEC's climate risk disclosures (takes effect for large companies starting April 2023) or IFRS' ISSB (International Sustainability Standards Board) disclosures (takes effect January 2024), we could see AI acting to better gather the related data and incorporate that into the more familiar annual report distribution, as a part as well as a standalone report. (Plug for MioTech's AMI here)
AI's superb capability at natural language processing also means that translating annual reports in different language would be a fraction of the time it takes currently.
Gamification of investing – financial reporting for the mass
The access to financial information from everywhere around the world, removing the language barriers, would for sure increase the participation of more non-traditional investors.
Stock markets did not always have such mass sport-game like appeal. Financial reporting became more front-page news and in infotainment in the late 1990's during the dot-com boom. The rapid growth in the technology sector fueled speculations. In Microsoft CEO Satya Nadella's words, we are now entering into "an era of rapid innovation,"
With the blossoming of AI-supported search engines like Microsoft's new Bing and more interest in popular trading platforms like Robinhood, we could see more mass participation in the stock market. Online forums like Reddit's subreddit r/wallstreetbets already gathered retail investors' frenzy by sending GameStop and AMC share price to sky-high levels two years ago in early 2021. (GameStop share price rose from around $20 per share in early January to over $347 per share at its peak later that month).
By entering either a simple or a complex financial reporting question directly into ChatGPT, generative AI could readily give an answer customized to the potential investor. We tried asking it give us the run-down on Alibaba's 2022 financial results (We know it has not yet been released). We were pleasantly surprised at ChatGPT's quick adaptive style to give a precise answer about Alibaba's revenue, YoY % increase, net profit and its % increase.
Tongue-in-cheek, we asked it to give us the results in alternative forms, ChatGPT scored in flying colors as a rapper, a Shakespearean poet as well as a Japanese Haiku master. See exhibit 2.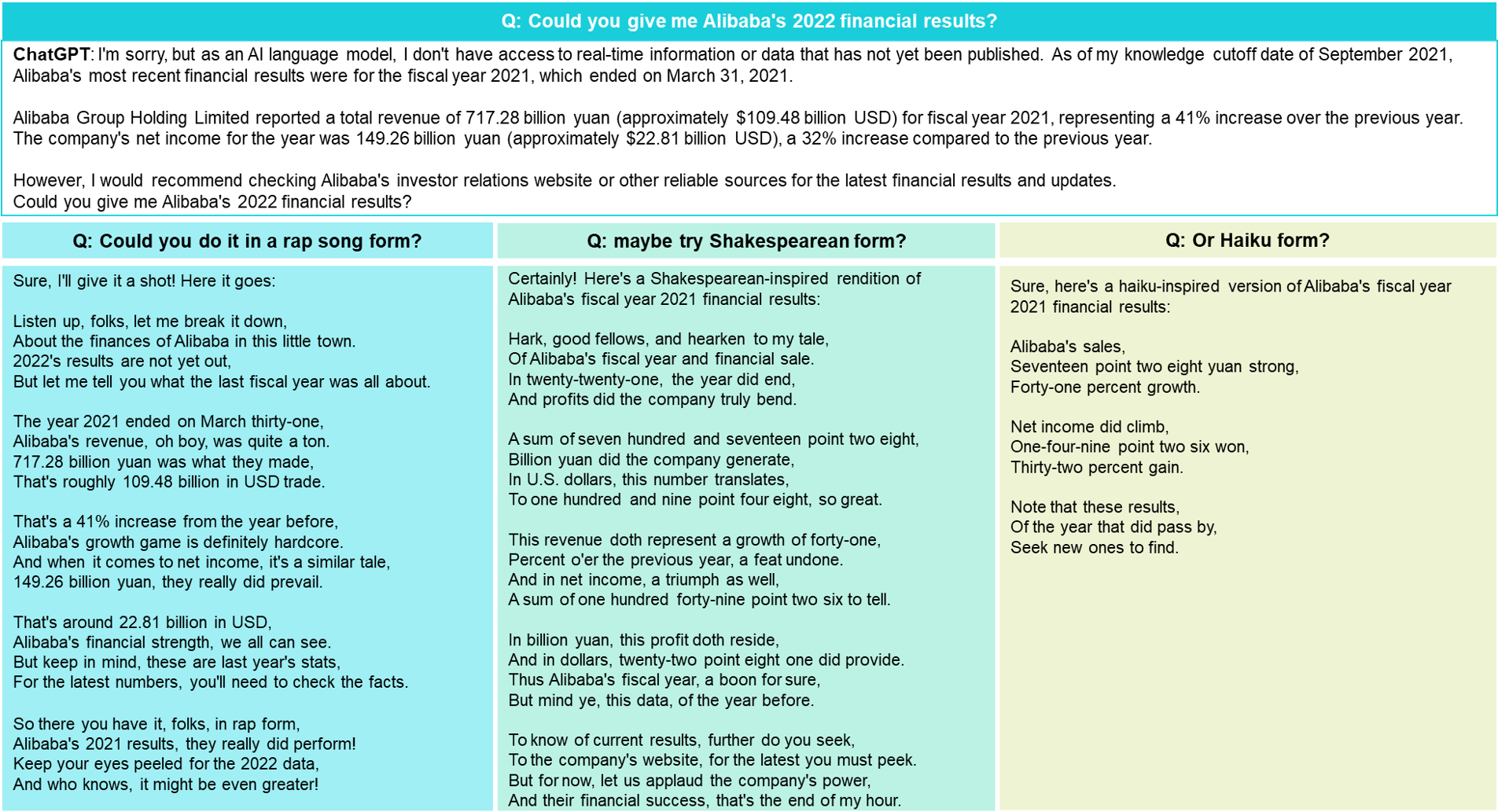 Exhibit 2. ChatGPT answers to 2022 Alibaba annual results and in various styles (Rap, Shakespearean and Japanese haiku)


Empowered Regulators and Whistle-blowers
Generative AI's ability to search and detect patterns could greatly increase oversight power of regulators such as the SEC in the US, SFC in Hong Kong and CSRC in China.
If regulators adopt AI correctly, they would be able to detect fraud and other irregularities in financial reporting more effectively.
Alternative data sources, coupled with historical reporting of the company and reporting from a company's peers in the same sector could allow regulators to spot misreported numbers effectively.
Generative AI at the hands of the average Joe could also dramatically increase the more pairs of eyes watching over anomalies in financial reporting. An era of "whistleblower troops" could be beginning.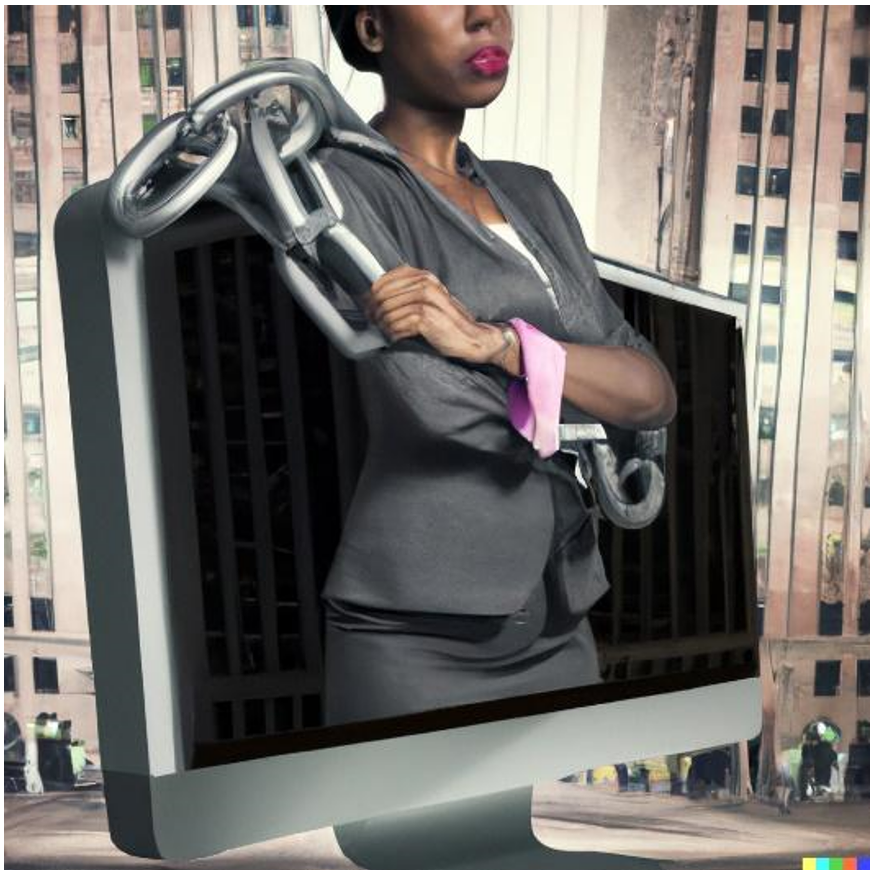 Exhibit 3. Regulator more empowered with AI
Source: Dalle-2


In the sustainability reporting world, whistleblowers catching "greenwashing activities" could dramatically increase.
Powered by sustainability data reporting tool such as our ESGhub, a chat with the ChatGPT-like engine could reveal anomalies in a companies' many suppliers spread around the world or customers it sells to. Simple integration with a stock exchange's reporting requirements would allow the companies themselves or regulators to discover an emissions figure that is an outlier from its past or with other companies in the same industry.
World is flat - "human talent" vs. AI in financial reporting
While many are pleasantly surprised at the way generative AI is helping their personal productivity in researching and writing, it is without a doubt that the technology could compete with humans while serving humans. Many jobs could be at high risk of being replaced by AI.
Routine and manual data input work often born by junior analysts in professional firms are quickly being substituted with AI. Allen&Overy, one of the world's largest law firms, already announced the AI chatbot Harvey this week that is helping process around 40,000 queries for their day-to-day client work for 3,500 partners.
Generative AI's potential doesn't stop at drafting contracts for law firms, it also extends to all white-collared knowledge workers. Over the past year, Bain consulting, ranked among the top three consulting companies in the world, has embedded OpenAI its internal knowledge management systems, research, and processes to improve efficiency for its 18,000 knowledge workers. Building on the early success of those initiatives, Bain has announced this week that it is working with OpenAI to bring generative AI capabilities to its clients globally.
Coco-Cola also became the first company join the alliance to leverage OpenAI's ChatGPTand DALL-E to craft personalized ad copy, images, and messaging by joining the alliance with Bain and OpenAI.
Other use cases? Sales and support agents with automated personalized and real-time scripts for retail banks, telco and utilities companies. Marketing support for boosting turn-around time for leading product and service marketers by using ChatGPT and DALL·E to develop highly personalized ad copy, rich imagery, and targeted messaging. (as in the case for Coco-Cola and other consumer companies). Helping financial advisors improve their productivity and responsiveness to clients through analysis of client dialogues and financial literature, and generation of digital communication.
In the world of financial reporting, generative AI could automate tasks for accountants, investor relations, regulators and sell-side and buy-side analysts. Summarizing financial results of a company would take seconds, even if it means versed in a rap-style as shown in Exhibit 2. All it needs to train for is to attach the opinion of a forecast.
In 2005, Thomas Friedman's book "The World is Flat: A Brief History of the Twenty-first Century" became a bestseller and it described the new globalized world we were entering. It stayed on the New York Times Bestseller List for two years from April 2005 to May 2007. The year 2005 was four years after China joined the WTO and outsourcing to India really took off, globalization was flattening the world, where talent around the world started to compete on the same playing field. We already saw how it played out in almost the two decades since.
Friedman wrote then: "No matter what your profession – doctor, lawyer, architect, accountant – if you are an American, you better be good at the touchy-feely service stuff, because anything that can be digitized can be outsourced to either the smartest or the cheapest producer."
The world is flat again, and the new kids on the block? AI.
Exhibit 4. Financial Analyst fighting a robot in surrealism style
Source: Dall-e 2