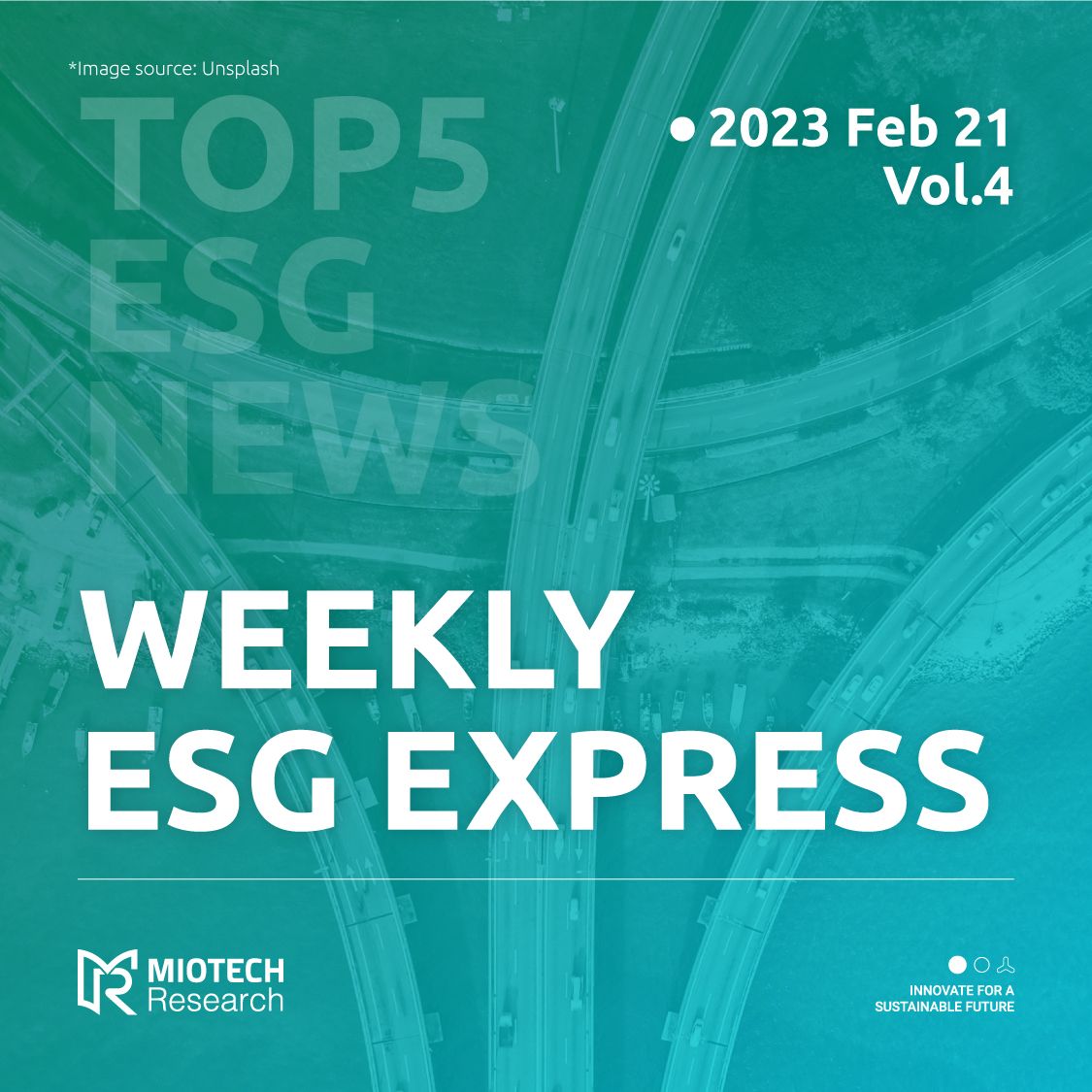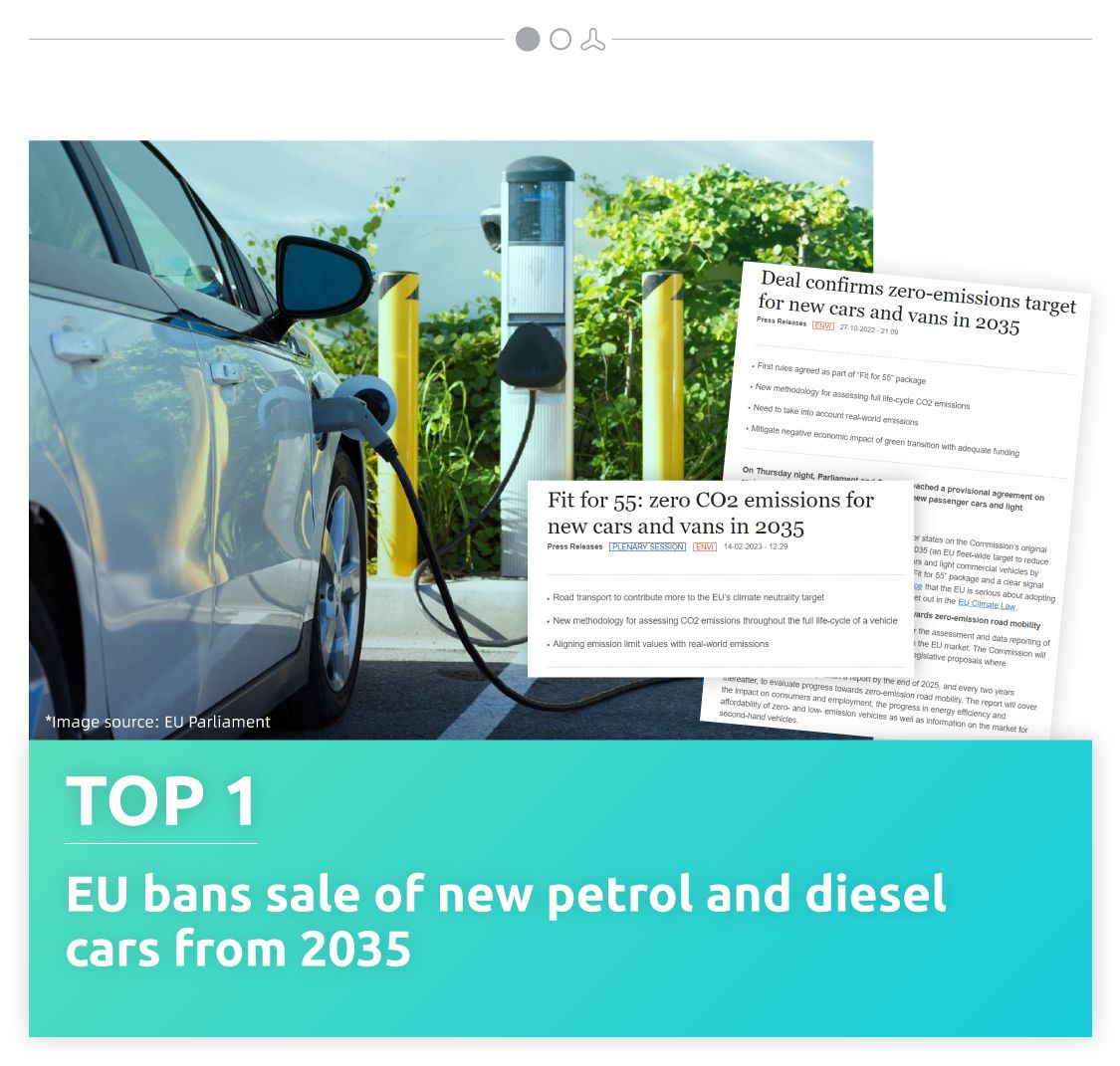 The European Union Parliament approved a law to ban the sale of new CO2 emitting cars and vans starting from 2035 onwards last week. The law also sets an interim target to cut CO2 emission for new cars sold from 2030 to cut emissions by 55% compared to 2021 levels, much higher than the existing target of 37.5%. New vans must cut their CO2 emissions by 50% by 2030 compared to 2021 levels.
The new regulation will give the EU electric vehicle market a boost, with many carmakers in Europe responding with investments in electrification. Compared to China's 25% market share of EVs by 2022, research shows that only around 12% of new vehicles sold in the EU now are electric-powered.
The 44% that voted against the measure (279/640), however, reflected the measure is not without controversy. Companies face the pressures of a sudden supply-chain transition while traditional fuel car workers could face huge lay-offs.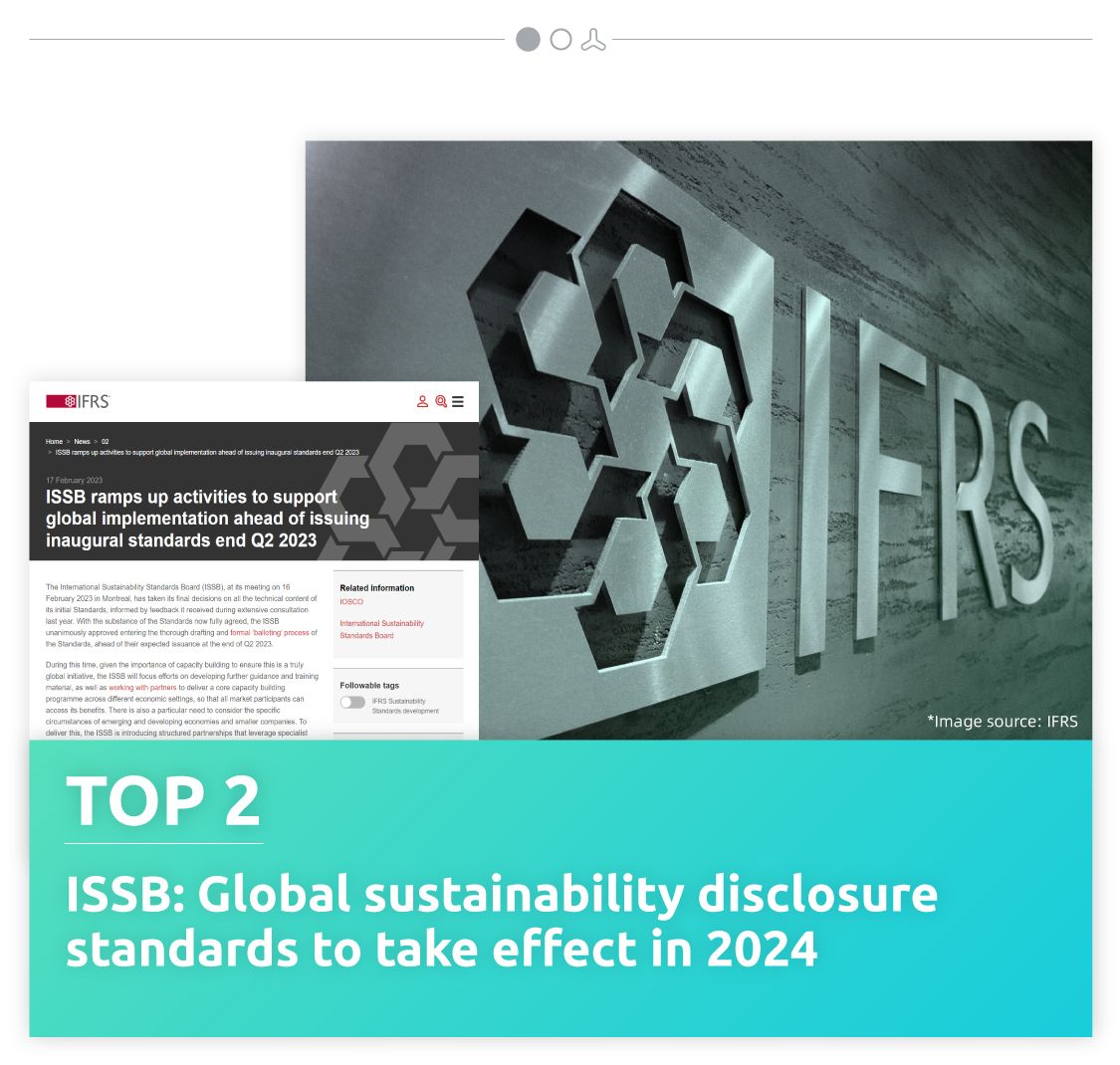 The International Sustainability Standards Board (ISSB) board approved the new global sustainability and climate disclosure standards and will become fully effective starting January 2024, the board announced at its meeting in Montreal on February 16.
ISSB says the finalization of both sets of standards will be completed and released by the end of Q2 this year, with companies beginning to issue disclosures against the ISDS starting from January 2025.
ISSB has given companies an exemption of one year for reporting emissions from their value chains - known as Scope 3 emissions, a part of its climate-related disclosure requirement.
ISSB chairman Emmanuel Faber commented that ISSB would actively engage with many preparers who are considering voluntary adoption of S1 and S2, the two portions of the Sustainability Disclosure Standards, to better answer their investor needs. Thousands of companies already using the TCFD Recommendations and SASB Standards will be in a strong position to use S1 and S2.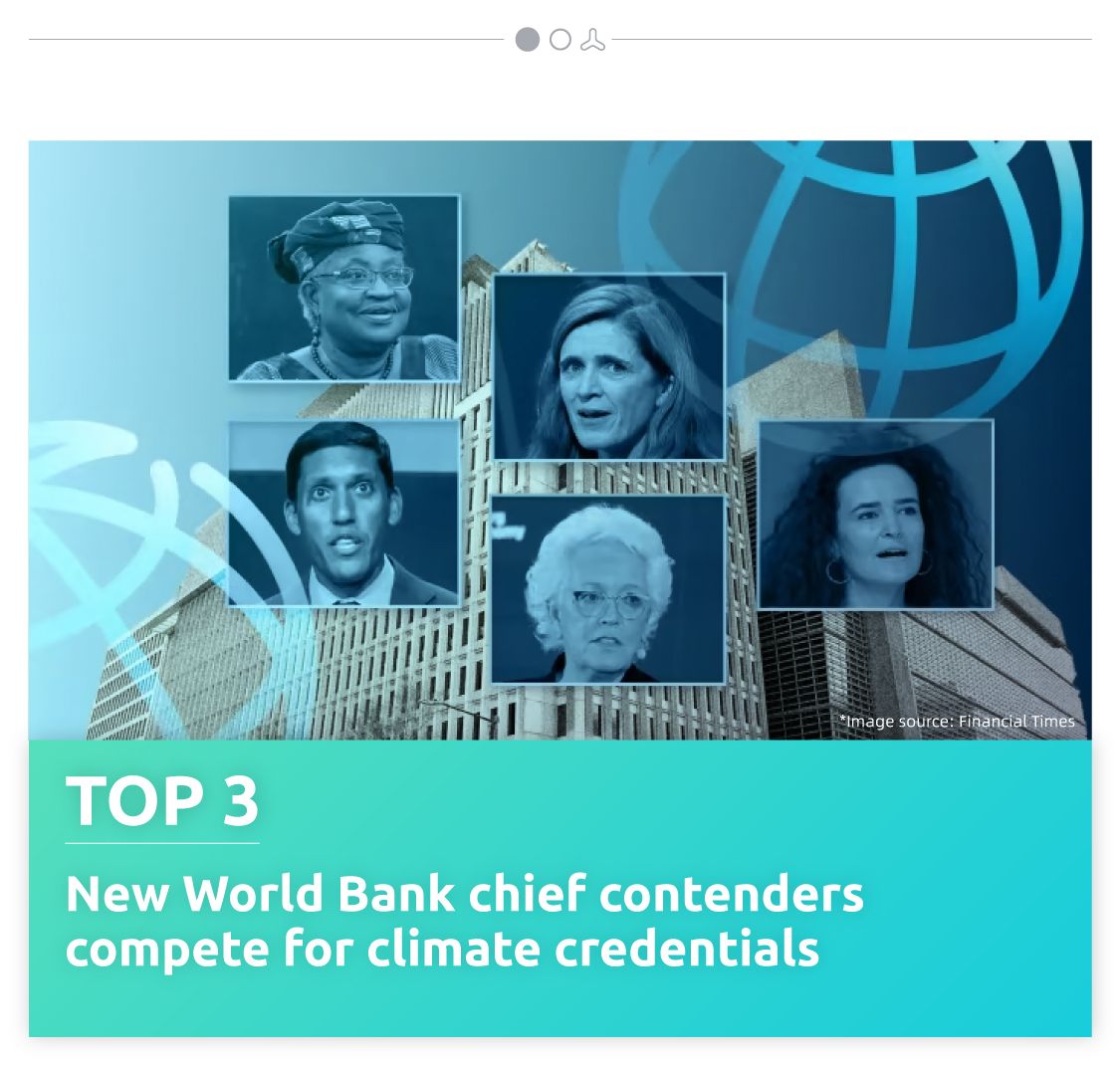 David Malpass, the current World Bank president appointed by former US president Donald Trump, resigned last week, a year before the expiration of his term. He was continuously criticized over his climate change views - refusing to say whether he believed in human-caused climate change at a conference in September.
The US Treasury is assembling a list of contenders with strong credentials in climate finance to replace Malpass upon his departure in June. The potential list of candidates includes Samantha Power (the former US ambassador to the UN), Raj Shah (Rockefeller Foundation president), Ngozi Okonjo-Iweala (World Trade Organization director-general). The US, being the largest shareholder of the bank, traditionally chooses the president.
Just last week, US Treasury secretary Janet Yellen expressed her concerns for the bank's climate targets in an open speech. How to rebuild frayed bonds of trust and quickly put in place reforms to address climate change will be a top priority for the new president's term.
The World Bank currently has committed 35% of its total financing to climate projects by 2025, which delivered a record US$31.7bn in 2022, a 19% increase over US$26.6bn all-time high the previous year.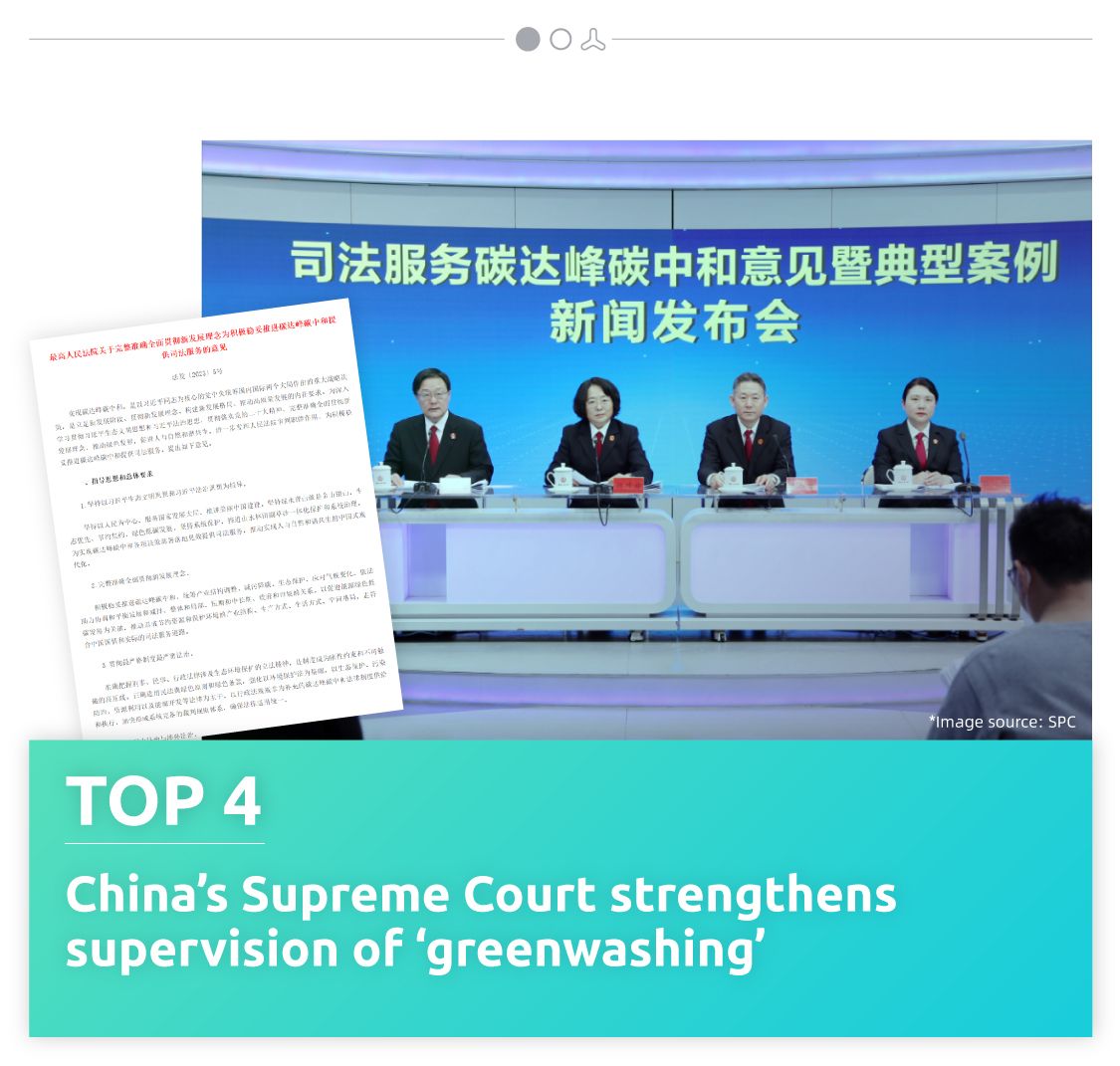 China's Supreme People's Court (SPC) issued relevant judicial services that support China's 'dual carbon' goals last week, including a tighter governance of the national carbon market.
In the press release, SPC noted that China's courts have had 1.12 million 'carbon-related' cases at first instance since 2016, when China signed the Paris Agreement. According to SPC's data, a majority (80.4% of total), or 900,000 of the cases involved energy transition. As China accelerates on the renewables and carbon markets, the court system is releasing more guidelines to handle the increasing number of carbon-related cases.
The guideline also includes a stricter crackdown on "greenwashing," or enterprises that falsify, fabricate, conceal or omit emission data.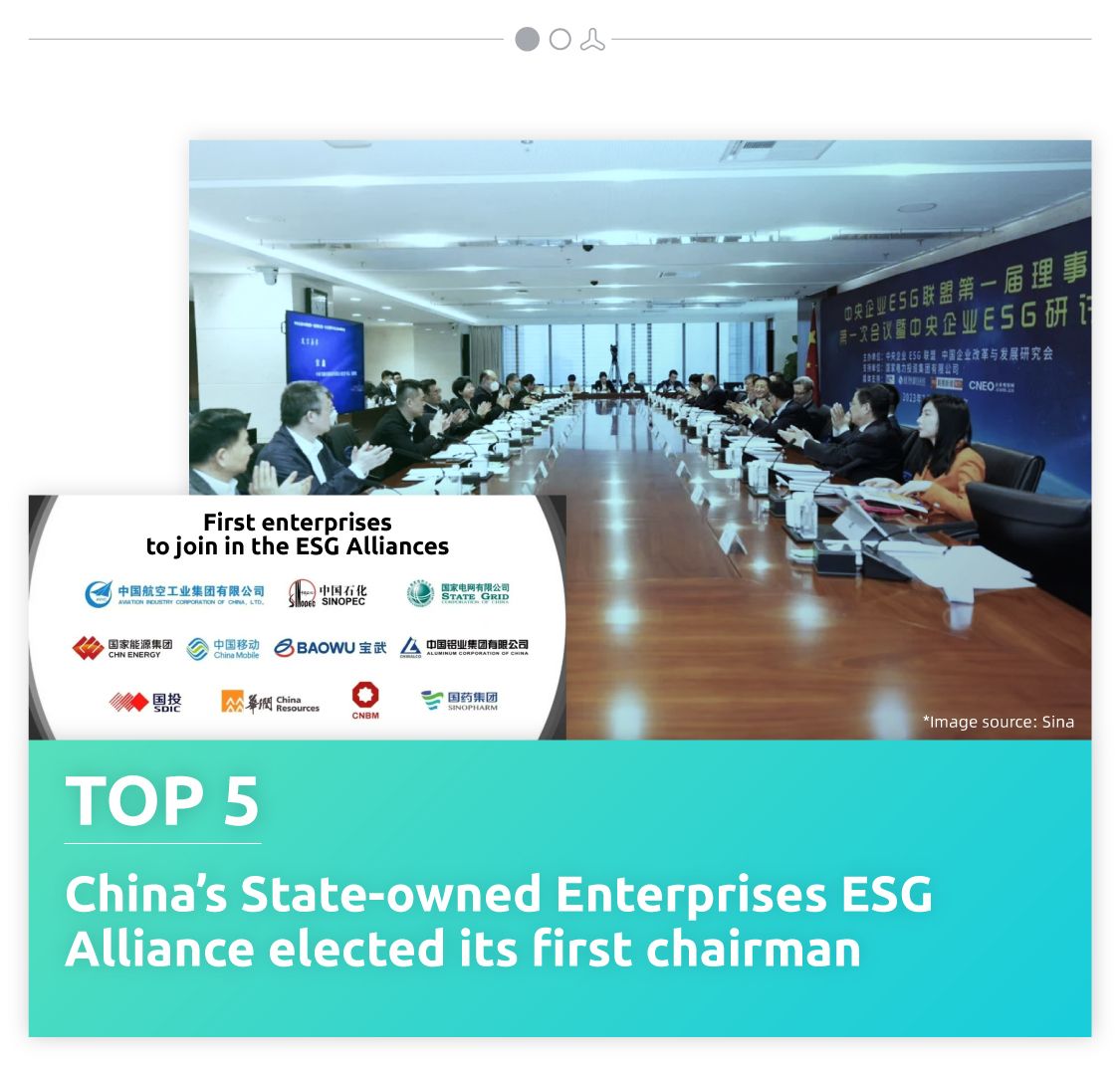 China's State Power Investment Corporation (SPIC), a power company with world's largest installed renewable energy capacity, has recently been elected as the first chairman of the ESG Alliance of State-owned Enterprises.
Formed last December, State-owned Enterprises ESG Alliance is a platform focusing on the ESG development for state-owned enterprises and include large SOE's such as Sinopec, State Grid Corporation of China and China National Building Material.
The ESG Alliance is governed by SASAC(State-owned Assets Supervision and Administration Commission of the State Council)and is considered to be the official organization to guide the building of China's ESG rating system and promotion of China's global ESG impacts.