Cover Photo/Pastures at Chateau de Fontainebleau, Source/Fay Wu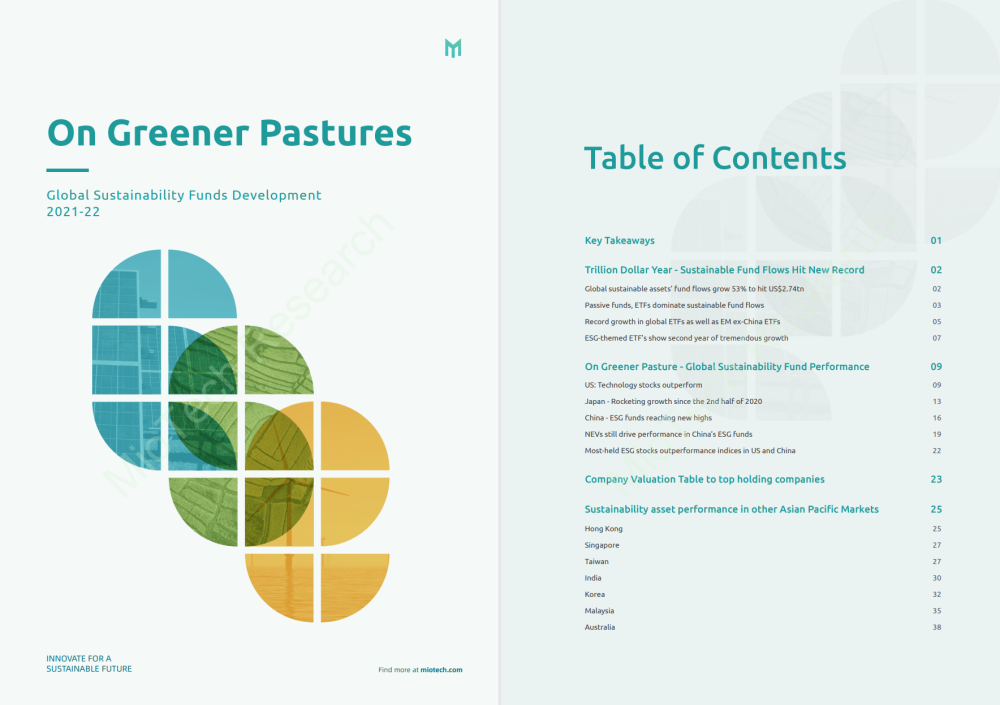 Global sustainability assets saw a bumper year in 2021, up US$1 trillion to reach a total of US$2.74 trillion. While Europe still dominate the sustainable investment space with 80% of the capital, US and Asia Pacific saw tremendous fund inflows. How are investment pools developing and performing globally? Our 44-page research report explores in depth the markets globally, with particular focus on US, China, Japan, and seven other Asian economies.
A snapshot:
US sustainability funds shifted from clean energy in 2020 to technology in 2021, with Microsoft (MSFT US) and Apple (APPL US) as their top holdings. Even in an exceptional year when S&P 500 rose 26.9% in 2021, the ten most widely held US ESG sustainability stocks in the US outperformed by 18% in a year, 282% in three years (2019-21) and almost fivefold over five years (2016-21).
China, with a manufacturing focus and top-down directive from the Central Government that focus on environment and carbon neutrality, saw sustainability investment flow into top holdings in CATL (300750 SZSE), world's largest lithium-ion battery maker and LONGi (601012 SH), the world's largest solar panel maker. The 10 most widely held ESG stocks in China outperform the CSI 300 by a wide margin: 40% in one year, 541% in three years and 742% in five years.
Japan's Government Pension Investment Fund, the largest retirement fund in the world, has been directing funds toward sustainability while Korean companies invested in hydrogen economy and electric cars, in part echoing Biden's order that half of the cars sold in the US would be zero-emission vehicles by 2030.