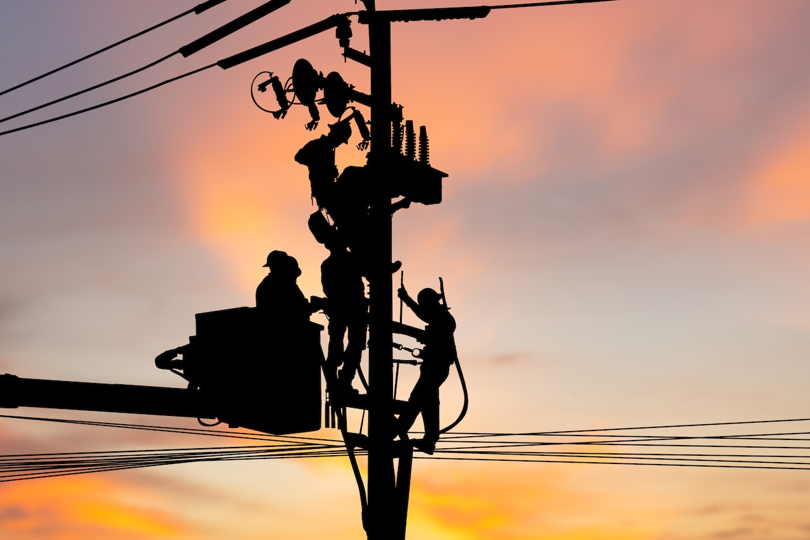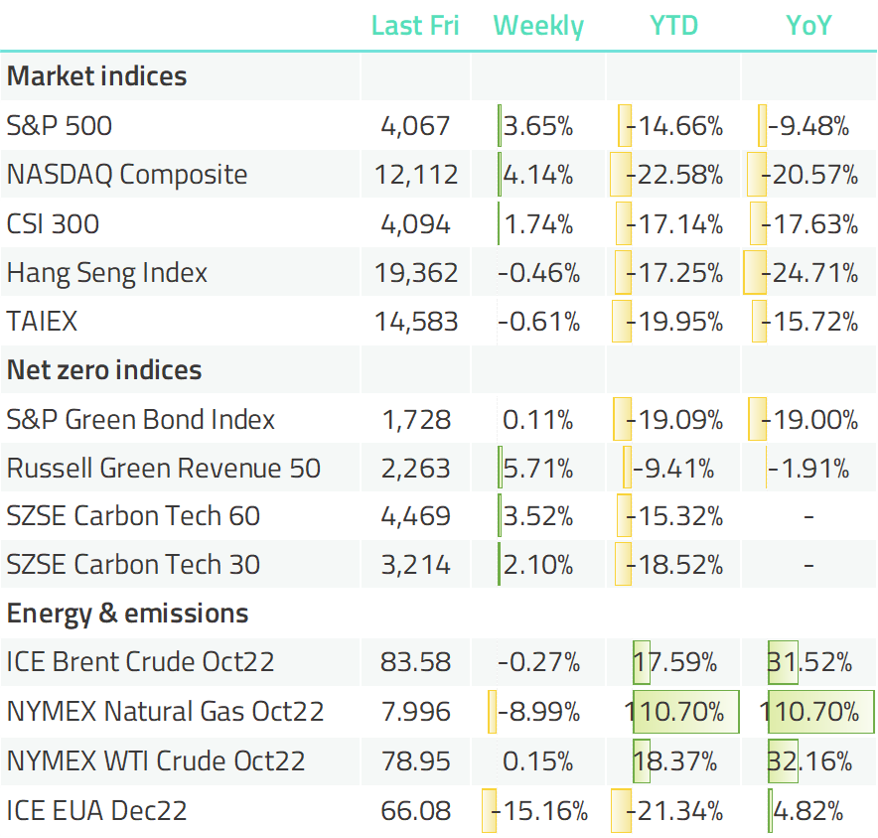 Energy sector is employing more people now than pre-pandemic times
Hiring of the global energy sector has surpassed the pre-pandemic level. The global energy sector employed over 65 million people in 2019, the Paris-based International Energy Agency (IEA) said in its latest "World Energy Employment".
Based on the evidence available, the IEA estimates the energy sector has employed more people in 2021 than 2019. Clean energy, which has seen strong growth due to global net-zero pledges, accounts for more than 50% of the total energy sector employment.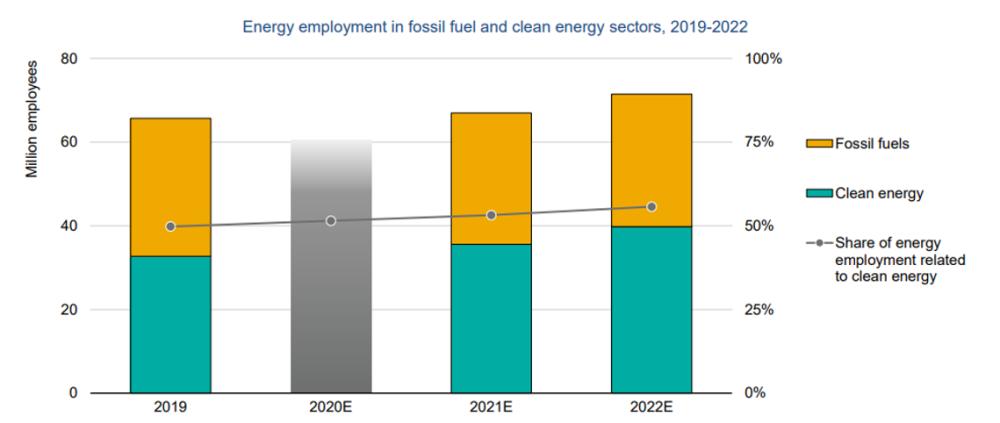 BlackRock fought back climate activism claims, while losing its dominance status in US ETF market
BlackRock defends itself against the climate activism claims of US politicians. In a letter sent to the Attorney General of 19 US states, its Head of External Affairs Dalia Blass said the claims are based on "misconceptions". According to ESG TODAY, BlackRock also warns of the negative impacts of politicians' agenda in preventing investors from the compelling investment opportunities with higher returns.
The investment giant is losing its dominance role in the US ETF market as its rival Vanguard rapidly catching up and shortening the gap in total assets. According to the Financial Times, Vanguard has USD 1.84tr of US ETF assets under management by the end of August, closing in on BlackRock's iShares with USD 2.21tr under management in US ETF products. Data shows that Vanguard has been attracting more investments to ETF products than BlackRock ever since 2020.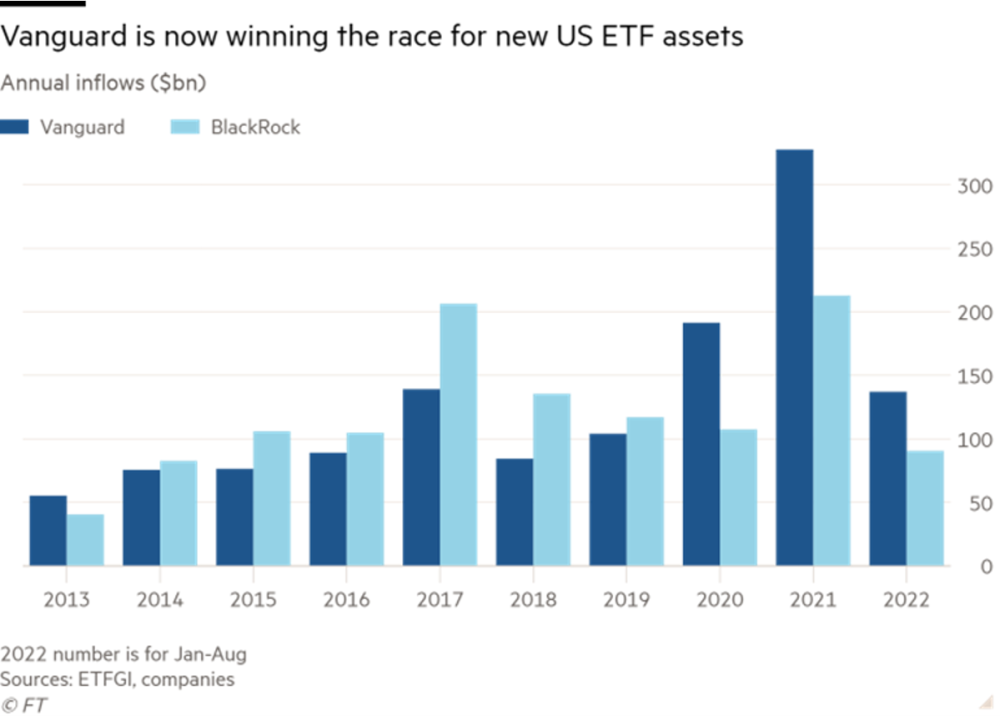 European governments unveil energy security plan for the "coldest winter"
The European Commission encourages its member states to apply price caps on wholesale gas. According to the Financial Times, the EU gives two options: one is a price cap on all gas imports from Russia and the other is a price cap system allow the cap to differ across EU countries dependent on their energy mix.
The plan is facing mixed responses within the bloc. Governments including Italy, Poland and Greece do not support the plan and some said that this move might prompt Russia to completely cut supplies to Europe.
Late last month, the Russian operator has halted the gas flows to Europe via Nord Stream 1 pipeline, which the Kremlin later said will not resume in full until the "collective west" sanctions against Russia are lifted.
Brussels is also considering capping the revenue of companies that generate electricity power from renewables, nuclear and lignite within EUR 200 per MWh. Ursula von der Leyen, the President of the European Commission said these companies are making "enormous revenues" from the energy crisis being less affected by the soaring gas prices.
Britain's new Prime Minister Liz Truss has made tackling the energy problem her priority by announcing a GBP 150bn (USD 176bn) energy plan days after her appointment. The plan includes a "energy price guarantee" to limit average annual household bills to GBP 2,500 (USD 2,930) over the next two years, as reported by the Financial Times.
Corporations across the G7 failed to be Paris-aligned
In its latest study, management consultancy Oliver Wyman found that corporations' emissions reduction targets in the G7 countries will only limit the global average temperature increase to 2.7°C above pre-industrial levels, far from meeting the Paris Agreement's 1.5°C ambition.
Meanwhile, Australia that has been lacking climate ambitions when the other regions like the EU were moving fast is making progress. According to ESG TODAY, the Australian Senate approved the Climate Bill 2022 last Thursday, formally legislating the country's emissions targets. The targets, initially proposed by the new government under Prime Minister Anthony Albanese in July aims to reduce greenhouse gas emissions by 43% by 2030 compared to 2005 levels and reach net-zero by 2050.
Iberdrola Commits EUR 3bn investment for Australian energy transition
Spain-headquartered global energy and electricity provider Iberdrola has announced a new commitment to invest EUR 2 to 3bn in Australia to accelerate the its transition to renewable energy and boost its capacity in the country to 4GW.
NIO delivered fewer cars in Q2 but earned more
China's electric car start-up NIO published its latest quarterly report on Sep 7. According to Caixin, the carmaker delivered 25,059 cars in the second quarter, up by 14.4% YoY while down by 2.8% compared to the first quarter. Despite a drop in deliveries, high-priced cars have boosted its revenue to RMB 10.3bn (USD 1.5bn), up by 21.8% YoY and 3.9% QoQ.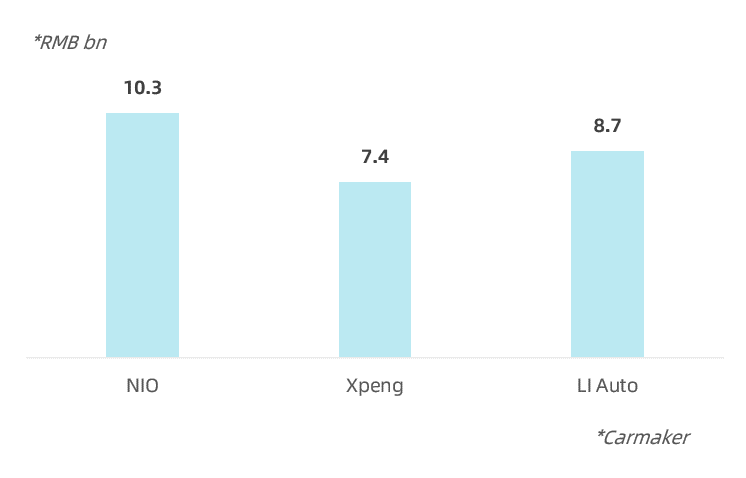 Less than one third of firms disclosed green revenue
According to Responsible Investor, data from FTSE Russell shows that less than one third of the corporations globally have disclosed their green revenues. According to FTSE Russell, Asia Pacific topped global disclosure rates by around two percentage points at 31%, followed by Europe at 29% percent and America at 28%. Middle East and Africa trailed other regions with a reporting rate of 27%.
Connecting workplace: Barclays, JPM, Franklin Templeton
Barclays has announced the appointment of Daniel Hanna into its Corporate and Investment Bank division as Global Head of Sustainable Finance, based in London. According to ESG TODAY, Hanna joins Barclays from Standard Chartered, where he worked for 13 years, most recently as Global Head of Sustainable Finance. Hanna states on its LinkedIn profile that he is currently on gardening leave at Standard Chartered.
JP Morgan Chase Commercial Banking has announced the appointment of Eric Cohen as the head of its green economy team, ESG TODAY reported. He will lead the team in driving the bank's strategy for serving companies advancing decarbonisation through transformative technologies. Prior to this appointment, Cohen worked in Fifth Third Bank for more than 12 years. His most recent role in the bank was Managing Director, Renewable Energy Finance.
Investment management giant Franklin Templeton has recruited Jean-Marc Pont as its Head of Sustainable and Institutional Product for the EMEA region. According to ESG TODAY, Pont's last role was a Senior Investment Specialist at Generali Investments.
Sources
[1] Edie - Global energy jobs surpass pre-pandemic levels, driven by a clean energy surge
[2] BlackRock - BlackRock Strikes Back Against Climate Activism Claims
[3] FT - Vanguard closes in on BlackRock in $6.6tn US ETF market
[4] FT - Brussels pushes for EU-wide caps on gas price
[5] FT - EU spars over proposal to cap Russian gas prices
[6] FT - Russia shuts down Nord Stream gas pipeline to Europe
[7] FT - Russia switches off Europe's main gas pipeline until sanctions are lifted
[8] Edie - EU plans 'revenue cap' on power firms, mandatory electricity savings at peak hours
[9] FT - Liz Truss unveils £150bn UK energy plan but limits business support
[10] ESG TODAY - Corporate Emissions Targets Across All G7 Countries Fall Short of Global Climate Goals: Report
[11] ESG TODAY - Australia's Climate Targets Enshrined into Law
[12] ESG TODAY - Iberdrola Commits to Invest up to €3 Billion in Australian Energy Transition
[13] Eco-Business - Chinese companies accused of discharging mercury, cyanide into Cameroon rivers
[14]
财新网 -蔚来汽车二季度交付量环比下滑 新车型产能受关注
[15] Responsible Investor - FTSE Russell: Less than a third of corporates disclose green revenues globally
[16] ESG TODAY - Barclays Appoints Daniel Hanna as Global Head of Sustainable Finance for CIB
[17] ESG TODAY - JPMorgan Chase Commercial Banking Appoints Eric Cohen to Lead Green Economy Team
[18] ESG TODAY - Franklin Templeton Appoints Jean-Marc Pont to Lead Sustainable Product Strategy