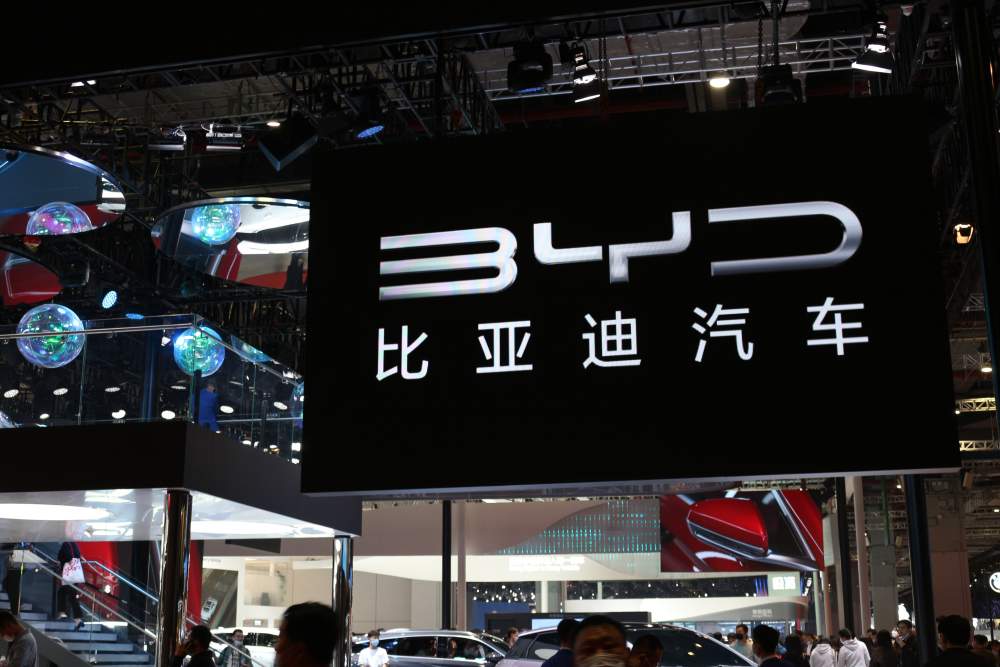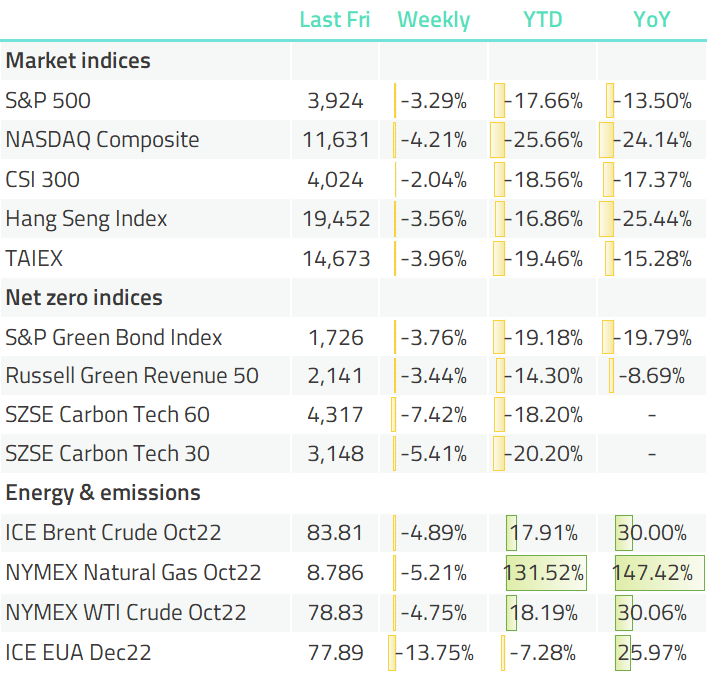 Buffett cuts stake in Chinese EV maker BYD in robust financial performance – Berkshire Hathaway Energy Company, a subsidiary of Warren Buffett's Berkshire Hathaway Inc has sold 17.86 million Hong Kong-listed shares of BYD (1211.HK) since Jun 30, Shanghai Securities Journal reported.
According to the latest filling published on the Stock Exchange of Hong Kong on September 1, Berkshire Hathaway holds 18.87% of BYD's H-shares after the most recent stock sale, down from 21.47% originally.
The transactions are expected to bring Buffett HKD 5bn (USD 640m) of cash in total, according to Shanghai Securities Journal.
Shares of BYD has dropped by more than 16% since Aug 23 upon Buffett's offloading and closed at HKD 228.4 (USD 29.1) per share last Friday.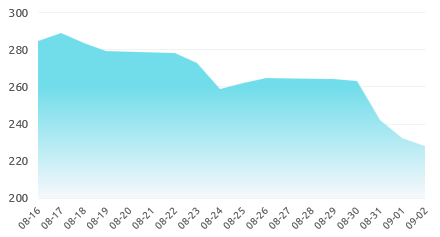 BYD has announced a stellar half-year financial performance. According to Caixin, its half-year financial report published on Aug 30 shows the company recorded RMB 150.61bn (USD 21.3bn) in revenue, up 65.71% YoY. Notably, its net profit more than tripled compared to the first half of 2021 to RMB 3.6bn (USD 519m). The firm's net profit of the first half year has topped the that of the whole last year.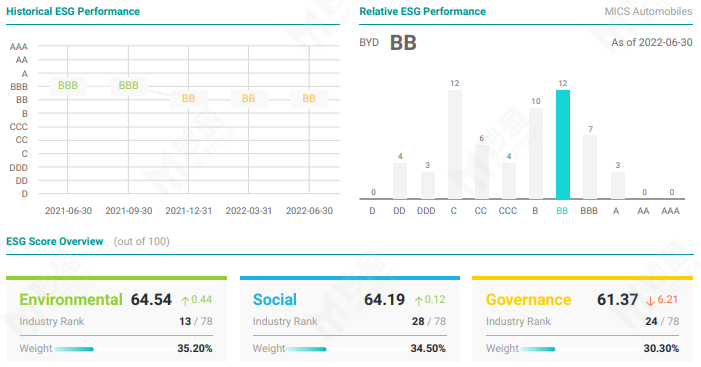 Based on reported data and its presence in regulator announcements and news reports, MioTech has awarded BYD with a ESG score of 63.86 and a BB rating as of Jun 30. It outperforms 58% of the listed automotive companies in Greater China.
Alibaba avoided 619,944 tonnes of carbon emissions with clean energy – Last week, China's e-commerce giant Alibaba published its 2022 ESG Report covering the firm's sustainability-related performance for the financial year that ends 31 Mar 2022. In the past financial year, Alibaba avoided 619,944 tonnes of carbon emissions by shifting its energy use to renewables. In the calendar year of 2021, Alibaba is the largest corporate buyer of renewables in China, the company claims.
Internet infrastructure is key to the digital transformation while its energy-intensive characteristic is concerning. Alibaba reveals that its cloud services business uses clean electricity for 21.6% of its total electricity consumption, making it the first company that disclose ratio of clean electricity specifically for the cloud services business. Firms like Tencent and Amazon only report their firm-wide ratio of clean electricity adoption.
Nearly half (49.5%) of its over 250 thousand employees are female, beating JD Inc (24.6%) and Amazon (44.8%) in gender diversity.
Scale up: Toyota invests over USD 5bn in EV battery capacity, First Solar invests USD 1.2bn in capacity – On Aug 31, Japanese carmaker Toyota said it plans to invest around USD 5.2bn in additional EV battery capacity in the US and Japan. The company said the growing demand for electric cars is the major factor behind this investment. According to ESG TODAY, this plan is going to boost Toyota's battery capacity to 40GWh. This comes after Toyota's domestic peer Honda's plan to invest USD 4.4bn to build a new US battery plant in partnership with LG Energy Solution.
On the same day, the US-based First Solar revealed its plans to expand its solar PV capacity with an USD 1.2bn investment, including USD 1bn used to build a new plant with an annual capacity of 3.5GWDC and USD 185m to upgrade an existing plant adding 0.9GWDC of capacity. According to ESG TODAY, the additions will increase First Solar's manufacturing capacity in the US by 75% to over 10 GWDC by 2025.
HSBC, Temasek and CalSTRS announce new sustainable finance initiatives – International banking group HSBC and Singapore's sovereign investor Temasek have jointly established a new debt financing platform Pentagreen Capital, with Asian Development Bank and Clifford Capital as strategic partners, which will focus on the development of sustainable infrastructure in Asia. According to ESG TODAY, the new venture is launched with USD 150m of capital from HSBC and Temasek. It aims to deploy USD 1bn in loans in the next five years.
Pension fund investor California State Teachers' Retirement System (CalSTRS) with over USD 310bn in AUM, announced a tranche of initiatives and commitments to make its contribution to the global mitigation of climate change, including a pledge to reduce greenhouse gas emissions across its investment portfolio by half by 2030, ESG TODAY reported. In addition, CalSTRS introduced commitments to incorporate emissions as a factor in its risk-and-return analyses and potential impacts on plan funding. The pension investor will also allocate 20% of its public equity portfolio to a low-carbon index, and to integrate climate scenarios into its asset-liability modelling framework.
G20 meeting fails to agree communique on adopting cleaner energy – The Group of 20 major economies failed to issue a formal communique after talks on energy transition last Friday "because there were differences among countries" said Arifin Tasrif, Indonesia's Minister for Energy & Mineral Resources. Indonesia is the chair of this year's G20 meeting.
According to Reuters, Indonesia said members had backed a non-binding proposal to speed up adoption of cleaner energy.
Reduced and weaponised ESG fund – EU ESG equity funds saw net outflows of EUR 5bn (USD 5bn) in Mar 2022 for the first time in two years, European Securities and Markets Authority (ESMA) underlined in its biannual "ESMA Report on Trends, Risks and Vulnerabilities".
However, the share of ESG fund assets in total fund assets grew slightly to 27% possibly due to considerable outflows from all fund assets and the continued investor interest ESG investments.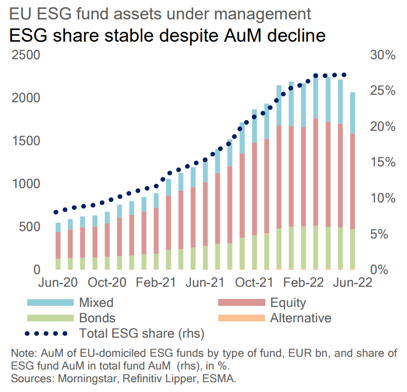 The report also noted that ESG bond issuance volumes was 29% less in the first half of this year compared to last year, mainly because of the sharp decline in the issuance of sovereign and supranational ESG bond.
Investors are increasingly concerned about the quality of ESG-labelled investment products, the report highlighted. Products that suffice as sustainable investments (Article 9 of the EU SFDR) recorded net inflows of EUR 8.6bn (USD 8.6bn) in the first quarter of 2022 while Article 8 products that only promoting environmental or social characteristics lost EUR 3.3bn (USD 3.3bn).
You might probably feel surprised, but Inspire Investing, a Christian faith-based fund manager with USD 2bn in AUM, has decided to remove the ESG labels from its products, especially when it is only six months after it renamed some of the products to include ESG in their names, the Financial Times reported. The manager said extremists were seeking to push companies to agree with their extreme policies and ESG has become "weaponised".
Beijing welcomes more residents to have a try with autonomous driving – Beijing's local media reported that the China's capital city will start the 3.0 phase of its autonomous driving pilot project this year, where it will expand the coverage of driverless taxi services to 500 sq-km in the city.
ISSB urges the EU to extend the deadline to complete sustainability-related disclosure regulation – As both the International Sustainability Standards Board (ISSB) EU's regional policy advisor, the EFRAG are working on its draft regulation of sustainability-related disclosures, the EU aims to
complete the regulation by this November, slightly ahead of the ISSB's deadline of the year-end. ISSB chair Emmanuel Faber said the time pressure the EU is under creates "complexities" for the alignment of different reporting standards, as reported by Reuters.
"I would hope that our EU colleagues in the discussions feel that the prize of aligning is such that it's worth having more time, if needed," Faber told the European Parliament.
According to Faber, the ISSB has decided to focus on finding common ground on scope 3 emissions, which stand for emissions caused outside the operations of company, to maintain the momentum towards alignment. The ISSB aims to make the reporting of scope 3 emissions mandatory while other regulators do not go this far.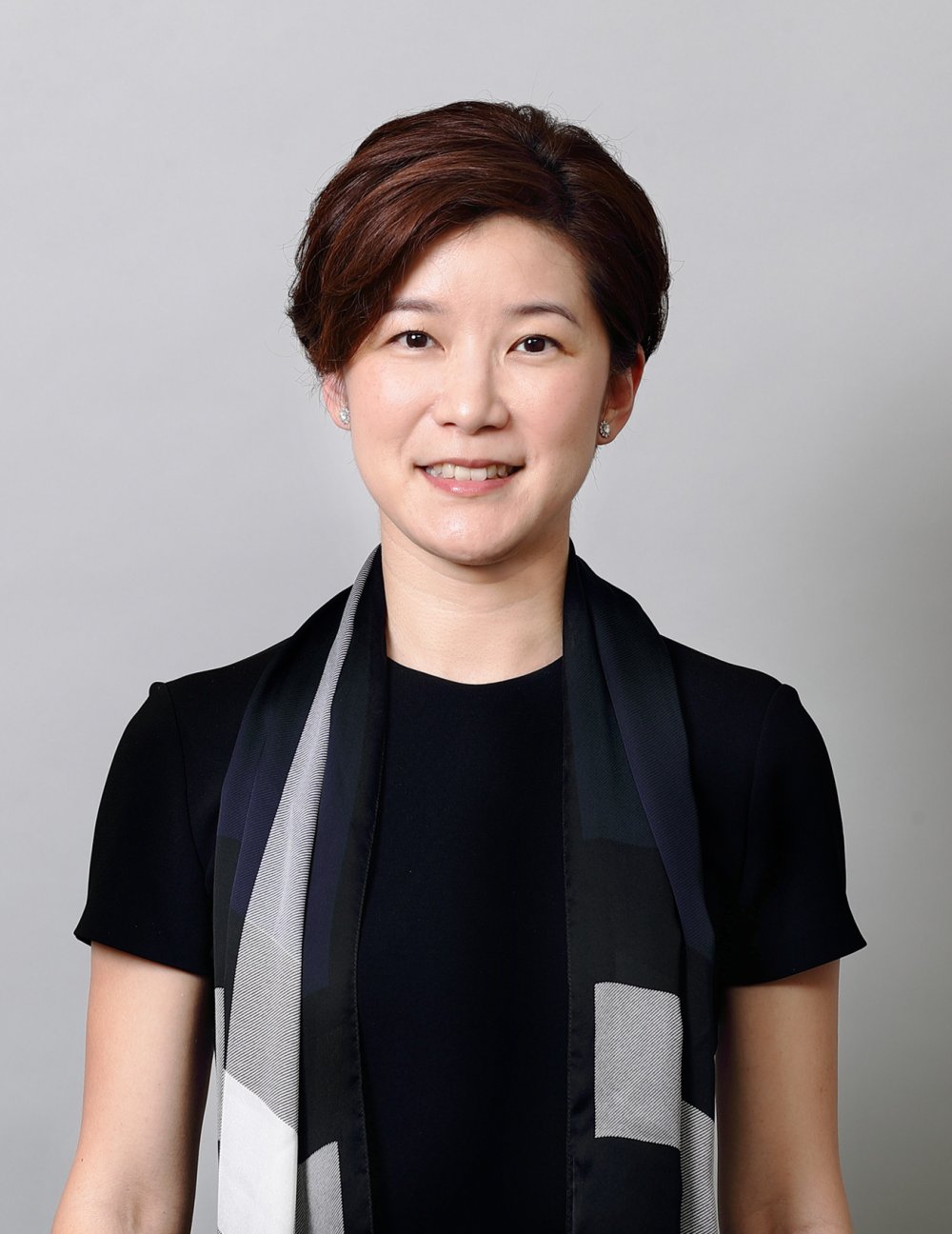 BlackRock hires Elaine Wu as APAC Head of Research at Sustainable Investing unit, ISSB appoints second Vice-Chair – Elaine Wu, the former Head of Asia ex Japan ESG and Utilities Equity Research at JP Morgan has joined BlackRock as Managing Director, APAC Head of Research at BlackRock Sustainable Investing, as reported by Responsible Investor. She spent 11 years at JP Morgan. Prior to JP Morgan, Wu started her career as a reporter at the South China Morning Post and then left to become an equity analyst at Nomura.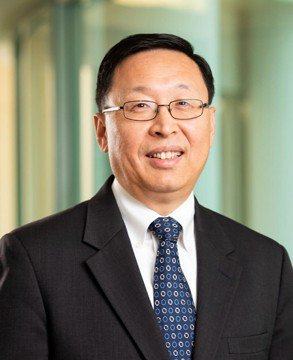 On Aug 31, the IFRS Foundation Trustees announced the appointment of Jingdong Hua as the Vice-Chair of the International Sustainability Standards Board (ISSB), adding to the existing Vice-Chair Sue Lloyd and joining Chair Emmanuel Faber to form the ISSB's leadership team. The ISSB has completed its member appointment with 14 high-level professionals in the team. Jingdong Hua is the former Vice President and Treasurer of the World Bank, prior to which he was the Deputy Treasurer of the Asian Development Bank. He also held positions at the United Nations Development Programme and the African Development Bank in the earlier stage of his career. He was also a Visiting Professor of Business at New York University Shanghai.
Sources
[1]

上海证券报

-

比亚迪销量创新高,但巴菲特又减持了,他会清仓吗?
[2]

财新网

-

比亚迪上半年净利润增两倍

巴菲特减持后股价下挫

8%
[3] Alibaba – Environmental, Social, and Governance Report 2022
[4] ESG TODAY - Toyota to Invest Over $5 Billion in US & Japan EV Battery Capacity
[5] ESG TODAY - First Solar Investing $1.2 Billion to Scale U.S. Capacity, Citing Passage of Climate Bill, Strong Demand
[6] ESG TODAY - HSBC, Temasek Launch Sustainable Infrastructure Financing Company
[7] ESG TODAY - CalSTRS Pledges to Cut GHG Emissions of $300 Billion Portfolio in Half by 2030
[8] Reuters - Indonesia says G20 meeting fails to agree communique on adopting cleaner energy
[9] ESMA - ESMA Report on Trends, Risks and Vulnerabilities No.2 2022
[10] FT - Biblical ETF provider renounces ESG labels in war with 'liberal activists'
[11]
北京日报,证券时报网
-
北京:自动驾驶示范区将扩至
500
平方公里
[12] Reuters - Global body urges EU to make company life simpler by aligning climate reporting
[13] Responsible Investor - People & Appointments: Danske hires former head of ESG at Danish regulator