Indice Tracker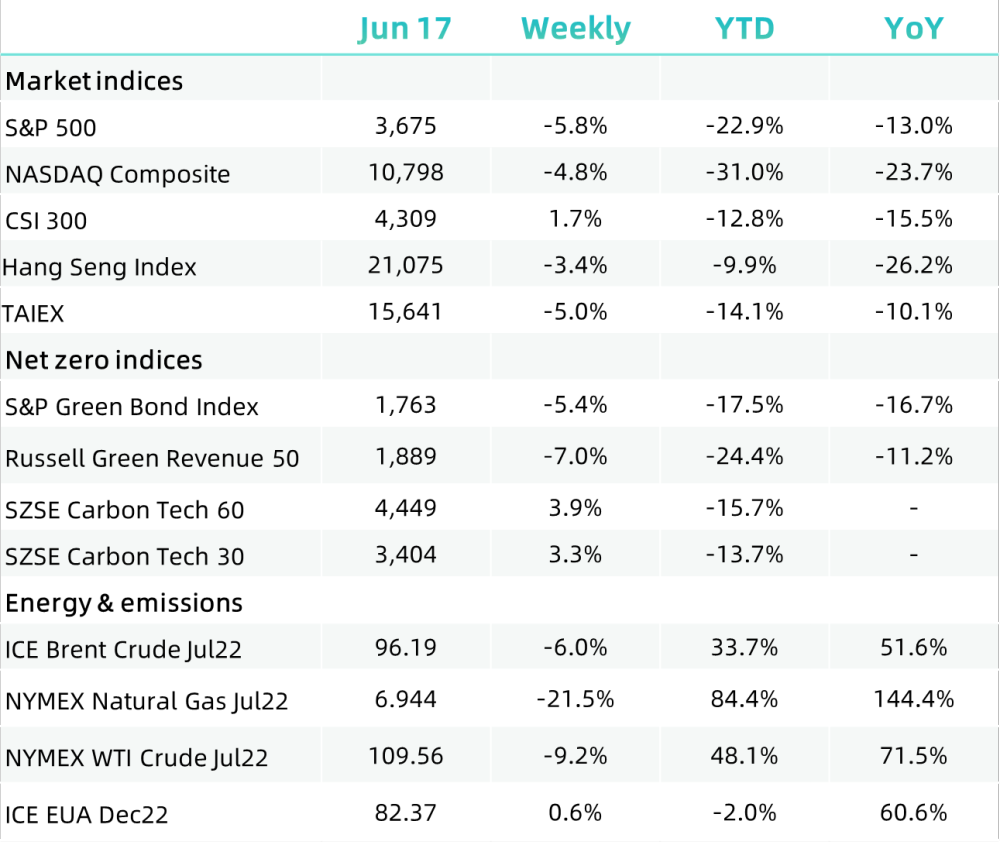 Macro
Fed raises rates by 0.75 percentage point, largest increase since 1994 (WSJ, 2022-06-15)
The Federal Reserve approved the largest interest-rate increase since 1994 and signaled it would continue lifting rates this year at the most rapid pace in decades to fight inflation that is running at a 40-year high.
Officials agreed to a 0.75-percentage-point rate increase at their two-day policy meeting that concluded Wednesday, which raised the Fed's benchmark federal-funds rate to a range between 1.5% and 1.75% last Thursday.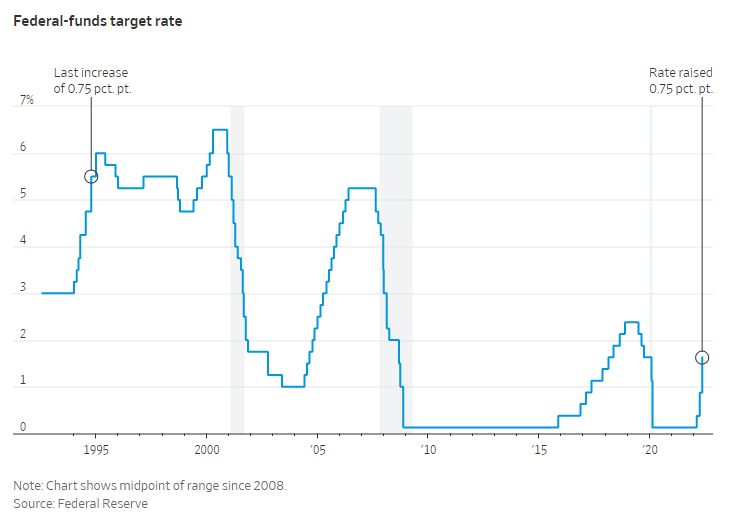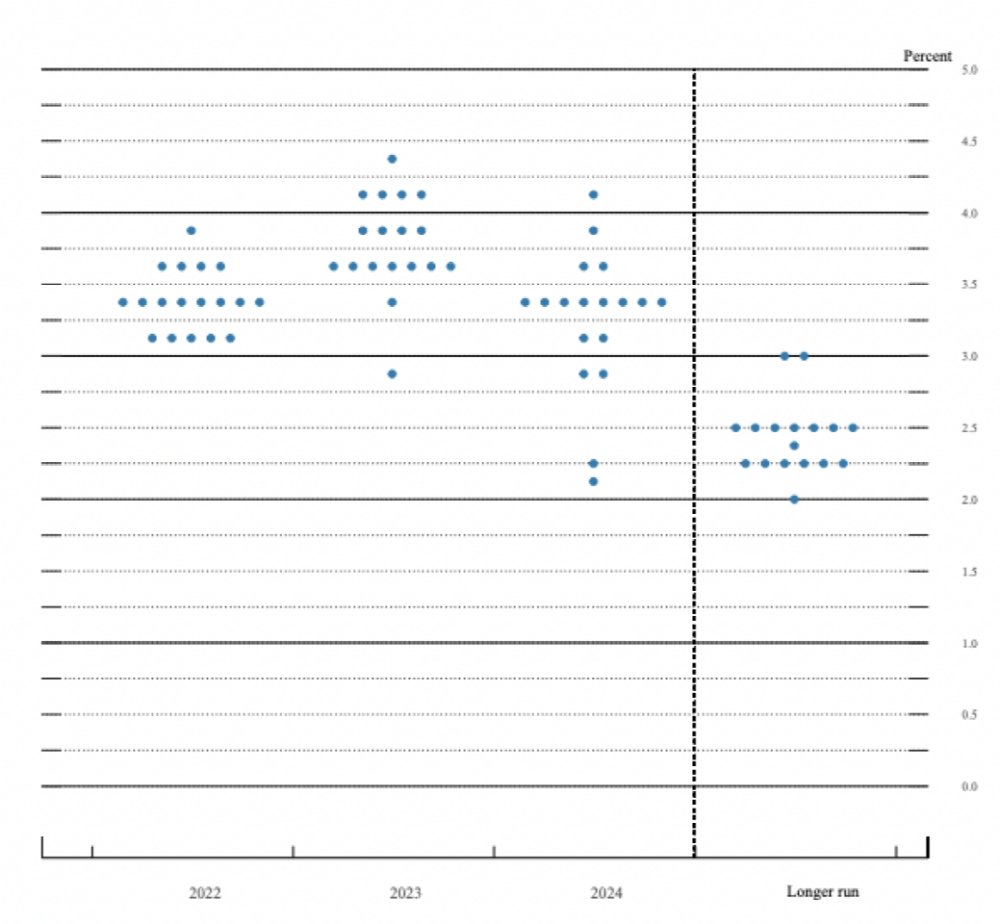 New projections showed all 18 officials who participated in the meeting expect the Fed to raise rates to at least 3% this year, with at least half of all officials indicating the fed-funds rate might need to rise to around 3.375% this year.
The S&P 500 rose 54.51 points, or 1.5%, to 3789.99, snapping a five-day losing streak. U.S. government bonds rallied after sliding in recent weeks in a selloff that had pushed yields to their highest levels in more than a decade.
Following the Federal Reserve:
The Bank of England has voted to raise interest rates by 0.25 basis points to 1.25%.
The Swiss National Bank said its benchmark rate would rise by 50 basis points from minus 0.75 per cent to minus 0.25 per cent, which is its first rate hike

in 15 years

.
The Hong Kong Monetary Authority increased its base rate by 75 basis points to 2% last Thursday, hours after the Fed's hike.
The Monetary Authority of Macau announced an increase of 0.75 basis points in the main reference interest rate.
Taiwan's central bank raised its benchmark interest rate by 12.5 basis points to 1.5% follows a 25 basis point hike the previous quarter.
While...
The Bank of Japan maintained its -0.1% target for short-term rates and its pledge to guide the 10-year yield around 0% by a 8-1 vote. (Reuters, 6-17)
Covid shocks cut China's power consumption for second month (Caixin, 2022-06-16)
China's electricity consumption continued to fall in May, as pandemic restrictions hit industrial activity.
The country's electricity usage in May dropped 1.3% from the same period a year ago to 671.6 gigawatt-hours, according to the National Energy Administration (NEA). In the same period of 2021, that figure jumped 12.5%.
Broken down by industrial sectors, power consumption in the secondary and tertiary sectors went down by 0.5% and 4.4% year-on-year respectively, while usage in the primary sector was up 6.3%, the NEA data showed. Residential consumption also declined by 2.4%.
Finance
Hillhouse establishes a RMB 4bn net zero fund in Nanjing, China (PEdaily, 2022-06-16, CN)
Hillhouse has completed the funding raising for its upcoming fund based in Nanjing, China with RMB 4bn in total proceeds. The fund will focus on net-zero related technological innovations.
It is the first green-focused fund of Hillhouse. The fund has sought to involve eligible foreign investors under China's QFLP (Qualified Foreign Limited Partners) allowing them to invest in China's private equity. Nanjing, where the fund lands has published a governance guidelines of QFLP welcoming such funds to the emerging city.
BlackRock targets energy transition with infrastructure strategy (Investment Week, 06-16)
BlackRock has launched an infrastructure strategy designed to take advantage of the ongoing transition to sustainable energy.
The strategy aims to offer investors access to inflation-linked returns from a portfolio of "perpetual" infrastructure core assets, while also creating growth in the real economy.
More than half of the strategy will be allocated to Europe initially, with a global focus becoming prominent "over the decades to come", with a range of open-ended vehicles planned for the second half of 2022.
Sky backs GBP 100m climate investment fund (The Financial Times, 2022-06-13)
British media group Sky will back a GBP 100m (USD 131m) investment fund set by Brent Hoberman's Founders Factory to support start-ups focused on climate-related technologies.
The new fund will be chaired by Sir Ian Cheshire, former Kingfisher boss and chair of Channel 4, and bring together a board including climate scientists such as Professor Richard Templer (Imperial) and Professor Cameron Hepburn (Oxford) to help with its investment strategy.
The new fund will be initially launched with a portfolio of 25 start-ups that are already backed by Sky Ocean Ventures, a Sky venture fund launched in 2018, and will use the proceeds from the sale of paper bottle maker Choose Packaging in which Sky Ocean Ventures invested, when it was acquired by computer hardware company HP.
SEC is investigating Goldman Sachs over ESG funds (WSJ, 2022-06-10)
The Securities and Exchange Commission is investigating Goldman Sachs' asset-management arm over its funds that aim to invest based on environmental, social and governance standards, according to the Wall Street Journal on June 10.
The SEC's civil investigation is focused on Goldman's mutual-funds business, the people said, and the firm manages at least four funds that have clean-energy or ESG in their names. The probe could end without formal enforcement action.


The SEC last year warned investors that it found some fund holdings "predominated" by companies with low ESG scores, despite the fund manager's advertised commitment to picking companies that performed well on ESG screening tests.
Business sustainability ratings provider EcoVadis secures USD 500m investment (BusinessWire, 2022-06-14)
Business sustainability ratings provider EcoVadis announced to have raised USD 500m in its latest global investment round.
It is the largest equity fundraising for a sustainability data SaaS company so far. The latest fundraising brings the company's total capital raised to USD 725m.
The investment was led by Astorg and BeyondNetZero, General Atlantic's climate investing venture, with participation from Singapore-based GIC and Princeville Capital's Climate Technology Fund.
Industry
California reaches 100% renewable power for the first time ever (CleanTechnica, 2022-06-13)
The state of California was recently able to produce virtually all of their energy needs from renewable sources for the first time ever.
In early April, the state achieved a new record at 97.6% renewable power, and on May 2 they were able to reach 99.9%. On May 8 the record was broken yet again, with 103% of the state's power needs being met by renewables for a few hours.
TotalEnergies, Adani to invest USD 50bn in world's largest green hydrogen ecosystem (ESG TODAY, 2022-06-14)
Energy company TotalEnergies of France and Indian multinational conglomerate Adani announced a new partnership aimed at jointly creating the largest green hydrogen ecosystem in the world.
Under the new partnership, TotalEnergies will acquire a 25% minority interest in Adani New Industries Ltd (ANIL). ANIL plans over USD 50bn in green hydrogen and associated ecosystem investments over the next 10 years and expects to develop 1 million ton per annum of green hydrogen production capacity before 2030.
ANIL aims to be the world's largest fully integrated green hydrogen player, encompassing the full value chain from renewables and green hydrogen manufacturing to large-scale green hydrogen production and downstream facilities producing green hydrogen derivatives.
US power giant NextEra pledges to eliminate emissions by 2045 without offsets (ESG TODAY, 2022-06-14)
NextEra Energy, the largest producer of electricity in the US, has announced the launch of Real Zero, a new sustainability goal to eliminate carbon emissions from its operations by 2045. With the plan going beyond net zero, achieving its emissions elimination without the use of carbon offsets, the new commitment is the most ambitious goal set by a U.S. energy provider, according to the company.
Gotion gets China's nod to list shares on Swiss Exchange (Caixin, 2022-06-16)
Chinese major battery maker Gotion high-tech announced on 15 June that the CSRC, China's capital market regulator has approved the company's application to issue global depositary receipts (GDR) and list on Swiss Exchange.
Gotion high-tech needs both the approval from Chinese and Swiss regulators to enact that listing.
Policy
China prioritizes mitigation, adaptation in addressing climate change (State Council, 2022-06-15)
China has mapped out a strategic plan to enhance its climate resilience, putting emphasis on both adaptation and mitigation in the face of global climate change.
The country will seek to build a climate-resilient society by 2035, with significant improvements in its ability to adapt to climate change, according to the national climate change adaptation strategy 2035 jointly released by 17 departments including the Ministry of Ecology and Environment (MEE) last week.
Basel Committee releases climate risk principles (Green Central Banking, 2022-06-15)
The 45 central banks and financial supervisors that make up the influential Basel Committee on Banking Supervision (BCBS) have published their finalised set of principles for managing and supervising climate-related financial risks. Approved last month, the principles are the first formal climate-related guidance issued by the global standard setter for the prudential regulation and supervision of banks.
Largely aligned with the recommendations of the Taskforce on Climate-related Financial Disclosures (TCFD), the BCBS principles are based on analytical reports and draft principles released last year and were informed by an extensive public consultation process. They form part of an ongoing BCBS assessment of potential climate-related measures covering disclosure, supervision and regulation.
The first 12 principles are aimed at banks and cover corporate governance, internal controls, risk assessment, management and reporting, capital and liquidity adequacy and other elements of risk management, including scenario analysis.
The remaining six principles focus on financial supervisors and regulators, outlining their duty to ensure that banks can "adequately identify, monitor and manage all material climate-related financial risks."
PBAF releases new standard to measure financial sector's impact on biodiversity (Responsible Investor, 2022-06-14)
The Partnership for Biodiversity Accounting Financials (PBAF) has published its new standard for financial institutions to measure the impact of loans and investments on biodiversity.
The new standard, dubbed the PBAF Standard 2022, focuses on impact assessment and offers three separate publications: a Q&A on impact assessment; an overview of impact assessment approaches and assessment of positive impact; and guidance, requirements and recommendations on biodiversity footprint.
Connecting Workplace
Santander appoints Hector Grisi as new CEO (Reuters, 2022-06-17)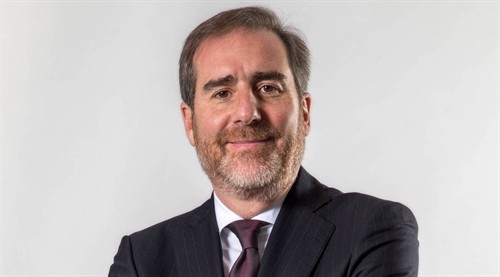 Spain's Santander named Hector Grisi as its new chief executive officer to oversee the bank's digital transformation and growth strategy through the global economic uncertainty that is rattling the whole industry.
Former investment banker Grisi, 55, who helped make the bank's U.S. business its most profitable last year, will take the helm from January 1 next year, replacing Jose Antonio Alvarez who has been in the role since 2015.
The bank's Executive Chairman Ana Botin said in a statement that Grisi's "track record as CEO of Santander Mexico and head of North America speaks for itself and illustrates why we believe he is the right person to lead the bank in the next phase of our transformation and growth."
Before joining Santander as CEO in Mexico in 2015, he spent 18 years at Credit Suisse, where he held a range of senior positions.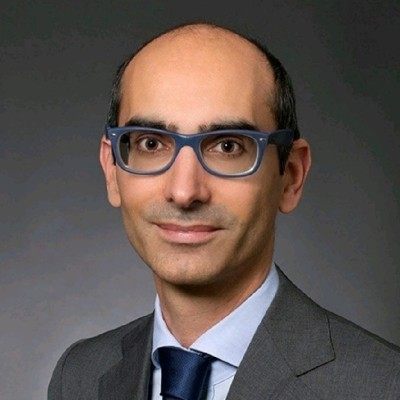 According to Responsible Investor, Florent Deixonne has left his role as Global Head of Sustainable and Responsible Investment at Lyxor Asset Management to become Head of ESG Regulatory Strategy at Amundi.
Deixonne, who has previously held roles at AXA IM and Societe Generale, joined Lyxor in 2012 and became head of its sustainable investment wing in 2014.
Partners Capital appoints Michael Viehs as Global Head of Sustainable Investing (ESG TODAY, 2022-06-15)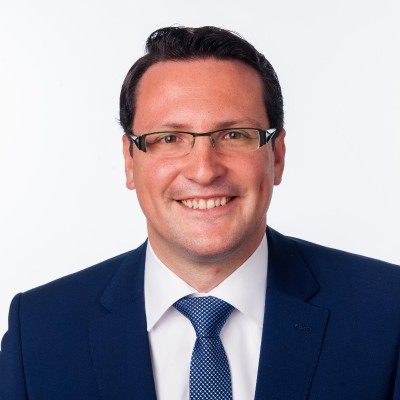 Investment services provider Partners Capital has appointed Michael Viehs as Global Head of Sustainable Investing. Viehs joins the firm from Federated Hermes, where he served as Head of ESG Integration.
In his new role, Viehs will be responsible for engaging with asset managers on ESG integration, working with clients to develop their sustainable investing policies, and further developing the company's ESG reporting capabilities.
Greystar appoints Cope Willis as Managing Director of Sustainability (ESG TODAY, 2022-06-13)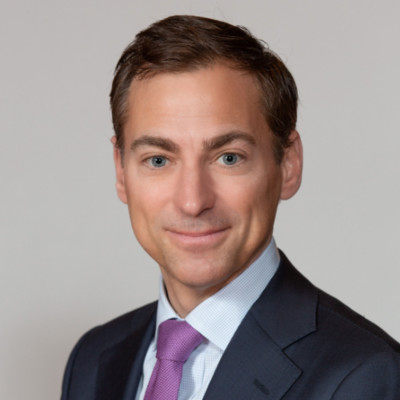 Real estate manager and operator Greystar Real Estate Partners announced the appointment of Cope Willis as Managing Director of Sustainability.
In his new role, Willis will be responsible for leading the strategy and the execution of Greystar's global climate and sustainability efforts with respect to firm's more than USD 50bn owned asset portfolio.
Willis joins Greystar from environmental services company Harsco, where he served as Vice President, Sustainability & Environmental Solutions. He has also served as Director of Sustainability Services at PricewaterhouseCoopers LLP, where he advised real estate, private equity, and financial services companies.