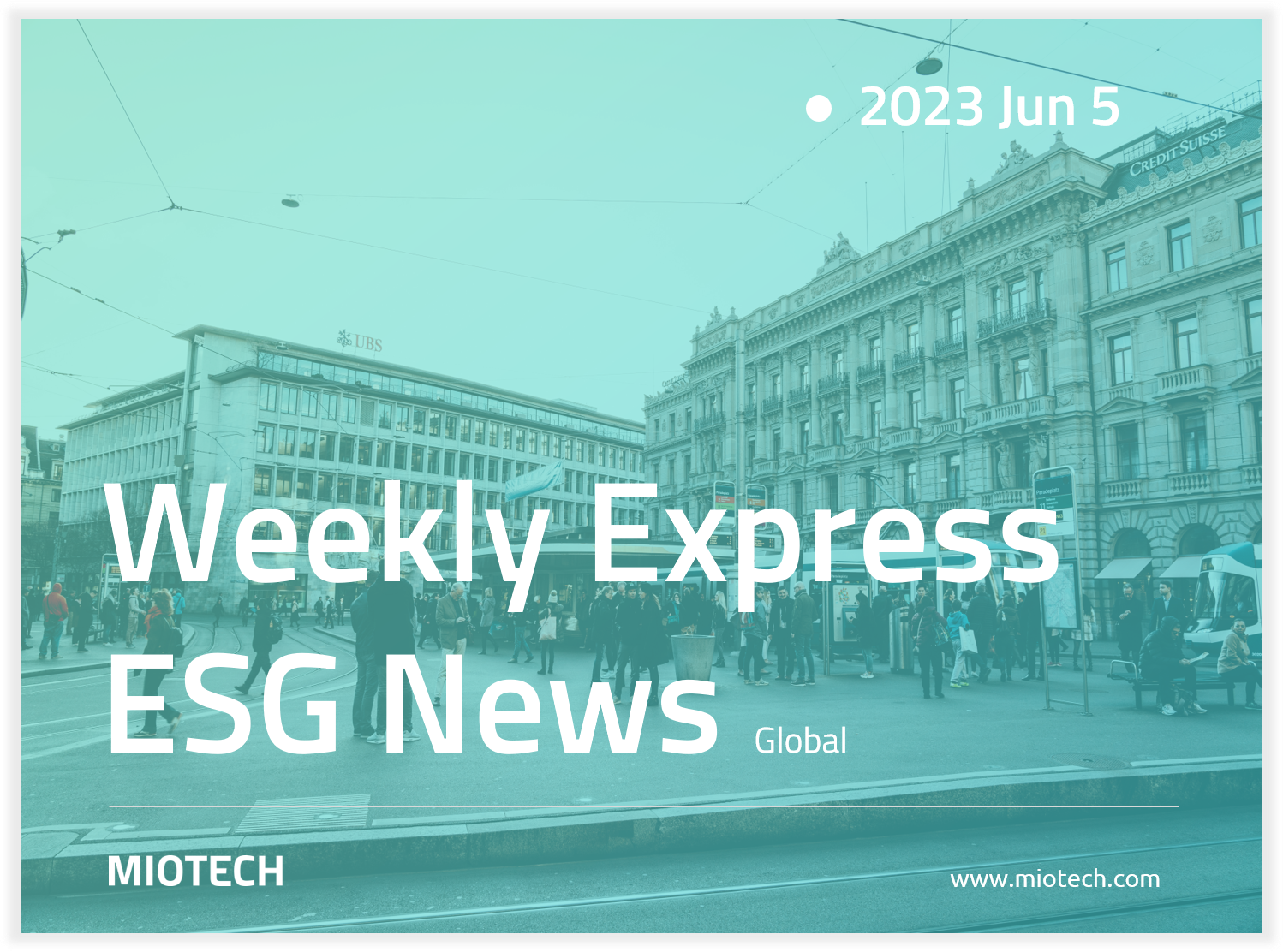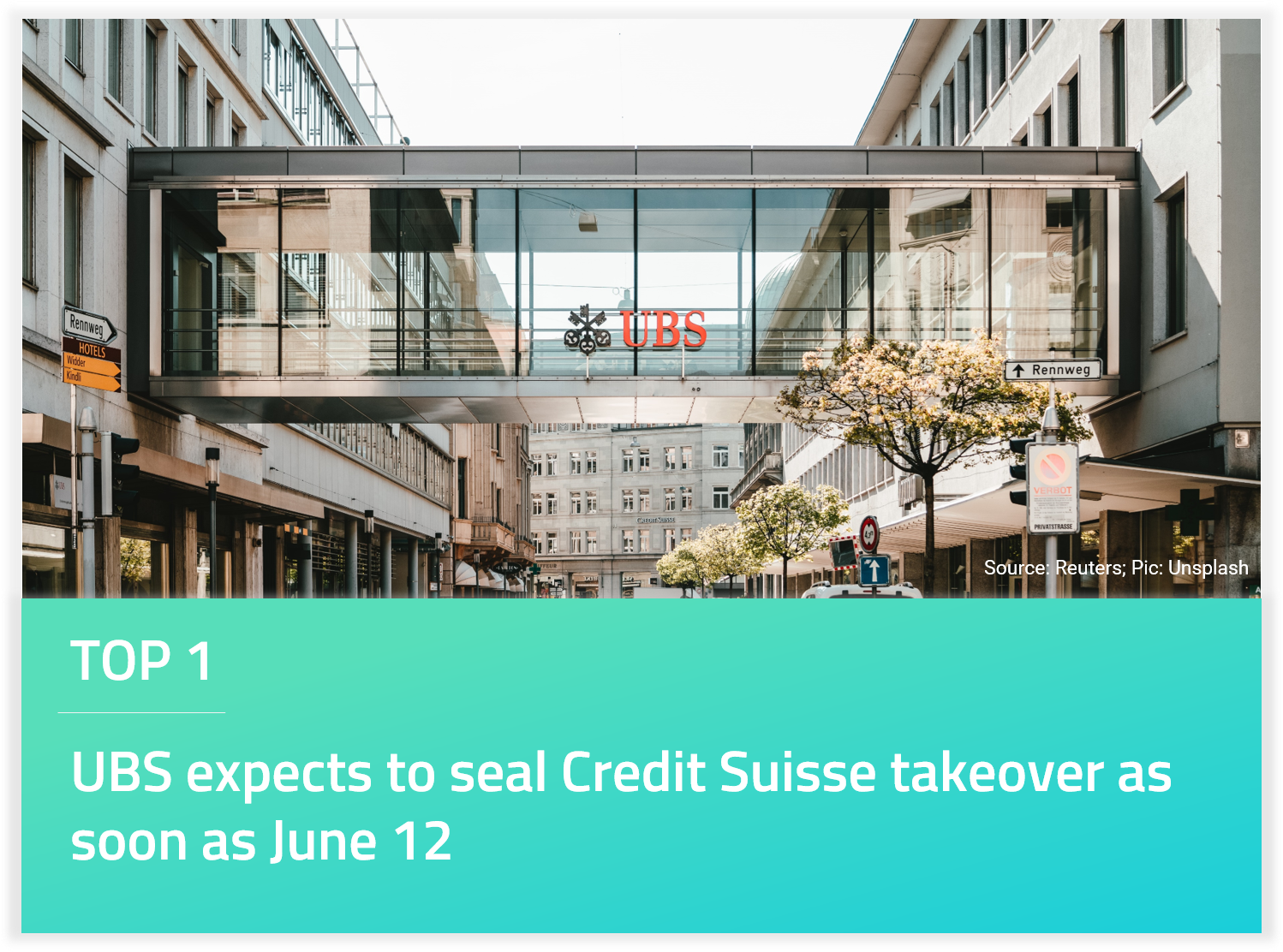 UBS said on Jun 5 it expected to complete its takeover of Credit Suisse "as early as June 12", creating a giant Swiss bank with a balance sheet of USD 1.6tr following a government-backed rescue earlier this year.
Upon completion, Credit Suisse shares and American Depositary Shares (ADS) will be delisted from the SIX Swiss Exchange (SIX) and the New York Stock Exchange (NYSE), UBS added.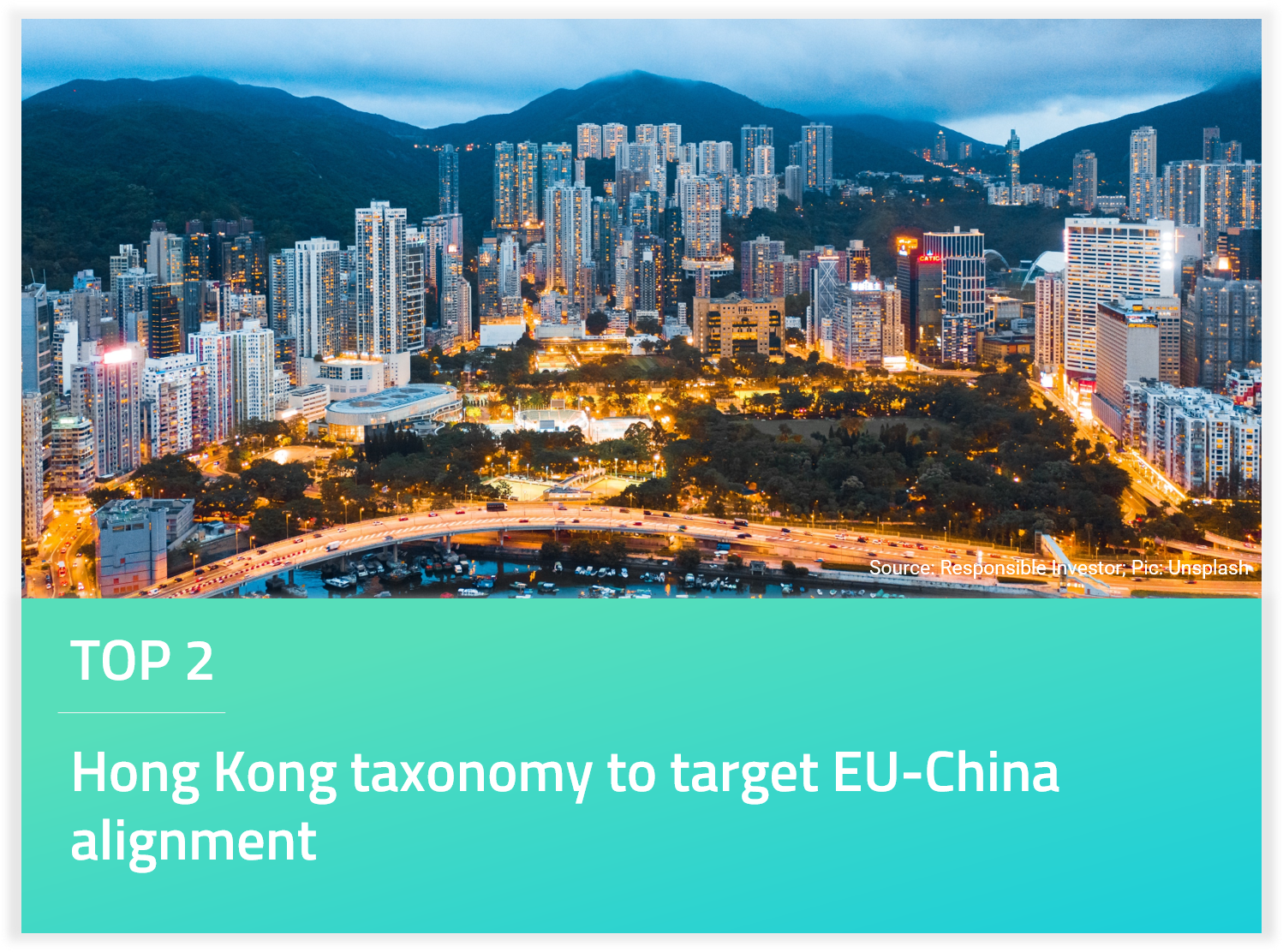 The Hong Kong Monetary Authority (HKMA) has pledged to drive global convergence between green taxonomies issued by the EU and China with the release of its debut taxonomy, according to its official documents.
Hong Kong's taxonomy will be based on the so-called common ground taxonomy (CGT), which was developed by a multilateral EU working group to map areas of alignment between the EU and Chinese green taxonomies.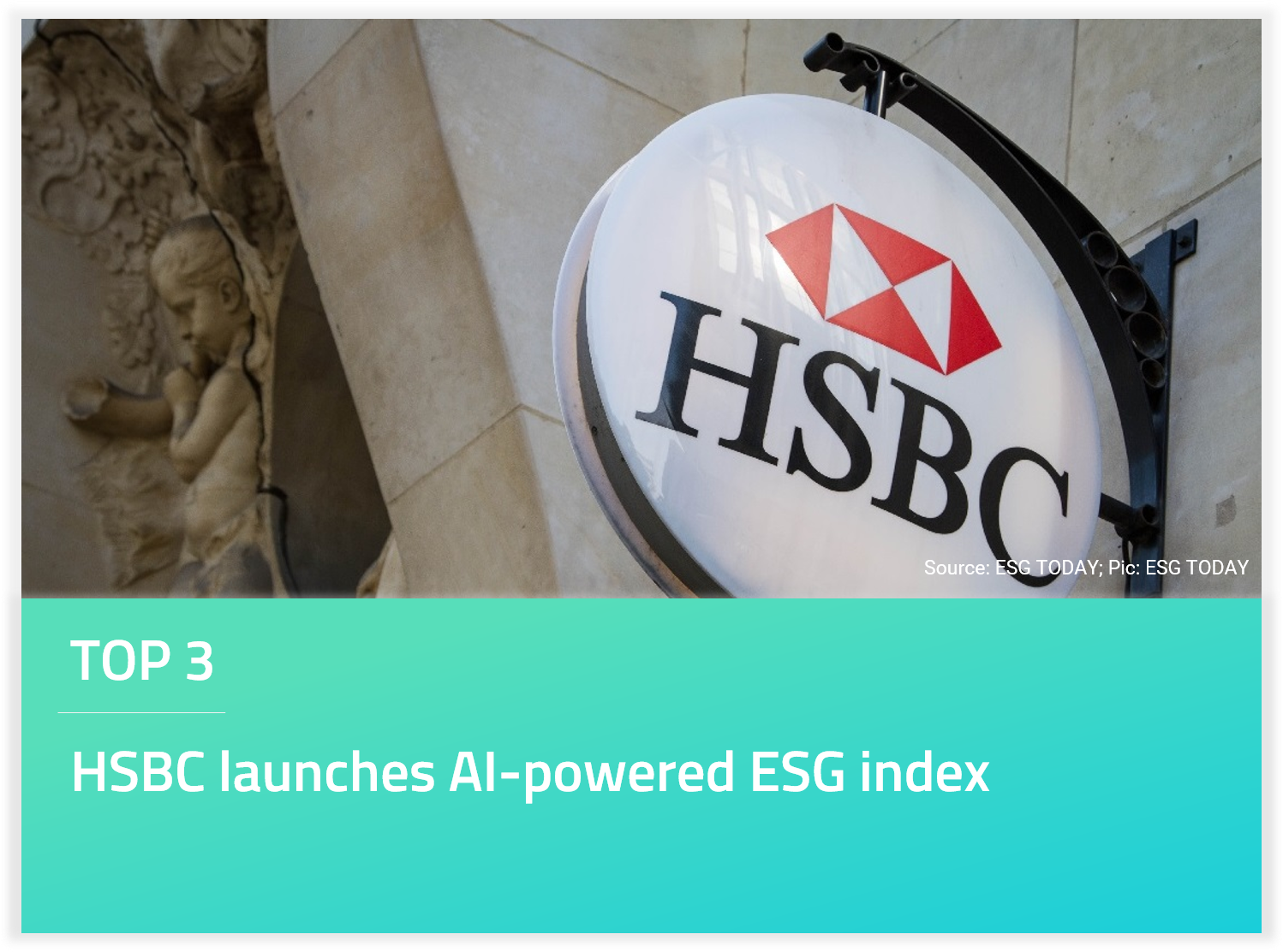 HSBC announced the launch of the HSBC ESG Risk Improvers Index, aimed at tracking the performance of companies expected to benefit financially from improvements in ESG risk.
According to Patrick Kondarjian, Global Head of Sustainability for Markets & Securities Services at HSBC, while traditional ESG investment approaches such as best-in-class that target high ESG ratings are agnostic to whether the stock's ESG credentials have recently improved or deteriorated, the new index will enable investors to "gain exposure to stocks exhibiting ESG momentum — a useful financial indicator of future performance."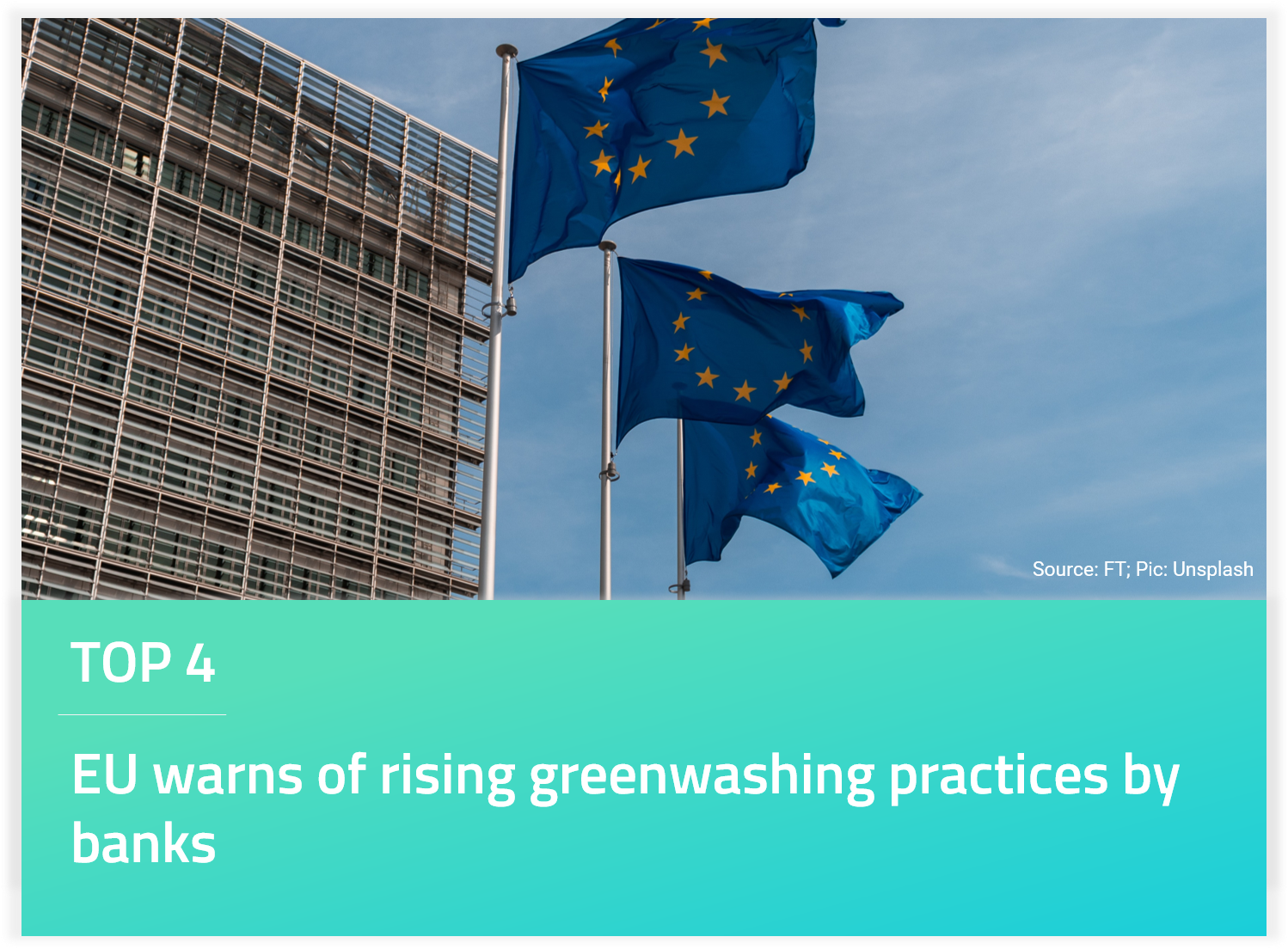 There had been a "clear increase" in the risk of EU banks and other financial institutions misrepresenting their sustainability efforts, the European Banking Authority (EBA) said last week.
A particular problem was banks and investors promoting their support for initiatives such as clean energy while failing to say they also financed projects linked to fossil fuels, deforestation and human rights abuses, the EBA said.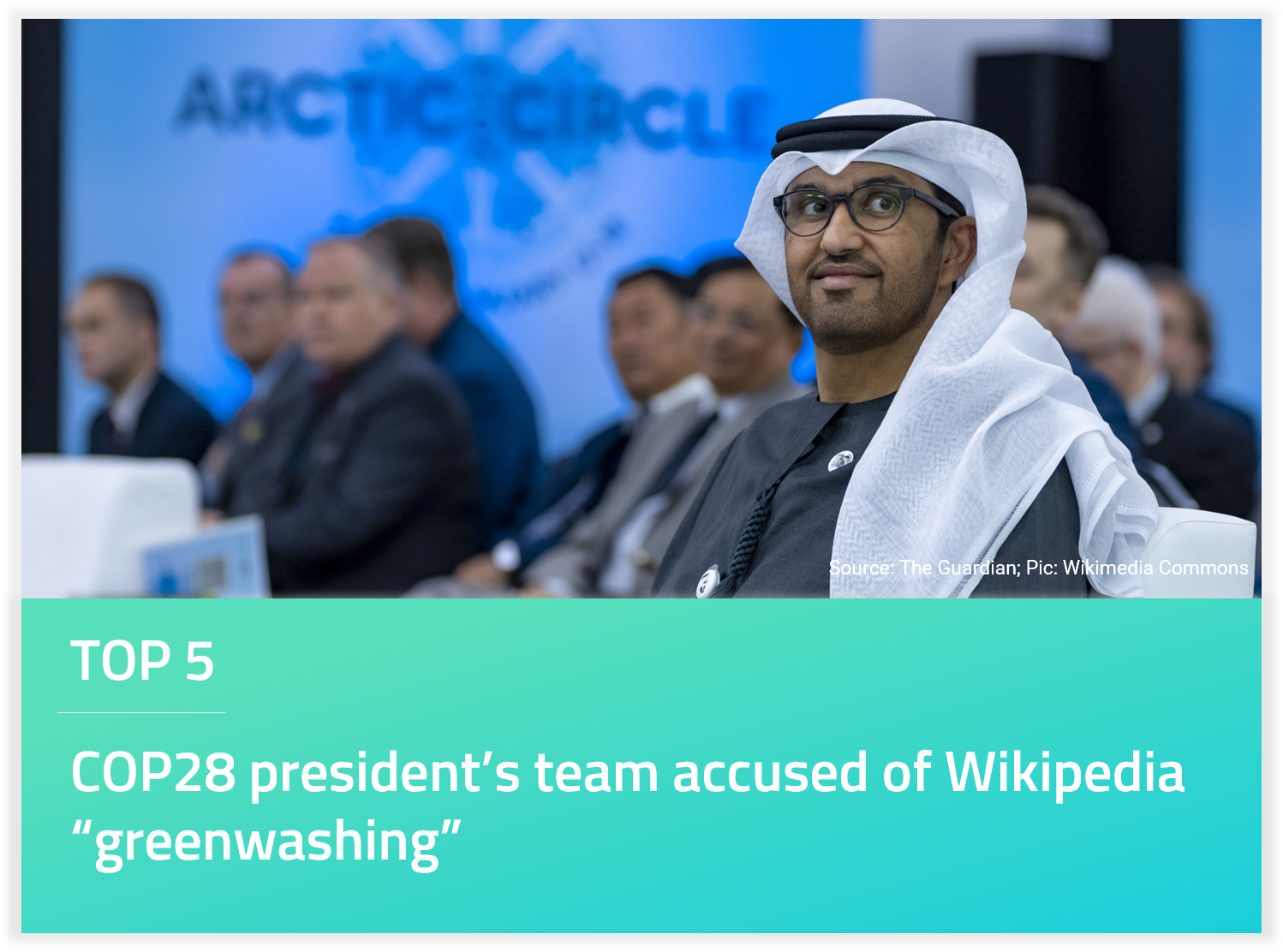 The Cop28 president, Sultan Al Jaber, has been accused of attempting to "greenwash" his image after it emerged that members of his team had edited Wikipedia pages that highlighted his role as CEO of the Abu Dhabi National Oil Company (Adnoc).
Work by Al Jaber's team on his and the climate summit's Wikipedia entries include adding a quote from an editorial that said Al Jaber – the United Arab Emirates minister for industry and advanced technology – was "precisely the kind of ally the climate movement needs". They also suggested that editors remove reference to a multibillion-dollar oil pipeline deal he signed in 2019, the Centre for Climate Reporting and the Guardian can reveal.