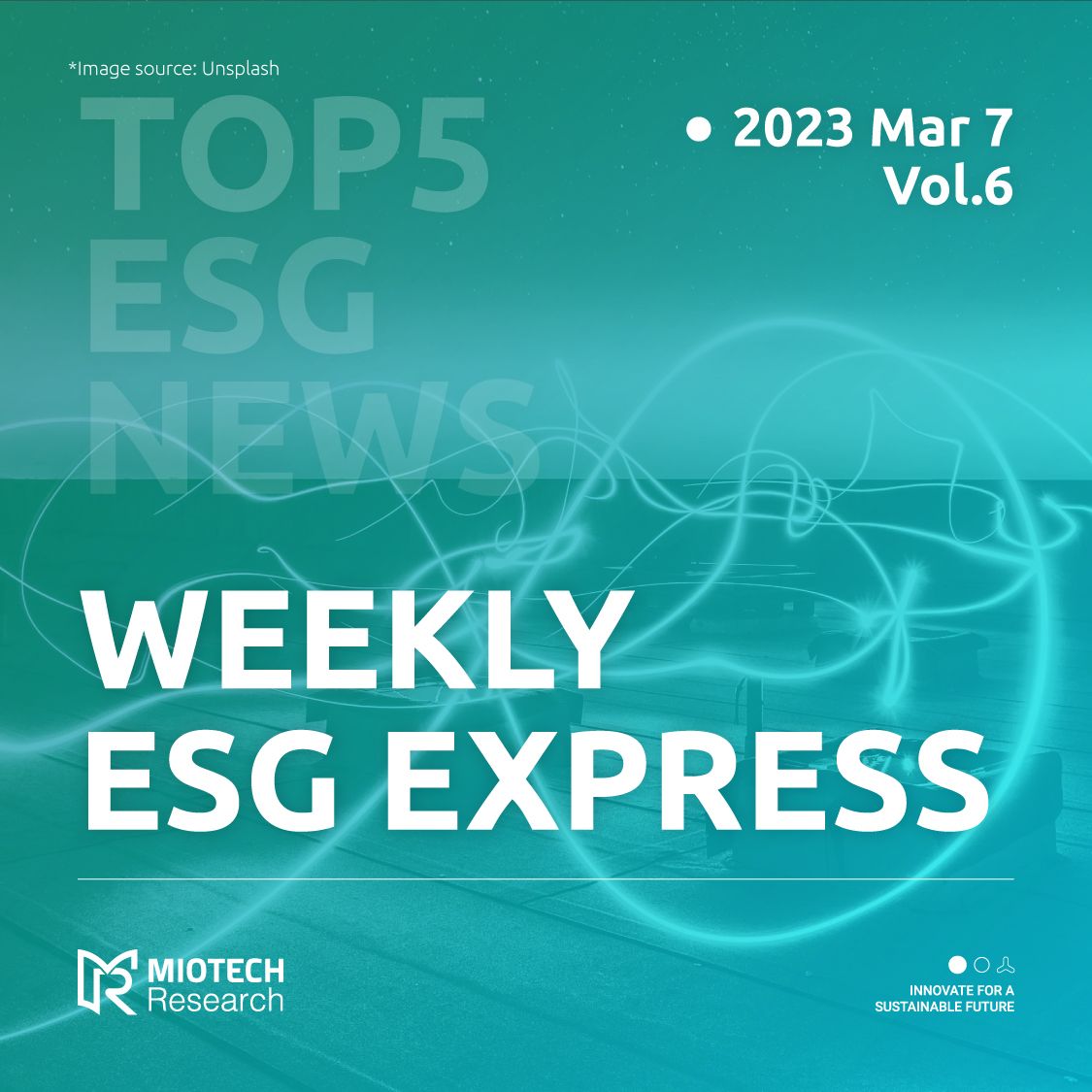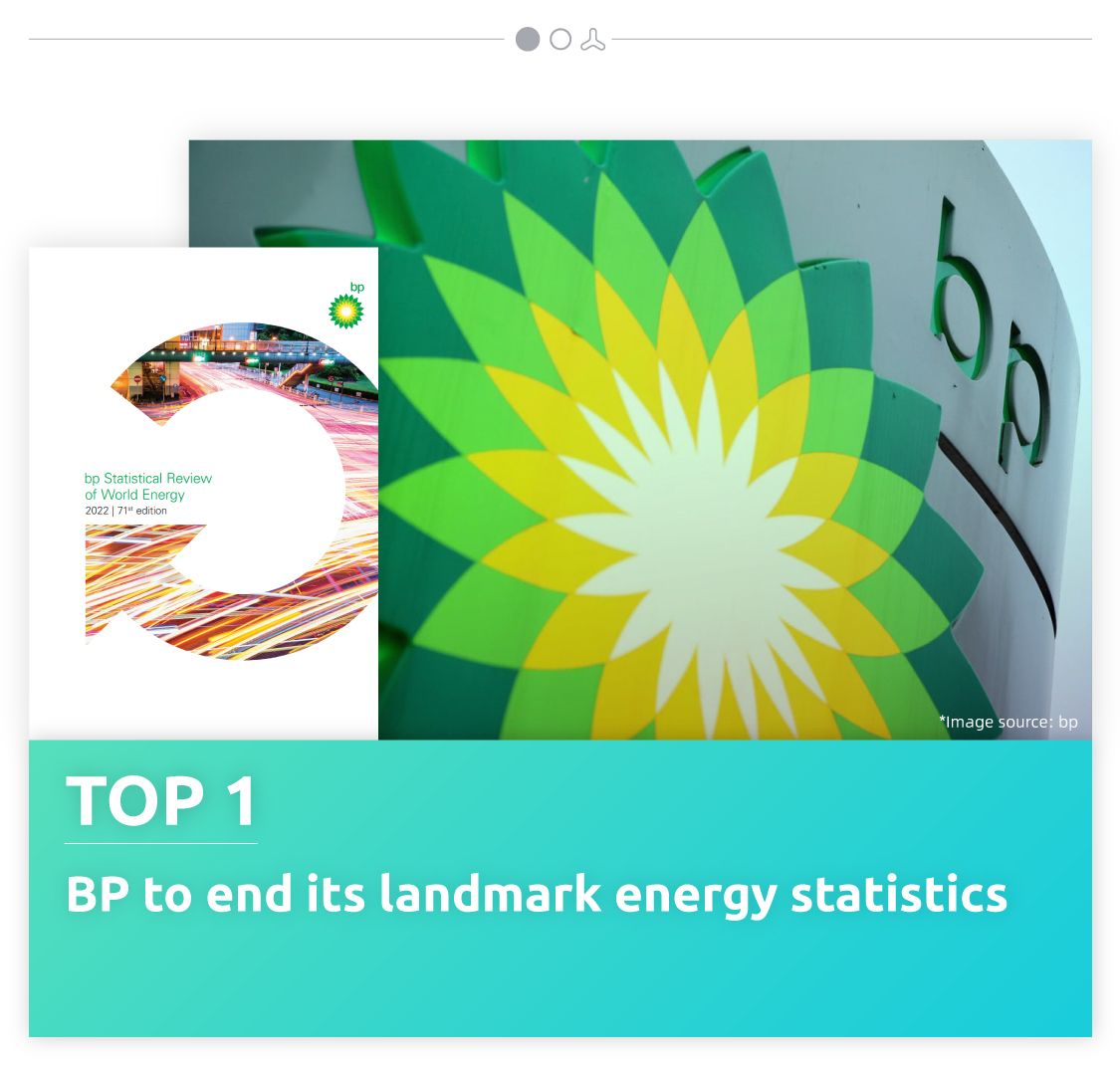 BP has decided to end the publication of its annual Statistical Review of World Energy, following 70 years of publication. The publication included detailed annual data on the major energy sector's primary energy consumption, trade movements and tracking by regions. In recent years, the report has been expanded to include emerging sectors of renewable energy, key minerals, and hydroelectricity. It also includes carbon emissions in the report.
The company will now hand over its publication to the Energy Institute from this year (June) and it will be rebranded as The Energy Institute Statistical Review of World Energy.
BP said not being responsible for publishing the annual energy report could help it better focus on its own clean energy transition. Some interpreted this move as BP's intention to build itself as a leader in global climate action.
Meanwhile, with the backdrop of record reported profits in 2022 fueled by a surge in gas prices due to the Russian war in Ukraine (BP and Shell both announced the highest profit in their 110+ year history and double the year before), the company said it has adjusted its goal to reduce daily oil and gas production to 2 million barrels of oil equivalent by 2030, down 25% from 2019, a much less ambitious plan than its 40% production cut announced earlier.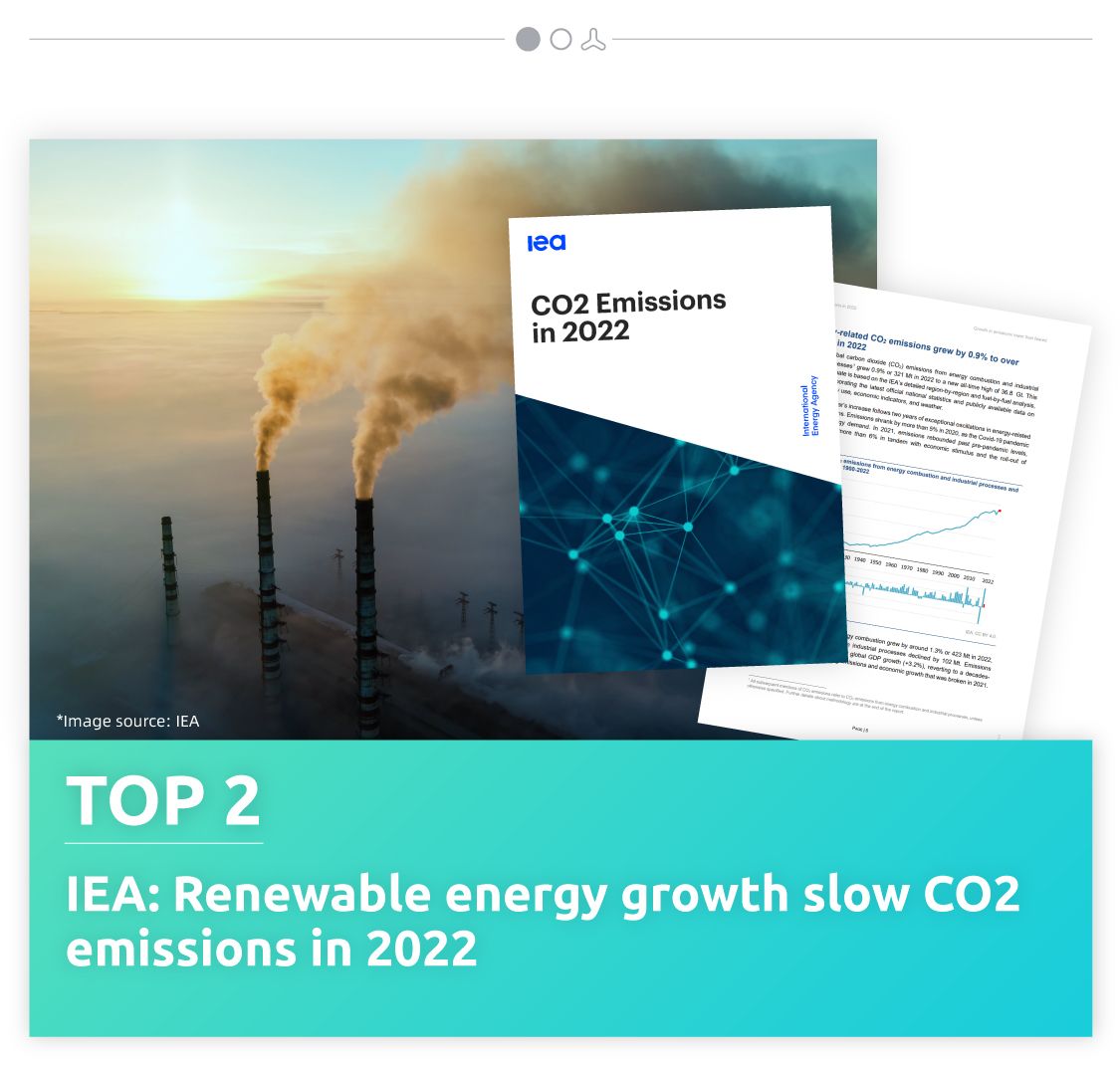 Global energy-related CO2 emissions grew by 0.9% in 2022, down from 6% YoY growth from 2021, despite reaching a historical high of over 36.8 Gt, according to a new report by the International Energy Agency.
Although many countries resumed coal-fired power generation to avoid using the more expensive gas, clean energy also saw significant growth. IEA said the deployment of clean energy technologies has avoided some 550 Mt of additional emissions.
Renewables fulfilled 90% of the additional energy demands last year, with solar and wind power delivering unprecedented growth in the EU, the US and Asia. Emissions from the global industrial activities dropped by 1.7% last year, largely driven by a 161 Mt decrease in CO2 emissions from China's industrial production.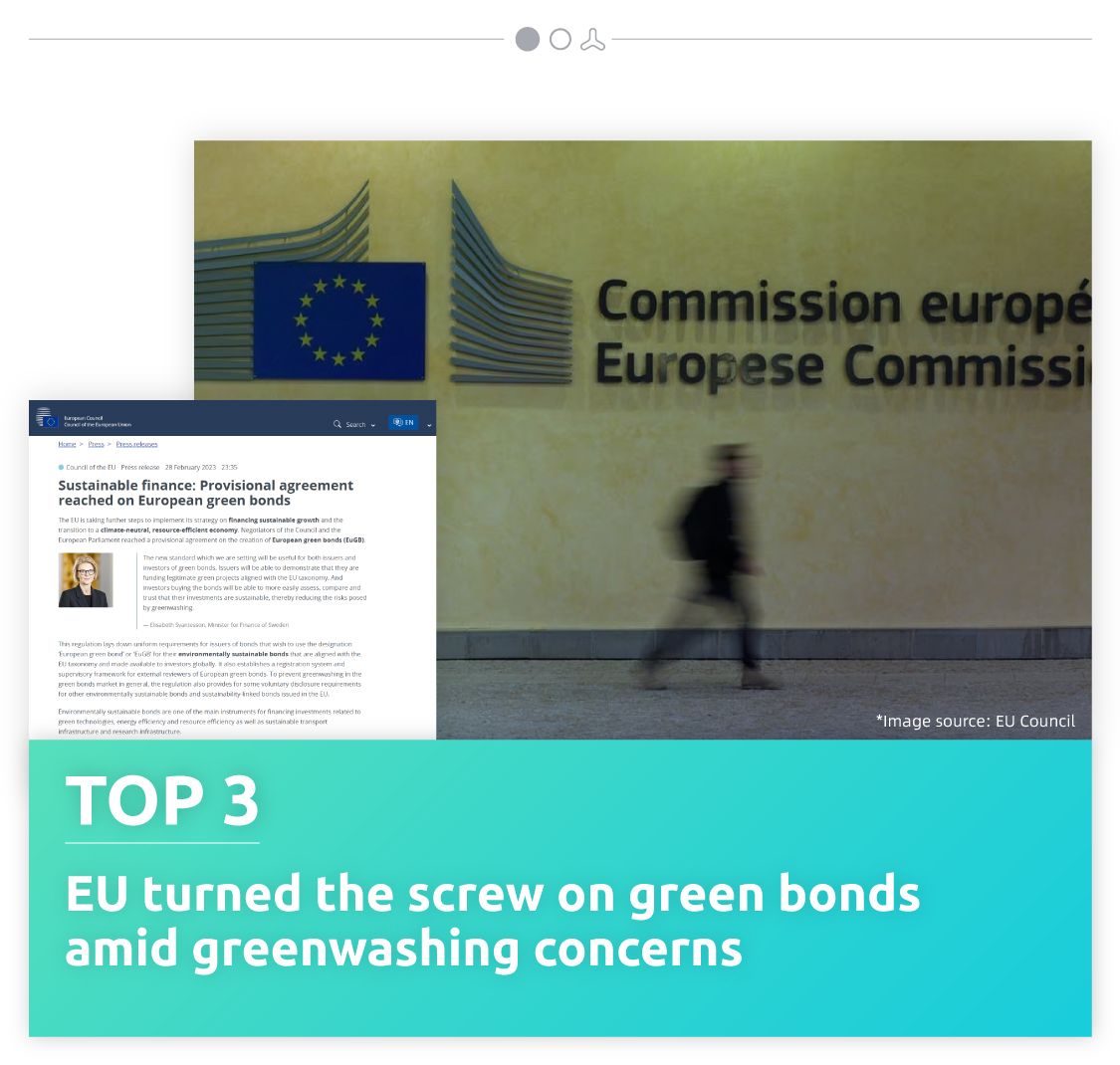 EU lawmakers have reached a provisional agreement on a stricter uniform regulation for green bonds issued in the EU.
The new rules would require at least 85% of the funds raised by green bonds issuance to be charged to activities aligned with the EU taxonomy. Issuers will also have to disclose their actions to support the climate transition. Right now, only fewer than 3% of global economic activities are aligned with the taxonomy, according to a report by the EU's Platform on Sustainable Finance last October.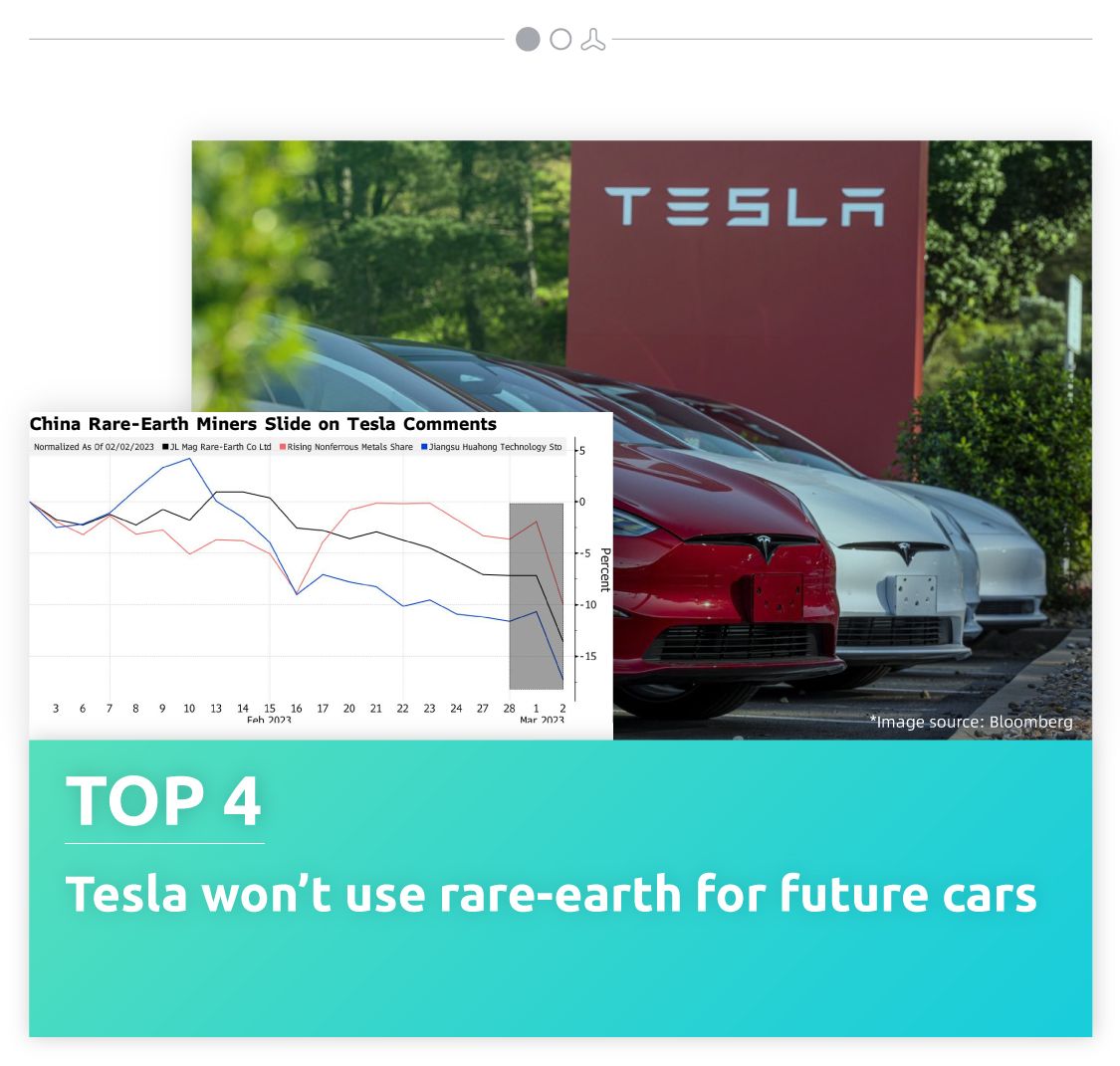 Rare-earth materials will be completely phased out by Tesla in its next-gen electric cars, the company announced in its recent eye-catching investor event. This statement has spurred a plunge in a number of Chinese rare earth businesses' shares. Prices of JL Mag Rare-Earth Co. (6680.HK, 300748.SZ) and Jiangsu Huahong Technology Stock Co. (002645.SZ) fell by more than 7% upon the news.
The material, expensive and indispensable, makes electric cars more energy-efficient and lightweight. China produces the majority of the world's rare-earth materials.
Tesla didn't specify further details of its 'zero rare-earth' motors. The biggest carmaker by market value claimed to have reduced the use of rare-earth by 25% in its Model 3 cars from 2017 to 2022. BMW and Jaguar Land Rover had tried to eliminate the use of rare-earth in their EV models back in 2020, citing radioactive pollution from its mining.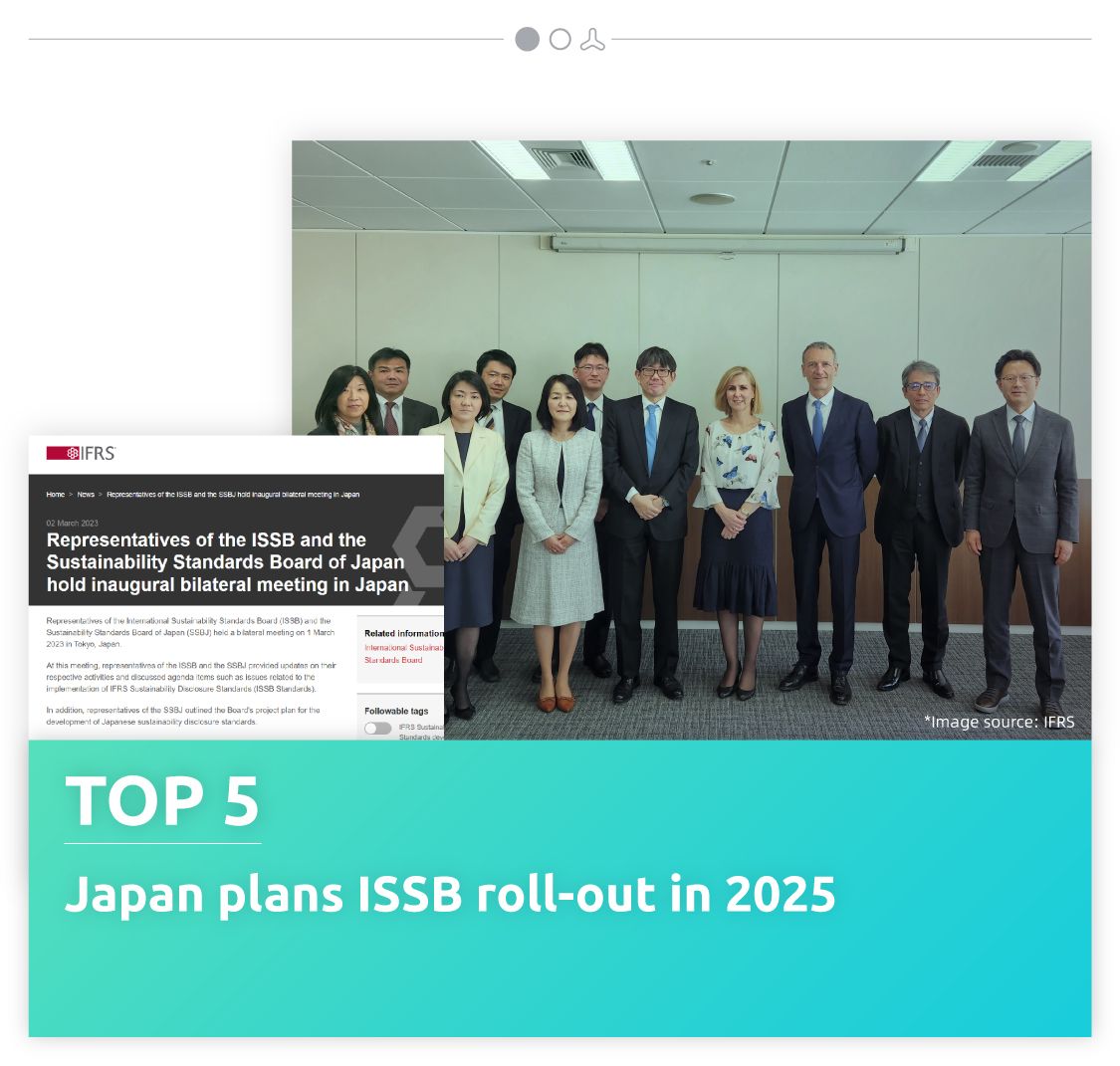 Japan is planning to formulate the country's new sustainability disclosure standards, built on the upcoming framework by the International Sustainability Standards Board (ISSB) and fully apply the new standards from the 2025-26 fiscal year.
ISSB and the Sustainability Standards Board of Japan (SSBJ) held the inaugural bilateral meeting last week, where the two sides decided on the timeline for the rollout. An initial draft of the Japanese rules is expected to be available for consultation by March 2024.
Japan has been a close partner and supporter of ISSB in Asia, housing the organization's Asia-Oceania office in Tokyo, its capital city. In addition, the IFRS Foundation and the Financial Accounting Standards Foundation (FASF) of Japan have recently agreed to extend the financial support for the foundation's Tokyo office for another five years.