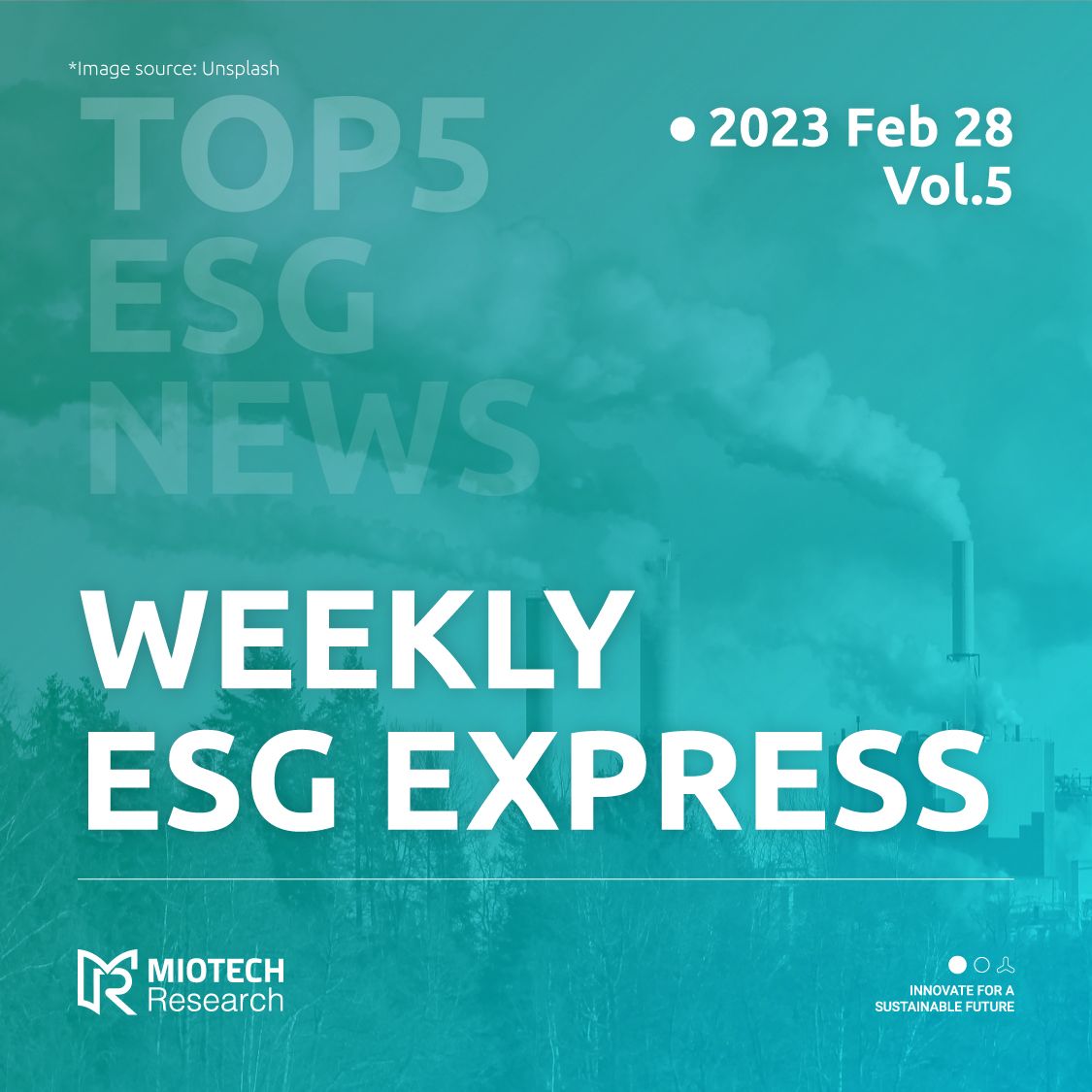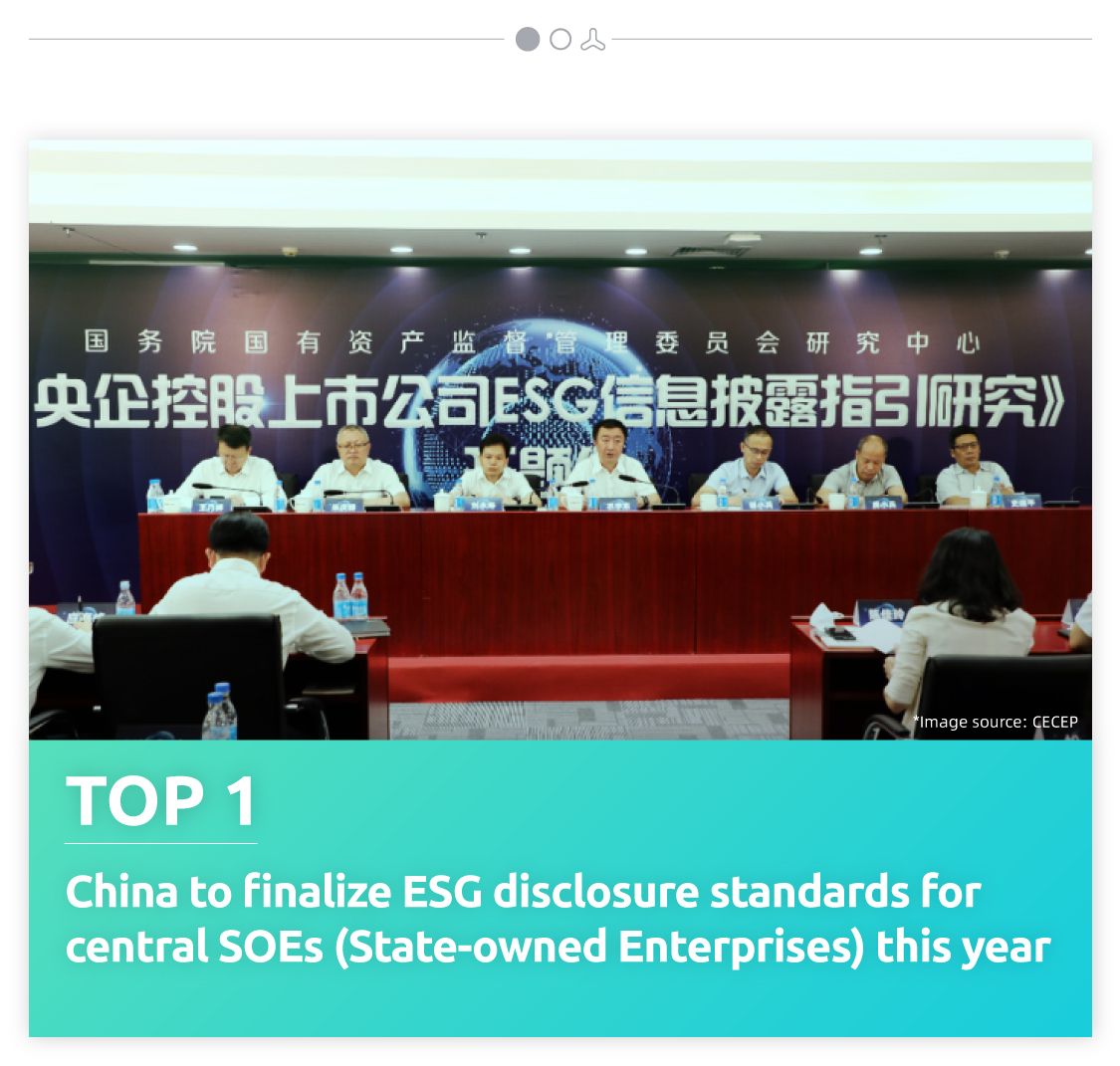 China is expected to finalize ESG disclosure standards for central SOEs this year. A draft of "ESG Disclosure Guidelines for Central SOEs" was presented at an internal meeting between SOEs on February 14. This comes as SASAC (State-owned Assets Supervision and Administration Commission of the State Council), China's supervision body of SOEs, had targeted all the listed companies controlled by central SOEs to report ESG information this year.
MioTech data shows that of the over 500 listed companies which central firms have all stake in, 49% disclosed ESG information in 2021. Of those where central firms have more than 50% stake cumulatively, 63% reported on ESG.
Meanwhile, China's regulators are also working to formulate a framework for mandatory ESG-related disclosures for companies listed in China, according to a Bloomberg news report.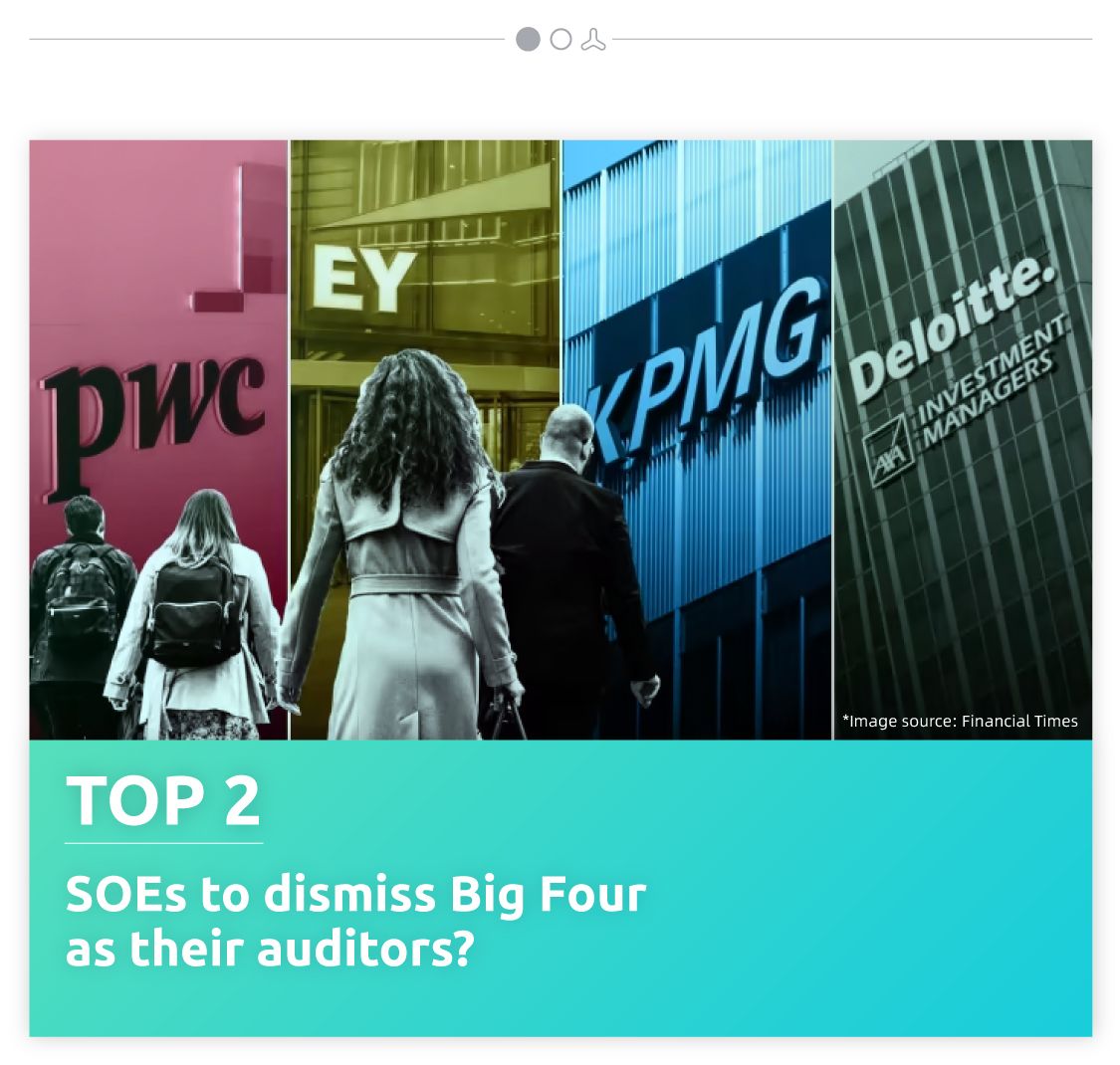 China's Ministry of Finance is reportedly urging state-owned firms not to renew their contracts with big four auditors when they expire, as Bloomberg reported. China is concerned about the security of its state firms' data as the US Public Company Accounting Oversight Board (PCAOB) tightened the scrutiny on US-listed Chinese companies last year.
The big four accounting firms, KPMG, Deloitte, EY and PwC are still the top choices to conduct annual auditing for a number of SOEs, including China Tower, China Huadian Corporation, China Taiping Insurance Holdings this year. Nearly one in every five central SOEs were audited by a big four firm in 2021, according to the Chinese Institute of Certified Public Accountants (CICPA).
The Bloomberg report mentioned that the government only recommended SOEs to opt for other auditing firms, instead of a hard-line requirement, while the big four firms and a number of SOEs have denied the rumors of such departure.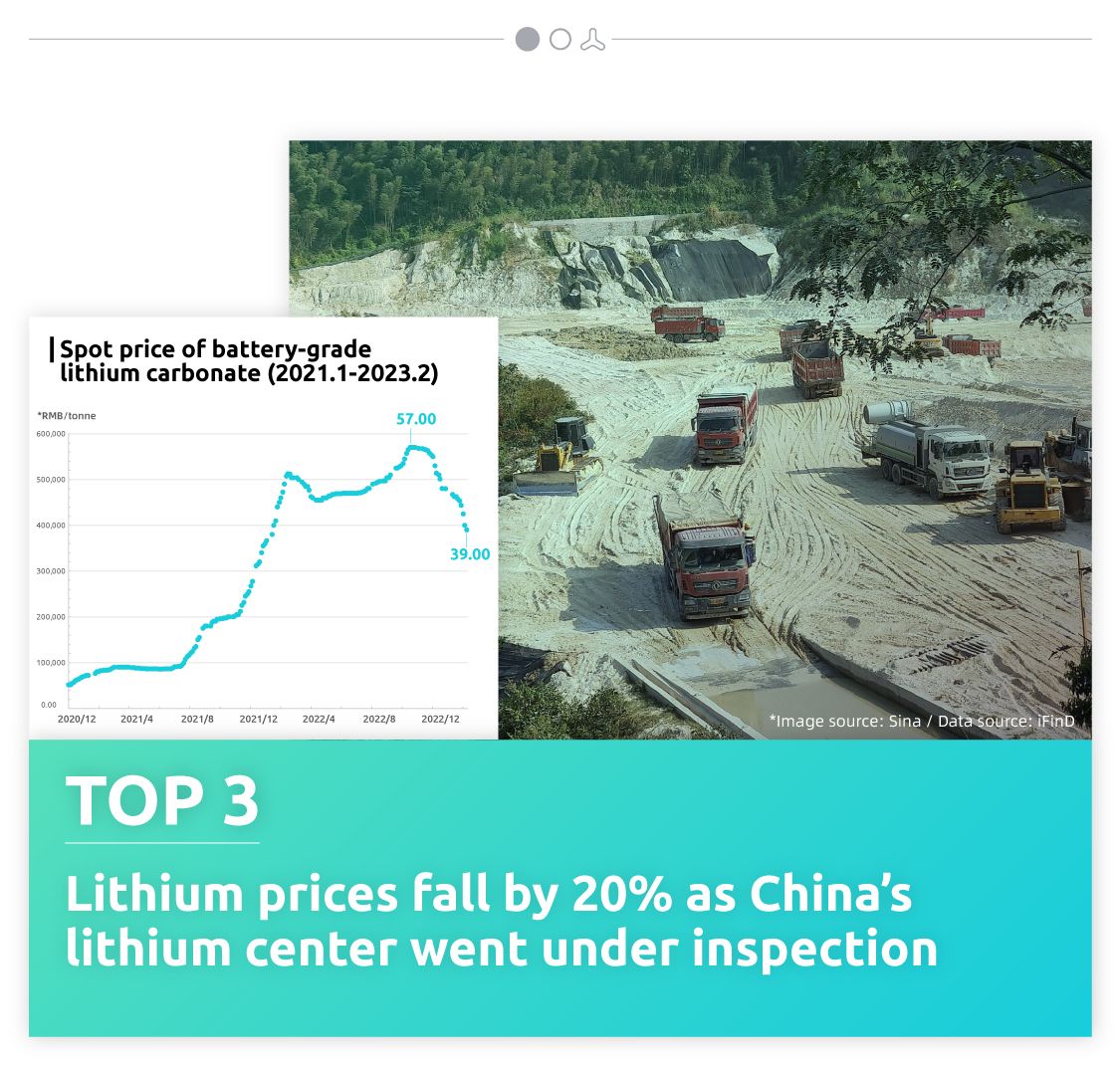 The price of battery-grade lithium carbonate has fallen by 20% since the beginning of this year, trading at Rmb 399,800 per tonne on February 24.
The withdrawal of subsidies for electric cars purchases has led to weaker demand, which has recently started to affect raw materials supplies, increasing inventory. The price of lithium has plunged by around 30% from its high last November. (Lithium price had a dramatic run last year, almost doubling from Rmb300,000 at the beginning of the year to Rmb570,000 mid-November).
Authorities led a working group last week to Yichun in Jiangxi province, aka China's "lithium production capital," to inspect and crack down on illegal mining. The inspection group included personnel from government departments responsible for natural resources, industry and information, and public security. Besides illegal mining, authorities also tried to crack down on price gouging activities and environmental violations.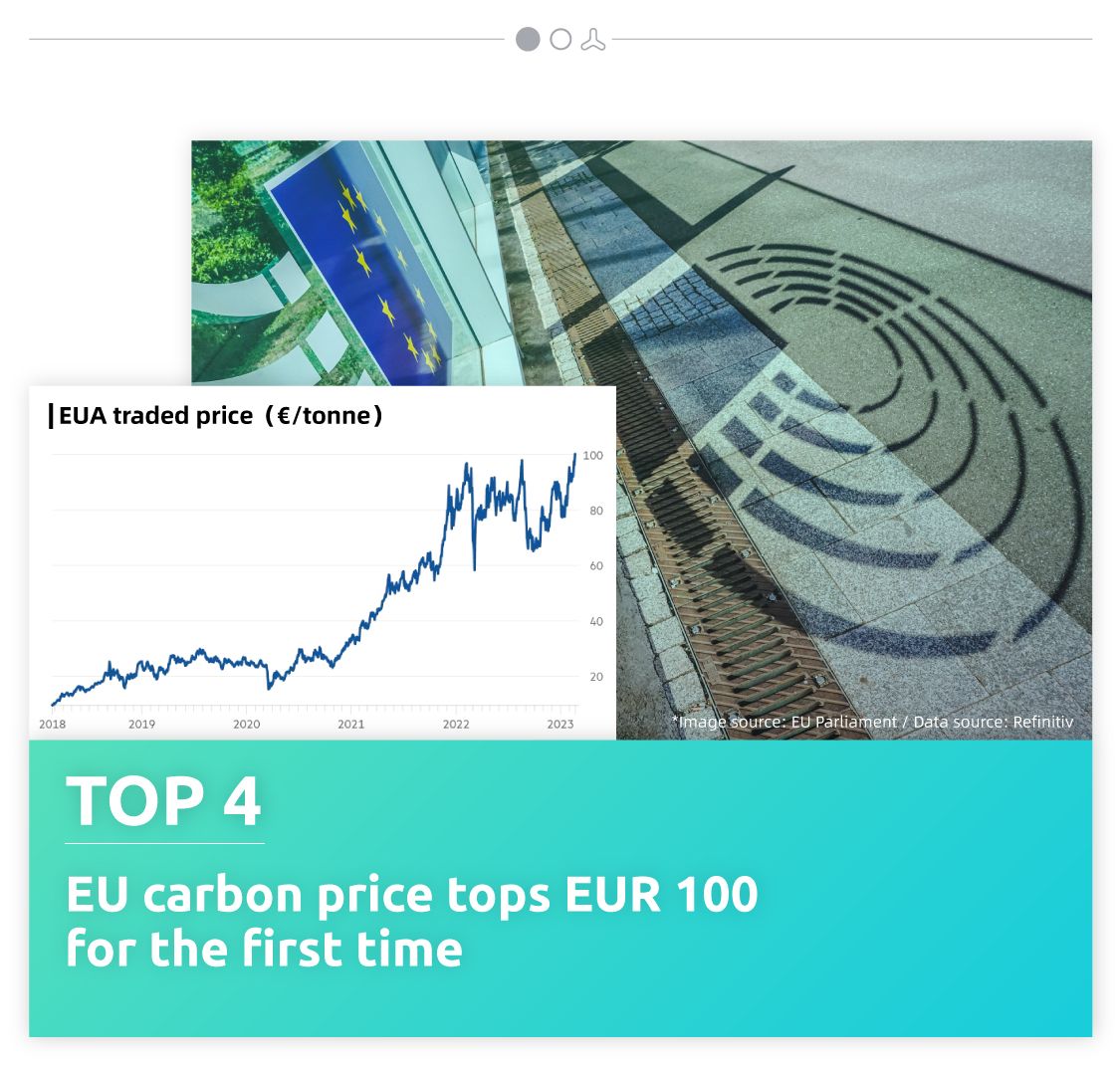 The price of European carbon emission allowances has reached EUR 100 per tonne for the first time since its launch, approximately five times the price three years ago .
Since the beginning of this year, the EU's carbon price has risen by 20% after two months of steady growth, supported by EU's latest climate initiatives. Increased coal use during the energy crisis, which has emissions twice as much as carbon when burnt, has also increased carbon credit purchased.
EU ETSdrove a 4% reduction in European emissions between 2008 and 2016, but mostly made in the power sector switching from fossil fuels to power sector, an academic study from the National Academy of Sciences found in 2020. (Financial Times, Feb 21)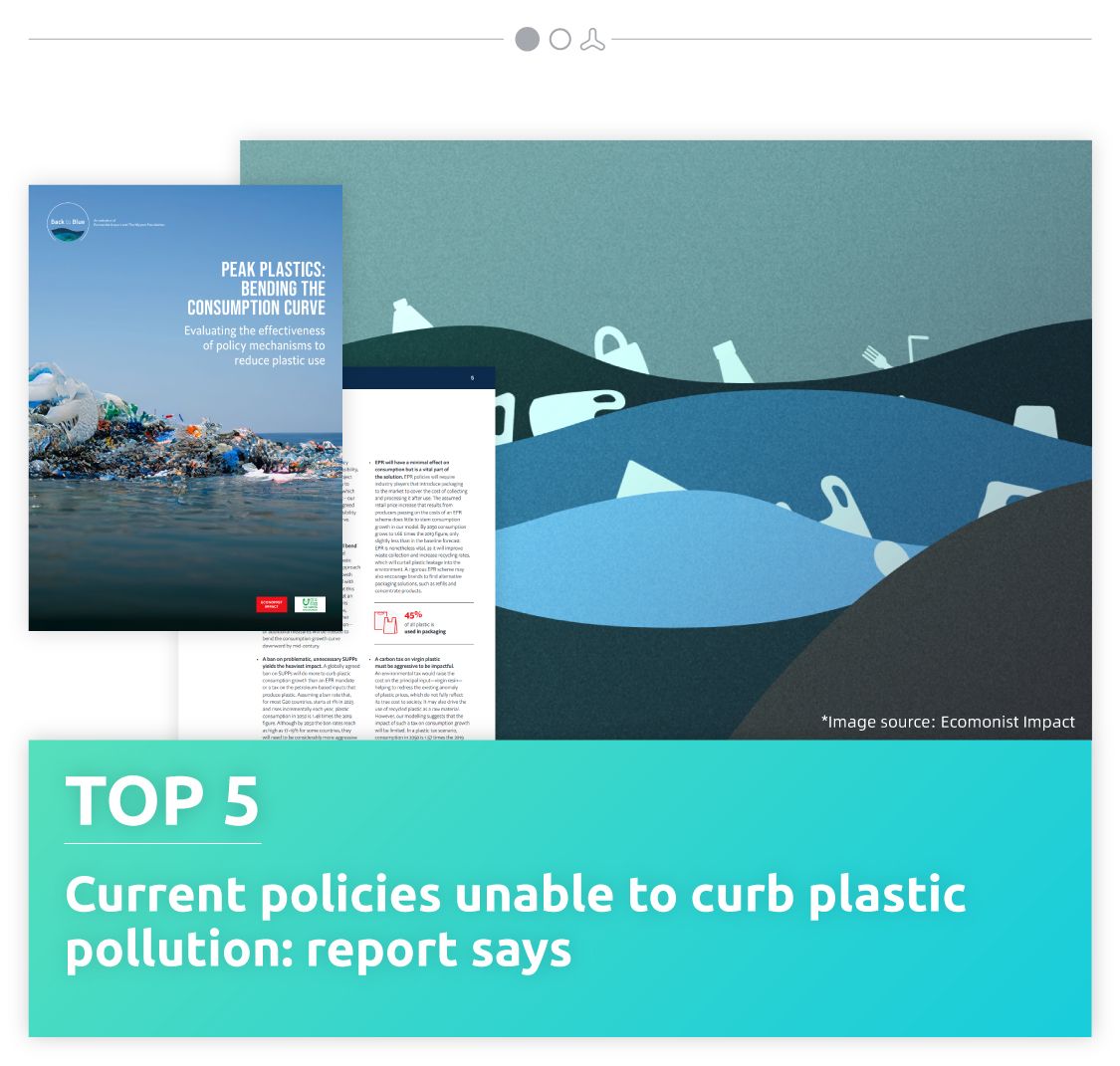 Plastic ban, taxation and the "polluter pays" principle are three of the most common policy tools today to combat plastic pollution. However that may not be enough to prevent the plastic pollution crisis from worsening, says the latest report from Economist Impact.
The study, done in collaboration with the Japan-based Nippon Foundation, modeled these policy scenarios and concluded that even with all of them in place, G20 countries are set to consume 1.25 times more polymer annually by 2050.
The UN is in urgent need to table more measures to combat the plastic waste crisis, and put more efforts into developing full-lifecycle plastic products, the report urged. According to the study, losses arising from plastic pollution, including environmental damages, ecosystem degradation, and health impacts are costing the world USD 100bn a year.