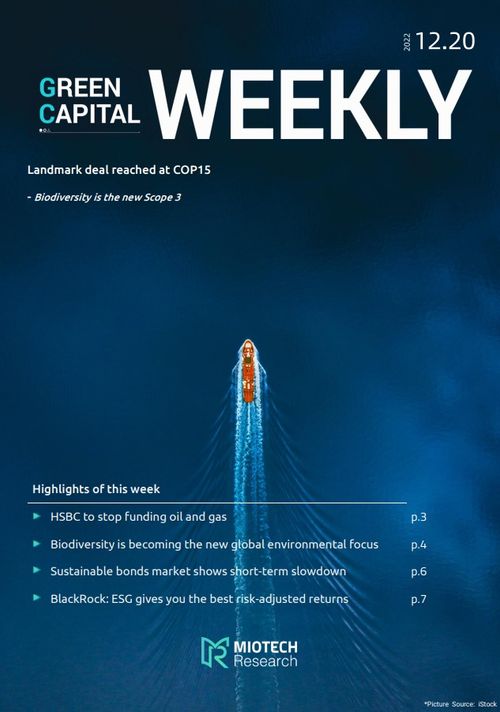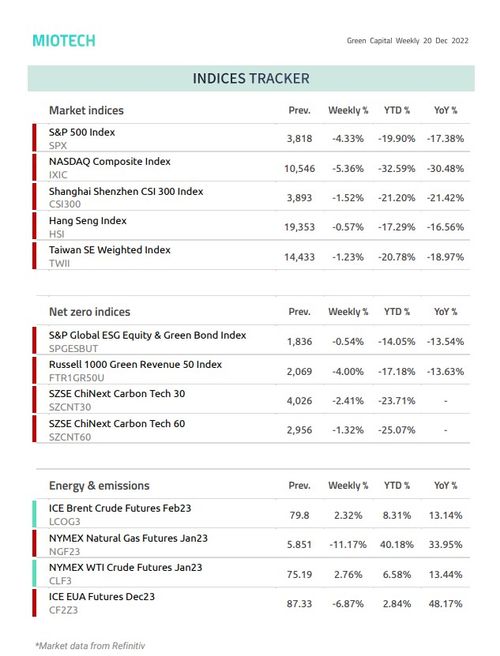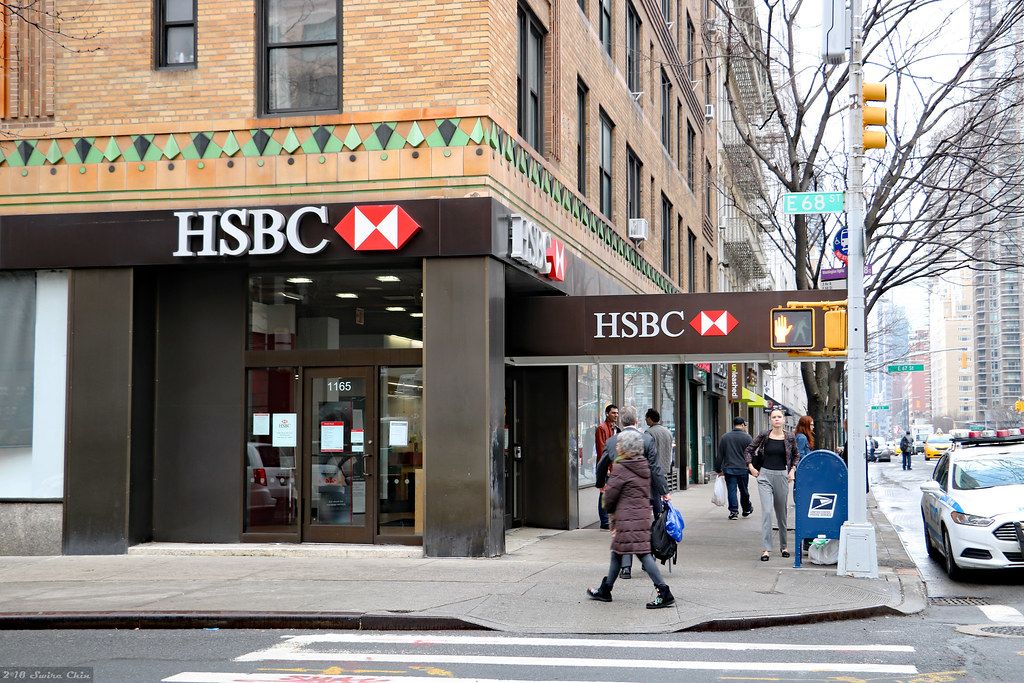 Picture Source: Flickr
HSBC to stop funding oil and gas, joining other European banks
HSBC will stop providing financing and advisory services for firms investing in oil and gas production, joining other European banks, as the British banking giants has made a major update to its Energy Policy to reflect its targets of reaching net zero by 2050.
The new policy will apply primarily to HSBC's approaches to existing and potential clients with oil and gas businesses.
For the existing clients of HSBC with oil and gas businesses, the bank will continue to work with them at the corporate level but will not provide financing and services in relation to their oil and gas services.
The bank will not reach deals with companies where oil and gas projects make up more than 10% of their businesses, measured by capital expenditure or production volumes.
The bank has highlighted transition as the centre of its strategy. "HSBC recognises that many energy companies will be at the heart of efforts to drive down the carbon intensity of hydrocarbon supplies and accelerate investment into clean fuels, renewables and electrification.", the bank says in its updated energy policy.
It came after HSBC became the target of criticism of environmentalists for allocating USD 8.7bn of investments in oil and gas projects, Responsible Investor reported.
A Bloomberg news report reveals that HSBC has loaned fossil fuels companies USD 111bn in total since the Paris Agreement was adopted in 2015.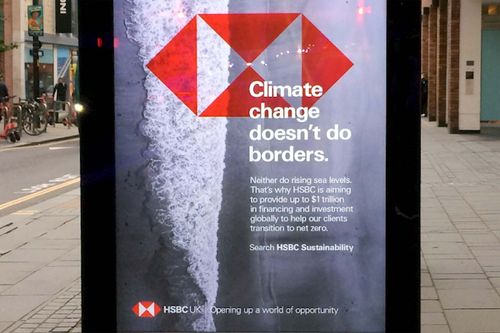 *One of the controversial ads of HSBC; Source: Adfree Cities
The massive oil and gas investments had put the bank's net zero strategy in question. The UK's regulator has asked HSBC to stop displaying the ads promoting its climate actions for misleading customers.
Landmark deal reached from COP15
The UN's biodiversity conference concluded on Dec 19 with a landmark deal adopted.
The document, named "Kunming-Montreal Global Biodiversity Framework" will be foundation of biodiversity governance worldwide for the years till 2030.
"We have in our hands a package which I think can guide us as we all work together to halt and reverse biodiversity loss and put biodiversity on the path to recovery for the benefit of all people in the world.", said Huang Runqiu, Minister of Ecology and Environment of China.
China's COP15 presidency has managed to make the deal a reality despite pushback from the Democratic Republic of Congo, BBC reported.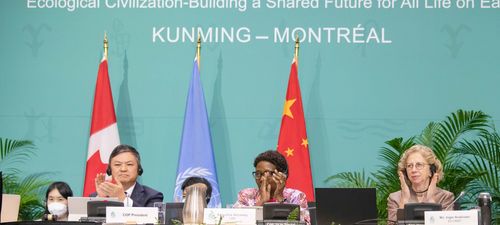 *COP15 adopted the "Kunming-Montreal Global Biodiversity Framework"; Picture Source: The UN's official website
The deal put forward four long-term goals for 2050 and 23 global targets for 2030. The deal aims to reduce extinction rate and risk of all species by ten times by 2050, while the action targets include to mobilise at least USD 200bn per year by 2030 to implement countries' national biodiversity strategies, of which at least USD 20bn should be channelled from developed countries to developing countries, before increasing to USD 30bn per year by 2030 for developing countries to cope with biodiversity risks. The new framework expects global governments to assist the developing of various financial instruments to finance biodiversity protection.
The deal, supported by a wide range of organisations and financial institutions, calls on large and multinational companies and financial institutions to monitor, assess and disclose their biodiversity-related risks and impacts, which need to cover their value chain and portfolios.
In a speech delivered during the COP15, Mark Carney, co-chair of the Glasgow Financial Alliance for Net Zero urged financial institutions to integrate biodiversity restoration in their transition plans.
"The world is still not acting with the urgency that the twin crises of nature and climate demand", Carney said. He also encourages parties to the Parties to the Convention of Biological Diversity to align all financial flows with nature goals.
In addition, supervisors should develop expectations for financial institutions and nature-related risk management, Carney suggested. He also called for support for scaling high-integrity carbon markets from authorities.
On the same day, Emmanuel Faber, chair of the International Sustainability Standards Board (ISSB) said the standard-setter is planning to add requirements of transparency on natural ecosystem and just transition to its climate-related disclosure standard.
Faber said there have been strong feedback the ISSB received on strengthening the links between climate and nature, which will inform the board's work to make incremental enhancements to its climate disclosure standard.
In the process, Faber said, the ISSB will refer to the work of the Taskforce on Nature-related Financial Disclosures.
Despite ongoing appeals for more attention paid to biodiversity to place climate and nature at the same priority, global governments and enterprises had not done for biodiversity as much as they had for climate change.
In a recent research, ShareAction, an NGO assessed and scored the strategies of 25 large European banks regarding climate and biodiversity.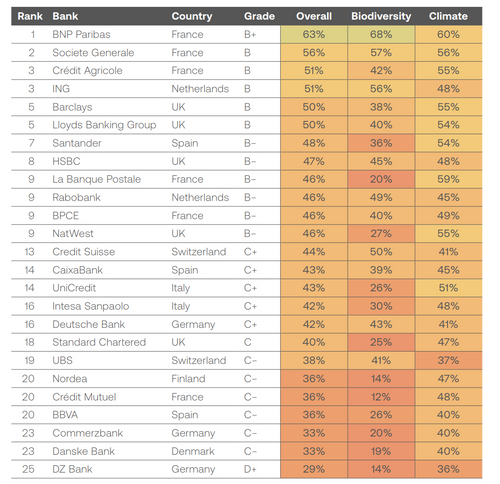 *Scores of 25 European banks for their climate and biodiversity strategies; Source: ShareAction
The banks scored on average 48% for their climate strategies while only 35% for biodiversity.
A detailed results list shows that banks with better overall performance scored higher in biodiversity than climate, such as BNP Paribas, Societe Generate, and ING, while for the biggest majority, their biodiversity strategies tend to be inferior to climate strategies, and usually with a significant gap. For example, the Spanish Santander scored 54% in climate, but only 36% in biodiversity.
Sustainable bonds market sees short-term slowdown
Global sustainable bonds market sees a tough year with smaller issuance, according to BNEF. As of November 2022, sustainable debt issuance was just below USD 1.2tr, displaying a noticeable slowdown compared to the over USD 1.5tr in the same period last year.
All categories of sustainable debt have experienced a decline this year, with social bonds showing the biggest drop of 44.8% YoY.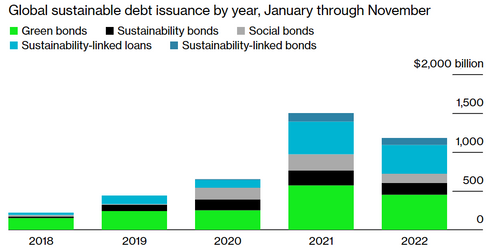 *Global sustainable debt issuance; Source: BNEF
In addition, ESG exchange-traded fund inflows have also fallen significantly this year, compared to the previous two years, with less than USD 50bn in new investments.
The cooling of the market is a short-term phenomenon, BNEF suggests. Investors should feel confident about the growth opportunities of this market with research showing that USD 120tr to USD 194tr will be needed over the next 30 years to decarbonise the global energy system.
BlackRock: ESG gives you the best risk-adjusted returns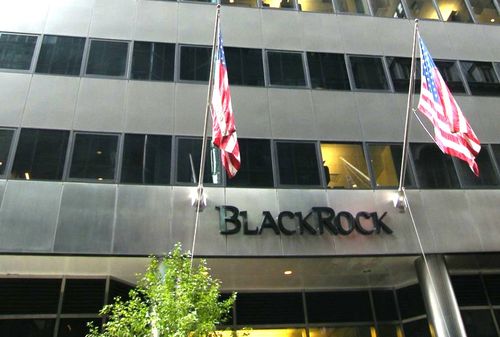 *Source: Wikipedia Commons
BlackRock representatives have presented at a hearing in Texas led by Republican National Affairs Committee last week to respond to questions regarding its ESG investment approaches, as concerned are raised that such strategies are hindering returns of Texas and national pension funds.
Some of the biggest ESG funds in this year are undergoing massive losses: BlackRock's exchange-traded funds of USD 20bn in total value suffered from a 18% loss, ESG ETFs managed by Vanguard, amounting to USD 5.8bn in total value, recorded a 21% loss.
Texas lawmakers challenged the US investment giants that its ESG investment philosophy have blocked financing for the traditional energy and oil and gas sectors, which is harming Texas investors and possibly the national interest of the United States, while Dalia Blass, BlackRock's Head of External Affairs, argued that "ESG investments can achieve the best risk-adjusted returns for our clients."
Vietnam gifted with USD 15.5bn package for energy transition
Vietnam has received a USD 15.5bn package of financial support from the G7 and other developed countries to support its transition from a coal-led energy mix to renewables-led.
This marks another initiative where rich countries provide the capital needed by developing countries to wean off fossil fuels, after similar deals reached for Indonesia and South Africa.
Under the new deal, Vietnam will limit its total annual CO2 emissions from the power sector to 170 megatons by 2030 and achieve peak coal capacity (30.2 GW) by 2030, while committing to increase the share of renewables in energy supply to around 50%.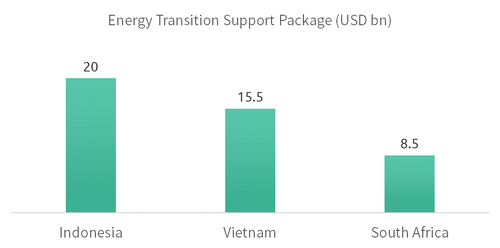 *Source: News reports, MioTech Research
US public companies beginning to disclose emissions data in full pursuant to SEC proposal
An increasing number of US public companies are disclosing their carbon emissions data in full, including the technically challenging scope 3 emissions data, i.e., the emissions from companies' value chain, to prepare themselves for the potential regulatory scrutiny of the Security and Exchange Commission.
A profound proposal from the Securities and Exchange Commission (SEC) is set to require companies listed in the US to provide transparency on their climate-related risk exposure, including disclosing scope 1, 2 and 3 emissions data, while the final rules are still subject to negotiations.
Even though there is no definite answer to whether US-listed companies will need to disclose scope 3 emissions, given how complicated and costly it is to measure and calculate them, the companies seem to have acted in advance.
From the evidence of nearly 2,600 US-listed companies, MSCI found that 25% of the companies have disclosed at least part of their scope 3 emissions as of Oct 24, up from 15% as of this March.
Notably, materials, and utilities and energy, three carbon-intensive sectors have seen their scope 3 emissions reporting rates increase by 18, 33 and 19 percentage points respectively.
Since the SEC unveiled the proposal this March, 3% of these companies have reported their scope 1 and 2 emissions for the first time, while 4% of them introduced scope 3 emissions to their disclosures.
Chart: Change in climate risk disclosures by US-listed companies from March 2022 to October 2022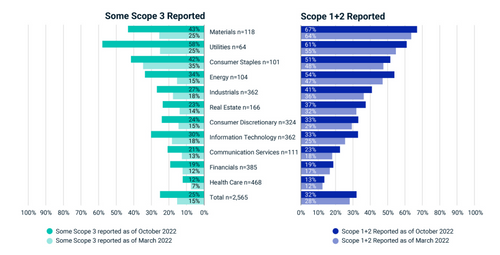 Source: MSCI ESG Research
Connecting workplace: Microsoft appoints new CSO
Melanie Nakagawa

Microsoft has announced the appointment of Melanie Nakagawa as Chief Sustainability Officer.

Melanie Nakagawa will lead the work on environmental sustainability at Microsoft to deliver the company's goals to be carbon negative, water positive and cause zero waste by 2030, while also focusing on biodiversity.

Before joining Microsoft, she was Senior Director for Climate and Energy and Special Assistant to the President at the US National Security Council. She also held other roles in the US government in her early career, including working as Deputy Assistant Secretary for Energy Transformation at the Department of State. She also held energy transition-focused roles in investment firms and research institutes.