The 2022 FIFA World Cup ended with one of the most dramatic football finals last week, with Lionel Messi-led Argentina snatching its third world champion in a 3-3 (4-2 penalty kick shootout) victory over defending champion France.
But as the world celebrates football, the event itself deserves another look from the carbon neutrality angle.
After all, when the cheers die down and we move on to the next event, the world still needs to deal with the buildings and constructions from the event. So how did this FIFA "completely carbon neutral" event score?
The world is in a different place since Qatar was awarded as the host this year back in 2010. We have already witnessed a few "sustainable" sporting events, including the Tokyo Summer Olympics in 2021 and the Beijing Winter Olympics earlier this year. Carbon neutrality targets and sustainable topics have been included, even as the world experienced geopolitical tensions and covid troubles.
Qatar and FIFA have also developed sustainability policies and a set of goals for this year's World Cup, including the ambitious goal of making the entire event completely carbon neutral.

How did they score on that front?
Top green initiatives:
Sustainable buildings and GHG emissions
The organizers of the Qatar World Cup have proposed commitments in 5 major sustainability areas: human, society, economic, environmental, and governance, covering activities in the preparation, main event, and post-tournament phases. In the environmental area, five material topics were identified, namely sustainable buildings, greenhouse gas emissions, air quality, waste minimization, and water conservation.
Among them, sustainable building and greenhouse gas (GHG) emissions are the top two priority topics. Therefore, the organizers set out and announced early on the specific objectives:
Sustainable Building: To ensure that World Cup facilities are designed, built, and operated in a sustainable way to limit environmental impact.
GHG emissions: measure, mitigate and offset all GHG emissions from the World Cup (including Scope 1, Scope 2 and Scope 3 emissions).
Specifically, the aims to have 100% of the stadiums and 75% of the stadiums achieve GSAS building certification and operation certifications, the green building standard in the Middle East region, comparable to LEED or NGBS. In addition, a fully-carbon neutral World Cup would be achieved by mitigation and means of carbon offset, according to the Qatar World Cup Organizers.
Figure: Qatar World Cup Sustainable Building Management Target

Figure: Qatar World Cup GHG Emissions Management Target
I. Sustainable buildings – Problems underlying innovation
Photo: 974 Stadium façade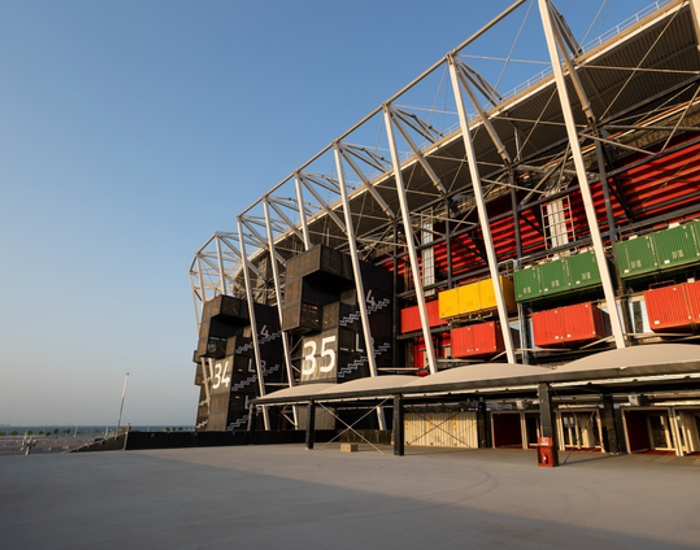 Source: Qatar World Cup official website
Stadium 974 is a prime example of sustainable architecture for the tournament. The 40,000-seat stadium, named after the number of shipping containers repurposed in its construction, is the most uniquely designed stadium of the Qatar World Cup.
Unlike traditional ones, which are built of concrete and steel, the entire stadium is made of modular steel and containers of various colors.
The biggest highlight of this innovation is that it allows the stadium to be taken down and moved after the 2022 World Cup ends in December, when the stadium will no longer be required.
However, that's just one side of the story. It should also be pointed out that seven out of the eight Qatar World Cup stadiums were built from scratch this time around. By comparison, Beijing has built only seven of the 12 new competition venues for the Winter Olympics. Of course, we recognize that they are equal in the number of new venues: Seven.
Qatar is reportedly spending an estimated $6.5 billion to invest in these large, state-of-the-art stadiums. Beijing spent around $1.5 billion on the venues, which also includes ancillary facilities such as the Olympic Village.
Photo: Large development sites surrounding Stadium 974.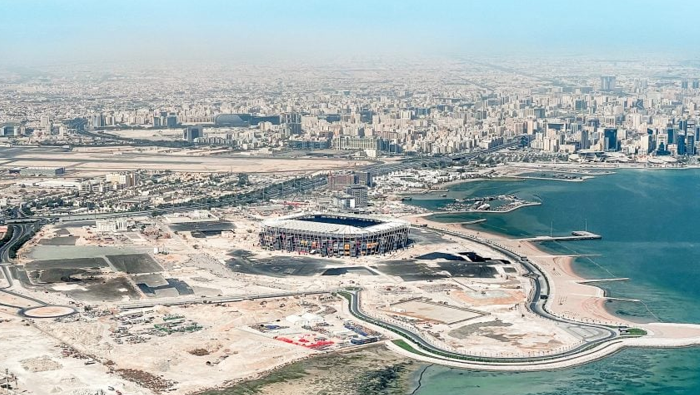 Source: Dezeen
However, even Qatar's most popular soccer team, Al Sadd SC, rarely has more than 1,000 spectators at a home game. The country of less than 3 million people will be able to make the most of these lavishly built stadiums after the World Cup remains doubtful.
Al Bayt Stadium - 60,000 capacity

Lusail Stadium - 80,000 capacity

Other new venues(each with ~40,000 capacity)
Source: Qatar World Cup official website
FIFA did not disclose data on the carbon footprint of the new permanent venues. For Stadium 974 alone (which the organizing committee identified as a temporary venue), carbon emissions amounted to 440,000 tons, exceeding the total annual carbon emissions of Tonga, the Pacific Island nation.
II. GHG emission: Fully Carbon Neutral?
The GHG emissions accounting report estimates that the tournament's operational scope will be ~3.6 million tCO2e, including Scope 1, Scope 2 and Scope 3 emissions between 2011 and 2023. This ex-ante estimate represents a jump of about 70 percent compared to the 2.16 million tons from the previous World Cup in Russia.
Travel, mainly international air flights, accounts for 52% of total emissions. The construction of temporary facilities and temporary sites (23%) and accommodation (20%) are major emissions sources as well.
Figure: Major sources of greenhouse gas emissions from the Qatar World Cup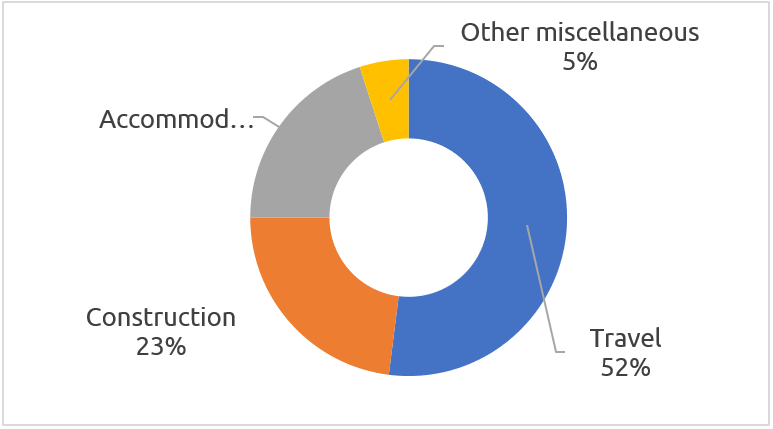 Source: FIFA, MioTech Research
However, scholars and environmental groups believe that tournament organizers may have significantly underestimated the emissions associated with the construction of the stadiums. The actual carbon footprint of the Qatar World Cup could exceed 10 million tons, three times the amount claimed by FIFA, according to Mike Berners-Lee of Lancaster University.
In the Qatar World Cup greenhouse gas emissions accounting report, we discovered that FIFA only counted emissions resulting from the construction of temporary seating (and other related structures) needed for the World Cup in permanent stadiums, not emissions from the construction of the permanent stadiums themselves.
Figure: Qatar World Cup Stadium Construction Emissions Breakdown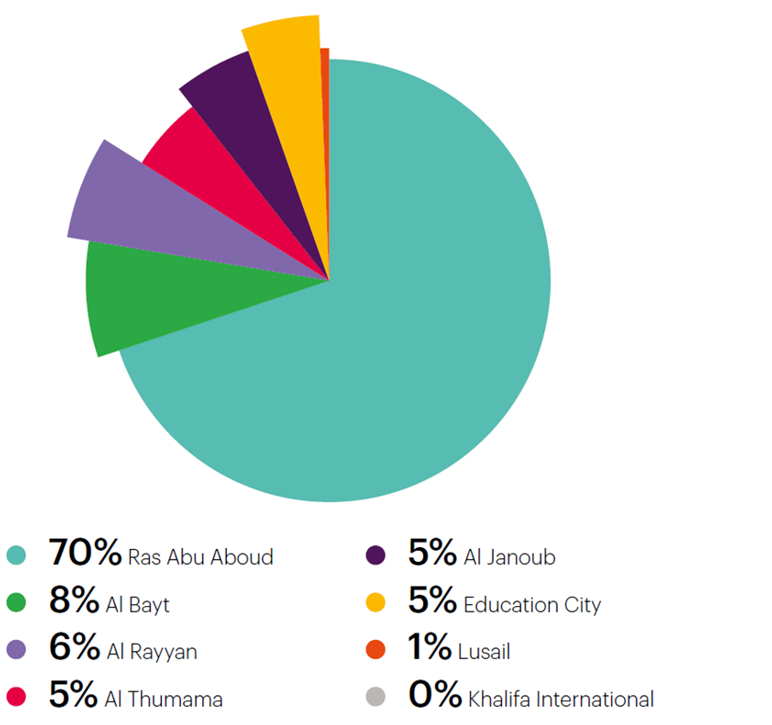 Source: FIFA's Qatar World Cup Greenhouse Gas Emissions Accounting Report
The tournament's approach to carbon offsets also draws criticism. According to the previously stated goal of complete carbon neutrality, 100 percent of the World Cup's greenhouse gas emissions will be mitigated and offset.
To fulfill its offset commitments, Qatar launched the Global Carbon Council (GCC), the first voluntary carbon offset program in the Arab world. However, the GCC has not followed in the footsteps of the likes of Verra and Gold Standard – it still allows new ordinary renewable energy projects to register for carbon credits. To date, the 1.8 million tons of credits purchased by event organizers through the GCC all come from renewable energy projects, including wind and hydropower energy projects in Turkey and Serbia.
In the past, carbon credits could be generated from solar, wind or hydro plants provided that the additional revenue would prompt developers to take steps to replace fossil fuel energy. Without the additional subsidies generated by these carbon credits, renewable energy projects would not have been built.
However, this is no longer the case in most countries today. According to data released by IRENA (International Renewable Energy Agency), the cost of renewables has fallen significantly in the past decade. The LCOE (levelized cost of electricity) of China's photovoltaic power generation in 2019 has been down to $0.05/kWh, a drop of more than 90% from 2010. The cost of wind and PV generation is now lower than that of thermal power plants in most countries.
Figure: LCOE curves for wind and PV in China ($/kWh), 2010-2019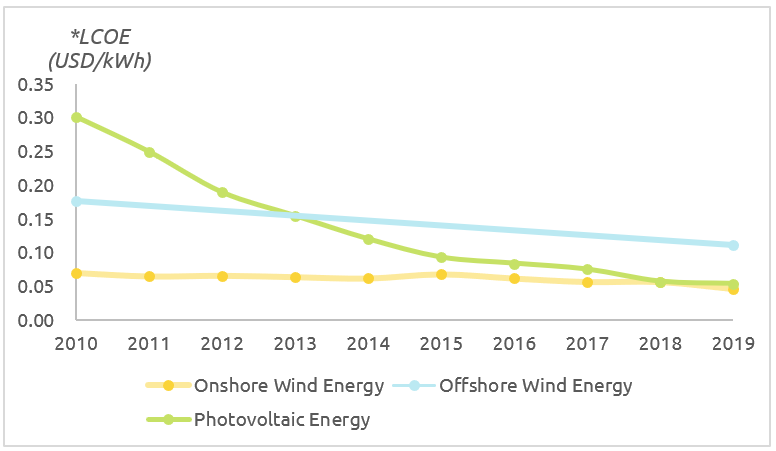 Source: IRENA, MioTech Research
If developers do not need additional incentives to build them, they should not generate credits. This principle of additionality is the basis for carbon credits. It is not clear if the carbon credits are funding carbon-reducing projects that would not have otherwise existed.
Thus, by 2022, the "quality" of "renewable energy source-based carbon credit" is already questionable, and carbon offsets purchased by World Cup organizers are much less effective and significantly less costly than carbon removal projects from example, forestry, agriculture, and land use projects.
Figure: Trading prices for different types of carbon credit futures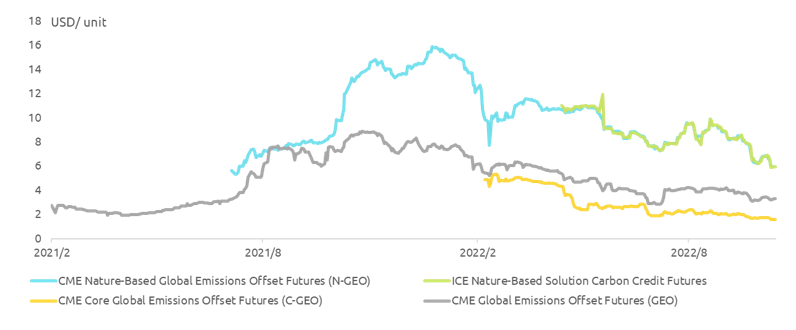 Source: Refinitiv, MioTech Research
Note: CME and ICE have introduced standardized varieties of carbon credit futures in the last two years.
In addition, the Qatar World Cup also did not directly purchase renewable electricity or renewable energy certificates (e.g., I-REC) to the event's Scope 2 emissions. On contrast, 100% of the electricity demand for the Beijing Winter Olympics is supplied by wind and photovoltaic power, which is achieved through the direct purchase of 161 gigawatt hours (GWh) of renewable electricity.
Qatar's Sustainability Progress accelerated as a World Cup host
The 2022 marked the first time for a World Cup was held in the Arab world. As one of resource-rich nation with the world's, Qatar benefits from having the world's third largest gas reserve and one of the largest LNG exporters in the world, tying with Australia for the top spot in 2021. With just 2.9 million in population, it enjoys a high GDP per capita, ranked fourth in the world.
Figure: Global Liquefied Natural Gas exporters in 2021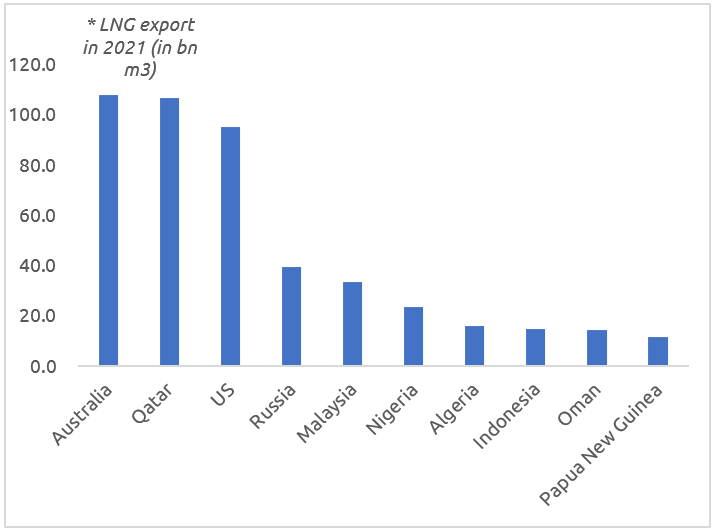 Source: BP Statistical Review, MioTech Research

Figure: Global Liquefied Natural Gas export in 2021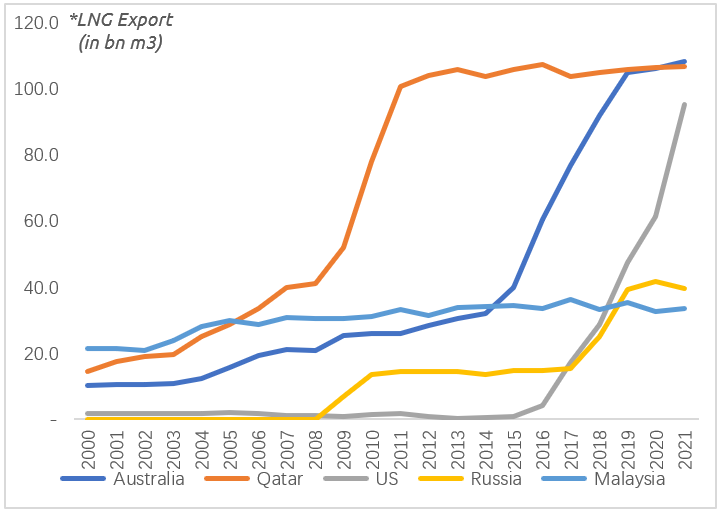 Source: BP Statistical Review, MioTech Research

This abundance of resource also translates to higher carbon emissions, however. Qatar's carbon emissions per capita was 29.2 tCO2 in 2020 according to IEA, nearly seven times the world average of 4.1 tons. Its electricity consumption is fifth highest in the world.
Until 2022, Qatar does not have any renewable energy facilities with 100% of the country's electricity supply is supplied by gas-fired power stations.
The World Cup has however made clear progress in advancing the country's green agenda. Qatar plans to meet 20% of its energy demand from renewable sources by 2030.
From the World Cup, Qatar has introduced 800 new electric buses as well as charging infrastructure. 16,000 trees were planted by the organizers in the surrounding areas of World Cup venues. Most importantly, Qatar's first photovoltaic power plant, an 800 MW project contracted by China Power Construction (601669.SH) and supplied by LONGi (601212.SH), was successfully connected to the grid, meeting the clean electricity needs of 300,000 households.
As the world watched on stage the dramatic finish to the 2022 World Cup, it will bear witness still to the results of Qatar's longer-term transition to renewable energy.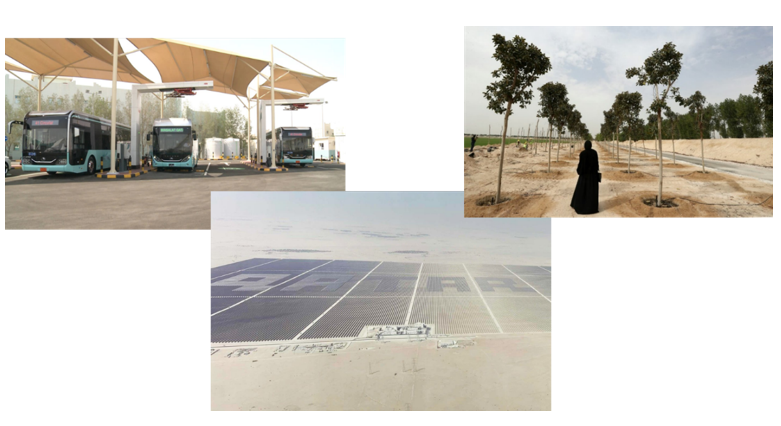 Source: Xinhua News Agency, Longi Green Energy, Agence France-Presse