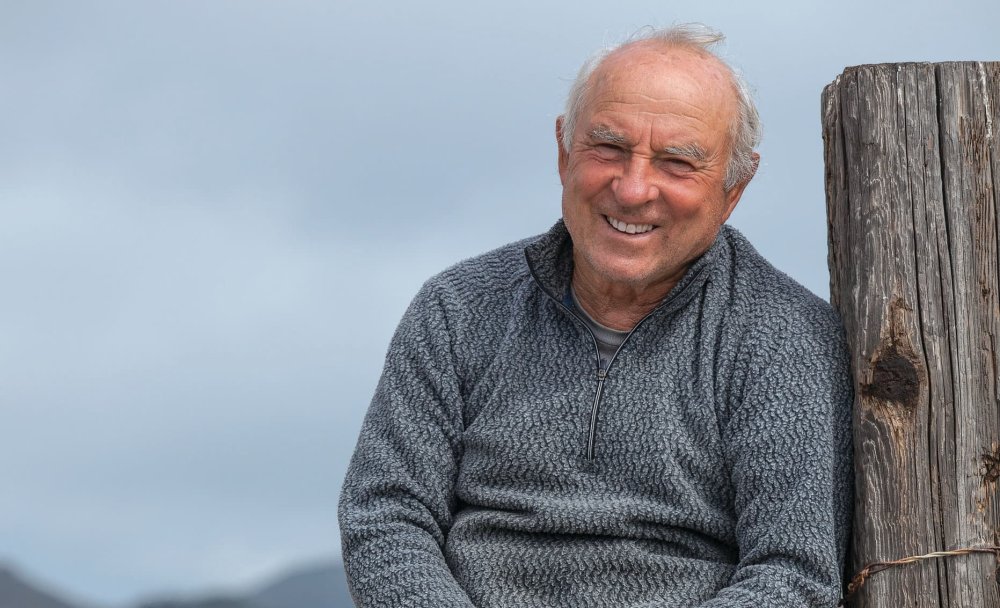 "Earth is now our only shareholder"
Outdoor sportswear company Patagonia is undertaking an ownership restructuring in the ultimate aim to tackle climate change. Last week, founder of Patagonia, Yvon Chouinard published a landmark open statement named "Earth is now our only shareholder" announcing the transfer of the company's equity to Patagonia Purpose Trust and Holdfast Collective, a non-profit targeting environmental protection.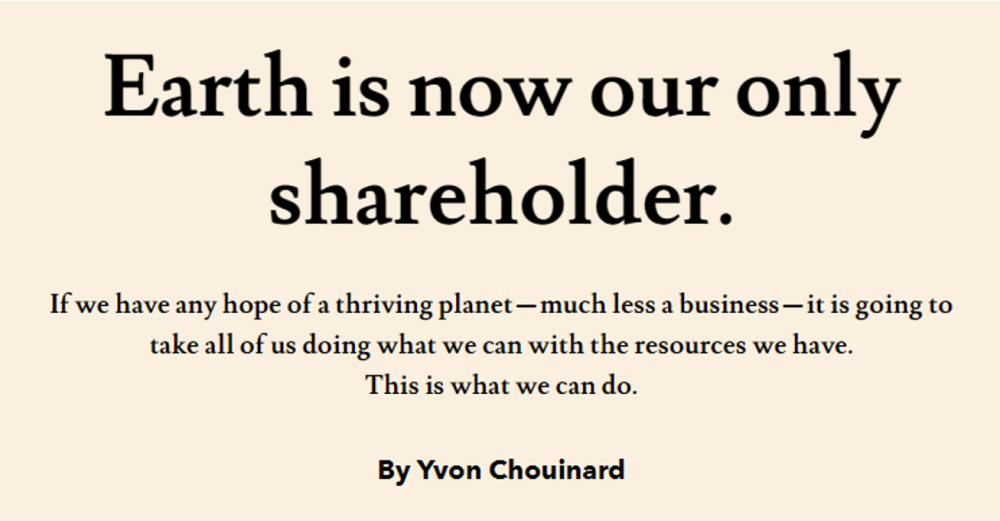 After the transfers:
Holdfast Collective will own all the nonvoting stocks of the company, accounting for 98% of the total equity;
Patagonia Purpose Trust will hold all the voting stocks of the company accounting for the remaining 2% of the total equity.
In this case, the profits Patagonia makes after reinvesting in the business will finance the actions of Holdfast Collective to fight the environmental crisis and defend nature, while the Patagonia Purpose Trust owning the voting stocks will chart the course of the business.
Patagonia has previously pledged to reach carbon neutral across the entire business, including its supply chain.
A sustainable fashion industry matters to the circular economy. Most of us are impressed of the fibre mix of 99% cotton and 1% spandex on the labels, but that is likely to be history. Clothes made from a mix of different materials are less easy to recycle because it is difficult to separate the fibers. According to the Wall Street Journal, as the European Union plans to require clothes to have a longer life span and be more recyclable, fashion companies might start offering clothes made from one single material in the coming decade. Not only manufacturers in the EU are affected but also companies like Nike and Uniqlo that export clothes to the EU. The Germany-based Adidas AG has reportedly launched a line of single-fibre clothes.
It is always good that companies value the impacts of their businesses but let's keep an eye on greenwashing. According to ESG TODAY, H&M and Decathlon have recently committed to the Netherlandish market regulator to remove the self-declared sustainability labels from products and company websites. The Netherlands Authority for Consumers and Markets found that the "conscious" and "conscious choice" labels of H&M and the "Ecodesign" label of Decathlon were not given clear explanation of their meaning and benefits to the environment. The two firms also agreed to make a donation to sustainable causes to compensate for the mistake.
DBS announced sectoral goals to reduce financed emissions, JPM launches new suite of sustainable ETFs
Last week, Singapore's largest bank, DBS announced seven sectoral targets to reduce financed emissions and two sectoral targets to improve data coverage in its latest report "Our Path to Net Zero – Supporting Asia's Transition to a Low-carbon Economy".
CO2 intensity goals for the power, automotive, aviation, steel sectors;
Absolute CO2 emission goals for the oil & gas sector;
Portfolio alignment goals for the shipping and real estate sectors;
Data coverage goals for the food & agribusiness and chemicals sectors.
This follows the bank's announcement in October 2021 to become a signatory of the Net-Zero Banking Alliance. As a signatory, the bank commits to align its lending and investment portfolios with net zero emissions by 2050.
In addition, JP Morgan Asset Management has announced the launch of a new suite of sustainability-themed exchange-traded funds, including JPMorgan Sustainable Consumption ETF, JPMorgan Social Advancement, and JPMorgan Sustainable Infrastructure ETF. According to ESG TODAY, this came after JP Morgan AM launched JPMorgan Climate Change Solutions ETF its first sustainable ETF last December.
China amends cybersecurity law to increase the penalties
China is consulting on the amendments to the Cybersecurity Law for the first time since it was enacted in June 2017. According to Caixin, penalties for firms will increase to RMB 50m (USD 7.1m) or 5% of their previous year's revenue from RMB 1m in the current law. Penalties for individuals will be RMB 1m (USD 142.5 thousand) from RMB 100 thousand (USD 14.3 thousand). Legal experts expect the change to prompt companies to turn the scrutiny on the governance of cybersecurity matters. We first analysed the impact of the data privacy law in our presentation last December here.
Google and Mata fined in South Korea over privacy violations
The South Korean Personal Information Protection Commission on September 14 said it has fined Google and Facebook's parent Meta KRW 69.2bn (USD 50m) and KRW 30.8bn (USD 22m) respectively for collecting users' personal information without their consent which was used for customised marketing, the Financial Times reported. The state-run regulator said these behaviours could lead to severe privacy violations.
Windfall tax means an EUR 140bn support for EU to solve energy problems; Ireland wants to import wind power
Leyen expects EU member states to receive EUR 140bn (USD 140bn) from the proposed windfall taxes imposed on power companies that have been making "extraordinary record profits", the Financial Times reported. Brussels is looking into various plans to deal with the energy problem, with proposed plans like price cap on Russian energy, revenue cap and windfall taxes imposed on power companies that generates electricity from renewables, nuclear and coal instead of gas.
Ireland, the European island country and a member state of the EU has seen an opportunity in the EU's plan to reduce its dependence on Russian energy, the Economist reported. Ireland has exposure to abundant wind resources by its coast. Micheal Martin, the country's Prime Minister expects the country to become an energy exporter by mid-2030s: "Wind is Ireland's oil". Wind power currently accounts for around one third of Ireland's total power generation.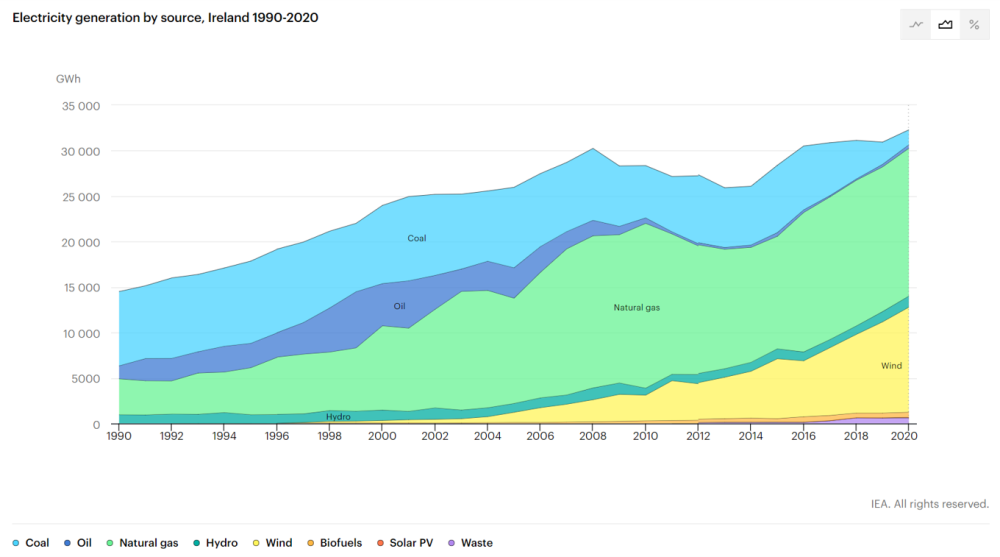 Goldman Sachs, BlackRock announces new investments in energy transition
Last week, Goldman Sachs Asset Management partnered with energy transition-focused private equity firm Cleanhill to announce a major equity investment in power conversion solution EPC Power. According to ESG TODAY, EPC Power offers utility-scale smart convertors used in stand-alone energy storage, solar energt storage or data centres' backup power.
It came around the same time BlackRock announced that its Real Assets division has acquired solarZero, a New Zealand-based solar and smart battery developer, marking the very first investment in the Oceania country by BlackRock Real Assets. In addition to the acquisition, BlackRock commits NZD 100m (USD 60m) in the following years to speed up the growth of the start-up. solarZero leads a business model of "solar-as-a-service": it installs solar panels for customers for free and charges fixed monthly service fees. According to ESG TODAY, solarZero has installed 8,500 solar systems on homes and businesses in New Zealand, making it the largest provider in the country.
Alibaba, Tencent among the five biggest corporate buyers of clean power in China
With 1,100GWh of purchased or committed clean power, Taiyuan Iron and Steel Co. (TISCO) is the largest corporate buyer of clean power in China this year, the latest data from BNEF shows, based on companies' disclosures as of September 9. It is followed by Alibaba Group of 860GWh, BMW Brilliance of 670GWh, Ansteel Group of 560GWh and Tencent of 504GWh. Chinese companies have shown much greater taste for clean energy as TISCO bought six times as much clean power as ChinData, the top buyer in 2021, did last year.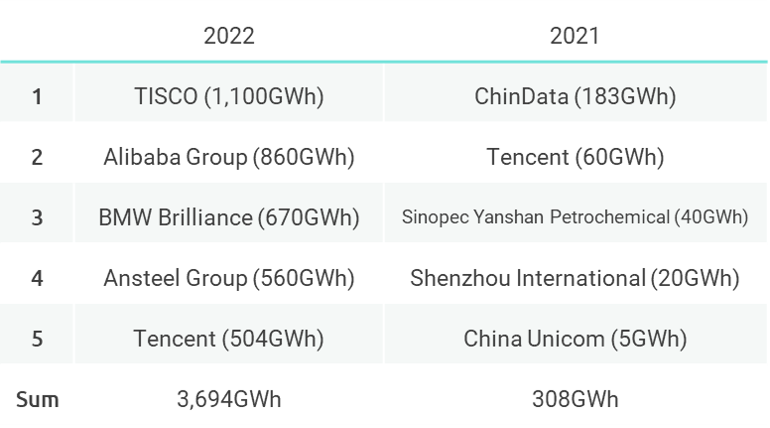 On the supply side, China General Nuclear and China Resources Power remain the two biggest sellers of clean power across 2022 and 2021.
SCO member states joint statement on climate change
Member states of the Shanghai Cooperation Organisation (SCO) issued a joint statement on climate change in Samarkand, Uzbekistan. Member states recognize the pressing importance of tackling climate change while also calling for just transition. The statement highlights the need to balance decarbonisation and economic development.
The statement says SCO member states will work and communicate closely on decarbonisation, investment frameworks and the green taxonomy.
Chinese central enterprises to create Chief Compliance Officer role
China's regulator of state-owned assets has published the measures of compliance management in Chinese central enterprises. The document said central enterprises should allocate enough people and funds needed to support the internal compliance management, and if necessary, set up a Chief Compliance Officer. But the document also noted that companies should let its legal advisor occupy the post instead of creating additional headcount.
US inspectors to check the audit working papers of Alibaba and Yum China in Hong Kong
Three weeks after China and the US reached the milestone audit deal, inspectors from the US Public Company Accounting Oversight Board went to Hong Kong on September 16 to carry out inspection of the audit working paper of selected US-listed Chinese companies. Caixin reported that SEC's Gary Gensler revealed the message in a recent meeting. According to Bloomberg, Alibaba Group and Yum China are among the first batch of companies whose audit working paper will be looked at by PCAOB inspectors.
Thailand to launch domestic carbon market
The Stock Exchange of Thailand (SET) is researching on the initiation of a domestic carbon market to support the companies engaging in low-carbon initiatives, The Asset reported. Pakorn Peetathawatchai, SET's President said the SET looks forward to collaborating with other organisations in Thailand on this matter. The carbon market doesn't have to be within an exchange, he added: "It can be OTC (over-the-counter)".
China's largest sewage treatment plant will be powered by solar PV
China Energy Engineering Corporation announced it has completed the solar photovoltaic project built in the Beihu sewage treatment plant in Wuhan, Hubei, the largest sewage plant in China.
The project has a peak capacity of 23.7MW and is expected to generate 22GWh of clean electricity in the next 25 years, equivalent to 20 thousand tonnes of carbon emission reduction.
Shell sees new CEO in nine years, State Street welcomes new Head of ESG
Oil giant Shell has announced to appoint Wael Sawan as it new CEO, starting Jan 1 to replace Ben van Beurden who has served as CEO of the company for nine years, Wall Street Journal reported. Sawan currently works in Shell as the Director of Integrated Gas, Renewables and Energy Solutions. The appointment manifests the intention of the oil giant to tap into the growth opportunities of renewables amid global warming and energy crisis.
Last week, State Street announced that Amani Boros will be the Head of ESG of State Street International GmbH (SSBI), based in Zürich. Boros will be responsible for developing and incorporating ESG strategies across the businesses of SSBI, and engage positively with clients, regulators and stakeholders. Prior to the new appointment, Boros was the Director of ESG & ERM at Thomson Reuters.
Sources
[1] Yvon Chouinard, Patagonia - Reimagining Capitalism
[2] WSJ - Fashion Firms Look to Single-Fiber Clothes as EU Recycling Regulations Loom
[3] ESG TODAY - H&M to Remove Sustainability Labels from Products Following Investigation by Regulator
[4] DBS - Singapore's DBS first bank in Southeast Asia to announce landmark set of decarbonisation commitments
[5] ESG TODAY - JPMorgan Launches Active ETF Targeting Climate Solutions Investment Opportunities
[6]
财新网 - 《网络安全法》迎来首次修订 拟将处罚上限提高到年营收5%
[7] FT - South Korea imposes record privacy fines on Google and Meta
[8] FT - EU targets €140bn from windfall taxes on energy companies
[9] The Economist - Ireland's dreams of exporting wind power are plausible
[10] ESG TODAY - Goldman Sachs, Cleanhill Back Energy Storage Tech Player EPC Power as Climate Law Sets the Stage for Growth
[11] ESG TODAY - BlackRock Acquires New Zealand "Solar-as-a-Service" Provider solarZero
[12] BNEF -
中国企业绿电交易排行榜
[13]
上海合作组织 - 上海合作组织成员国元首理事会关于应对气候变化的声明
[14]
财新网 -美PCAOB下周在港启动检查
[15] Bloomberg - US-China Audit Deal Faces First Test as Inspectors Head to Hong Kong
[16] The Asset - SET looking into Thai carbon market
[17]
中国能建 - 中国能建中南院总承包的国内最大污水处理厂分布式光伏项目并网发电
[18] WSJ - Shell Names New CEO as Longtime Boss Steps Down
[19] ESG TODAY - State Street Appoints Amani Boros as Head of ESG