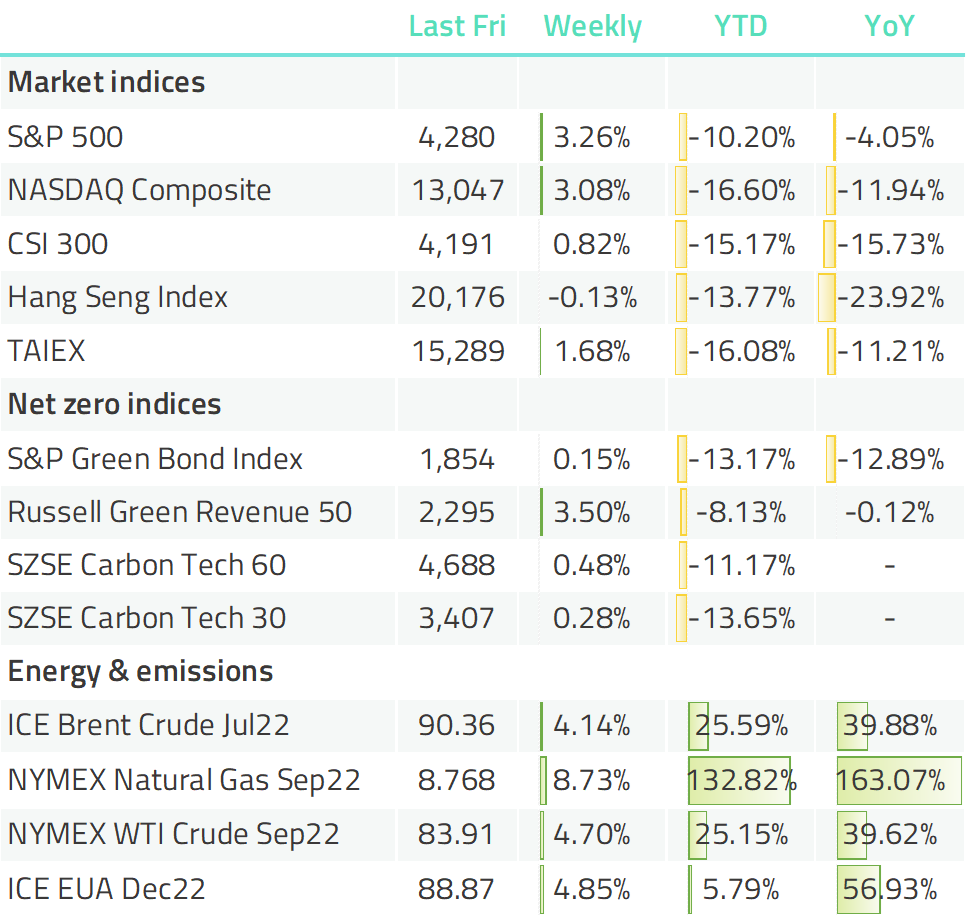 Renewables and coal rise gas shortage - On August 11, the International Energy Agency (IEA) published the "Electricity Market Report - July", identifying two simultaneous trends:
The shortage of gas supply and the consequent price surge is prompting countries to turn its hope to coal power. European governments are putting off the phase out of coal power plants and ease the restrictions on their usage.

Significant additions to renewable capacity are driving renewable power generation to grow at a faster speed than that of the electricity demand in 2022. Renewable power generation is seen to rise by over 10% this year, while the overall low-carbon electricity generation is set to rise by 7% given a 3% decline in nuclear power generation.
As risers and fallers among fossil fuels and renewables offset each other, CO2 emissions from electricity generation are expected to fall in 2022 from the previous year, but at a marginal rate of less than 1%.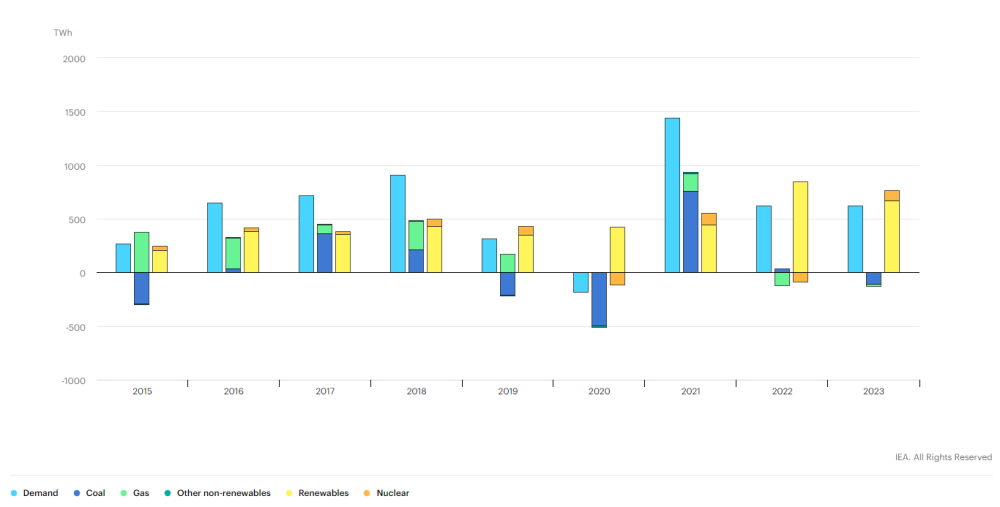 Meanwhile, Reuters reported the drastic slowdown in the installation of solar photovoltaic capacity in the United States, with less than half of the capacity planned for 1H22 being actually installed. According to the US Energy Information Administration (EIA), power plant developers have planned to add 17.8GW of solar PV capacity in 2022 while only 4.2GW have come online in the country across the first six months of 2022.
The State of California has just made a boost to its transition to 100% clean electricity with a series of new targets it set for offshore wind power development, including to top up the offshore wind capacity in the state to 2GW to 5GW by 2030, and further to 25GW by 2045. According to the California Energy Commission (CEC), the power generation from offshore wind energy will be enough to power 25 million homes by mid-century.
Last week, China's Shanghai also proposed ambitious clean electricity goals to reach 4.07GW of solar PV and 2.62GW of wind power capacity in the city by 2025 and move forward with 7GW of solar PV and 5GW of wind power capacity by 2030.
Soaring energy prices are reflected in the latest quarterly financial report of Saudi Aramco. According to WSJ, the state oil company of Saudi Arabia recorded USD 48.4bn in net income in the second quarter, which marks a 90% jump from USD 25.5bn in the first quarter.
Tesla AGM: 10 or 12 gigafactories, support workers' rights proposals - Tesla may end up building "probably at least 10 or 12 Gigafactories", said its CEO Elon Musk at the company's annual shareholder meeting, in its ambition to produce up to 20 million cars a year, Caixin reported. Tesla now has two gigafactories in the US as well as one in Shanghai, China and Berlin, Germany respectively. Shanghai has the most productive Gigafactory with an annual production of over 750,000 units of cars.
While rolling out of its network of plants, workers' rights is another highlight at the meeting. A shareholder resolution hoping for company to report on its effort to prevent harassment and discrimination against the "protected classes of employees" has won the support of 46% of its shareholders. According to Responsible Investor, the fact that Elon Musk holds 15% of the company's equity has made this more impressive as the threshold to obtain a majority and pass is very high in this situation.
Five Chinese SOEs announced New York exit - Last Friday, PetroChina (PTR.US), Sinopec (SNP.US), Aluminium Corporation of China (ACH.US), China Life Insurance (LFC.US), and Sinopec Shanghai Petrochemical Co (CHI.US) have consecutively announced that they will apply to delist their shares from the New York Stock Exchange. Caixin noticed that China Eastern Airlines and China Southern Airlines are the only two Chinese central enterprises that are still keeping their ADRs without a delisting plan.
China's capital market watchdog CSRC later that day said they were aware of the companies' announcements. CSRC said both listing and listing are what happens in the capital markets, and it is clear in the companies' announcements that delisting is their own business decision. CSRC added that only a small portion of the shares of these companies are traded in the US.
Meanwhile, things are moving up in Hong Kong as China Tourism Group Duty Free Corp aims to raise up to USD 2.16bn in its upcoming Hong Kong listing, Reuters reported. This makes it replace Tianqi Lithium as the biggest Hong Kong IPO this year. It got the nod from the Stock Exchange of Hong Kong last Tuesday, according to CLS.
Hottest summer and going on - You are probably familiar with Europe's struggling to live with reduced availability of gas and one of the options is resuming coal power plants. Now even that has issues, because of the extraordinary heat of this summer. According to Bloomberg, at the river of Rhine, a vital transport link for Germany, falling water levels caused by the ongoing drought are making it impassable to ship coal. This year, the water levels at different points of the river are up to 50% lower compared historical average.
France, being heavily dependent on nuclear power, is also suffering from the drought. As the nuclear reactors take water from rivers to cool them down and discharge the heated water, hotter water in the river has made this cooling less effective and may cause disruption in power generation. The water discharge is subject to temperature limits to avoid harm to the ecosystem, but according to WSJ, Électricité de France SA (EDF) has obtained a temporary exemption from the government to discharge hotter water into the river, to maintain the operation of nuclear power plants. EDF said it monitors the wildlife to make sure they are not harmed by the water discharge.
Green Central Banking has reported on a research by Filippo Natoli Bank of Italy, which based on US economic data, found that extreme temperatures have negative effects on private consumption and investment, both being key components of GDP, and such effects could last for as long as four years following the temperature shocks. The CPI is also subject to this negative impact but with a greater lag. Seen in combination with the Federal Reserve's interest rate decision reveals that on average, the Fed responded to the negative climate-related impacts on the economy with lower policy rate. However, the Fed seems not to recognise climate as a factor contributing to economic shocks and seldom mention it in its meetings.
CATL to build a battery plant in Hungary - According to Reuters, China's leading battery maker CATL said last week it would build a battery plant in the European country Hungary, with a capacity of 100GWh. The project is expected to cost EUR 7.3bn (USD7.5bn).
On the same day, the BMW Group announced that it has launched some projects to improve sustainable packaging in logistics and reduce carbon emissions in the supply chain, as reported by ESG TODAY.
HSBC launches biodiversity ETF - HSBC Asset Management has launched the HSBC World ESG Biodiversity Screened Equity. The fund will track the Euronext ESG Biodiversity Screen index. The fund will be classified as an Article 8 product under the EU SFDR, that is, a financial product promoting environmental or social characteristics.
Connecting workplace: Mark Carney chairs Brookfield AM, Kelly Hagg joins Nuveen as responsible investing head - Brookfield said Mark Carney will chair its asset management business when the unit becomes a separate company and lists in Toronto and New York, according to Reuters. The asset management arm of the company now has over USD 750bn in AUM. Mark Carney is currently the vice-chairman at the company. As the U.N. special climate envoy, Carney is one of the leaders in the global climate finance field. He is also a former governor of the Bank of England.
In addition, Nuveen has appointed Kelly Hagg as Senior Managing Director and Head of Responsible Investing Strategy & Solutions, according to ESG TODAY. Hagg joins Nuveen after nearly 20 years at Janus Henderson Investors where his most recent role was Global Head of Product Strategy and ESG.
References
[1] IEA - Executive summary – Electricity Market Report - July 2022 – Analysis - IEA
[2] Reuters - Developers add less than half of planned U.S. solar capacity in H1 - EIA | Reuters
[3] 上海市发展和改革委员会 - 上海市能源电力领域碳达峰实施方案
[4] 财新网 - 特斯拉预计建立10至12座工厂 下一座或位于加拿大
[5] Responsible Investor - ESG round-up: Tesla sees strong support for worker rights proposals | Responsible Investor
[6] 财新网 - 多家国企中概股公告美国退市 证监会称企业自主行为
[7] 中国证监会 - 证监会有关部门负责人答记者问
[8] 财联社 - 港股IPO周报:中国中免通过聆讯 3家公司招股
[9] Reuters - China Tourism seeks $2.16 billion in Hong Kong's biggest listing so far in 2022
[10] Bloomberg - Historic Drought Threatens to Cripple European Trade
[11] WSJ - EDF's Nuclear Reactors to Discharge Hotter Water Amid Heat Wave, Energy Crisis
[12] SSRN - The Macroeconomic Effects of Temperature Surprise Shocks
[13] Green Central Banking - Temperature shocks already influencing US monetary policy – report
[14] Reuters - China's CATL to build $7.6 bln Hungary battery plant to supply Mercedes, BMW
[15] ESG TODAY - BMW Launches Initiatives to Improve Sustainable Packaging, Reduce Emissions in Supply Chain
[16] Reuters - Mark Carney to chair Brookfield Asset Management post-spin out
[17] ESG TODAY - Nuveen Appoints Kelly Hagg as Head of Responsible Investing Strategy & Solutions
[18] WSJ - Saudi Aramco Posts 90% Jump in Profit, Generating Billions for Kingdom
[19] Funds Europe - HSBC launches biodiversity ETF