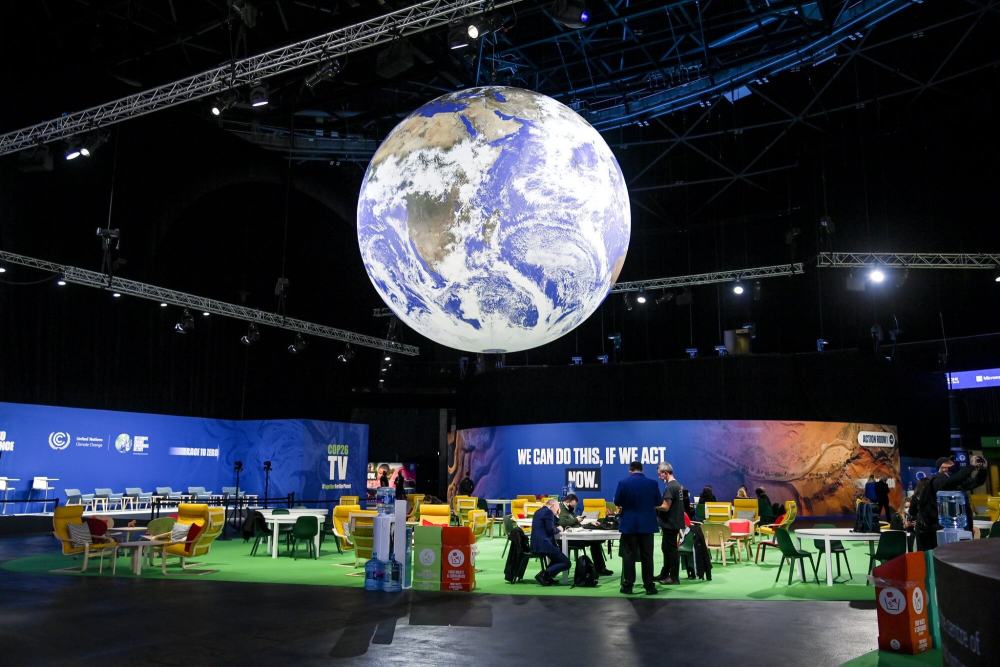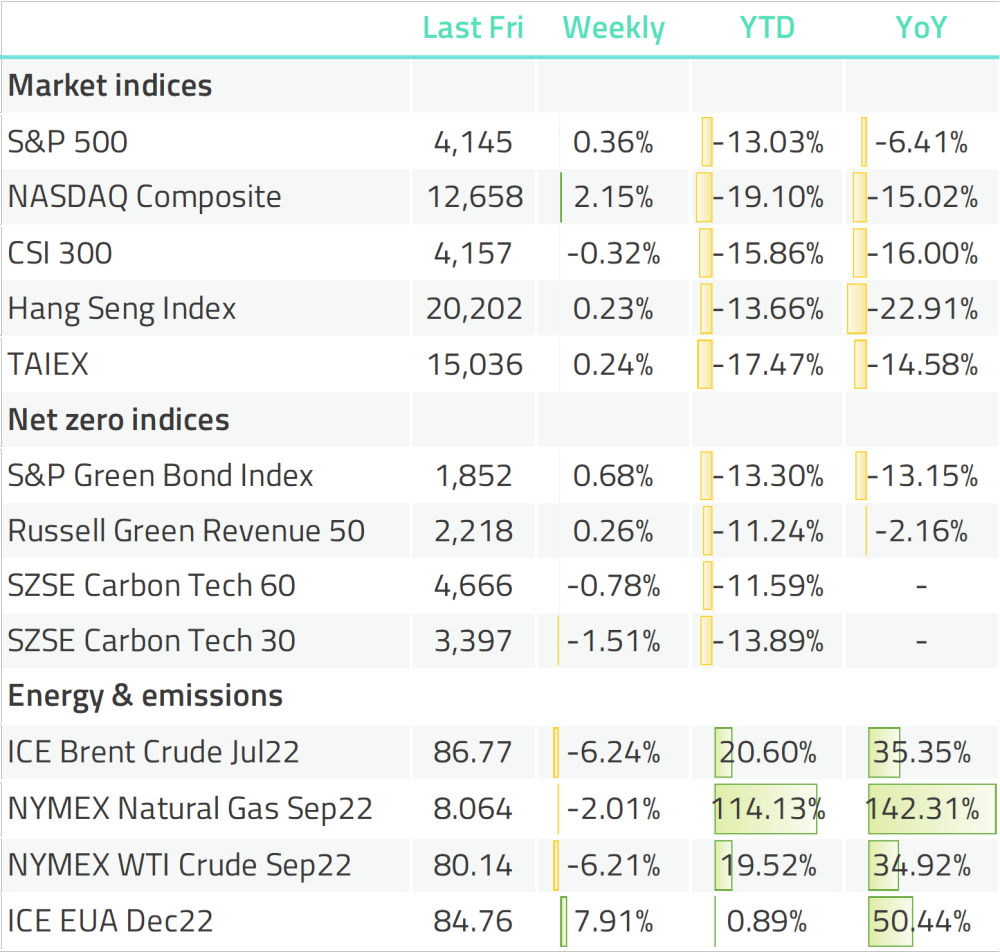 Industry department expected to lead the decarbonisation game - On August 1, China's multiple government offices jointly released a plan aimed at guiding carbon emission reduction across its industry department, outlining the key tasks, essential actions and policy incentives. The main targets raised in the plan for the year 2025 include:
Industrial firms meeting certain thresholds should reduce their energy consumption per unit of added value by 13.5%;
CO2 emissions per unit of added value from the industry department should decline at a faster pace than that of the entire economy;
Key industrial sectors should see a significant drop in CO2 intensity.
The plan also requires the industrial sector to reach peak emissions before 2030.
Green bond that matures in 2072 - Singapore's inaugural sovereign green bond "Aug-72" is now open for subscription, according to Singapore's central bank. The first tranche of the city-state's first ever sovereign bond is issued with a total amount of SGD 2.4bn (USD 1.7bn), a yield of 3.04% and a tenor of 50 years. It follows the Singapore Government announcing the publication of Singapore Green Bond Framework on June 9. The yield of 3.04% marks a significant tightening from the 3.15% of the initial price guidance due to the high volume of demand: the bond was 2.26 times oversubscribed with a combined order value of over SGD 5.3bn. The tenor of 50 years is unusually long, not just compared to other government green bonds, but also standing out as the first 50-year bond issued by the Singapore government. Hong Kong's inaugural retail green bond issued on May 18 has a tenor of three years, which raised HKD 20bn (USD 2.5bn).
China-US climate talk halted following Pelosi's visit to Taiwan, CATL pauses North American production plan - On August 5, China's Ministry of Foreign Affairs announced eight countermeasures in response to US House Speaker Nancy Pelosi's zigzag visit to Taiwan, including suspending China-US talks on climate change.
CATL, the world's largest maker of batteries used for electric cars, based in Fujian-China, has decided to hold aside the plan to announce a North American plant in Mexico or the US to supply Tesla and Ford as Pelosi's visit to Taipei has worsened the geopolitical tension between China and the US, Bloomberg reported citing people familiar with the matter. According to informed sources, CATL now plans to wait till September or October to announce the plan. In May, Reuters reported that the battery maker was considering South Carolina and Kentucky, among others, as its US production site.
Meanwhile, China and the US are both making progress towards tackling the climate crisis. The US Senate has passed Democrats' economic package by a narrow margin of 51 to 50, the Financial Times reported yesterday. The bill includes a series of measures to limit global warming that could bring a combined USD 369bn of funding for climate and clean energy programmes.
After a rally of Chinese provinces have unveiled plans to tackle climate change in the years from 2021 to 2025 (14th five-year plan period) since the beginning of this year, Shanghai Securities Journal, one of China's national newspapers, reported that a national-level climate change strategy for the five years is soon to be released.
Guangzhou aims to be a global hub for futures trading - Last week, the Guangdong Financial Supervisory Authority unveiled a plan to enhance the market infrastructure for futures trading. As part of the strategy, the province's centre of future trading, Guangzhou Futures Exchange (GFE) will expand its product portfolio to list the futures of emission allowances, electricity, commodity indices, silicon wafers, and lithium. The GFE, in which the Hong Kong Exchange (HKEX) has a 7% stake, will also strengthen its ties with the HKEX and Shenzhen Stock Exchange.
A well-functioning trading system matters with the unprecedented shortage of key materials needed for the manufacturing of electric cars. Not only the chip supply is heavily squeezed. According to the Financial Times report yesterday, Kent Masters, chief executive of Albemarle, one of the largest lithium producers, said the lithium market will stay tight for seven to eight years.
The implementation of the EU Taxonomy comes in fits and starts - With EUR 6.4bn (USD 6.5bn) in AUM and entirely invested in impact, Triodos Investment Management has recently shared its opinions from its Hadewych Kuiper, managing director on the European sustainable fund landscape. Kuiper said that the current requirement for the EU Taxonomy is not complete and includes non-sustainable activities, thus it is not able to reflect the actual sustainability profile of a fund. On top of that, the implementation of the EU Taxonomy "comes in fits and starts", which can lead to "counterproductive effects". Nikkie Pelzer, Impact Manager at the investor also mentioned the significant additional reporting efforts required of sustainable funds (Article 8 or 9 under the EU sustainable finance disclosure requirements). "This explains why you now even see sustainable funds opting for article 6 (general funds)".
It is not a good time for sustainable funds in Asia either. According to Ignites Asia, sustainable funds in Mainland China saw net outflows of USD 1.4bn in 22Q2, while Taiwan and Hong Kong respectively recorded USD 911m and USD 129m of inflows, according to MorningStar. South Korea, India, and Indonesia also saw net outflows.
Sustainable funds in the United States shrank for the first time in five years with net outflows of USD 1.6bn last quarter out of fears of recession, inflation, rate hikes, and energy crisis.
Connecting workplace: StanChart has ex-Googler to manage sustainability matters - International banking institution Standard Chartered has appointed Kerry Constabile as the Managing Director, Net Zero and Sustainability, to lead the two teams, the bank announced on August 5. Constabile joins Standard Chartered after two years at Google as Lead for Sustainability Strategy and Engagement and 11 years as an UN climate officer prior to Google. Eco-Business reported on August 3 that John Swire has appointed Mark Harper to be its new "Group Head of Sustainability", based in Hong Kong, following his over six years in the conglomerate as Group Sustainable Development Manager. His predecessor Dr. Mark Watson has left the group after roughly 14 years in the group and its affiliate Cathay Pacific Airways with his next role being unclear at the moment.
References
[1] 中国政府网 - 工业和信息化部 国家发展改革委 生态环境部关于印发工业领域碳达峰实施方案的通知
[2] Monetary Authority of Singapore - Singapore Prices S$2.4 billion 50-year Inaugural Sovereign Green Bond; Public Offer now Open for Individual Investors
[3] The Ministry of Foreign Affairs - The Ministry of Foreign Affairs Announces Countermeasures in Response to Nancy Pelosi's Visit to Taiwan
[4] Bloomberg - Pelosi's Taiwan Trip Spurs Chinese Battery Giant to Pause Plant Debut
[5] Reuters - EXCLUSIVE CATL planning EV battery production in United States, vetting sites
[6] FT - US Senate passes Joe Biden's flagship economic package
[7] 上海证券报 - 多地出台"十四五"应对气候变化规划
[8] 广东省地方金融监管局 - 关于印发《关于完善期现货联动市场体系 推动实体经济高质量发展实施方案》的通知
[9] HKEX - HKEX INVESTS IN GUANGZHOU FUTURES EXCHANGE
[10] FT - Carmakers face fierce battle for lithium until 2030, warns top producer
[11] Triodos Investment Management - Current implementation of EU Taxonomy leads to distorted picture
[12] Ignites Asia - China ESG funds bleed $1.4bn in Q2 as Asian growth slows sharply
[13] MorningStar - Global Sustainable Fund Flows Report
[14] MorningStar - U.S. Sustainable Funds See Outflows for the First Time in Five Years
[15] Standard Chartered - We've hired Kerry Constabile to lead net zero and sustainability strategy
[16] Eco-Business - John Swire & Sons appoints new sustainability head