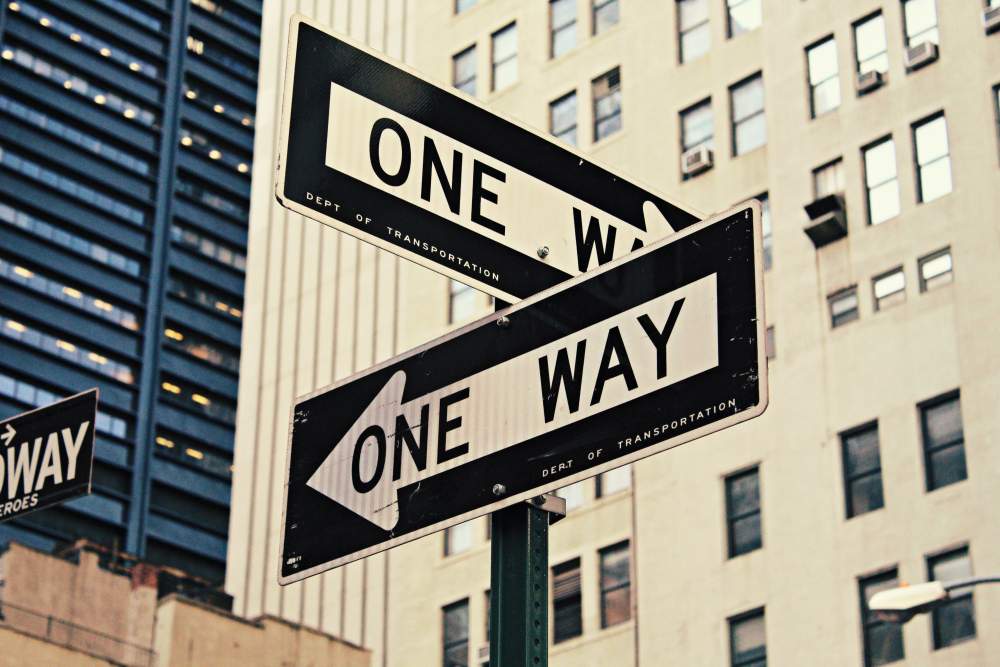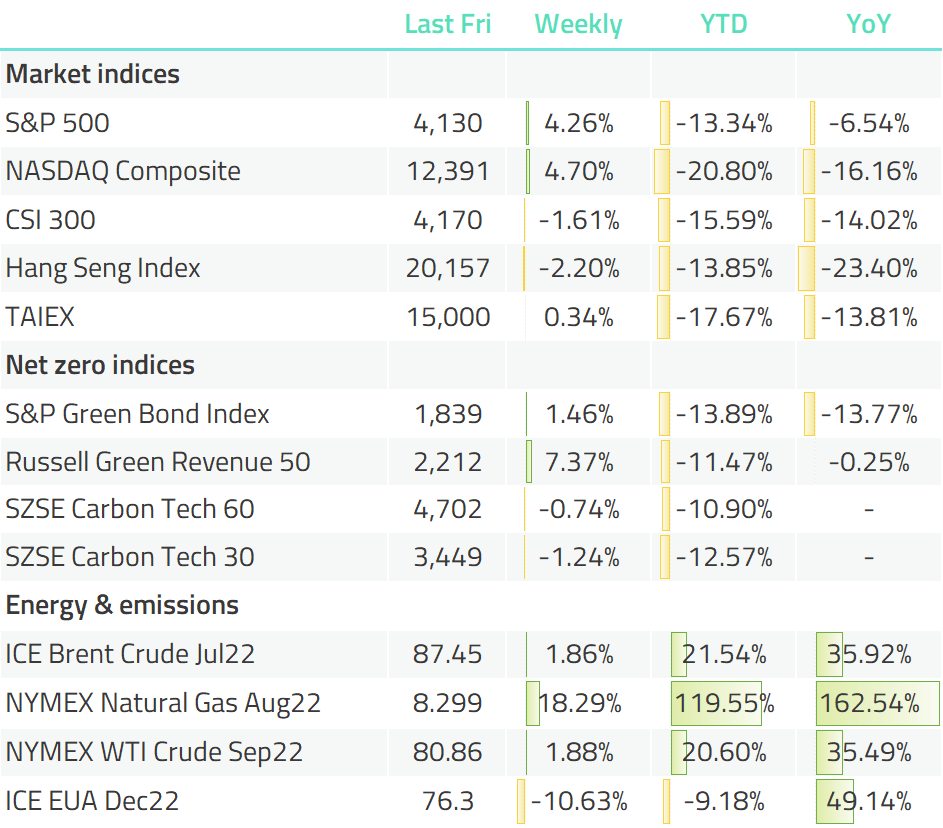 Tug of war between ESG and business demands
In the 2022 annual meeting season, BlackRock only supported 24% of the shareholder proposals relating environmental and social matters, the investment giant said in its "2022 voting spotlight report" published last Tuesday. This is a huge decline from 43% of 2021 voting, but does not come as a surprise since BlackRock had underlined in a statement in May that climate-related proposals in this year are more prescriptive. In the latest report, Sandy Boss, the investor's Global Head of Investment Stewardship said "many climate-related shareholder proposals sought to dictate the pace of companies' energy transition plans despite continued consumer demand, with little regard to company financial performance", which has made them "less supportable".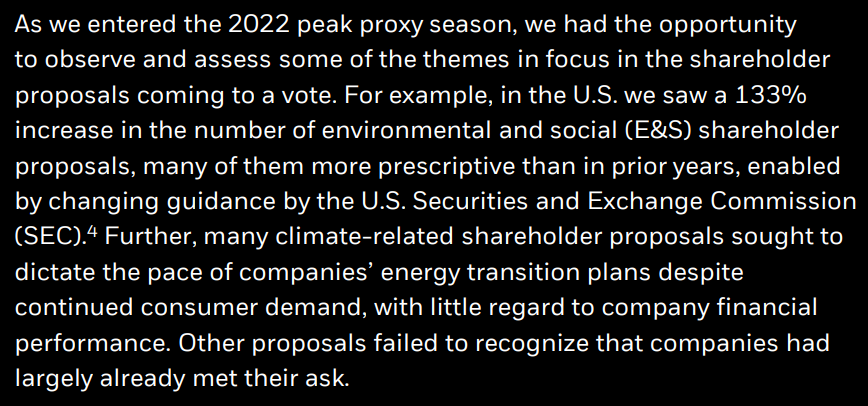 But such strong stance did not help BlackRock get away with a sanction imposed by West Virginia state treasurer Riley Moore, according to Responsible Investor, who has banned BlackRock, Goldman Sachs, J.P. Morgan Chase, Morgan Stanley and Wells Fargo from inking state banking contracts with the state with his office, as these five banks are deemed to turn down business activities with fossil fuel companies without a reasonable business purpose under a new bill passed by the state legislation.
You want ESG or you want economy?
DBS has made its presence in this debate with Piyush Gupta, CEO of this Singapore-headquartered bank, at Bloommberg's Sustainable Business Summit, questioned whether the finance industry should "play God" when it comes to balancing action on climate change with more immediate social and economic needs, Bloomberg News reported. "There are about 14 million households in Indonesia and Sumatra who rely on small-estate palm oil for a living." he said. "As a financier, is it right for us to play God?" A slight share (under 1% as of the end of 2019) of the bank's total loans and advances went to projects of palm oil growing and processing, an industry that suffers from controversies with its impact on rain forest and labour management issues.
As it seems is joining the debate and discussion on the role of ESG, it may not be a bad thing. In an article named "Criticising ESG incorporation does not make it any less essential" last week, David Atkin, CEO of the UN-supported Principles for Responsible Investment (PRI), said "This attention and pushback are, if anything, is a symptom of how much traction responsible investment has gained".
The leader of the world's largest organisation of ESG investing noted that ESG factors and the fundamental investment analysis are not separate, and ESG factors provide insights into how companies consider and respond to issues that can impact their short and long-term success. Atkin claimed that: "Increasingly, investors understand that their duty to fulfil their obligations to clients can be impacted in fundamental and lasting ways by ESG trends – and the sustainability outcomes that result from them."
Economic outlook remains dim -
The IMF (International Monetary Fund) again lowered its expectation for economic growth this year and now sees a 3.2% annual growth in the global economy, after two downward adjustments since the beginning of this year. Last Thursday, the new quarterly report showed that the US economy dropped by 0.9% in 2Q22 from the first three months of the year, marking two consecutive quarterly decreases in economic output.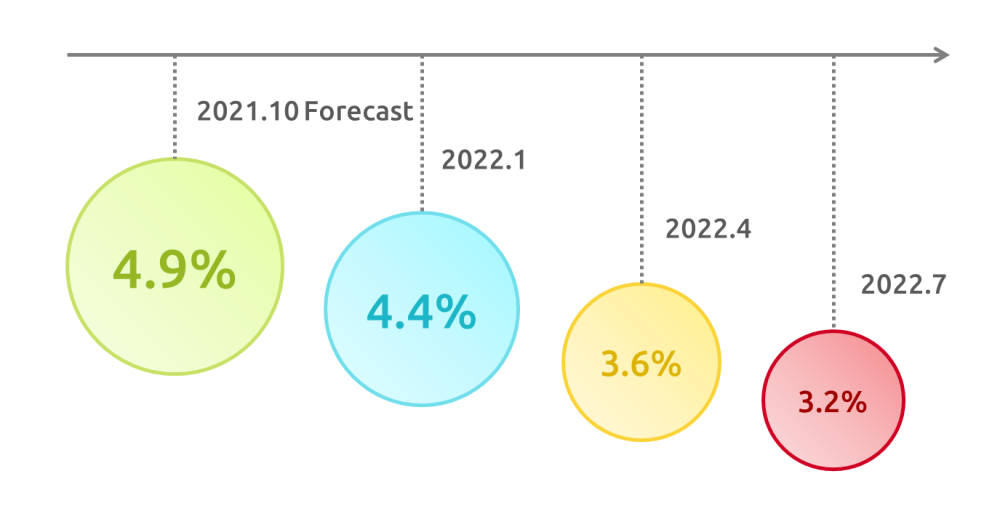 How much of your investment is ESG? Singapore's MAS requires disclosure from ESG fund managers -
On July 28, the Monetary Authority of Singapore published the "Disclosure and Reporting Guidelines for Retail ESG Funds" in an attempt to tackle greenwashing. Managers of qualified ESG funds are asked to disclose the investment focus, investment strategy, reference benchmark, and risks of their funds in the prospectus. They will also have the obligation to publish annual reports to reveal the extent to which the ESG focus of the fund has been met in the year they report on, the actual proportion of investments that meet the fund's ESG focus and actions taken to achieve the ESG focus. On top of those, fund managers may elaborate on their methodologies, ESG data sources, due diligence and shareholder engagement policies where appropriate.
New buildings powered by at least one renewable energy source: Shanghai unveils plan to reach peak emissions -
Shanghai will strengthen its actions in energy transition, industrials, construction and transportation to decarbonise the biggest Chinese city by size of economy with the latest "Shanghai's Carbon Peaking Implementation Plan" released by the city government. Construction is a key focus with the following goals raised by the plan:
From this year, all the new public buildings, residential buildings and factories should be powered by at least one kind of renewable energy;
Renewables should account for 10% of the primary energy consumption of urban buildings by 2025 and 15% by 2030.
Rooftop solar PV should be installed on more than 50% of the buildings used for public institutions or factories by 2025 and as many as feasible by 2030.
From 2030, all civilian constructions should adopt the ultra-low energy consumption standard.
Energy and transportation are also addressed in the plan with goals like non-fossil-fuel energy sources should account for 25% of total energy consumption by 2030 and more than 50% of the newly registered private cars should be battery electric cars.
100% green: China green bond principle -
Last Friday the "China Green Bond Principles" was released, set by Green Bond Standard Committee, Wind reported. It is designed to fit the China's green bond market while also referencing the work of International Capital Market Association. The document lays out that proceeds from green bond issuance will 100% go to qualified green projects (vs. up to 50% previously). Issuers are encouraged to disclose how the funds are used on a quarterly or half-annual basis, and assurance reports from third-party institutions.
Europe stressed over energy as gas flow via Nord Stream cut by half -
Gazprom, Russia's state-owned energy firm said gas flow through its Nord Stream pipeline will be cut from 40% to 20% of its maximum capacity, WSJ reported. Western sanctions have made the problems with turbines even worse. Another report by FT noted that gas prices jumped by 13% upon the news, topping a high of EUR 222 per MWh before easing back up EUR 205 at close. According to data from Intercontinental Exchange, the price has further dropped back to EUR 195 per MWh at the end of Friday.

This has only left Europe even more struggling: on July 20 the EU set out emergency plans for member states to cut their gas use from August to next March, as reported by Reuters. The EU recommends practices like auctions or tender systems to incentivise reduction in consumption on the industrial side. As for now, the target is voluntary but Brussels would make it mandatory in a supply emergency. Countries in the EU discussed a revised proposal last week to offer exemptions for countries like Ireland that are outside EU gas networks, as well as some critical sectors like chemicals and steel.
Corporate Governance Round-up: Jack Ma plans to give away control of Ant Group, Gotion faces regulatory actions over financial and disclosure issues -
A WSJ report from July 29 said that Jack Ma, founder of Alibaba plans to give up his control of Ant Group, a fintech company separated from Alibaba. Some sources familiar with this matter told WSJ that he could transfer some of his voting power to other Ant officials, after which they would collectively control the company. Companies that have undergone a change of controller are not permitted to launch an IPO for a period of time under China's securities regulations. The move might cause a delay to Ant Group's potential relaunching of its IPO for a year or more.
According to CNBC, CEO of Ant Group Eric Jing, among seven company executives, have stepped down as partners of Alibaba as of the end of March. With another two retiring, Alibaba now has 29 people associated with its partnership. Last week, the Chinese Internet firm also announced they would apply for a primary listing on the Stock Exchange of Hong Kong, making itself a dual-primary-listed company on both New York and Hong Kong markets. However, in three days following the big announcement, the company had to find itself added to SEC's list of Chinese companies facing delisting.

Gotion High-Tech, one of the top suppliers of litihum batteries in China has been identified with financial issues, insider trading and disclosure violations. The Anhui province division of CSRC has decided to hold administrative supervision talks with the company, Pandaily reported. That came on a big day when the company announced the determined volume and price of its global depositary receipt (GDRs) to be traded on Swiss Stock Exchange. The company has issued 22.83m GDRs, representing 114.17m A-shares of the company at a price of USD 30 per GDR, allowing the company to raise USD 695m.

Which Chinese bank customers complained the most? -
China's financial watchdog has reported on the complaints they received about banks' services in the first quarter of this year, according to CE Finance. Bank of Communications tops the rank with around 1,200 complaints every thousand branches, followed by a considerable gap by ICBC of 267.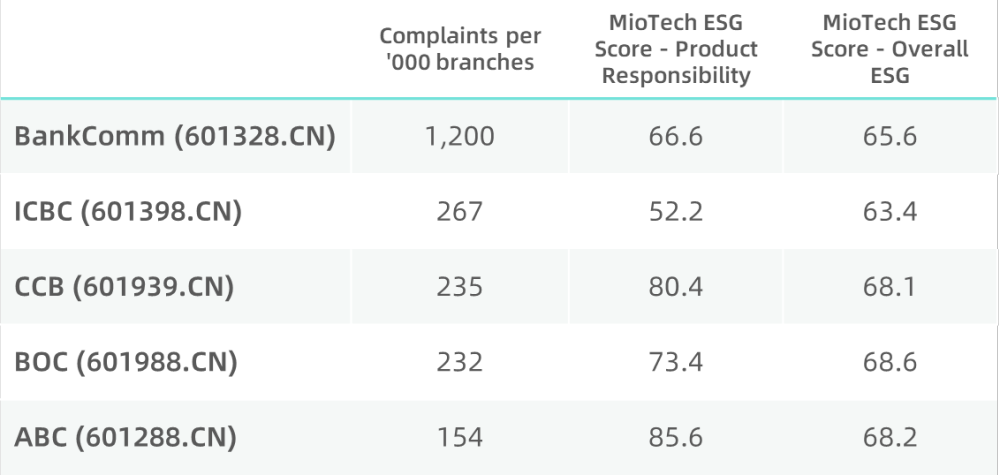 An equal and more inclusive environment we can look forward to -
Bloomberg reported last week that HSBC's UK unit is planning to cease collecting the information on the gender of its customers in some of the product offerings. Although we are 132 years away from gender parity, as the World Economic Forum suggests in the Global Gender Gap Report 2022 published last month, a small progress has been made from 2021 estimate of 136 years. But it is hardly enough to compensate for the historical setback in gender equality caused by the COVID-19 pandemic which pushed back the estimate by nearly 40 years from the 2020 estimate of 99 years.
What's more? Starbucks has committed to more inclusive design standards in an aim to make its physical and online environments more accessible by 2030.
Connecting workplace -
According to ESG TODAY, Mastercard has announced on July 25 that Ellen Jackowski will be its new Chief Sustainability Officer. Jackowski joins from PC manufacturer HP where she worked for almost 15 years, most recently as Chief Impact Officer and Head of Sustainable Impact. Her predecessor Kristina Kloberdanz left to join Macquarie Asset Management around two months ago. Thoma Bravo, a software-focused private equity firm with USD 35bn in committed capital has appointed Donna Riley Bebb to take its newly created Head of ESG role. Before joining Thoma Bravo, Bebb spent nearly five years at Google as Head of Global Credit and ESG and was a research fellow at Stanford University from 2014 to 2017 with a focus on ESG innovations.
Sources
[1] BlackRock - 2022 voting spotlight
[2] BlackRock - 2022 climate-related shareholder proposals more prescriptive than 2021
[3] Responsible Investor - ESG round-up: West Virginia blacklists US banking giants over fossil fuel boycotts
[4] Bloomberg - DBS CEO Gupta Ponders If Bankers Should 'Play God' Around ESG
[5] David Atkin, PRI - Criticising ESG incorporation does not make it any less essential
[6] IMF - World Economic Outlook Update, July 2022: Gloomy and More Uncertain
[7] WSJ - IMF Again Cuts Global Growth Forecast Amid Inflation, War in Ukraine
[8] WSJ - U.S. GDP Fell at 0.9% Annual Rate in Second Quarter; Recession Fears Loom Over Economy
[9] WSJ - Fed Lifts Rates by 0.75 Point Again
[10] Monetary Authority of Singapore - CFC 02/2022 Disclosure and Reporting Guidelines for Retail ESG Funds
[11] 上海市人民政府 - 关于印发《上海市碳达峰实施方案》的通知
[12] 万得通讯社 - 绿色债券标准委员会正式发布《中国绿色债券原则》
[13] ICE - Dutch TTF Gas Futures | ICE
[14] WSJ - Russia to Cut Europe's Gas Flow via Nord Stream to 20%
[15] FT - European gas price rise accelerates as Russia cuts flows
[16] Reuters - EU asks countries to cut gas demand by 15% until spring
[17] European Union - Save gas for a safe winter - EUR-Lex
[18] Reuters - EU countries rewrite plan to cut gas demand, seek carve-outs
[19] WSJ - Jack Ma Plans to Cede Control of Ant Group
[20] CNBC - Ant Group execs step down as Alibaba partners amid regulatory scrutiny
[21] Alibaba, BUSINESS WIRE - Alibaba Group Pursues Primary Listing on the Hong Kong Stock Exchange
[22] Pandaily - Gotion High-Tech Comments on Pressure From Chinese Regulators - Pandaily
[23] 国轩高科 - 关于GDR发行价格、发行结果等事宜的公告
[24] 中国经济网 - 银保监会发首季银行消费投诉 交通银行3项投诉量居首
[25] Bloomberg - HSBC Offers Gender-Neutral Banking in Inclusivity Bid
[26] World Economic Forum - Global Gender Gap Report 2022
[27] Starbucks - Starbucks paves way for more inclusive and accessible experiences in stores around the world
[28] ESG TODAY - Mastercard Appoints Ellen Jackowski as Chief Sustainability Officer
[29] ESG TODAY - Macquarie Asset Management Appoints Kristina Kloberdanz as Chief Sustainability Officer
[30] Thoma Bravo, PR Newswire - Donna Riley Bebb Joins Thoma Bravo as Head of ESG