Despite an unprecedented 2020 drop in yearly primary energy consumption since 1945, the newly released BP world energy statistics on 2021 showed a strong rebound in world energy demand to 1.3% higher than in pre-pandemic 2019 level, and 5.8% higher than 2020. The increase in primary energy in 2021 was driven by emerging economies, which increased by 13 EJ, with China expanding by 10 EJ. Since 2019, primary energy consumption in emerging economies increased by 15 EJ, largely reflecting growth in China (13 EJ). In contrast, energy demand in developed economies in 2021 was 8 EJ below 2019 levels. The increase in primary energy between 2019 and 2021 was entirely driven by renewable energy sources.
On the electricity generation side, troubles in the supply chain, rising commodity prices, and tighter energy financing conditions have shifted fuel makeup for global power generation from oil and gas back to coal. The share of electricity generated by coal increased from 35.1% in 2020 to 36% in 2021. At the same time, natural gas and hydro power declined to 22.9% and 15% respectively.
Renewable generation increased by almost 17% in 2021 and accounted for over half of the increase in global power generation over the past two years. Renewable energy, led by wind and solar power, continued to grow strongly and now accounts for 13% of total power generation.
We also see carbon emissions growth in 2021 exceeded previous projections/scenario the IPCC (Intergovernmental Panel on Climate Change) made in 2019 for complying with the Paris Agreement goal and keep temperature rise to within 1.5Celsius from pre-industrial levels.
On the oil production and pricing side, the lowest production level since 2015 of 89.8 million barrels per day has pushed price higher to US$70.9 / barrel, up significantly from the 2020 average of US$41.8 / barrel.
In 2022, with the ongoing pandemic and rising crude oil prices, the world's path to zero carbon will not be a smooth sailing path and will require even more public participation and support.
Primary energy consumption rebounded to pre-covid 2019 level
After primary energy consumption experienced a large drop in 2020 due to the epidemic, it rebounded sharply in 2021 and recovered to a higher level than before 2020. 2020 marked a decline in energy consumption of 4.5%, which is the largest decline since 1945. Primary energy consumption in 2021 was 5.8% higher than in 2020 and 1.3% higher than 2019 levels.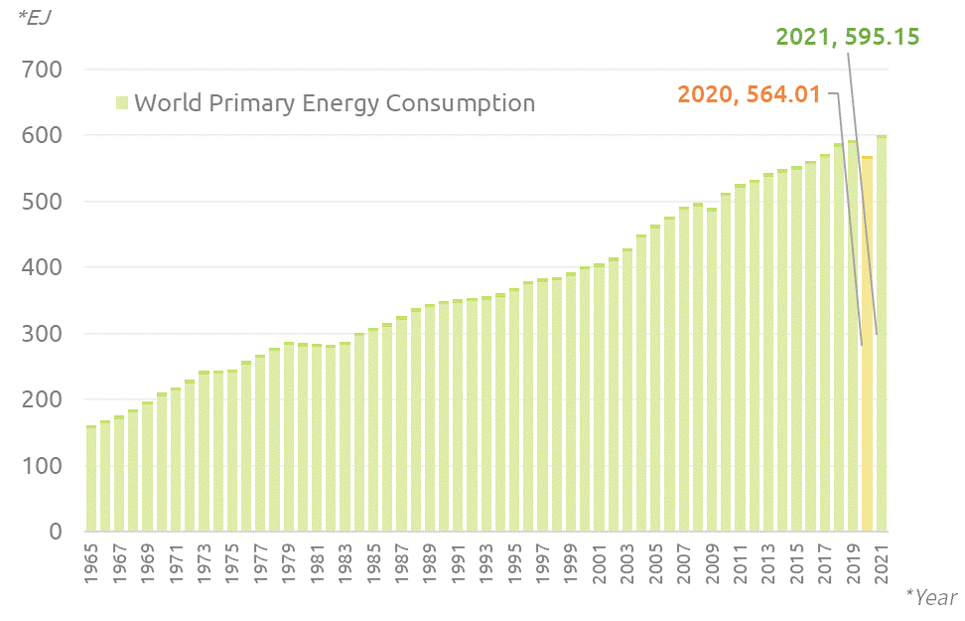 Consumption of fossil fuels (including oil, natural gas and coal) increased by 5.6% in 2021 compared to 2020. Renewable energy consumption (including biofuels, excluding hydropower) increased by more than five exajoules (EJ): a 14.6% increase year-over-year from 2020 and a 26% increase since 2019. Consumption of fossil fuels accounted for 82.3% of primary energy use, down from 83% in 2019 and 85% from five years ago.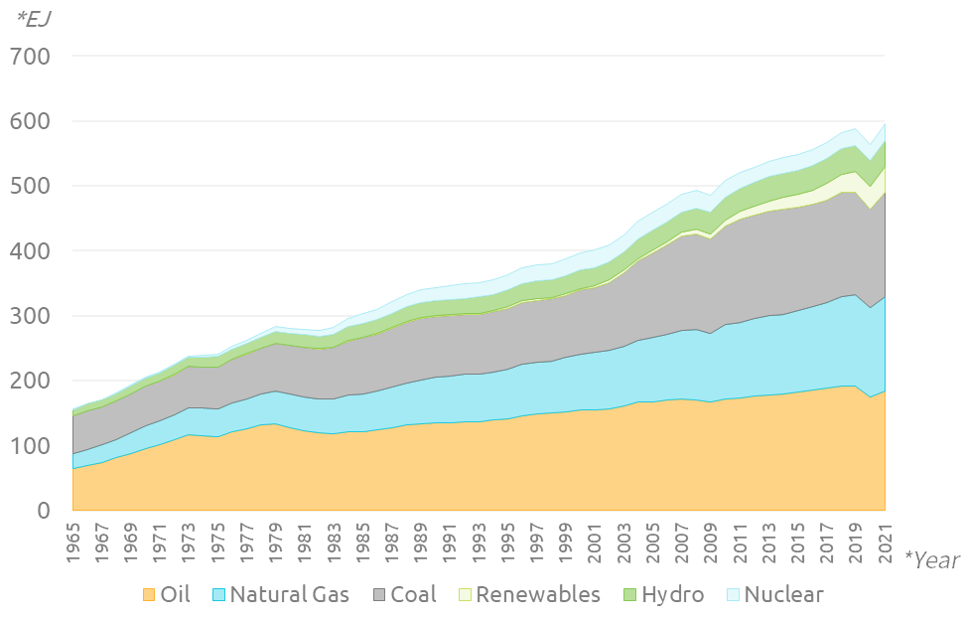 In 2021, the share of oil and coal in energy consumption decreased compared to 10 years ago. Oil accounted for 30% (compared with 33.4% in 2011) and coal for 26% (29.3%). Meanwhile, the share of renewable energy more than tripled, reaching 6.4% in 2021 (2% in 2011).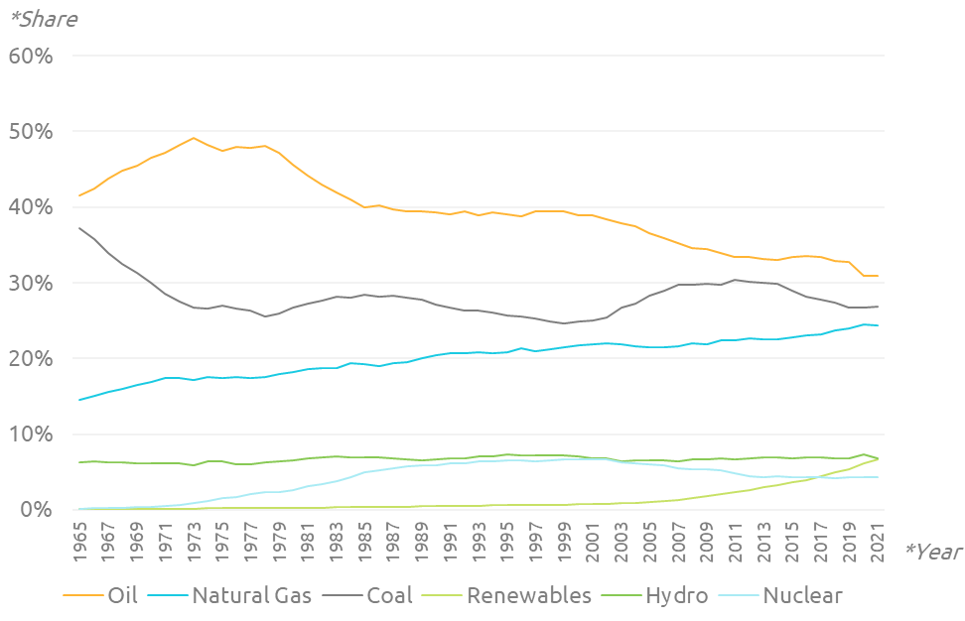 Since 2007, the share of coal in China's energy has dropped from 70%; nevertheless, coal remains the largest contributor to China's current energy consumption and accounted for 54.7% of China's total energy consumption in 2021.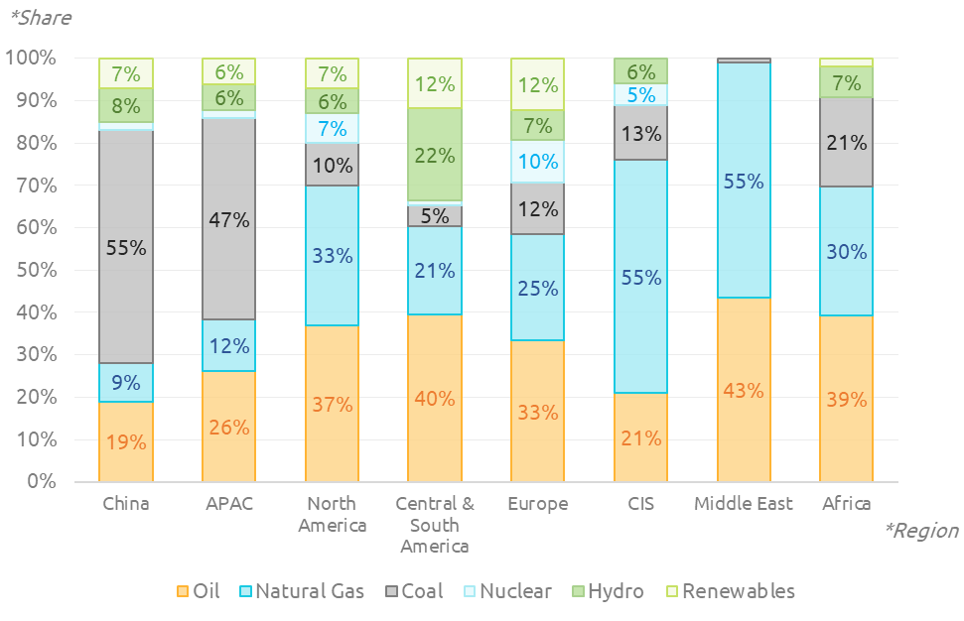 Power Generation Energy Mix - Coal and renewable energy shares climb
The supply chain crisis, rising commodity prices, and tighter energy financing conditions have shifted global power generation from oil and gas back to coal. The share of coal in power generation increases from 35.1% to 36% in 2020.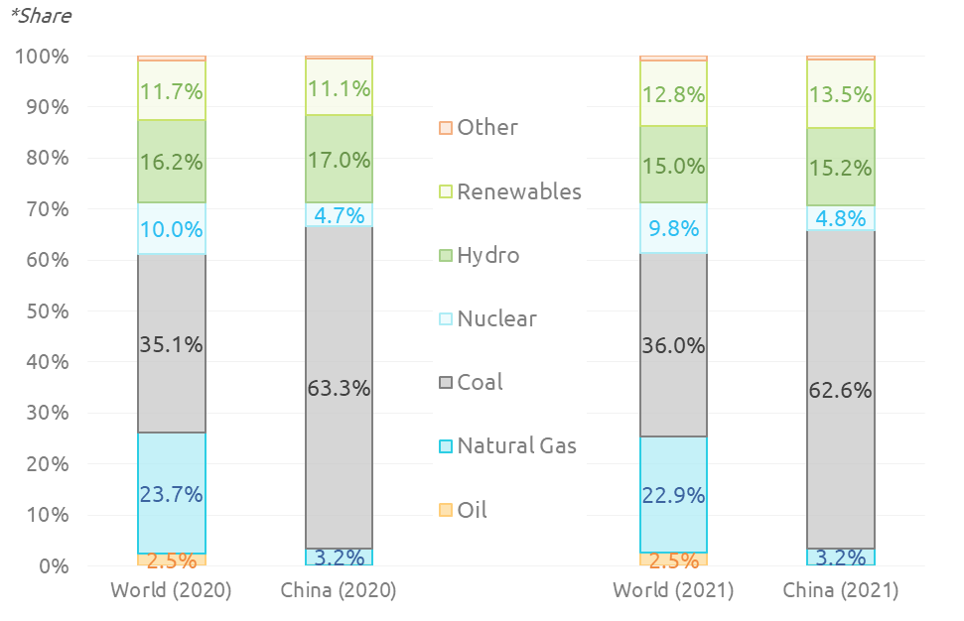 Renewable energy (wind, solar, bioenergy and geothermal, excluding hydropower) saw record growth in total global electricity generation. In 2021, renewable energy accounted for 12.8% of global electricity generation—triple the percentage from a decade ago (4.1%). Wind and solar power accounted for 10.2% of global electricity generation, breaking the 10 percent barrier for the first time. Coal consumption increased by 5.9%, accounting for 36% of global electricity generation.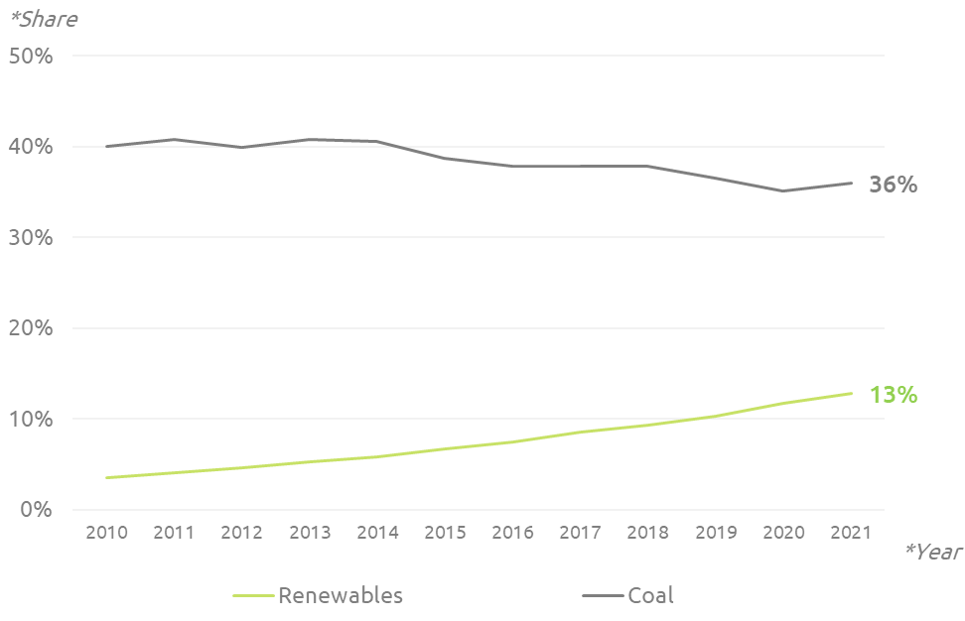 Electricity generation from renewable energy increased by 510 TWh in 2021, 16.2% more than in 2020. Wind power's contribution increased 51% year-over-year (2.8 times more than a decade ago), and solar power's contribution increased 31% year-over-year (5.9 times more than a decade ago).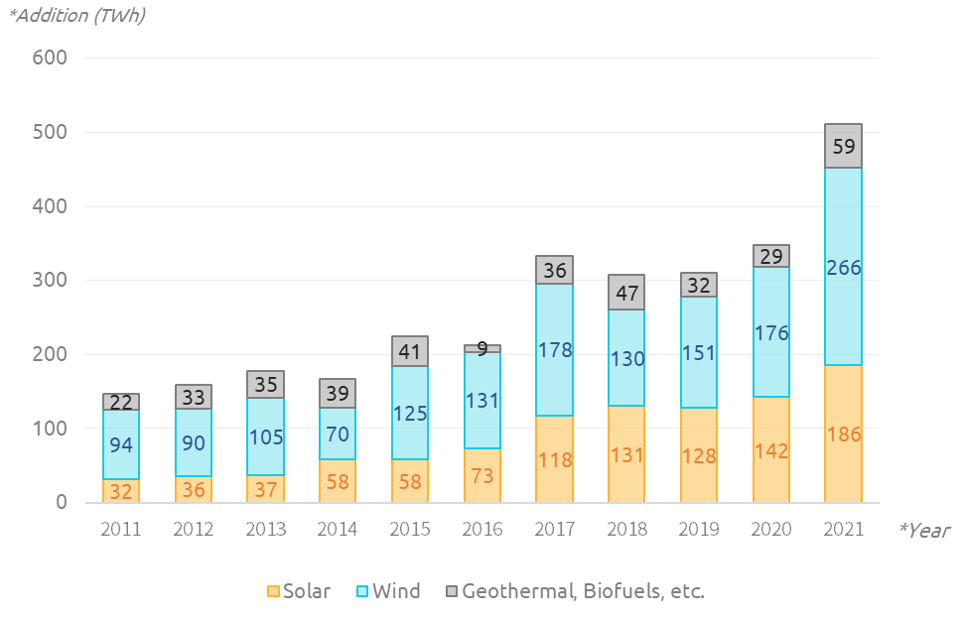 Record low oil production and rising price continues
Global crude oil production increased by 1.38 mb/d in 2021. In 2021, global crude oil production totaled 89.8 million barrels per day in the lowest production level since 2015.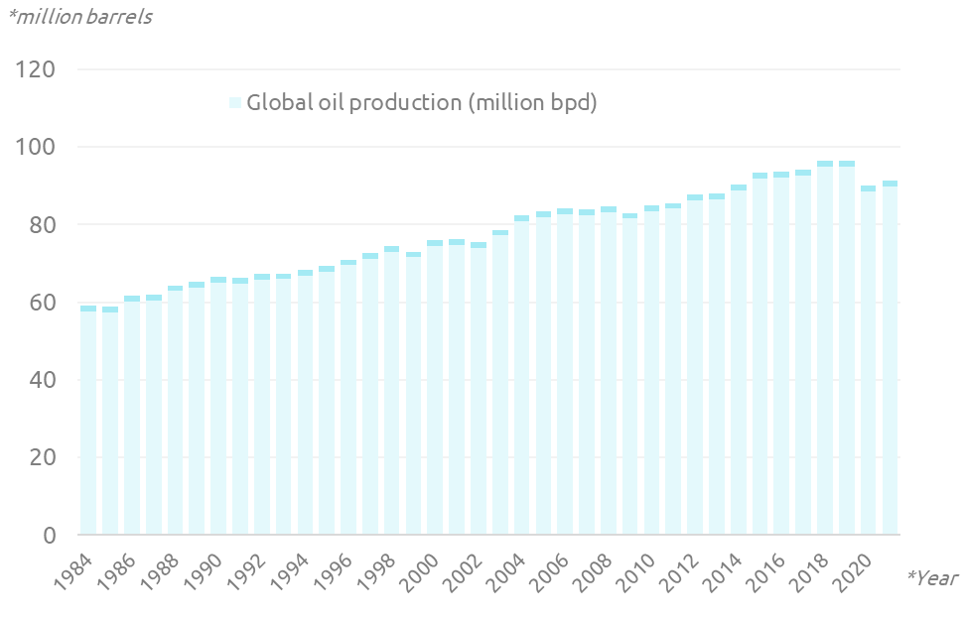 In 2021, Brent crude oil prices averaged $70.91 per barrel, the highest since 2015: a significant rebound from the 2020 average price of $41.84 per barrel. As of July 12, 2022, crude oil prices continue to rise and have reached an average of $100 per barrel.
Currently, the market is mostly predicting a significant reduction in Russian energy production and exports for the duration of its war. With oil supplies currently at historically low levels, crude oil prices are trending positive in the second half of the year.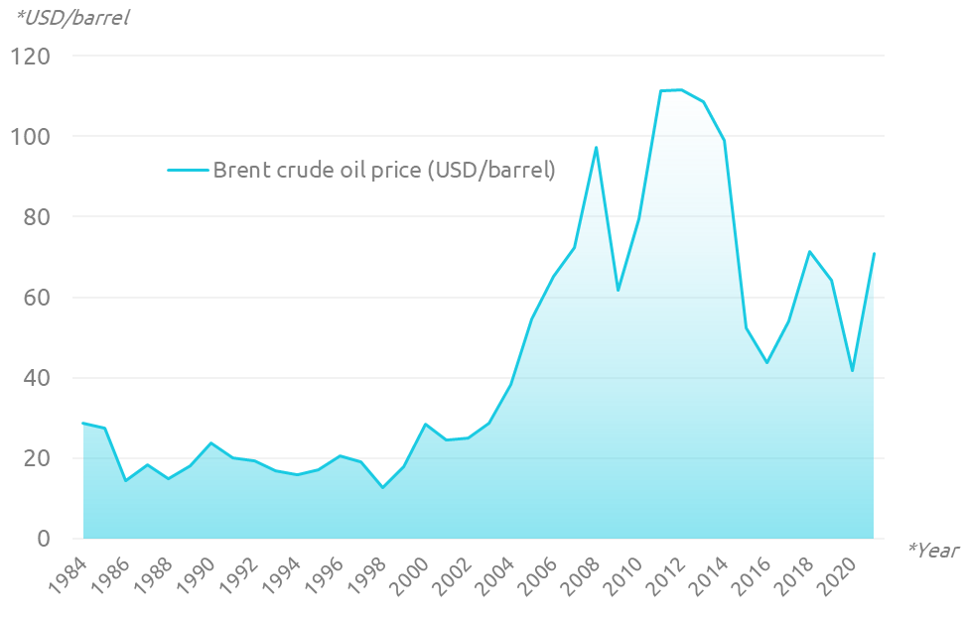 Renewable Energy Installed Capacity - slight headwind in the total capacity growth
The overall installed capacity of renewable energy continued to expand, with installed capacity growing by 226 GW in 2021. Installed solar capacity grew by 18.7% to 132.8 GW, and installed wind capacity grew by 12.7% to 93.1 GW, with China accounting for the bulk of the growth at approximately 40% and 36% of global growth in installed wind and solar capacity respectively.
The huge demand from China's carbon peaking and carbon neutrality goal and the downward spiral of costs due to technological advances are driving strong growth in the country's wind and photovoltaic installations.
However, it is also worth mentioning that the global supply chain crisis, coupled with the impact on the price of mass goods and financing channels, reduced the total growth of renewable energy from a record high of 4% in 2020. As of 2022, the situation has not yet been fully reversed.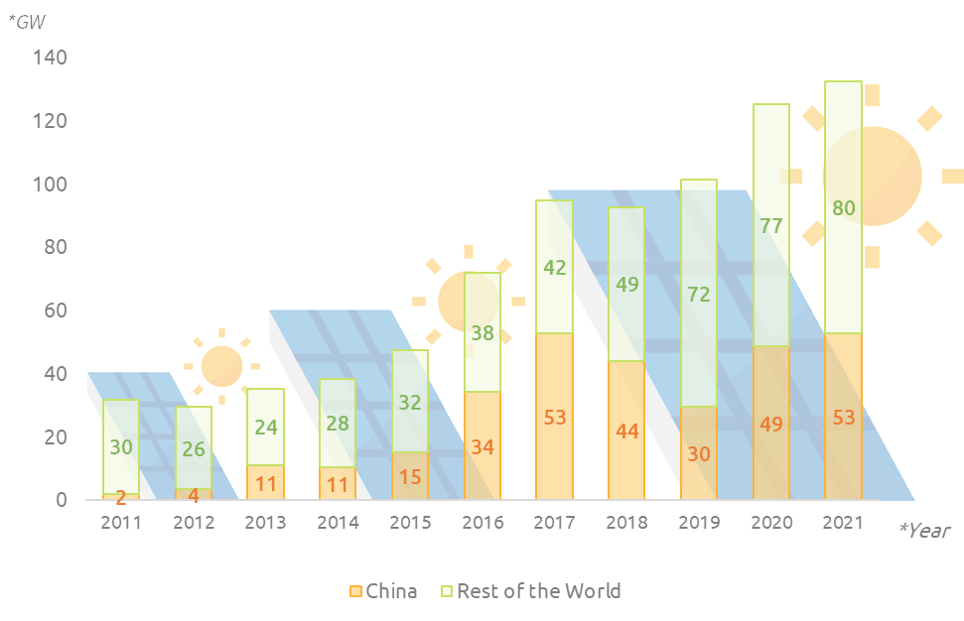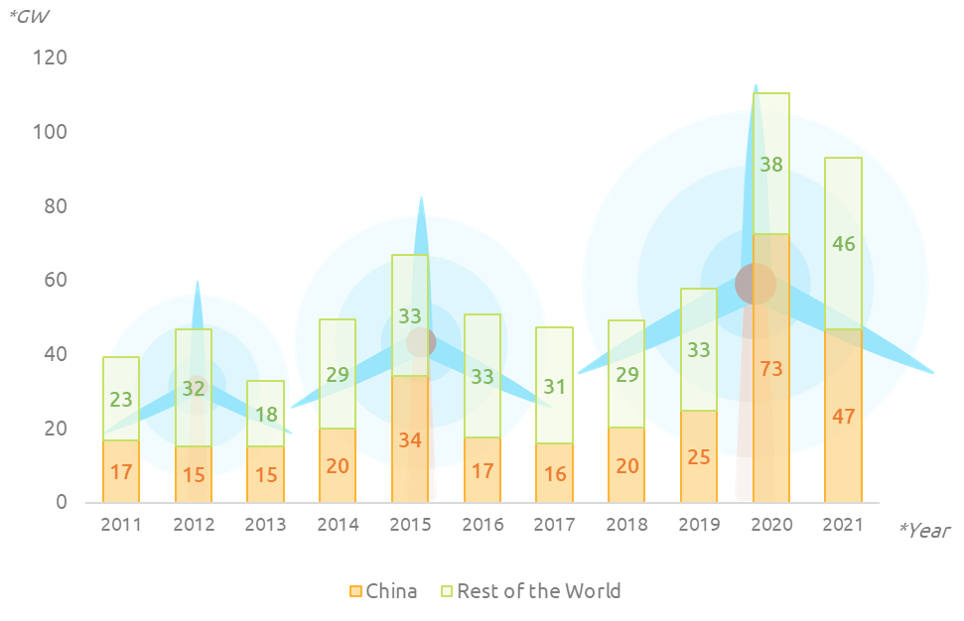 Global Carbon Emissions - Rebound to 2019
As economic activity recovered, carbon emissions gradually caught up to 2019 levels in 2021.
Carbon dioxide emissions from energy use, industrial processes, flaring and methane (in carbon dioxide equivalent) rose 5.7% in 2021 to 39.0 GtCO2e, with carbon dioxide emissions from energy
rising 5.9% to 33.9 GtCO2, close to 2019 levels.
China's total carbon emissions in 2021 were 10,523 Mt CO2, an increase of 5.8% compared to the same period in 2020, accounting for 31.1% of total global carbon emissions. This represents 29% of total new carbon emissions.
Achieving the Paris Agreement's long-term goal of limiting the global average temperature increase to 2 degrees Celsius compared to pre-industrial times (and striving for a limit of 1.5 degrees) will require more efforts from every participating country and individual.