MioTech and TÜV SÜD have signed an MoU to collaborate on enhanced trust and reliability in ESG and Carbon practices.
SINGAPORE, March 29, 2023 – MioTech and TÜV SÜD PSB signed a Memorandum of Understanding today to partner on sustainability reporting verification, assurance, and carbon credit validation, to enhance value and transparency in reporting for their clients.
MioTech is Asia's leading sustainability technology provider helping firms manage ESG investments, reporting, and carbon accounting through sustainability datasets and software. TÜV SÜD PSB, the wholly-owned subsidiary of TÜV SÜD Group, is one of the leading service providers for safety, quality, security and sustainability solutions.
Connected by the mutual vision to empower organizations to meet their sustainability goals, the MoU will strengthen TÜV SÜD and MioTech's cooperation in carbon emissions and sustainability report verifications.
Leveraging its technology and ESG industry expertise, MioTech will provide TÜV SÜD with digital tools and platforms – 'ESGhub' and 'CarbonLens' – to aid in their verification and assurance services in sustainability reporting and carbon quantification. TÜV SÜD will support MioTech in verifying the carbon emission and sustainability reports generated from its ESG & climate reporting and analytics platform – ESGhub – assuring stakeholders of the accuracy and reliability of disclosed information.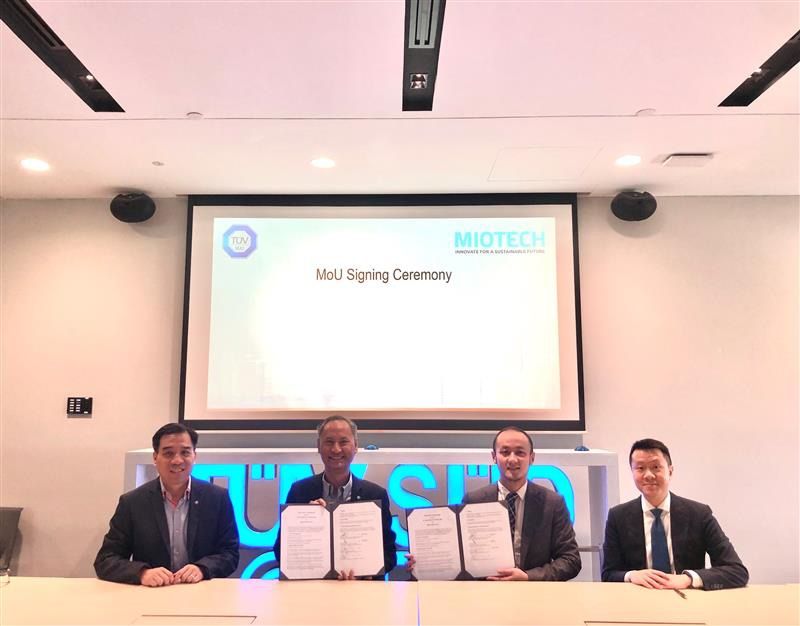 Representatives from MioTech and TÜV SÜD attends the MoU signing ceremony in Singapore today.
"There is a growing public interest to provide validation and quality assurance over ESG disclosures. Through this partnership with TÜV SÜD, I believe our joint efforts will further strengthen the stability and transparency in sustainability reporting," said Jason Tu, Co-founder & CEO of MioTech.
Speaking on the occasion, Richard Hong, CEO of TÜV SÜD ASEAN said, "At TÜV SÜD, we are committed to supporting the Singapore Green Plan 2030 and helping organisations achieve their sustainability goals. Collaborating with MioTech to verify the carbon emission and sustainability reports generated by ESGHub, is an important step in this direction. Our expertise, combined with MioTech's platform technology, will enable organisations to manage their carbon footprint and disclosures effectively, aligning with international standards and contributing to a greener future."
The signing ceremony took place in Singapore and was attended by Mr. Jason Tu, Co-founder & CEO of MioTech, Mr. Richard Hong, CEO, TÜV SÜD ASEAN, among other company representatives.
About MioTech
MioTech uses artificial intelligence to solve the sustainability, climate change, carbon emissions reduction, and social responsibility challenges faced by financial institutions, corporations, governments and individuals. Its comprehensive coverage of ESG data helps financial institutions make the right decisions in green finance and responsible investments. Its software helps corporations manage ESG reporting, improve energy efficiency, track and reduce carbon emissions. Its app builds green-conscious communities and promotes low-carbon lifestyles among individuals.
Founded in Hong Kong, MioTech also has offices in Shanghai, Beijing, and Singapore. Its world-renowned investors include ZhenFund, Horizons Ventures, TOM Group, Moody's, HSBC, Guotai Junan International, GIC, and J.P. Morgan Asset Management.
Press inquiries: [email protected]
For more information, please visit https://www.miotech.com