The two-day in-person event in Tokyo gathered more than 50 speakers, including CEOs of global financial institutions and multinational corporations, institution investors, high-level policymakers, and government officials.
HONG KONG, March 24, 2023 – Yesterday, MioTech joined the world's top influential corporations and institutions at the renowned Japan Symposium 2023 in Tokyo. Hosted annually by the Milken Institute, the conference brought together leading figures in finance, business, and governments to address the most significant challenges impacting Japan and the wider APAC region, including issues related to investment capital, geopolitical tensions, and sustainable development. MioTech's President, Jack Lin, was invited to speak at the conference to share his insights on how sustainable finance and technology can accelerate the global net-zero transition.
Taking place in Tokyo every year, the Japan Symposium is a leading conference led by the Milken Institute, a non-profit economic think tank that aims to bring together the best innovative resourcing to tackle global issues. With this year's conference centered around the theme "New Era, New Opportunities," the program was designed to convene top executives and thought leaders in providing ideas, perspectives, and direction to capitalize on the potential of this new era. The sessions covered topics related to innovations in cutting-edge technology, business strategies, global value chains, and financial markets.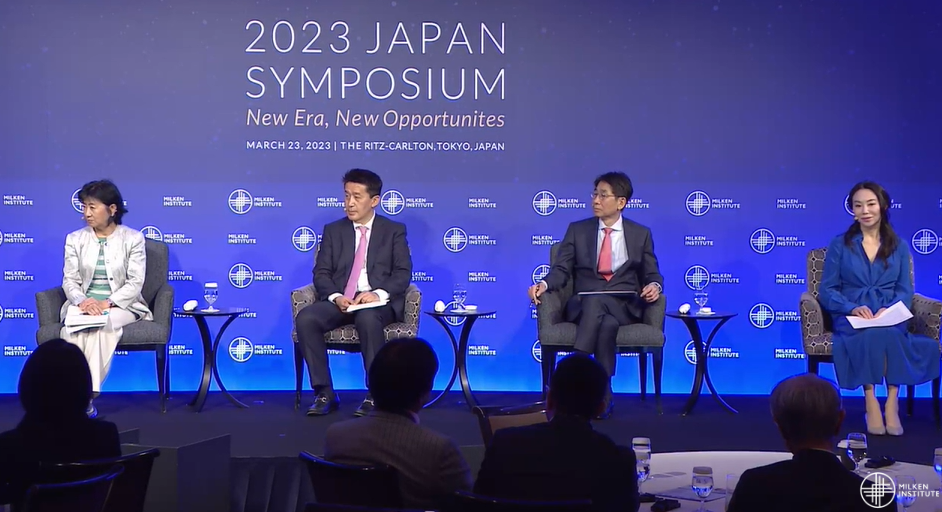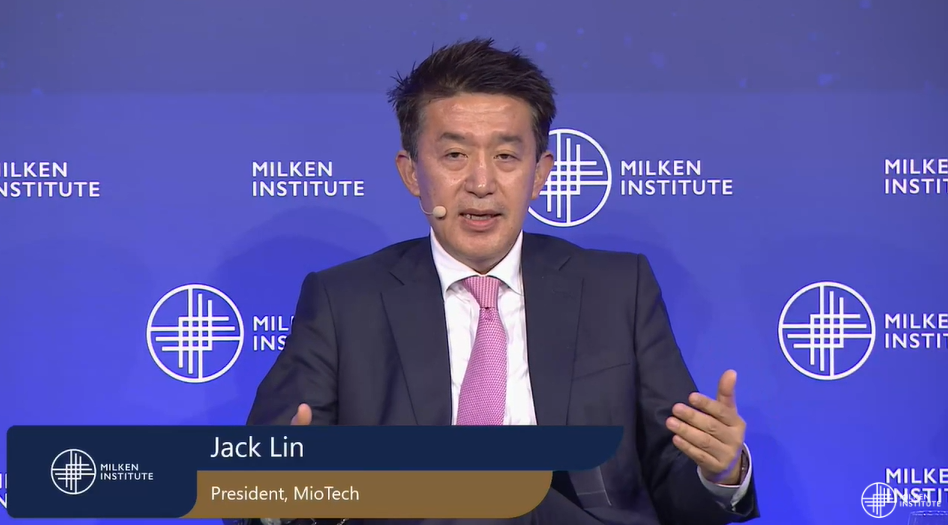 (from left to right): Representatives from Nissan, MioTech, NEC Corporation, and Booking.com gather at the 2023 Japan Symposium to address sustainability challenges; Jack Lin, President of MioTech speaks on the role of technology in supporting sustainability goals
As part of the panel discussion on the topic of "Accelerating Measurable Progress for a Sustainable Future," MioTech's President, Jack Lin, spoke alongside notable speakers including Asako Hoshino, Executive Officer and Executive Vice President of Nissan Motor Corporation, Takayuki Morita, President and CEO of NEC Corporation, and Akimi Takemura, Regional Director for North Asia, Booking.com.
Throughout the in-depth panel discussion, Lin mentioned the role of technology in tackling sustainability challenges faced by financial institutions, corporates, and governments.
"MioTech is a leading ESG data and technology company in Asia that helps markets gather data so they can fulfill regulatory and investor requirements," said Jack Lin, President of MioTech. "We have observed that the traditional data management and ESG reporting processes are archaic. But with the implementation of AI and technology, we can help companies automate the entire process, allowing them to become more transparent in their ESG impact."
Through the company's unique mix of AI-powered data & technological solutions, MioTech has built SaaS platforms to help their clients decarbonize investments, business operations, and lifestyles.
Takayuki Morita, President and CEO of NEC Corporation, also agreed on the role of technology in powering greener solutions. "Technology is crucial in climate mitigation and adaptation. From our work with an agricultural client, we used satellite information and moisture sensors to help them increase harvest while simultaneously reducing water consumption."
While innovative technologies were recognized as the fundamental pillar of sustainable development, the discussion also highlighted the need for dual efforts from other commercial industries. "As we move towards a green future emphasizing renewable energy, we must look at sustainability from all supply chain stages and the product lifecycle. As an EV manufacturer, we take responsibility for managing the lifecycle of EV batteries by recycling used batteries," said Asako Hoshino, Executive Officer and Executive Vice President of Nissan Motor Corporation.
The recent shift in consumer trends and behaviours has also pushed brands to create sustainable products and green practices. "Sustainability is changing consumer sentiment. Our survey found that more than 70% of global travelers are choosing sustainable tourism. We are working with governments and tourism boards to ensure that our sustainability efforts are translated effectively," said Akimi Takemura, Regional Director for North Asia, Booking.com.
From the perspectives of cross-industry leaders, the session concluded that businesses must adapt to the global crisis with new solutions. As corporations face increasing pressure to address sustainability challenges, investing in new technologies and solutions is vital in building a more sustainable future.
This year's conference invited notable speakers from McKinsey & Company, Deloitte, Japan Exchange Group, Nissan Motor Corporation, UPS, Booking.com, and Sony, as well as government officials such as the Governor of Tokyo, the Ambassador of the United States of America to Japan, and more. The event was also joined by several sponsors from Citi, Citadel Securities, Fitch Ratings, Franklin Templeton, EY, and Jefferies, among others.