HONG KONG, October 5, 2022 – MioTech's President Jack Lin spoke on the first day of the two day event ReThink HK, an annual event gathering sustainable business stakeholders and community leaders in Hong Kong held at the Hong Kong Convention and Exhibition Center.
On the panel Technology, an Enabler to Accelerating our Green Finance Ambitions, Lin highlighted the importance of both reported and alternative data in sustainability reporting and strategy.
"MioTech has an unique advantage of using natural language processing for the Chinese language", said Lin. "Carbon accounting is becoming ever more important in managing supply chains."
He also highlighted the network effect of MioTech's technology as business grows. "Greenwashers, we are coming for you," Lin said. "It's like Google Translate gets better over time. With our growing data, we can better catch those who are misreporting."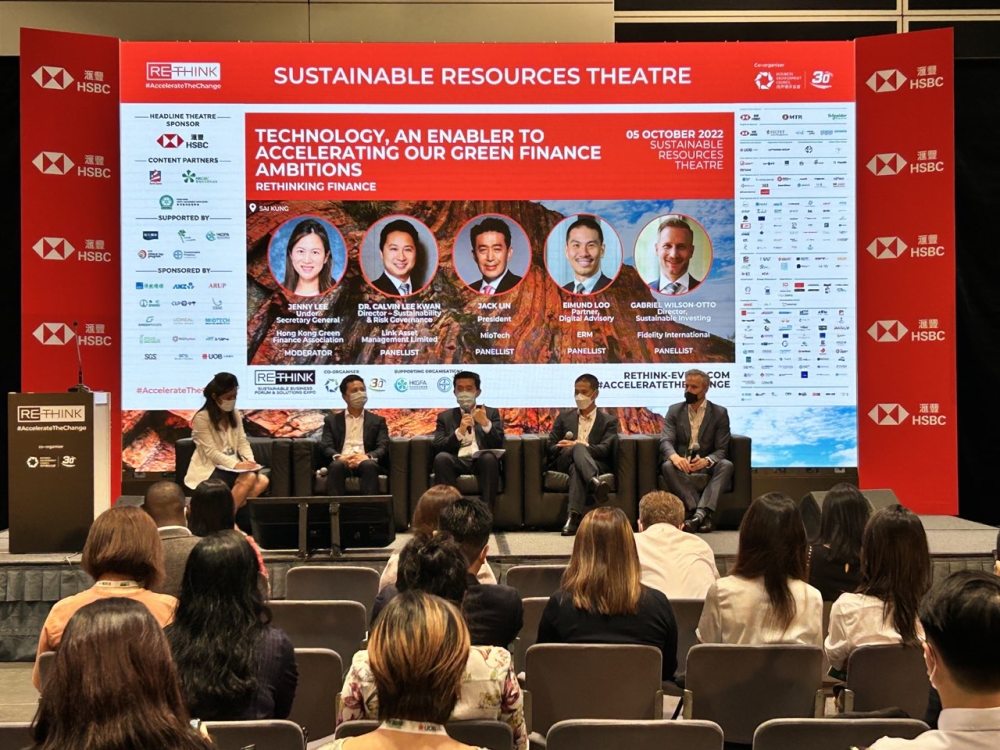 Other speakers on the panel spanned from asset managers and corporate and sustainability consultants. Gabriel Wilson-Otto, Director of Sustainable Investing of Fidelity International, noted the growing interest in sustainability assets, especially in Asia Pacific.
Eimund Loo, the Partner and Digital Advisory of ERM and Dr. Calvin Lee Kwan, Director of Sustainability & Risk Governance at Link Asset Management, also joined the panel alongside Jack Lin. Jenny Lee, the Under Secretary General of Hong Kong Green Finance Association moderated the panel.
ReThink HK aims to unite business leaders, sustainability practitioners and those responsible for researching and resourcing sustainable strategies and solutions in order to achieve a circular economy, and push Hong Kong towards carbon neutrality by 2050.
This year, the event attracted over 3,300 attendees, a 50% increase from last year. The event draws more than 200 exhibitors and covers more than 130 conference sessions. MioTech is a sponsor and exhibitor at the event. Topics covered include Circular Economy, Cities and Mobility, Decarbonization, Food and Nature, People and Purpose, and Redefining Value.
About MioTech
As Asia's leading sustainability technology provider, MioTech leverages artificial intelligence to provide ESG, climate change, carbon neutrality, and social responsibility solutions. With coverage of over 4 million companies globally, Hong Kong-based MioTech enables financial institutions, corporations, governments, and individuals to achieve their net zero and CSR objectives.
About Jack Lin
Jack Lin is the President of MioTech. Previously, he was the Managing Director and Head of APAC Client Coverage at MSCI. Jack possesses over 20 years of leadership in the financial industry. Prior to MSCI, Lin was previously head of South Asia at Amundi. He also led and managed teams in global asset management, including as Head of Asia Pacific and Co-CEO International at US-based Janus Capital and Managing Director in Asia at Franklin Templeton, where he helped open offices in Japan, Vietnam, China and Korea. His expertise in financial markets and green capital has helped to drive efforts in sustainable investing solutions.
For inquiries: please contact [email protected].