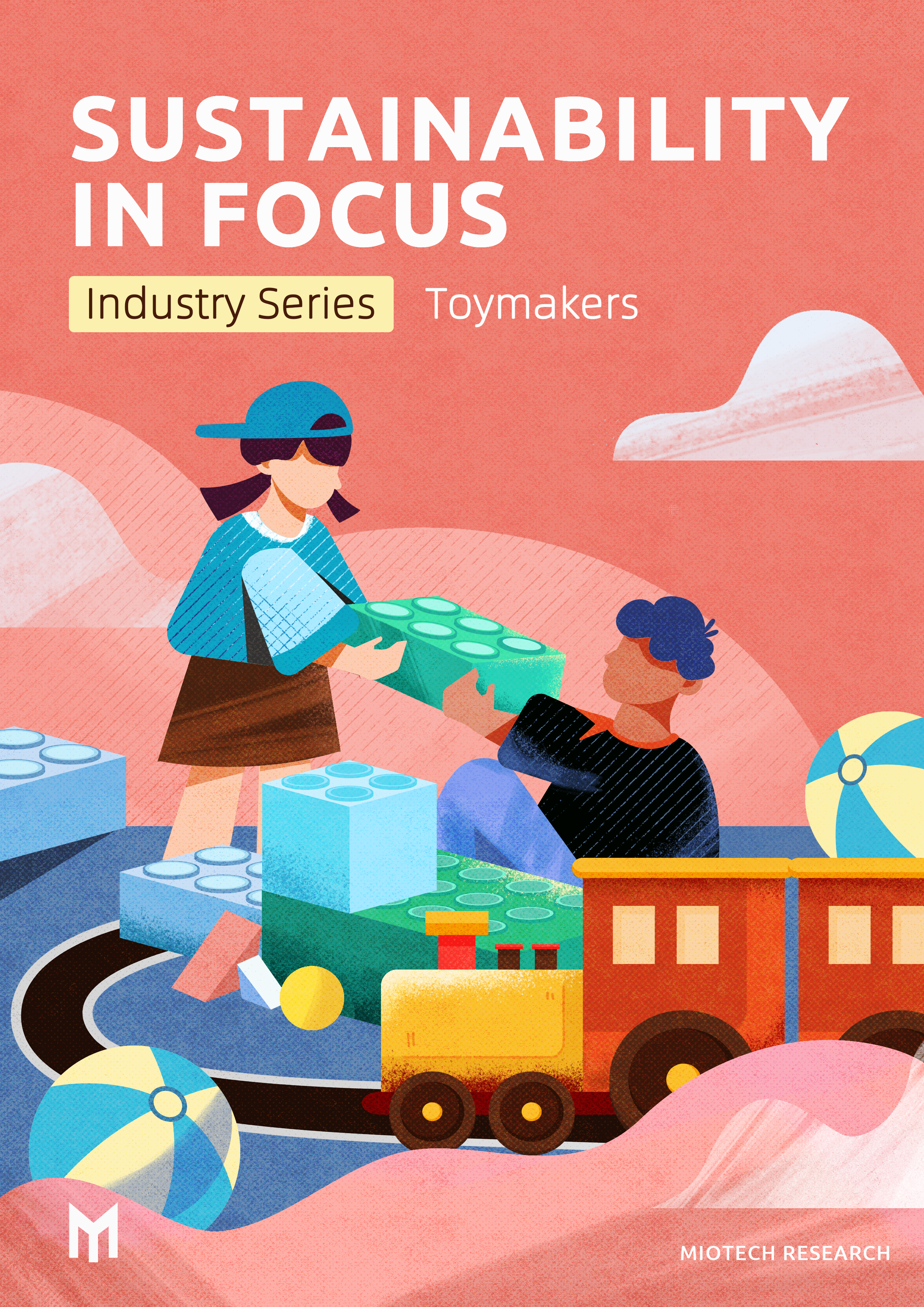 Toymakers touch the lives of almost every consumer and build all our early memories, and there is none that has done it more successfully than the Danish Lego Group which celebrates its 80th anniversary this year.
Lego has achieved its status as the world's largest toymaker since 2014 over global rivals such as Hasbro and Mattel despite having just a single product of plastic bricks. Even with pandemic challenges, he privately held company has managed to deliver a record performance in 2021 (revenue up 27% and net profit up 34% YoY).
The LEGO pieces were able to appeal across generations and corner a significant profitability moat and achieve an operating margin of 31% in 2021, vs. 12% in Hasbro the largest toymaker in the US and the maker of Transformers, Potato Head, and Play-Doh and 13% in Mattel the maker of Barbies. Its 2021 net profit of US$2.1bn equates to five times the net profit of Hasbro and twice that of Mattel.
The pandemic hasn't slowed LEGO down. LEGO stood out amongst the pack by making a bold bet on the future of retail by increasing the number of stores by almost 50% from 2020 base of 665 stores, by adding 165 stores in 2021 and planning to add another 150 stores in 2022.
LEGO has made a significant push into China in the last three years, driving double digit revenue growth in offline stores as well as online channels such as Tmall and JD. Out of the 449 new retail stores LEGO opened in the past three years, almost three quarters have been in China. The company had developed tailored product theme such as "Monkie Kid" toy serie based on the popular folklore and is also developing China's first Legoland theme park in Sichuan, scheduled to open in October 2023. Shanghai's Legoland theme park is expected to follow in 2024 and Beijing thereafter.
Digitally, LEGO is also ramping up its push and has recently announced a plan to triple its number of software engineers. In April, it officially opened its digital hub in Copenhagen, adding to existing software centres in London and Shanghai, aiming to employ 1,800 software workers by the end of 2023, with 400 based in Copenhagen[1].
Sustainability in Toy Makers
While Lego outperforms its peers in its financial performance, would it also take the lead in sustainability measures? Toy makers after all, are just as affected from sustainability challenges as other industries. Here are some examples:
Diversity and inclusion: Mattel responded to criticisms of its Barbie doll's historically white, busty and thin body by ramping up inclusivity efforts between 2015-19, releasing dolls with a wider variety of body sizes, skin tones, hair textures, and ability status.
Supply chain and cost pressure: Hasbro said that it would raise the prices of its toys in April, citing the losses from pausing its toy shipments to Russia upon the war in Ukraine and the disruption in production as COVID surges in some areas.
Climate change: LEGO is planning to build a new factory in Vietnam that will be operationally carbon neutral. The popular China-based rookie toymaker PopMart has revealed its target to make its greenhouse gas emissions peak by 2030, in alignment with China's national goal.
In this report, we aim to research the Lego's ESG performance when compared with other toy makers in the industry by examining their environmental (including carbon emissions), social and governance initiatives.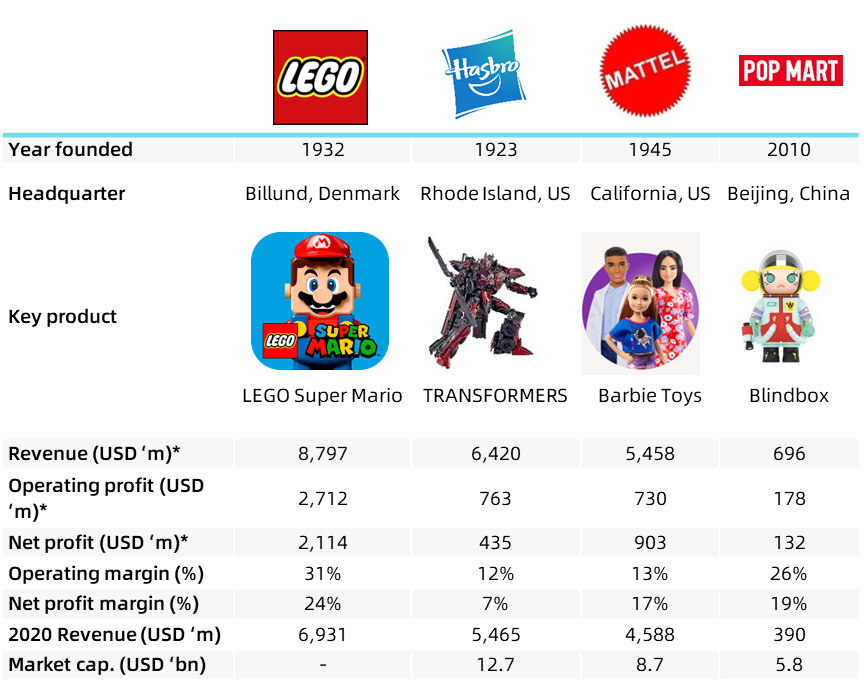 Toymakers and LEGO's Performance at a glance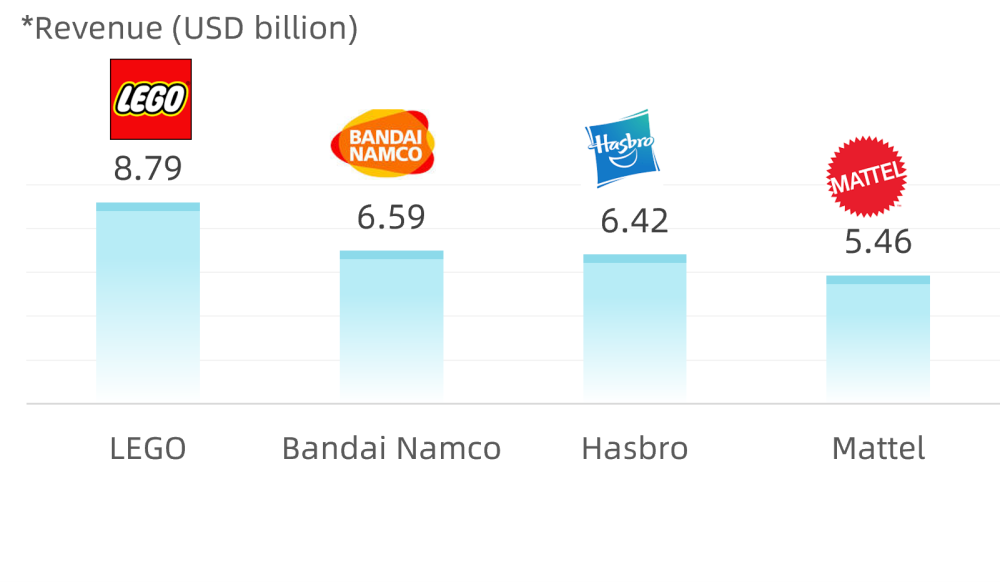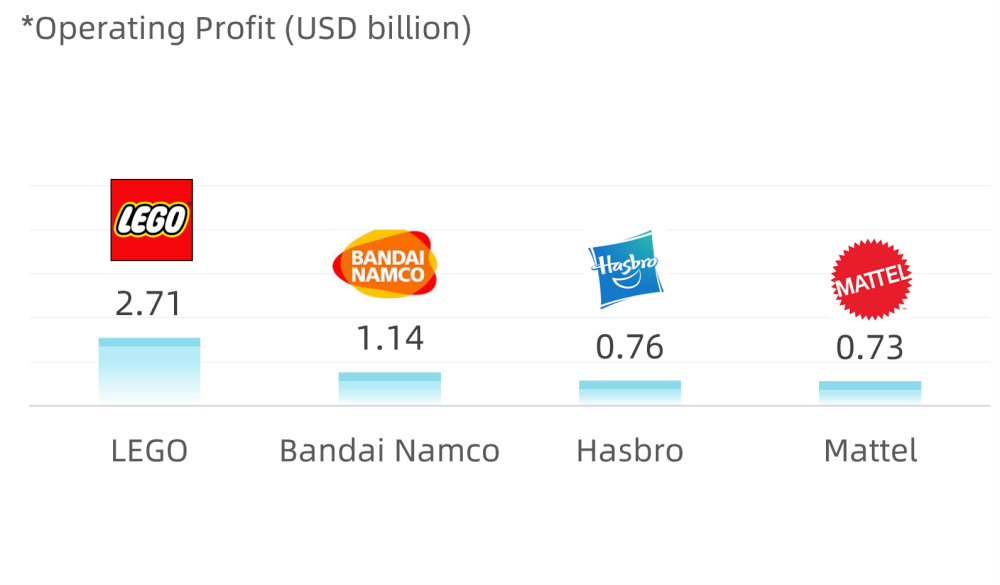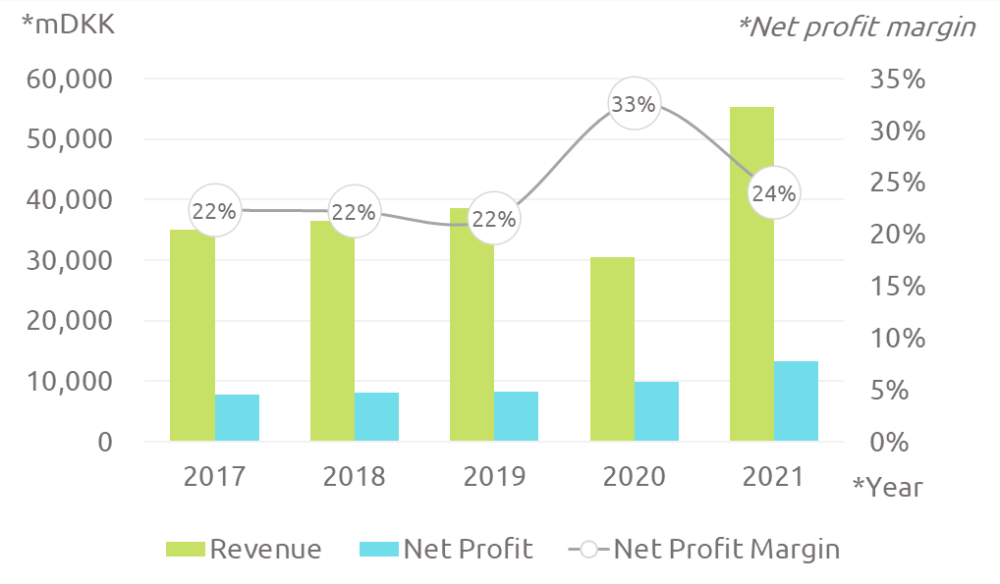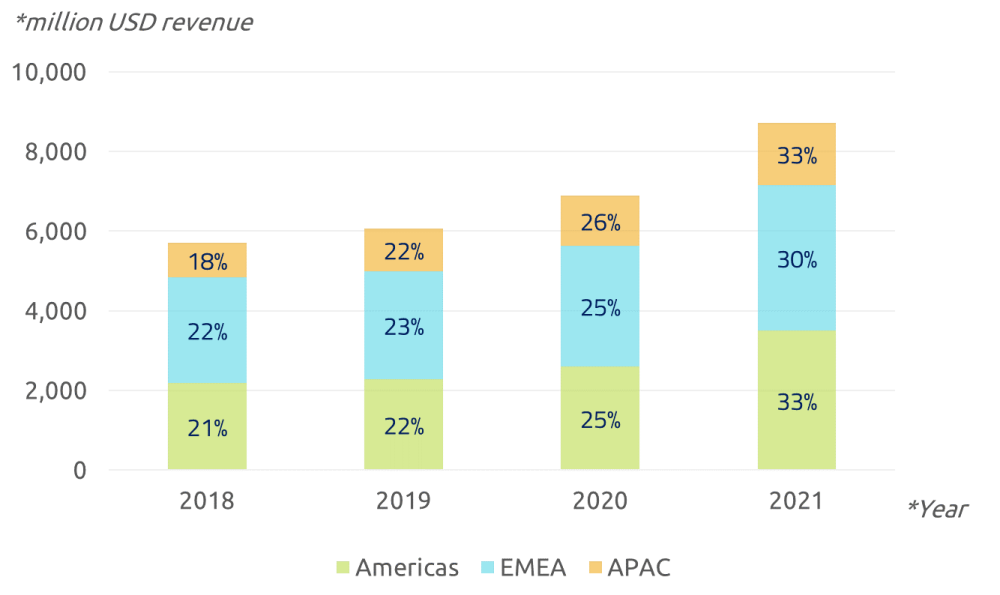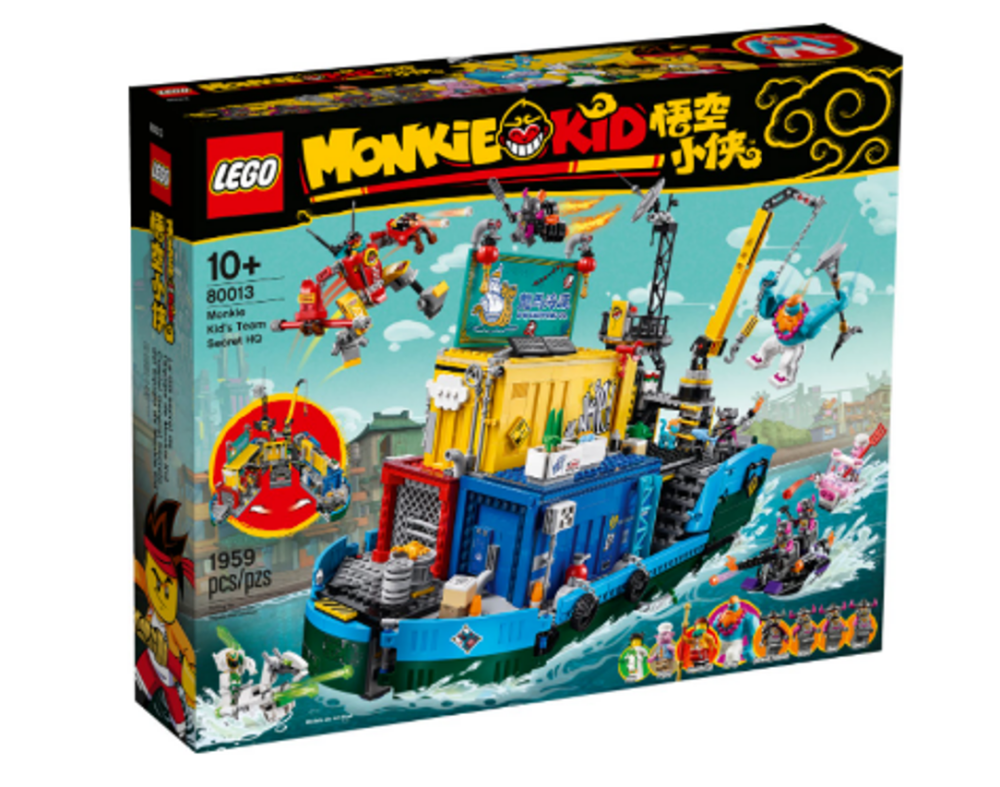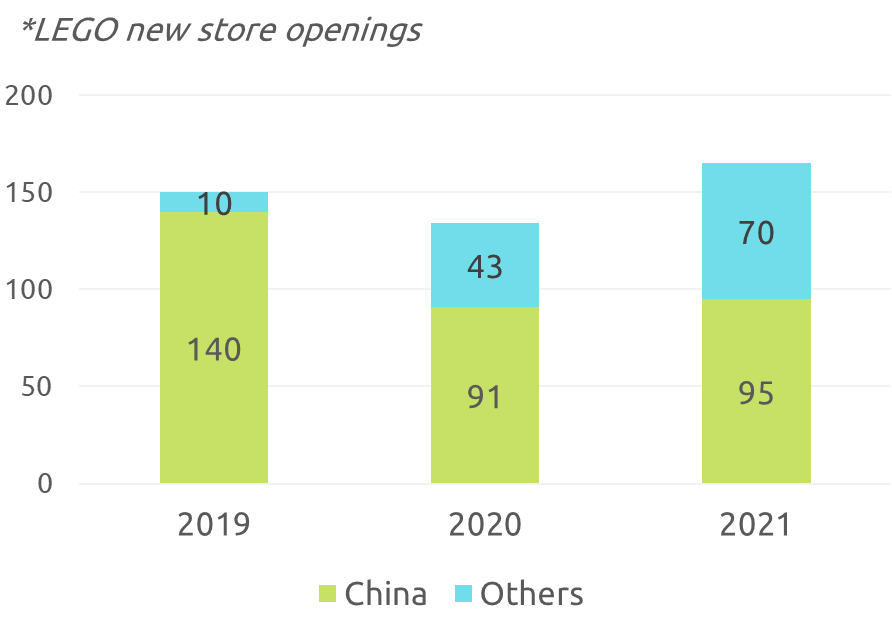 We included here the two US listed companies Hasbro and Mattel and the Chinese Pop Mart listed a year and half ago for comparison purposes. The Tokyo-listed Bandai Namco and Toronto-listed Spin Master are the other two players we have included here as well.
Bandai though much bigger, is not included in this analysis, as it concentrates on video games (including Pac-Man), commanding a higher valuation and is not directly comparable to the mainly plastic toy makers like Lego, Hasbro and Mattel.
Though Lego is not included in this group, their performances should give a guideline on Lego's competitors in the space.

Leading in Sustainability Reporting
We found that despite being a privately held company facing no outside investor pressure, LEGO has voluntarily published its sustainability since 2007, one year before the Danish Parliament decided to mandate CSR reporting on large businesses in the country.
LEGO started following GRI (Global Reporting Initiative), one of the mainstream guidelines for sustainability-related reporting and assured its reports by a third party since 2009. The company also started publishing a separate annual carbon emissions report since 2017 and responded to CDP, a not-for-profit platform for environmental disclosure since 2013. CDP had scored Lego's climate change responses A, the highest score category.
We consider LEGO's reporting leader as its sustainability report was first published four years earlier than its NASDAQ-listed Hasbro. Although Hasbro also submitted its climate change data to CDP since 2010, three years ahead of LEGO's submission, the company was only achieved a "C" average each year except the "B" rating in the latest 2021 year, whereas Lego the late comer was able to score "A" every year. While Lego's carbon emissions report is seen as more transparent and comprehensive, Hasbro also publishes "Renewable Energy Performance Statement" and "Conflict Minerals Report" every year.
Winning in Sustainability Goals
Sustainability goals are a crucial part of reporting and sets the direction for the company. We find that amongst the four global toymakers, they have set their goals with often the same topics like GHG emissions and waste, they take on different timelines and sometimes have different baselines.
We find from the environmental goals shown in the table below, the least aggressive ones are coming from the Chinese pop toy-maker Pop Mart which only made its IPO listing less than a year and half ago. Pop Mart's GHG emissions mirror that of the Chinese government's goal for the country, which may be a minimum baseline for companies operating within the country. The energy consumption and water use have made more conservative goals of reducing 10% per capita by 2025 compared with 2020 baseline.
As for the other global toy makers LEGO, Hasbro, and Mattel, they all reported on their GHG emissions and waste, but each had items missing in the other measurement areas including energy consumption, water usage, and packaging.
We consider LEGO's GHG emissions target to reduce its carbon emissions by 37% by 2032 from a base year of 2019 as exemplary as it was the first large toy company to announce a science-based target (SBT), covering emissions across its operations and supply chain. The target has been approved by the Science Based Target initiative as consistent with levels required to keep global warming to below 1.5 degrees Celsius, the most ambitious goal of the Paris Agreement.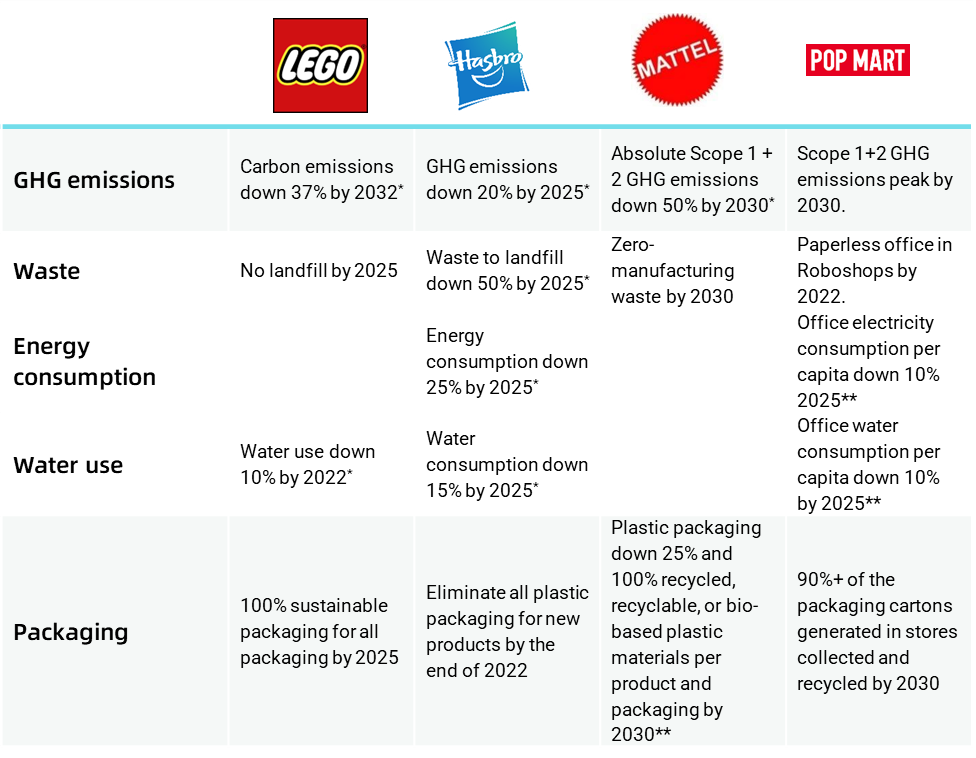 In waste management, LEGO has the most aggressive target of having no landfill by 2025, vs. Hasbro's target of reducing waste to landfill down to 50% by 2025. Mattel may have the same goal of zero manufacturing waste but plans to achieve it by 2030.
In general, the targets from the large toymakers are all quite active in declaring aggressive target in reducing plastic use in packaging and products. The LEGO Group announced plans to invest up to USD 400m in 2021 over three years to accelerate sustainability and social responsibility initiatives, including removing single-use plastic in all products, packaging and operations, and the development of new sustainable materials.
Sustainability in Finer Details
LEGO considers its key stakeholders to include suppliers, licensing partners, manufacturing facilities, customers (retailers who sell LEGO products), and consumers (those who buy LEGO products, such as parents and caregivers).
LEGO's 2021 sustainability report has provided information on most of sustainability framework from MioTech, including eight measures from the environmental dimension, six measures from the social dimension, and four from the governance dimension. We do find that its disclosure on pollutants and risk management missing and overall disclosures on corporate governance weaker than other sections.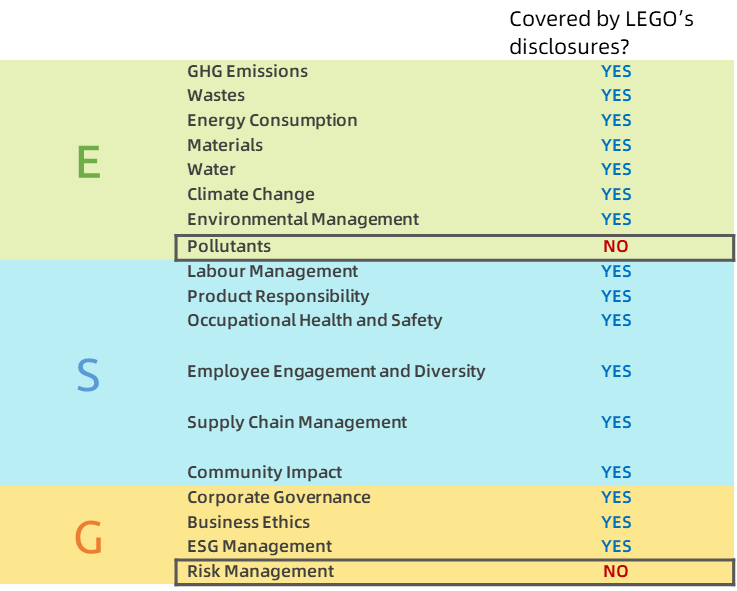 The devil is in the details however, and we do find a few areas in carbon emissions and gender ratio that may not reflect the most comprehensive picture.
For example, LEGO publishes its renewable projects but does not include carbon emission reductions associated with the renewable projects, as Hasbro does. Along the same vein, LEGO reports that 40% of its top managers are female but there is no gender structure figure for the rest of the workforce. Also, a lost-time injury rate is provided without the data on employees' average work hours. These data, though small, are required by regulatory guidelines from GRI to EFRAG (the European Financial Reporting Advisory Group).
Carbon emissions (particularly scope 3 emissions)
LEGO does make an extra effort to reduce carbon emission by publishing a carbon emission report every September for the last fiscal year. In 2020, around 1,348 tonnes of carbon dioxide were emitted from its electricity consumption, if we count the company's use of renewables and the renewable energy certificates (RECs) it purchases.
The company's effort to reduce emissions from electricity use, or scope 2 emissions, is reflected in the difference between the amount of scope 2 emissions measured by market-based method (1,348 tonnes), which allows for the company's use of renewables, and location-based method (103,585 tonnes), which is only dependent on the countries/regions' own emission factors where the company operates and is an estimate.
LEGO changed its approach from the location-based to market-based method to justify its adoption of renewable power sources. The company has installed solar panels at its factories in China, Hungary and Mexico. Furthermore, the company's planned factory in Vietnam will be its first carbon-neutral factory, it said in an announcement[2].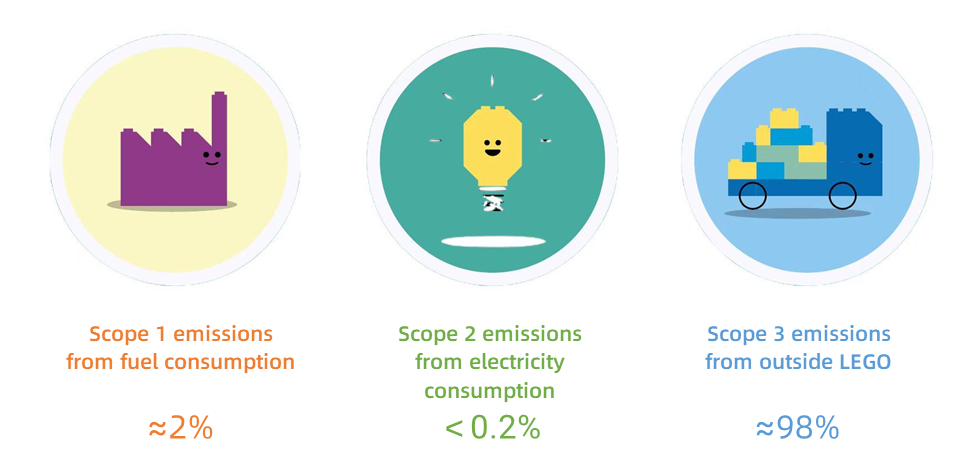 LEGO's Scope 1 and 2 carbon emissions (21,998 tonnes of Scope 1 carbon emissions from direct fuel consumption and 1,348 tonnes from Scope 2 carbon emissions from electricity use) account for just 2% of its total carbon emission in 2020, with the rest 98% classified as Scope 3 emissions generated from outside the LEGO Group. They include emissions from suppliers' production of raw materials, employee commuting, dealers' distribution of LEGO products. The higher production volume in 2020 has led to a rise in total emissions to almost 1.18 million tonnes, despite a steep decline in the emissions from the company's own operations with better energy efficiency.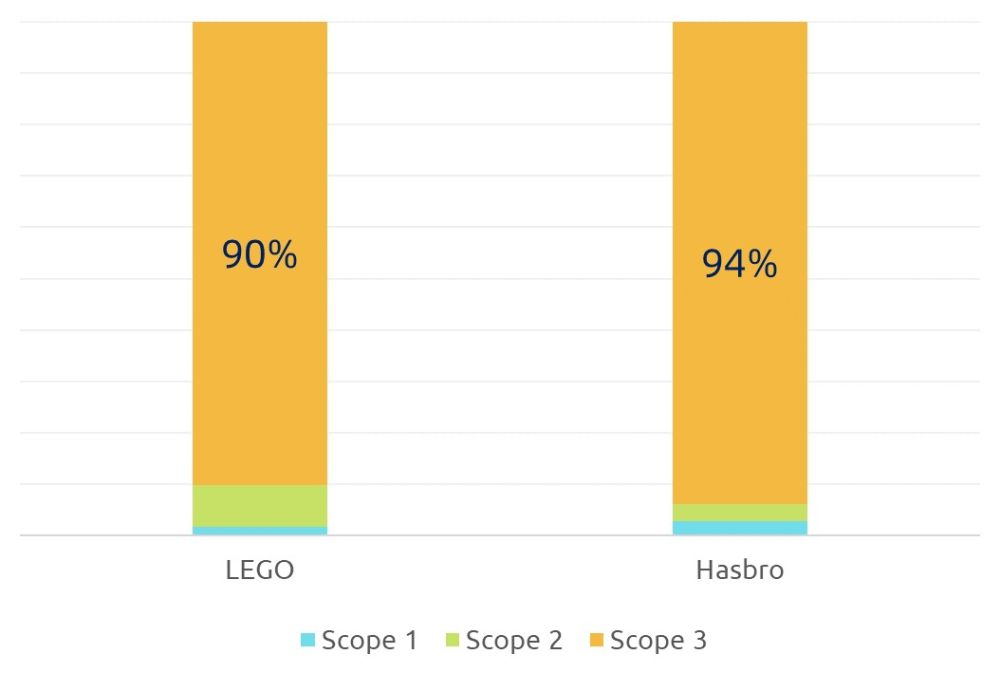 As shown in the chart on the left, better energy efficiency in the company's own operation still leads to a high Scope 3 emissions from rising sales. Both LEGO and Hasbro, the two that report Scope 3 emissions, saw a 90% to 94% representation of Scope 3 emissions in total carbon emissions.
To address the environmental impacts from suppliers, LEGO held its first Sustainability Supplier Summit in 2021 calling the suppliers to set their own climate targets. A total of 80 LEGO suppliers are now committed to the CDP carbon disclosure in 2021, an increase of 20 in a year. LEGO seeks to have all its most carbon-intense suppliers participate in CDP in 2022 and has set a target to reduce its total emissions by 37% by 2032 compared to 2019 levels (approved by the Science Based Target initiative).

In the charts above, we find Pop Mart and Hasbro has a smaller less carbon intensity, what we define as carbon emission per revenue dollar. This may be because of two reasons:
Revenue for Pop Mart and Hasbro may be higher from the higher-priced items for the same emissions output, thereby decreasing the intensity ratio;
Hasbro and Pop Mart have more toy items made out of metal and other materials other than plastic-dominated Lego and Mattel, leading to a lower carbon emission in general in the nominator in the ratio.
LEGO discloses its emission data in both its sustainability report and its carbon report. We find limitations in the data shown in the sustainability reports, where carbon emissions are calculated as the result of multiplying energy use by regional emission factors, i.e., location-based regional estimates.
In addition, the coverage is limited to its five production sites, not including the HQ office, etc. This means that the carbon emissions data on the sustainability report represent the scope 1 and 2 emissions of the company's five factories only.
LEGO does not show the break-down carbon emissions by each of its factories which are so far not carbon-neutral as the future Vietnam factory. Although disclosing only the total emissions meets the minimum requirements of GRI Standards on emissions (GRI 305) which LEGO claims to comply with, the standard-setter has recommended disclosing line items of carbon emissions by facility, country, etc., to improve transparency and comparability.
LEGO indicated that it had decided to switch from the location-based to the market-based calculating method to reflect its investment in renewables. However, the latest work from the European Financial Reporting Advisory Group (EFRAG), the EU's policy advisor in corporate reporting implies that there may be no one-from-two option on this. The Climate Change part of its Draft European Sustainability Reporting Standards asks a company to disclose its scope 2 emissions both by market-based and location-based methods[3].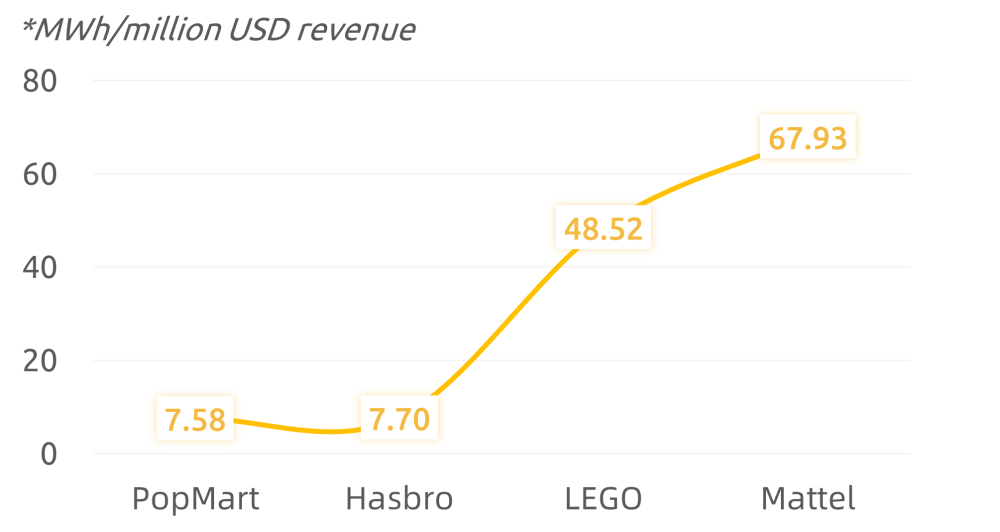 Materials
Using sustainable materials in production is essential to the transition towards a circular economy., LEGO disclosed its material consumption here:

LEGO sources different types of plastic granules from suppliers and moulds them into LEGO bricks in its five factories across the world. In this process, resins were also used for injection moulding and additive manufacturing[4].
The produced LEGO bricks are loaded in small bags before filling the boxes. Over ninety per cent of the packaging materials are sustainable, like LEGO boxes made with paper and cardboard, while some are made with single-use plastics, like some of the bags.
In 2021, LEGO consumed around 84 thousand tonnes of packaging materials, marking a 23% rise compared to 2020, and purchased nearly 134 tonnes of resin for its production, up by 30% from 2020. This came with the 27% annual revenue growth of the company in 2021. The ratio of sustainable packaging materials has returned to 93% last year, after dropping to 91% in 2018.
The toy giant has been taking steps towards sustainable production. So far, 100 different types of LEGO elements are made from sustainable sources. In 2020, LEGO announced that it will replace single-use plastic bags with paper bags[5], and ideally, the company will make all the packaging sustainable by 2025. The company is also on track to make LEGO bricks made from sustainable materials by 2030, having revealed the prototype brick made from recycled material in 2021.
Wastes
In the production phase, all the plastic wastes from the moulding machine were recycled, LEGO said[6]. LEGO disposed of around 23 thousand tonnes of wastes from its plants in 2021, most of them were non-hazardous and have been processed in sustainable ways, recovery and recycling. From 2016 to 2020 LEGO was in a transition to improve its waste efficiency, the ratio between the amount of waste generated and the amount of LEGO boxes produced, by ideally 10%. This ended with a 5.8% improvement because of increased production and unplanned waste from storage systems in warehouses, etc. LEGO has stopped disclosing this ratio in its 2021 report.

LEGO has a goal to eliminate landfilling waste by 2025. The current data suggests that it is on track to achieve it. With more production, LEGO saw around 18% more waste generated in 2021 compared to 2020, while the quantity of waste sent to landfill was down by 30% to only 115 tonnes, 0.05% of the total waste. The company has set an ambitious target to send less than 15 tonnes of waste to landfill in 2022, which means an 87% drop if realised.

Despite the reasonable assumption that LEGO replaced landfilling with recovery and recycling for some of the wastes, the data suggests that some wastes might have gone to incineration, another harmful method, as an alternative to landfilling, with 51% more wastes being incinerated. This also results in incineration accounting for a bigger part than landfilling in LEGO's waste disposal. The company should also pay attention to its incinerated wastes alongside those landfilled.
On the consumer side, abandoned toys by consumers are a bigger concern to the industry. Eighty per cent of plastic toys end up in landfills, incinerators or the ocean[7], after an average lifespan of six months in the hands of the kids[8]. LEGO tries to facilitate a circular economy by launching the LEGO Replay programme in the US and Canada, where consumers can donate the LEGO bricks they no longer use. Around 296 tonnes of LEGO bricks have been recycled through this programme since it is launched in 2019, benefiting more than 67 thousand children in the two countries.
Our calculation of waste intensity showed a similar trend as the carbon emissions intensity, where Pop Mart and Hasbro on the lower end Lego and Mattel on the higher end of the curve.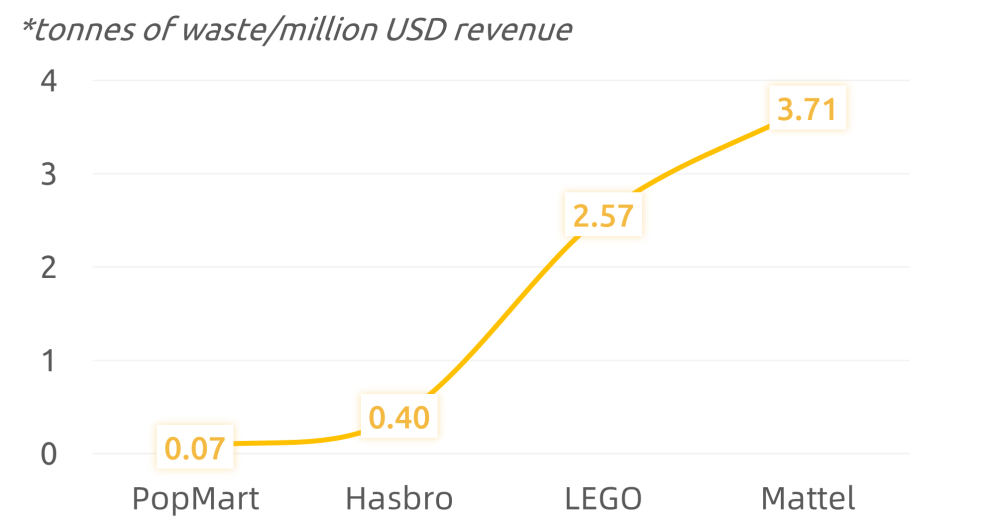 Employee engagement and diversity
With more than 20,000 employees in 39 countries, LEGO's key initiatives include implementing an occupational health and safety policy to reduce accidents, offering employee training on inclusion, and collaborating with organisations like UN Women, while more specific measures include at least 26 weeks of parental leave granted to primary caregivers applying globally.
In its 2020 disclosure, we found that the ratio of female managers is smaller at every higher level of the management team. In 2020 two in every five director-level managers at LEGO were women, while fewer than one in every five CXO-level posts were occupied by women. The situation has improved as the ratios generally rose in every cohort. In 2021 two in seven members of LEGO's current Executive Leadership Team, i.e., CXO-level managers, are women, standing for a female ratio of 29%, which marks considerable progress from last year's 18%. Overall, 40% of the employees taking Director or higher positions are women in 2021, following a five-year consecutive rise. LEGO also has a gender-diverse board with three female directors in the seven directors.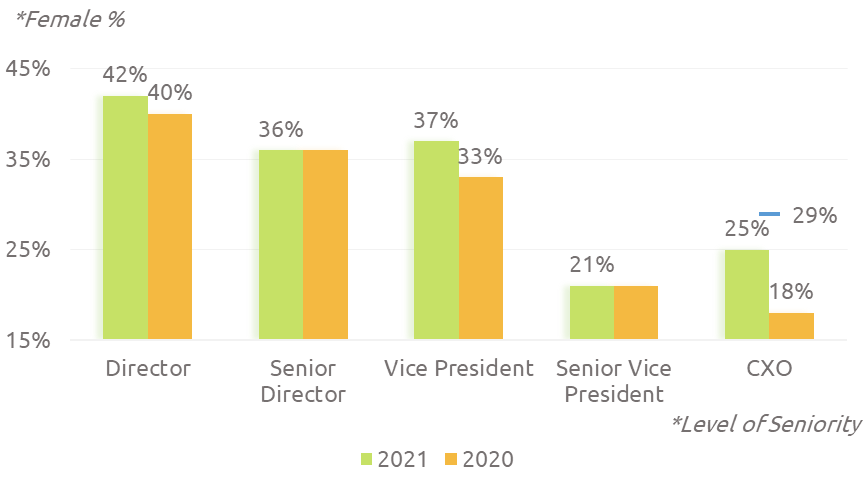 While Lego achieved an outstanding result in its diverse management team, no information is disclosed about LEGO's workforce-wide gender or ethnic structure.
LEGO has managed to build a safe workplace: its lost-time injury rate has undergone a significant decline to 0.4 in 2021, from 1.3 five years ago. A lost-time injury means an injury that causes the employee's absence of at least one day[8]. The number means that 0.4 lost-time injuries happened per million work hours in 2021. If we apply the universal rule of around 2,000 work hours per year, it means that around 15 to 20 lost-time injuries occurred in 2021 among LEGO's over 20,000 employees.
In general, LEGO has done well in making its employees feel safe and included at work as seen from the higher employee satisfaction rate and average productivity every year. LEGO hired employee and customer experience solution provider Ennova to carry out the employee engagement survey and the company scored 83, which puts it among the top quartile of all the companies taking part in this evaluation.
LEGO's revenue per employee has increased 15% in the past year, and 38% since 2017. The average salary of a LEGO employee has increased by 30% since 2017. A news report on Bloomberg in November 2021 said that LEGO has decided to give all the employees three more days off and more annual bonuses upon the remarkable profit surge in 2021[9].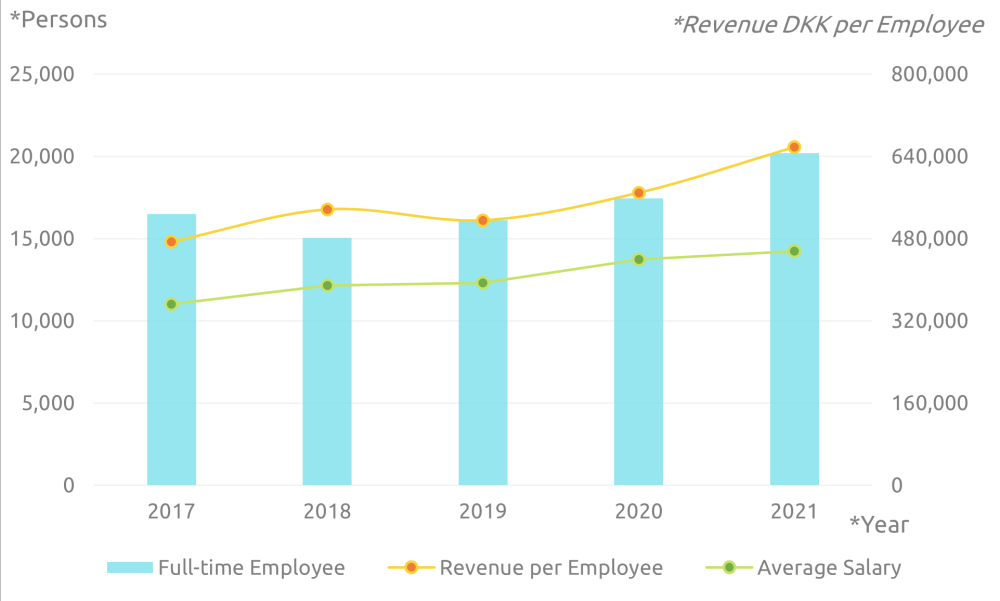 Product responsibility
Product safety and quality is a top company priority especially when the end users are mainly children. LEGO said that it meets or even surpasses the most rigorous international toy safety regulations and standards in making the bricks. LEGO had no product recalls in the past 12 years.
LEGO also commits to responsible marketing. LEGO and Geena Davis Institute's joint research found that gender stereotypes have become an obstacle for girls to achieve their potential. The company said it will remove the "for girls" and "for boys" labels to make sure kids' creative ambitions are not restrained by gender stereotypes[10]. LEGO has collaborated with UNICEF to launch both an internal and external playbook to inform its internal communication and product development, and to help other companies develop marketing strategies regarding diversity and inclusion.
It is worth noting that LEGO has been exploring other ways to have a positive impact on society. It has launched the "Learning through Play" programme worldwide, whose primary target is to reach the children in need, providing them with the opportunity to develop their skills through LEGO experience and financial support, through the partnership with 62 local or international organisations in 16 countries. More than three million children have benefited from this programme. The company has also launched digital platforms or social media campaigns to boost children's knowledge of digital safety and how to address cyberbullying.
Sustainability governance
LEGO's sustainability governance is mainly led by the Executive Leadership Team consisting of seven CXO-level managers and their operation-level staff. The audit committee and the board of directors, however, are only responsible for reviewing and approving the sustainability data and commitments.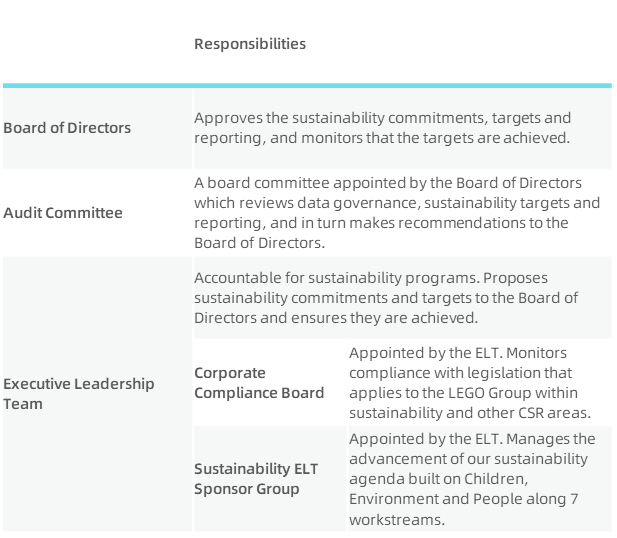 We find that in an Ernst & Young's survey of nearly 400 public company directors over 40% of the companies have their full boards overseeing their climate-related risks and opportunities, as well as workforce Diversity & Inclusion initiatives[11]. Management of a company's sustainability matters is shared by the board and multiple board committees, including the compensation committee, nominating committee and risk committee, apart from the audit committee[12]. We did not find from LEGO's annual reports that the company currently has such committees.
Given the large size of the business, the company could encounter a variety of sustainability risks other than what the company has mentioned in disclosures, such as cyber risk, and technology risk. It may be advisable for the board and the audit committee to take a more active role in sustainability governance. In addition, as LEGO does not have a compensation committee, nominating committee or risk committee to assign responsibilities, the company could consider establishing a standalone board-level ESG committee, or something similar, to lead ESG related initiatives.
Areas for improvement
Consistency and comparability of disclosures: LEGO's GHG emissions data sustainability report is derived using a different approach than that from the carbon report. Some initiatives made only a single appearance in the report. For example, the digital safety initiative "Build and Talk" was launched and covered in the 2020 report not mentioned again in the 2021 report.
Comprehensiveness of disclosures: LEGO's sustainability report, while an effective channel for communicating with its partners and consumers, does not always meet regulatory requirements. For instance, the current draft reporting standards suggest that the EU may ask companies to disclose both location-based and market-based scope 2 emissions, GHG intensity, and avoided GHG emissions from products and services. Under the social pillar, the breakdown numbers of employees by gender, and work hour information are also expected.
Balancing attention: LEGO has exceptional focuses on some of the issues like single-use plastic, renewable energy, or landfilled waste, the most material sustainability issues. Other cross-industry sustainability issues such as workforce diversity (not just the management suite), suppliers' environmental and social policies, and the board's governance of sustainability may also serve to improve the company's sustainability impact.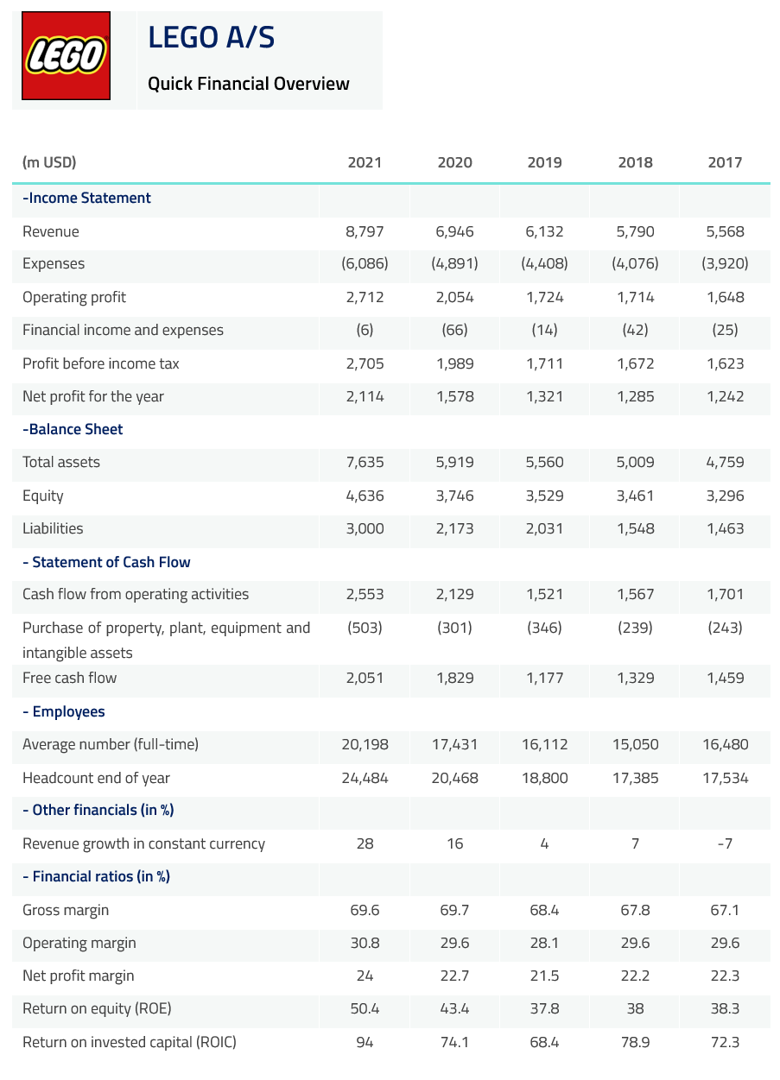 References
[2] THE LEGO GROUP. The LEGO Group announces plans to build new factory in Vietnam to support long-term growth [Z]. Billund; The LEGO Group. 2021
[3] EFRAG. ESRS E1 Climate Change Exposure Draft [R]: European Financial Reporting Advisory Group (EFRAG), 2022.
[4] THE LEGO GROUP. Category Manager, Resin Procurement - Careers - LEGO.com IN [Z]. The LEGO Group
[6] THE LEGO GROUP. LEGO Bricks In The Making [Z]. YouTube. 2017
[8] ALBASTROIU NASTASE I, NEGRUŢIU C, FELEA M, et al. Toward a Circular Economy in the Toy Industry: The Business Model of a Romanian Company [J]. Sustainability, 2021, 14: 22.
[9] THE LEGO GROUP. 2021 Sustainability progress [R]: The LEGO Group, 2022.
[12] EY. Four Opportunities For Enhancing ESG Oversight [R]: EY, 2021.